Dividends are the forgotten heroes that have made countless investors rich.
When people talk about the massive gains common stocks have racked up over long holding periods, what they're really talking about is the phenomenal juggernaut effect of dividends.
Look at the history of Coca-Cola. It went public in 1919 at $40 a share. By 1998, a single $40 share was worth $250,000. But with its growing dividends reinvested, that one share grew into many shares worth a stunning $6.7 million.
My hope is to show you just how important dividends are to your portfolio, and also give you the base you need to become a successful income investor.
To start, I ask you to do one thing: Take a deep breath and relax.
It's time to forget about the rocket scientists with their black boxes... the PhDs with their Greek formulas... and the high priests of Efficient Market Theory.
The most important investment decision you'll ever make pivots on something far more basic -- how you treat the overlooked stepchild of Wall Street, the lowly dividend.
Although little respected and often ignored, more than 100 years of data point to the inescapable conclusion that owning hum-drum dividend-paying stocks…and then reinvesting those dividends…beats all other investment approaches hands down. So if dividend-paying stocks make you yawn, it's time to wake up and smell the cash.
Since 1926 dividends have contributed 40% of the total return delivered by the S&P 500. This makes a massive difference over the long haul. A $1,000 investment in the S&P 500 in 1935 would be worth $2,294,681 today with dividends reinvested, but a mere $78,624 without the dividends. Underestimating the awesome edge income-paying securities gives you is the biggest mistake you can make in your investing life.
This course will give you everything you need to start investing for income yourself. If you're already focused on income, you're in luck, too. My 5-part course will give you the tips and tools I've discovered over the years that will help you become an even more successful investor. I'll even share some of my favorite picks for today's market.
But first, I want to show you exactly why I think dividends should be any investor's best friend.
The Unreal Math Behind Income Stocks
Conventional wisdom says that if you take on more risk you're repaid with more reward. Yet that's not always true. The Nasdaq, known for its aggressive dividend-less technology stocks, actually underperformed dividend-heavy utility stocks over the 30-year run from 1971 to 2001. Even with the Nasdaq's spectacular run in the 1990s, utilities still came out on top -- while incurring about half the volatility along the way.
The odds are so kind that it's hard not to come out ahead when you invest this way. I am constantly amazed that more investors don't help themselves to this delicious free lunch.
Maybe it's that the growth stories get the front page -- not the stodgy dividend payers. But what's lost in the shuffle is that dividends are a sign of financial strength, of a real business making real profits. Philip Morris (now renamed 'Altria'), which most investors dismiss as a stodgy -- even boring -- company, is a perfect example of this phenomenon.
There's nothing fancy about making cheese, coffee and cigarettes. But with its high dividends and years of +15-20% growth, 'Big Mo' has thrown off some of the best long-term returns of any investment of the past two decades.
While $10,000 invested in the S&P 500 in 1988 grew into a substantial $83,975 by 2008, that same $10,000 put into Philip Morris exploded into $347,715. You can attribute the bulk of that remarkable 34-fold gain to Philip Morris' 20-year record of high and rising dividends.
But that's just the start of the story. Anyone who bought 200 shares back in February 1988 (then costing $17,350) was receiving $17,922 every year in dividends alone by 2008. That's more than their initial investment!
To top it all off, Altria then spun off its Kraft subsidiary, awarding our original 200-share buyers with 4,078 new shares of Kraft worth $125,806. And believe it or not, these Philip Morris investors incurred 22% less risk than the market during their 20-year ride. Talk about enjoying the best of both worlds!
Years of Experience Studying This Niche Market
I think that most investors ignore dividends because they think 'they don't really matter.' Given that a lot of the most famous names on the market either pay no dividends, or only pay 2-3%, that's understandable.
But what most people don't realize is that there is an entire niche of the market -- which I call the 'High-Yield Universe' -- that offers tremendous yields. Payments of 7% annually are average in this niche... yields of 12-15% aren't uncommon.
I've spent years following this segment of the market, learning the ins and outs of its stocks, bonds... and a few securities I doubt you've ever heard of... to bring them to our readers at InvestingAnswers.
The yields in this arena are spectacular. And their impact on a portfolio is considerably greater than the 2-3% most 'normal' stocks pay. Take a look for yourself...
The Importance of Compounding
The dividend payments generated by a modest investment might seem to be inconsequential. But if you up your yields, it won't take long before they can begin to make a dramatic impact on your portfolio -- especially if you reinvest your dividends.
When you reinvest dividends, your dividend payments can be used to purchase more shares, leading to even larger dividend checks. These larger checks can then be used to buy even more shares and so on. In time, even a small stake in such stocks can grow into a tidy sum.
For example, suppose an investor buys 1,000 shares of stock in XYZ Corp. at a purchase price of $10 per share (for an initial investment of $10,000). Next, let's assume that XYZ pays a steady annual dividend of 10%, and the shares rise at an +8% annual rate going forward.
The very first quarterly dividend check would be worth just $250:
$10,000 x 10% = $1,000
$1,000/4 payments = $250
While that amount will certainly not go very far on its own, it is enough to purchase 25 more shares at the initial $10 per share price. Of course, those 25 shares would then generate dividend payments of their own. As the chart below shows, this steady compounding process can yield amazing results over the long haul.
After 30 years, the initial 1,000 share stake in XYZ would have grown to 17,449 shares! At the same time, assuming a conservative +8% compounded annual growth rate, those shares would have soared from $10 to more than $100. As a result, the beginning $10,000 investment would have swelled to more than $1.7 million dollars, without ever adding another penny!
It's also worth pointing out that at the end of the 30-year period, the portfolio would be generating annual dividend payments in excess of $170,000.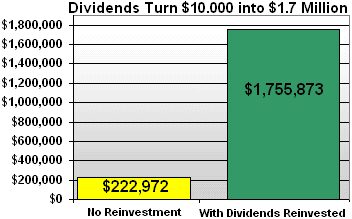 In other words, the investor's annual dividend income alone would amount to more than 17 times his or her initial $10,000 outlay!
No wonder John D. Rockefeller once quipped that the only thing that gave him pleasure was to see his dividend coming in.
But what if you don't want to wait years and years to grow your dividends?
You're in luck. Want regular income? You can simply select how much cash you want to earn from your portfolio and let the market do the rest.
Say you want to earn an extra $15,000 per year from dividends to help out with your bills. If your portfolio is $250,000, you simply need to average a conservative 6% yield from your investments.
If you wanted to earn a little more, you simply need to raise the average yield from your investments. I like to call it the simplest want to get a raise!
Of course, that leaves just one question: Where can you find yields of 6%... 8%... or even 10% or more? I told you earlier about my expertise in the 'High-Yield Universe.' In the sections that follow I'll teach you more about a few of the sectors I found in this field that can shower income investors with surprisingly high yields like these.
Wish You Could Own a Toll Bridge? Here's the Next Best Thing
Be a

Landlord

... Without the Hassle
The SAFE Income Security Overlooked by Most Investors
The 5 Rules Every Income Investor Has to Know