A business model helps shape a company's marketing and sales plans, its growth potential, and its ability to attract investors. Investors use business models to assess a company's profit potential while entrepreneurs use them to shape their ideas into a sound business structure.
What Is a Business Model?
A business model provides a framework for a company's monetization strategies. It focuses on defining the audience (customer segment), unique selling proposition, brand positioning, method of delivery, and distribution channels to create a profit-making formula.
Business models shape all aspects of a company's development and growth. Therefore, they may change over time to adapt to new marketplace opportunities, technologies, or distribution channels.
Types of Business Models
With many types of business models, companies may implement several models simultaneously to maximize profits.
Typical business models include:
User-generated content

SaaS

Franchise

Bricks and mortar retailer

Direct sales or multi-level marketing (MLM)

Advertising based

Diversified model

e-Commerce retail

Subscription model

Freemiums (giving away a free product to sell more later)

Two-sides marketplace

Manufacturing

Distributor
Risks and Profit Potential Vary Among Business Models
Entrepreneurs launching a new company often compare various business models and select one that is likely to generate the best revenues.
User-Generated Content
Some models offer more significant risks, such as user-generated content. While it has a lower startup cost than building a traditional publisher's website, the risk of lawsuits from copyright infringement, low-quality content that degrades SEO potential, and fickle search engine algorithm changes can make user-generated content a risky venture with uncertain profit potential.
SaaS
SaaS ("software as a service") companies have high startup costs but more stable long-term profit potential. SaaS companies rely on cloud-based software delivered by subscription to multiple customers. Innovation, customer service, and a stable subscription base are success drivers for higher long-term rewards.
Successful entrepreneurs utilize the business model canvas to compare different business models and select the one that leverages their strengths for the highest profits.
Franchise
A franchise exists when a parent corporation creates a unique product, strong brand, and replicable business model, then sells it to others to own and operate independently. The parent company licenses the franchise (or a replicable business model) to independent business owners.
In return, franchisees must adhere to the rules set forth by the parent franchise company. They must use the required products and methods of production, adhere to strict advertising and marketing policies, and run their business per the franchise's requirements.
Typical franchises include popular eateries such as McDonald's, Dunkin' Donuts, and Baskin Robbins, as well as service-based franchises such as Edward Jones Investments, Great Clips, and Visiting Angels home-care nursing assistance.
Brick-and Mortar
A brick and mortar business model depends upon a physical store location that sells products and services solely through the storefront. These types of businesses were the norm until mail order, with the internet creating new distribution channels.
Direct Sales/MLM
Direct sales or multi-level marketing (MLM) companies follow a business model that relies heavily on networks of distributors who recruit more people to become distributors. Each distributor receives a commission on products sold and distributors may also receive a commission from the network of distributors they have personally recruited into the company.
Typical direct sales businesses include Tupperware, Avon, Mary Kay, LulaRoe, doTerra Essential Oils, Beach Body, and many more.
Advertising-Based
An advertising-based business model generates revenue solely from the advertisers who either pay for advertising space (print or digital) or time (television or radio ads). The product itself is given away for free to reach the largest number of people.
Telephone books were some of the earliest advertising-based business models. These (and similar directories) offered convenient sources of information before the internet and earned profits from advertisers who paid to have their businesses showcased through display ads. Broadcast television and traditional broadcast radio are great examples of advertising-based companies.
New advertising-based models include blogs and websites which earn profits from digital advertising. Like broadcast radio and television, the content itself is available to view at no charge. Advertising revenues generate these businesses' gross profits.
Business Models Can Change Over Time
As companies find new markets, discover new distribution channels, or develop new products, companies can change their original business model or add additional ones.
For example, McDonald's began as a barbecue founded by brothers Mac and Maurice McDonald. In 1954, Ray Kroc, a salesman, found that the McDonald brothers had created a simple yet effective formula for producing low-cost, tasty hamburgers and shakes. With Kroc's help, the company shifted from a brick-and-mortar model to a franchise.
Today, McDonald's owns over 36,889 outlets in 120 countries worldwide. The corporation reports that 90% of these are franchises.
The Business Model Canvas
In the early 2000s, Alexander Osterwalder invented the business model canvas to help businesses develop and analyze potential business frameworks.
The business model canvas features nine sections or 'building blocks' that define customer segments, value propositions, revenue streams, distribution channels, customer relationships, key activities, resources, partners, and cost structures. The model also guides users through the major areas of consideration for a business's structure and strategy.
Several Examples of Business Models
Entrepreneurs often look to existing business models for ideas and inspiration. Below, several common business model examples offer ideas as to how each framework generates profits for owners and/or investors.
SaaS Business Model
The SaaS business model features centrally-hosted software that can be licensed by multiple customers. Customers pay a subscription fee to utilize the software. Cloud computing – linking numerous networked servers through internet hosts – enables SaaS companies to scale quickly and offer software to multiple customers at once.
Because SaaS is subscription-based, revenue tends to be steady and recurring. SaaS companies can instead focus on building product loyalty and enhancing subscription models.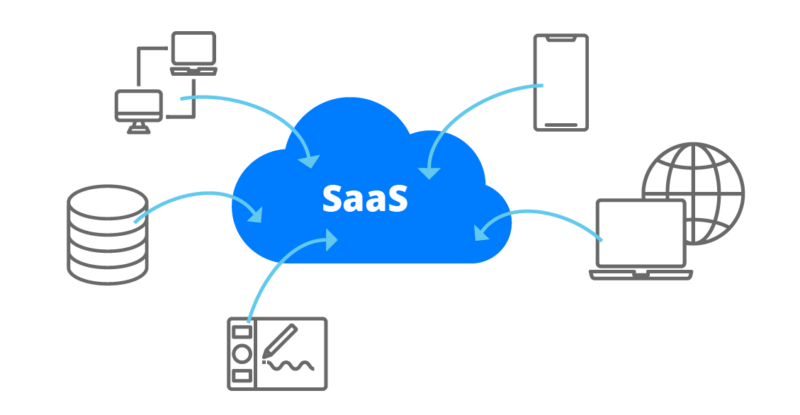 Amazon Business Model
Amazon is run according to a diversified business model. This model includes online stores (which account for 52% of Amazon revenues), as well as physical store locations, AWS services like site hosting, third-party sellers, subscription services, and advertising revenue.
Begun solely as a bookseller, Amazon quickly realized that their actual 'product' was an user-friendly e-commerce store. This unique selling point – combined with an extensive warehouse network that enabled them to ship products quickly from multiple locations – created the perfect environment for adding countless product categories.
Once Amazon became the "everything store", a natural business model extension was included in the advertising model. This encouraged book publishers and product sellers to advertise their goods for a premium position on the Amazon product search results. Third-party sellers have continued to capitalize on the enormous volume of web traffic the site attracts, enabling smaller business owners to reach more customers.
The Uber Business Model
Uber runs according to a 'two-sided' marketplace business model. The company acts as the middleman/broker between two sides: drivers and those who need a ride. Uber created a sophisticated and streamlined platform that easily and quickly connects someone with a need (riders) to someone who can fill that need (drivers). The company derives profits from each transaction, taking a percentage from gross booking.
Consumers' increasing reliance on smartphones and the on-demand economy converged to make Uber's two-sided marketplace business model incredibly lucrative. Their unique selling point is convenience: Consumers can request a driver anywhere, anytime, using an app quickly downloaded to their smartphones. Unlike hailing a cab, they don't have to stand out in the cold, rain, or snow waiting until an available taxi happens to pass by.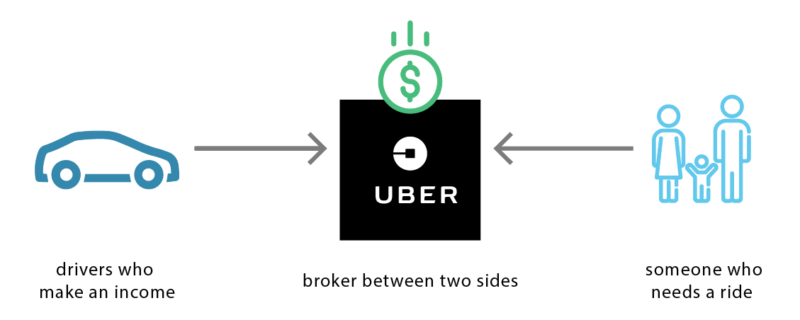 Diversified Business Models
Combining multiple business models (or using a variety of business models) in a single company is called a diversified business model. As companies mature, they often shift from their original business model to a diversified model to embrace technological advances, open new markets, or add product categories.
Examples of Diversified Business Models
Walmart began as a "dime store" offering high-value, low priced products in a single brick and mortar location. Gradually, Sam Walton expanded the number and location of brick and mortar stores. The company eventually shifted to a diversified model incorporating e-commerce, brick and mortar, and third-party sellers through their online shopping portal.
AAA offers subscription-based automotive roadside service but also produces travel guides. These guides are partially funded through advertising, as well as a review and endorsement service for hospitality businesses (e.g. restaurants, hotels).
Publishers sell magazines and newspapers via subscription. In addition, they may use three or more additional models to generate profits: retail (individual copies available for purchase at newsstands or supermarkets), advertising revenue, and freemiums (giving away free copies to doctors and dentists for their waiting rooms).
How Investors Analyze Business Models
Business models offer insights into a company's long-term profit potential. Investors tend to focus on several areas before choosing companies to add to their portfolios: This is especially true of market size, product demand, scalability, and the ability to add new channels.
These components have the most significant potential to impact net income, which is the accurate way investors measure a company's wealth-generating potential. If net income increases, the company is doing well and can be a good investment.
Market Size and Product Demand
Business models include insights into the marketplace, like customer demand, potential for reaching new customers, and expansion opportunities. These insights help investors and analysts understand whether a company has long-term profit potential.
Breyer Model Horse sells realistic and beautifully detailed horse figurines. For decades, collectors have displayed, shown, and competed with their figures for prizes. The company's current business model has expanded to multiple toys for children (e.g. plush toys and mobiles, play barns, posable rider dolls).
By expanding their product line beyond collectibles, the company has increased its customer base to both the collector market and parents of small children. They improved their opportunity to increase gross profit while sustaining their USP as a brand for people who love horses.
Scalability
Scalability refers to a company's ability to expand or grow with the same amount of resources. If a company is limited by geography, customer demand, service delivery, or product availability, its potential for growth and profitability is also limited unless the business model shifts.
Taxi companies provide drivers, cars, and dispatch services. They're limited, however, by the number of cab drivers employed, medallions issued by the city, cars available, and people seeking rides in New York City.
Conversely, Uber can scale exponentially because its product is its app (rather than providing drivers and vehicles). As long as people need rides and drivers require a flexible income source, Uber can continually scale to meet demand.