In our last trading lesson I acquainted you with trends and trendlines (if you missed it, click here to go back and read How Swing Traders Harness the Power of Trendlines). I started by showing how the simple labeling of peaks and valleys could help you determine if a stock was in an uptrend or a downtrend. Recognizing the trend of the stock is the key to profitable swing trading.
I also introduced you to a few simple rules to follow when drawing trendlines. These are rules I use every time I draw a trendline on a chart and they are vital for keeping me on both the right side of the market and on the right side of any given trade. Along with this, I taught you the importance of not fighting the trend. One of the most profitable swing trading strategies I know of involves buying on the break of the downtrend line and taking profits on the break of the uptrend line.
Finally, for those interested in more practice, I challenged you to analyze a chart of the fictitious Trendco Inc. (TREN) to gain practice with drawing trendlines. I'll go over my interpretation of those trendlines at the end of today's trading lesson.
In the meantime, the TREN chart will also serve as our focus for today's discussion of support and resistance. Although the TREN chart covers almost the same period as the one I used for trendlines, I've made some minor adjustments like adding moving averages, reducing the number of indicators and enlarging the chart size.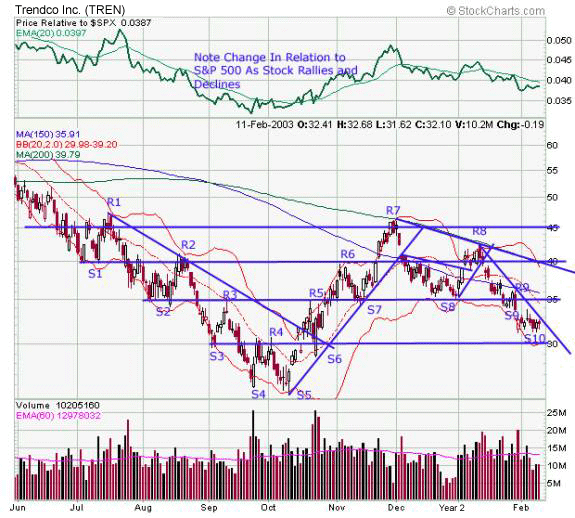 As you can see, instead of labeling the chart with 'P' for peak and 'V' for valley, I have now marked the key highs and lows with 'S' for support and 'R' for resistance from R1 to R9 and S1 to S10.
The discussion of support and resistance in today's trading lesson contains an extremely detailed analysis of TREN's chart. I highly recommend you print this lesson to gain the maximum benefit from it. To fully appreciate how you can profit from careful identification of support and resistance levels, you will want to frequently reference the TREN chart throughout the lesson.
Finding Support & Resistance
Identifying Thrust, Consolidation & Countertrend Movements
Why Support Becomes Resistance When It's Broken
The Alternation Principle
Taking Advantage of Price Patterns
Pulling It All Together