Support Level
A support level is the price at which stock buyers jump in to purchase shares, establishing a floor beneath which it's difficult for the price to fall.
How Does Support Level Work?
Support, along with its cousin, resistance, are extremely important concepts in swing trading, and they are predicted by drawing horizontal trendlines on a stock price chart. These trendlines identify trading opportunities.
 
At least two highs or two lows in the same area are required to create a support level. The pattern gains greater validity every time the stock "tests" price support levels by bouncing off of it.
Let's look at a chart for the hypothetical stock TREN: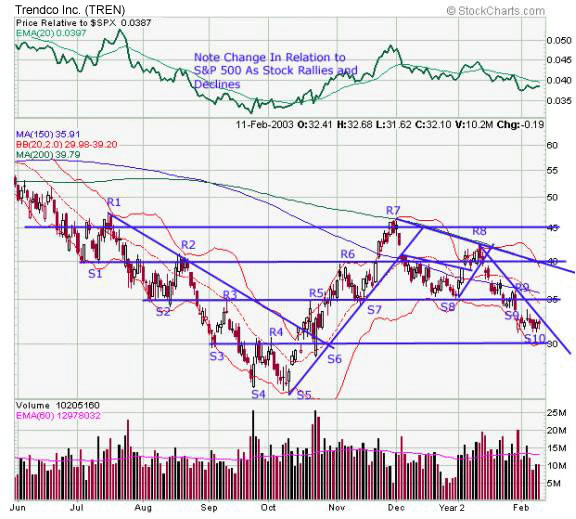 The chart shows the following:
>  R1-S2. TREN trends sharply downward. It finds support in early August at $35, where it then moves sideways, or "consolidates," for several days.
>  S2-R2. The shares rally briefly from roughly $35 to $40. Notice how we can connect R2 with S1 by using a straight line. What had been for a short time a support level has now turned into a resistance level.
>  R2-S3. Between mid-August and early September the shares drop precipitously, from $40 to $30.
>  S3-R3. The rally is brief. TREN recovers to $35.  What had been support at S2, $35, has now turned into resistance at R3.
>  R3-S4. A mid-September decline takes TREN from $35 to $27.
>  S4-R4. TREN pushes back to $30, the level at which it had previously found support (at S3).
>  R4-S5. The shares decline to their final early October low of just over $25.
Why Does Support Level Matter?
Personalized Financial Plans for an Uncertain Market
In today's uncertain market, investors are looking for answers to help them grow and protect their savings. So we partnered with Vanguard Advisers -- one of the most trusted names in finance -- to offer you a financial plan built to withstand a variety of market and economic conditions. A Vanguard advisor will craft your customized plan and then manage your savings, giving you more confidence to help you meet your goals. Click here to get started.