You've probably heard of a checking and savings account before, and you might even have your own accounts. But which is the best place to keep your money? Below we'll compare the features of checking vs. savings accounts so you can better manage your finances.
Checking vs. Savings Accounts: The Major Differences
Checking and savings accounts are different products which serve different purposes. Simply put, checking accounts are typically for money you plan to spend while savings accounts are for money you want to save.
Here's an overview of the differences between checking and savings accounts:
Major Differences between Checking vs. Savings Accounts
 
 
 
Checking Accounts
Savings Accounts
Purpose
Spending
Saving
Interest Bearing
Sometimes
Yes
Minimum Age To Open
Varies by bank. Must open with adult guardian co-owner.
No minimum, but must open with adult co-owner.
Access to Funds

Transfers to checking account
In-person teller transactions
ATM, if account is linked to debit card

Withdrawal Limits
None
Convenience withdrawals limited to six per month**
Service Fees
Sometimes
Less often
**Source: Federal Reserve
The Full Breakdown of Checking vs. Savings Accounts
Let's examine checking accounts vs savings accounts even more thoroughly:
Checking Account Pros and Cons
A checking account is meant to be transactional — that is, the bank expects you to tap into the money often to cover your day-to-day expenses, and it gives you several ways to do so. 
By definition, transaction accounts allow unlimited withdrawals. This makes it easy to use your checking account to pay bills, pay for purchases with your debit card, draw cash from an ATM, or send money using a third-party money app (e.g. PayPal or Venmo).
Although there's no legal limit to how often you withdraw funds, your bank might impose a maximum daily ATM withdrawal and debit purchase amount. Out-of-network ATM withdrawals might also be subject to fees.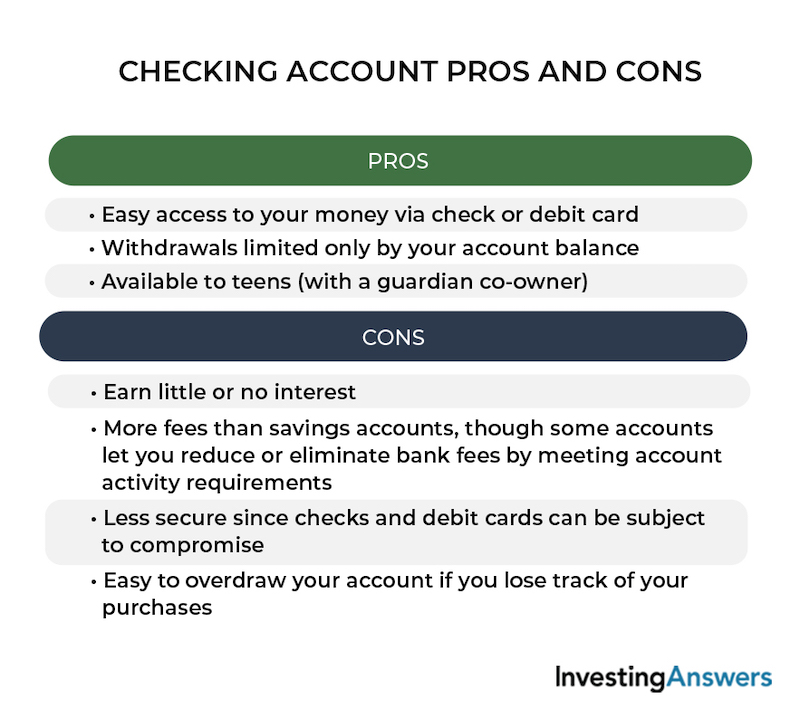 Special Features of a Checking Account
Checking accounts have special features to help manage your day-to-day spending.
Ability to open a joint account with another individual
Check-writing capabilities
The ability to receive direct deposits
Insured against bank failure by the FDIC.
Savings Account Pros and Cons
Savings accounts provide fewer ways to access your funds, and federal law restricts the number of withdrawals you can make to six per month (although the Fed authorized banks to temporarily lift that limit in April 2020). Under normal circumstances, if you exceed the six-withdrawal limit, the bank can charge you a fee, convert your account to a checking account, or even close it altogether.
Not all banks offer debit cards with savings accounts, so chances are, you'll have to link your savings account to your checking account debit card if you want to be able to withdraw funds from an ATM. Otherwise, you can withdraw money by transferring funds to a checking account and then writing a check or using a debit card or ATM, or by going to the bank with a withdrawal slip. 
On the upside, savings accounts pay interest (which is a good incentive to keep saving). Checking accounts sometimes pay interest, too, but at lower rates.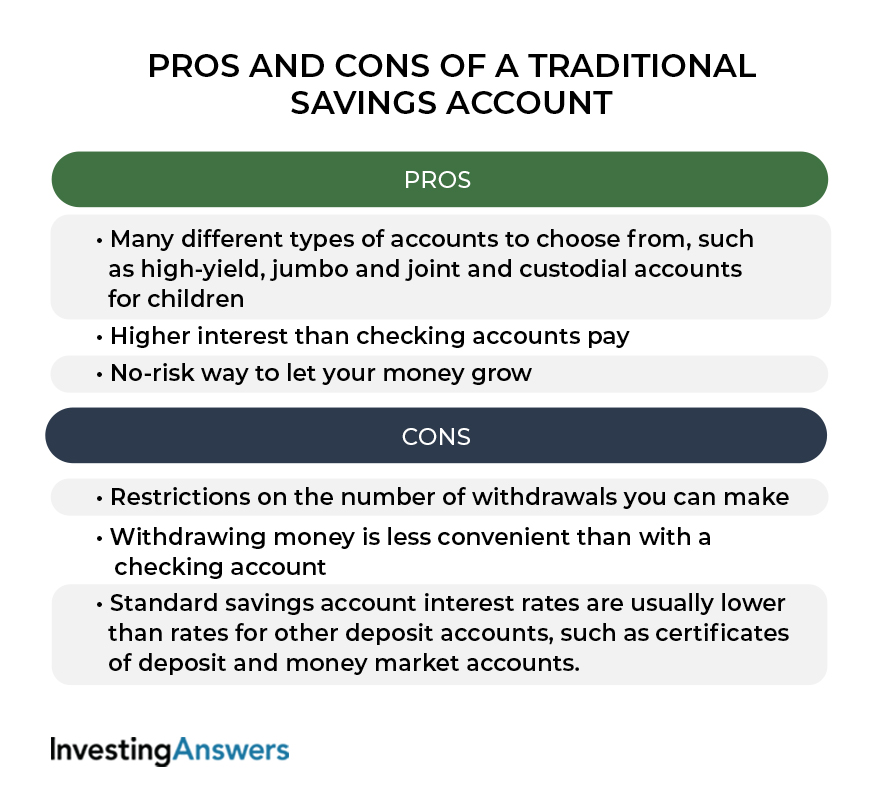 Special Features of a Savings Account
Savings accounts' special features help your money grow.
Can be used as a source of funds for checking account overdraft protection
Can receive direct deposits
Might have auto-save features that transfer money from your checking account at regular intervals to make saving easy.
Can be managed via bank's website and mobile app
FDIC insured
What Savings and Checking Accounts Have in Common
When comparing checking accounts and savings accounts, it's also helpful to understand that both accounts:
Might be subject to minimum opening deposits and account balances
Can usually be managed online via the bank's website or mobile app
Can receive direct deposits
Simple Savings Account Calculator
To see how interest adds up with a savings account, experiment with this simple savings account calculator.
| | |
| --- | --- |
| Current Amount Saved: | |
| Monthly Savings Amount: | |
| Annual Rate of Return (%): | |
| Number of Years: | |
The Power of Interest and a Savings Account
Compounding interest is the savings account's superpower because it pays interest on both the money deposited and the interest your deposit earns.
Compound Interest Example
Say that you use your $2,500 tax refund to open a savings account that pays 0.02% interest. To calculate the interest earnings for the first year, multiply 2,500 by 0.0002 to arrive at $0.50. At the end of a year, your account is worth $2,500.50 even though you didn't contribute a cent after the initial deposit.
In Year Two, you earn interest on the entire balance, which is the deposited amount plus the interest on your deposit ($2,500.50 x 0.0002 = $2501). Your account would be worth $2,501. By the end of Year Five, your account would be worth $2,502.50. That's $2.50 in free cash – just from having the account.
Use the compound interest calculator to run your own numbers. Pay particular attention to the exponential growth you'll see if you make regular monthly payments into the account.
Why You Need a Checking and Savings Account
Chances are, you need both a checking and a savings account because each one serves a specific purpose for managing your money.  
Your checking account is a transactional account that's meant for everyday living expenses. But it won't earn you much interest, if it earns you any at all, so it doesn't make sense to keep too much money there.
A savings account is meant for money you don't plan to spend for a while. The convenience withdrawal limit makes it a poor choice for use as your primary transaction account. However, keeping your extra money separate from your everyday money lets you earn more interest on cash. It also makes budgeting easier and reduces the risk of overspending.
For most people, it isn't so much a choice between checking and savings accounts but the realization that a well-rounded money management plan probably needs both.
How To Find the Best Checking and Savings Accounts
Any account can provide a place to keep your money, as well as ways to transfer and withdraw it. The best accounts do that at low cost, and they reward you for your efforts. Here's how to find them:
1. Cast a Wide Net
In addition to looking for traditional brick-and-mortar bank accounts, investigate offerings from online-only banks and credit unions. The low overhead of online banks and not-for-profit status of credit unions often let them pass greater savings along to their customers.
2. Watch out for Fees
Avoid checking account fees in particular. These include fees for monthly maintenance, using out-of-network ATMs, and overdraft and overdraft protection, to name a few. Look for accounts that have low or no fees, or those that provide ways to have them waived.
3. Compare Interest Rates
Research high-yield savings accounts that pay higher interest. You might come across high-yield checking accounts, too, but your checking account interest rate is less important if you're only using the account for routine spending.
4. Go for Convenience
Your bank should make it easy to deposit and access your money. Local branches (if you prefer to bank in person), a mobile app with robust money management tools, and 24/7 customer service can all improve your banking experience.
Find the Best Savings Account Rates
Savings account interest rates average less than 1% (sometimes much less). But you can do better. Take a look at these current rates.
Find the Best Checking Account Rates
Average checking account rates are even lower, so it pays to compare rates from a variety of financial institutions.
Ask the Experts About Savings vs. Checking Accounts
At InvestingAnswers, all of our content is verified for accuracy by certified financial experts. Our experts also take the time to answer your questions at the end of each article.
How Can I Find My Bank Account Number on Checking vs. Savings Account?
Your account numbers should be listed on the documents you received when opening your accounts. In the event you no longer have them, you have other options for locating the numbers.
Your checking account number is listed on your checks. You'll find it at the bottom center of each check, between your bank's nine-digit routing number on the left and the check number on the right. The account number is located in the same place on the pre-printed deposit slips included in your check pad.
If you've set up online banking, you can also get the number from images of checks you've cashed recently in your account activity. 
Your savings account number is printed on your deposit slips. 
Checking and savings account information might also appear on your paper statements, as well as in your account information (accessible online and via mobile banking). If you bank with a brick-and-mortar financial institution, you can stop in to request your account number from a teller.
Should I Have More Than One Checking vs. Savings Account? 
Some bank customers benefit from having more than one savings vs. checking account (or vice versa). 
Having more than one checking account is useful if: 
You're a business owner who would benefit from maintaining separate checking accounts for personal and business use.
You and your partner share a joint account for household expenses but need individual accounts for your own personal spending.
You're on a budget and want to separate necessities from optional day-to-day expenses like dining out.
Opening an additional savings account can be beneficial, too. You can:
Use one account to build an emergency fund and separate savings account for other goals (e.g. house down payment, vacation).
Maintain a modest balance in a second savings account to use as overdraft protection for your checking account to avoid overdraft fees without dipping into your regular savings.
Reserve one account for long-term savings and designate a second one to hold money for predictable (but infrequent) expenses such as homeowner association fees and professional dues.
Checking vs. Savings Accounts: Should I Have Them at the Same Bank?
Keeping both accounts at the same bank is generally the most convenient way to bank, but consider whether separating them might be a better choice. 
If you maintain balances of more than $250,000 in your deposit accounts, it's best to keep the accounts in separate banks to protect your funds in the unlikely event that your bank fails. FDIC insurance only covers $250,000 per depositor, per bank.
Using more than one bank also lets you take advantage of special promotions. Say, for example, you have $10,000 in savings at your current bank. A competing bank is offering $200 cash for clients who open a new account with $5,000 and maintain that balance for six months. If you won't need to access to more than half your savings for six months, you can open the new account to take advantage of the incentive without moving your account.
Keeping your checking account local – but moving your savings account to a bank that pays higher interest on savings – might make sense for you. This way, you can avoid the hassle of changing your debit card and ATM network while still earning top dollar on your savings.
How Much Should I Have in My Savings & Checking Account?
This depends on your financial goals and your budget. 
Your checking account balance should be enough to cover your day-to-day expenses, plus a cushion to help you avoid overdrafts. Shoot for keeping two months' worth of expenses in your account. Less than that can leave you short if you have an unexpected expense or a delayed deposit. Too much will cost you interest on money that's better kept in a savings account.
For your savings account, experts recommend that you build an emergency fund of three to six months' worth of living expenses. Your emergency fund will tide you over in the event you lose your job or have a major unexpected expense (like a medical emergency or home repair). For other savings, the best amount is that which helps you build wealth and reach your financial goals.
Personalized Financial Plans for an Uncertain Market
In today's uncertain market, investors are looking for answers to help them grow and protect their savings. So we partnered with Vanguard Advisers -- one of the most trusted names in finance -- to offer you a financial plan built to withstand a variety of market and economic conditions. A Vanguard advisor will craft your customized plan and then manage your savings, giving you more confidence to help you meet your goals. Click here to get started.