A checking account is an easily accessible place for your money. These banking accounts are typically used for everyday spending and paying the bills, making them a financial product that plays a major role in your life.
What Is a Checking Account?
The primary function of a checking account is to provide a safe place for you to deposit money – and multiple ways for you to spend that money.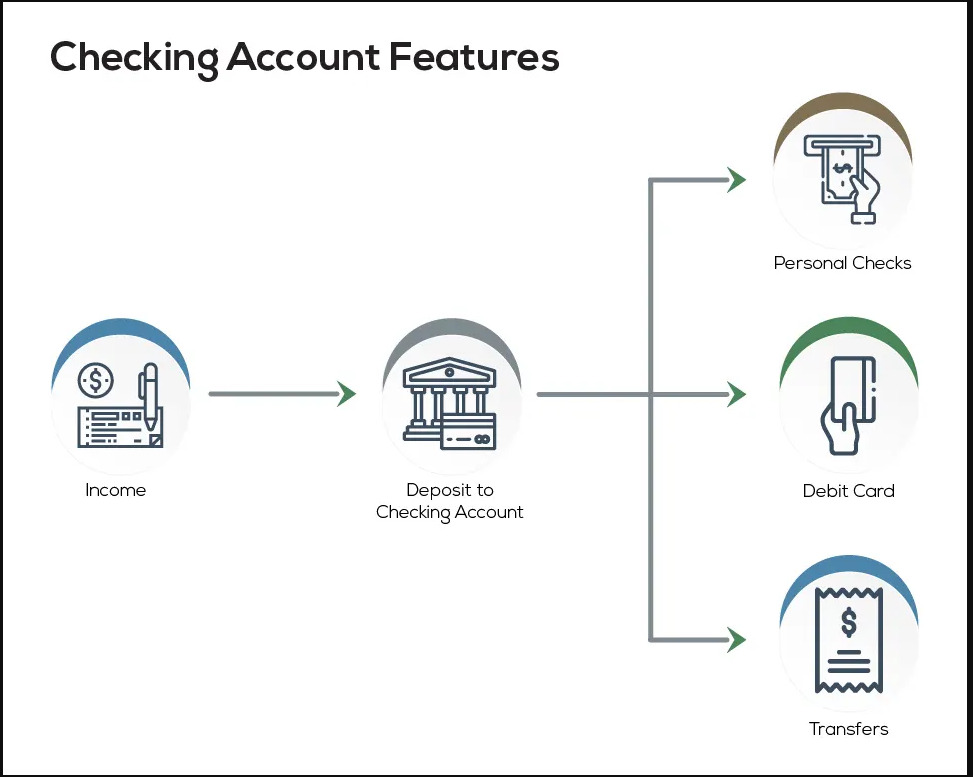 Checking Account Features
Common checking account features include:
A debit card to use for everyday purchases
ATM access to get cash quickly or make a deposit (you will use your debit card to access your account at an ATM)
Personal checks in the form of a checkbook
The ability to send money through ACH transfers or wires
A way to receive direct deposits
Automated features to set up bill pay and transfers.
Types of Checking Accounts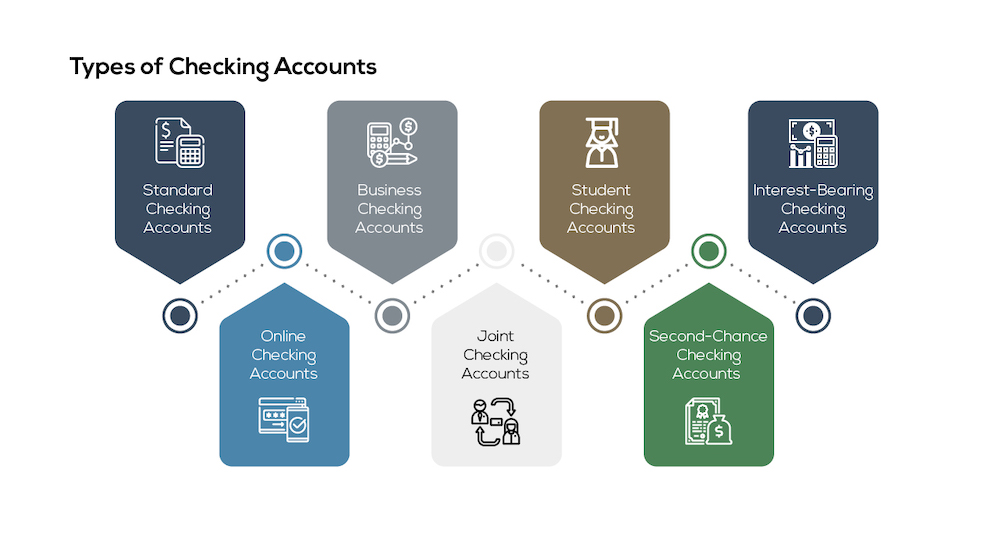 While the features of checking accounts are similar, there are different types of checking accounts each designed for specific customers. Take a look at the types of checking accounts below to see which one might be the best fit for you.
Standard Checking Accounts
If you want in-person bank access,a standard checking account at a local bank or credit union might be a great option for you. It allows you to deposit and withdraw money with the usual checking account features.
Watch out for pesky monthly maintenance fees attached to some standard checking accounts. You can avoid this by keeping enough money in the account or simply find a standard checking account without monthly fees.
Online Checking Accounts
Online checking accounts are ideal for those who don't need in-person banking. You will need to be comfortable navigating an online banking portal and with depositing checks through the app.
The upside to online checking accounts is that they typically carry lower fees since the institution isn't paying for a brick and mortar location. The downside is that you'll have more limited access in terms of ATMs (and obviously no branch access).
Business Checking Accounts
If you are a business owner, you probably already have a business checking account. Business checking accounts often allow higher withdrawals, but they can also be accompanied by higher minimum balance requirements and fees on extra cash deposits.
The major benefit to a business checking account is the ability to keep your personal finances totally separate from your business transactions. Come tax time, your accountant will thank you.
Joint Checking Accounts
A joint checking account functions exactly like a standard checking account except that you can add multiple people to the account. Each person will get access to the funds through a debit card, checks, and an online login.
Joint checking accounts are a popular choice for couples looking to streamline their finances by having a single pool of money. However, the obvious caveat is the other account holder has full access to the funds, so certainly be careful before taking this step!
Student Checking Accounts
Student checking accounts are available at certain financial institutions for both high school and college students. Student checking accounts often waive all monthly fees and offer free checks or money orders. They also allow for a much lower required minimum balance.
Of course, age limits do apply. Most banks have a system in place to transition the student checking account to a standard checking account once the account holder ages out.
Second-Chance Checking Accounts
A second-chance checking account is specifically designed for customers with bad banking histories. For example, if your bank closed your checking account due to unpaid or negative balance, then you will want to look for a second-chance checking account.
These accounts do carry a higher monthly maintenance fee. However, if you can keep the account in good standing for a certain period of time (determined by each bank), then you can transition to a standard checking account in the future.
Interest-Bearing Checking Accounts
If you keep a large amount of cash on hand, then an interest-bearing checking account could be a good option for you. These accounts pay a small return for keeping your money in the account on a monthly basis. You can find interest-bearing accounts with a flat rate or tiered rates based on your account balance.
Be wary of choosing an interest-bearing checking account if you keep a balance under five figures. These accounts often carry the most expensive fees which can wipe out any interest earned if your balance is too small.
Best Online Checking Account Offers
With apps and mobile deposit options, online checking accounts are easy to use. The most appealing part, however, is the number of online checking accounts that have cut their fees.
To help you in your search for the best online checking account, we highlighted our top 5 offers.
| Bank | Type of Checking Account | This checking account might be best for... |
| --- | --- | --- |
| Simple Bank | Online interest-bearing checking account | Someone comfortable who wants a no-fee, interest-bearing account. |
| NBKC Bank | Online free checking account | Someone who wants a free, no-hassle, online checking account. |
| Ally Bank | Online checking account with reimbursed ATM fees and no monthly maintenance fees | Someone who wants to use any ATM fee-free and pays attention to their balance. Ally charges a $25 overdraft fee that you will want to avoid. |
| Capital One 360 Checking | Online checking account with no minimum balance requirements | Someone who has variable income and may not be able to meet a balance requirement. |
| Discover | Online rewards checking account with no fees | Someone who regularly makes purchases on their debit card to reap the 1% cash back reward. |
** Account features and fees last checked on 06/16/2020. For current information, please check with each bank and read the terms and conditions.
Find up-to-date offers from all kinds of banks here.
You can also check out your local credit unions to see what they can offer you. Credit unions are known for having low-to-zero fees and easy access to branches within the community.
Checking vs Savings Accounts
Checking accounts and savings accounts each serve different purposes for managing your money.
A checking account handles the frequent in and out of cash to pay for everyday expenses. A savings account is a place to store your money for short-term financial goals.
Unlike a standard checking account, savings accounts offer a small amount of interest and limit the number of transfers and withdrawals each month. It's a good idea to have both a checking account for your frequent purchases/deposits as well as a savings account to safely store your money for future purchases.
Further Reading on Bank Accounts
For more information on personal finance products like bank accounts check out the following articles: