Bank fees can rob you of your hard-earned money. Fortunately, you don't have to pay hundreds of dollars in bank fees every year. Below our expert financial advice covers how to avoid bank fees with some simple planning and insider banking knowledge.
What Are Bank Fees?
A bank fee is a small fee charged for the maintenance of your account or for violating a banking rule. Bank fees can be one-time or ongoing, or they may be the result of a penalty.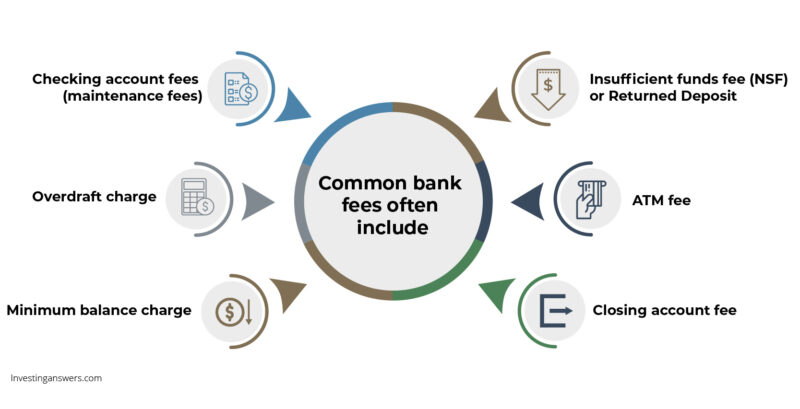 What Are Typical Bank Fees?
A 2019 Bankrate survey found that bank fees have increased since 1998. The average overdraft fee is $33.36 and the average ATM fee is $3.09. The most shocking climb has been the average monthly maintenance fees on interest-bearing accounts which rose to $15.05 (more than twice the amount that non-interest account holders pay).
How to Avoid Bank Fees
While bank fees may be nominal, over time, they can chip away at your finances. Therefore, it's best to learn how to avoid them altogether.
1. Find Free Checking and Savings Accounts
In today's hyper-competitive banking market, there's no reason you should be paying a monthly fee for your checking or savings account (which can cost as much as $10 to $20 or more per month).
It's possible to find banks and credit unions with no monthly maintenance fees. Be sure to ask your institution's representative about the conditions beforehand (e.g. required balances you need to maintain and if you need to make a certain number of transactions per month). Some banks will waive checking account fees if you set up a monthly minimum transfer amount to a savings account.
2. Watch Out for Interest Bearing Accounts
Watch out for banks that say they charge a monthly fee for the interest-bearing accounts as it's not always worth it. Unless you have $10,000+ stashed in the account, you are likely not doing yourself any financial favors.
3. Have Your Paycheck Direct Deposited
If you can, opt to have your paycheck directly deposited into your account. Banks and credit unions often reward customers who direct deposit by removing maintenance fees and minimum balance fees.
4. Track Your Expenses
It's essential to keep track of your own transactions to avoid non-sufficient funds (NSF) fees and overdraft charges.
These bank fees are charged if your account balance goes below $0 and you continue to write checks or purchase items with your debit card. Depending on the institution, you can be charged $20 to $35 in NSF fees for each and every payment that clears. These fees are some of the most lucrative revenue streams that banks and credit unions collect.
It is easy to see how a tight balance – combined with a few forgotten transactions – can quickly add up to hundreds of dollars in bank fees.
5. Sign Up for Alerts and Overdraft Protection
If you're not great at keeping track of your transactions, you still have an option to help you avoid NSF fees or overdraft fees. Ask your institution's representative to 'opt-out' of overdraft protection. While 'opting out' means your debit card may be denied (or your checks will bounce) if you don't have enough funds, you'll never pay hefty NSF fees again.
6. Link Your Accounts
Another way to avoid bank fees is to link your accounts. This simply means your accounts can act as a "back-up" in case you don't have enough funds in one. In this case, instead of being charged a NSF fee, the bank will grab funds from your savings or credit card account to cover the transaction.
You can ask your institution if they allow you to link – and automatically draw funds from – your savings account or credit card to your checking account in the event its balance goes below zero. There may be a fee involved, but it's likely to be much less expensive than paying NSF or overdraft fees.
7. Use "In-Network" ATMs
The best way to avoid paying ATM withdrawal fees is to only take out cash from machines that are branded with your bank or credit union's name. This means they are "in-network", which usually means they don't charge for transactions.
8. Get Cash Back Instead
If you find yourself in need of cash while you are on vacation (or otherwise away from your institution's network of ATMs), then you can still avoid the bank fee. Try using your debit card at a retail store or gas station and press the 'cash back' button to get access to fee-free cash.
9. Use a Co-Op ATM
This tip is only for credit union members. If you use a credit union, check your institution's app to find partnering or co-op credit unions with 'surcharge-free' ATMs. You'll still have to pay a partial ATM fee, but at least your institution will waive its portion of the offsite ATM fees.
Finding the Best Banks with No Fees
There are plenty of banks and credit unions that don't charge fees. Below, we've included both online and in-person banks that carry low or no fees.
** Credit unions are not included in the banks below because these financial institutions are local and each branch has its own fee structure. That said, many credit unions have low (or zero) fees and are worth looking into within your community.
Which Bank Doesn't Have Monthly Fees?
Below are checking accounts that do not have monthly fees. Many of these financial institutions also have savings accounts without fees that you can also apply for simultaneously.
Bank
Details
Type of Bank
BB&T Back to Basics
No monthly fee
$50 Minimum open fee
In-person bank with online account access
Capital One 360 Checking
No monthly maintenance fee
No minimum balance
Overdraft forgiveness
Online bank with ATMs across the US
Ally Bank Interest Checking
No monthly maintenance fee
No minimum opening deposit
Up to $10 in domestic ATM fee reimbursements a month
Online Bank
Axos Bank Essential Checking
No monthly service fee
No overdraft or insufficient funds fee
Unlimited fee reimbursements for domestic ATMs
Online Bank
Discover Bank Checking
No monthly service fee
No deposited item returned fee
No stop payment order fee
No insufficient funds fee
Online bank with ATMs all across the US
What Bank Doesn't Charge ATM Fees?
Banks don't charge ATM fees as long as you stay in-network. If you travel often, you may want to look into banks that reimburse ATM fees or credit unions who have a shared branch network (i.e. co-op). For example, banks like Ally, Fidelity, USAA and BankFive reimburse ATM fees (up to a specific amount) for out-of-network withdrawals.