Prepaid cards, also known as reloadable debit cards, have become popular consumer financial products.
Accepted everywhere traditional credit and debit cards are taken, prepaids offer access only to the amount of money originally loaded onto the card (so no overdraft fees), as well as a number of other benefits for anyone working within budget boundaries.
For consumers tired of the seemingly endless bank fees nibbling away at their hard-earned cash, these cards appear to be a great way to thumb your nose at the banking industry as a whole. Or so it would seem.
What Are Prepaid Debit Cards?
Prepaid debit cards have traditionally catered to the unbanked and under-banked consumers, terms used to describe low-wage earners with bad credit or those with few banking options in lower-income neighborhoods. These consumers are more likely to use check cashing services, payday loans or non-bank money orders for their financial transactions, rather than a traditional checking or savings account.
|
The largest providers of prepaid cards to these markets have been companies like Green Dot Corporation and NetSpend Holdings, Inc., which sell them in grocery stores, convenience stores and check-cashing outlets. Many established banks and credit unions have also considered or tried their hand at the pre-paid debit card market.
These cards typically appeal to:
1. Adults seeking to curb impulse spending.
2. Students under the age of 21 who do not have a credit card.
3. Parents wanting to teach their children money management skills.
4. The unbanked and or under-banked consumers who make up more than a quarter of U.S. households.
5. Online shoppers wanting to limit the risk of debit or credit card fraud.
6. Tourists wanting a pre-paid currency card without the hassle of expensive exchange fees.
How to Get a Prepaid Card
The simplest way to get a prepaid debit card is through a retail store displaying the Green Dot, Visa, or other prepaid company's logo. Customers can purchase the card pre-loaded with any dollar amount, just like if you're buying a gift card. Activating the card is as easy as a phone call or a visit to the company's website. Reloading is possible by either returning to a supported retailer, or by enabling bank account transfers or signing up for direct deposit through your work place.
Alternately, consumers can purchase cards online. The application process asks for the customer's name, address and date of birth. Applicants must be 18 or older, though teenagers between the ages of 13 and 16 can apply with parental consent.
Once the issuer approves the application, the cardholder will receive the card in approximately 7-10 business days after applying. The card must be activated before it can be loaded with cash. This is done either by directly calling the company or by going online. After card activation is complete, the user can then choose a cash-loading option.
For those preferring the ease of electronic transfers, prepaid cards typically come with an account and ACH routing number for bank account cash transfers. If the card has a Green Dot MoneyPak or Visa ReadyLink logo on the back, it can also be reloaded either online or at any retailer site displaying these logos.
Acquiring a card is perhaps the easiest part of the process. Like any good deal, though, there's also a catch.
Prepaid Card Fees and Charges to Watch For
Prepaid debit cards are also equal opportunity fee chargers to both merchants and users.
Since these cards are exempt from the financial overhaul bill for interchange fee reform, the advantages of prepaids for financial institutions are two-fold: The issuing-banks increase the number of customers from previously overlooked markets, while potentially counterbalancing their debit-card fee losses expected from the upcoming debit card reform.
And with little regulation to limit the number of hidden fees associated with prepaid debit cards, there is no limit to the number of charges that can quickly reduce an unsuspecting card user's cash balance.
Some prepaid card charges may include:
Activation fees ranging from $3.00 to $39.95.
Monthly fees ranging from $2.95 per month to $9.95 per month.
Cash withdrawal fees ranging from $0.99 to $2.50 for each withdrawal.
Balance inquiry fees ranging from $0.45 to $1.00, not including any additional fee charged by the ATM owner.
Paper statement fees ranging from $1.00 to $5.95.
Customer service fees ranging from $1.00 to $3.95.
Inactivity fees ranging from $1.95 to $9.95 per month.
What is the Best Reloadable Debit Card?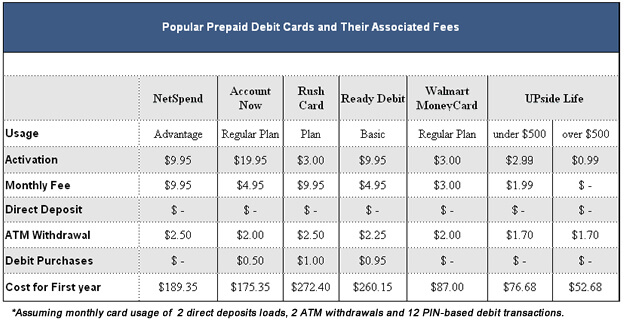 Note that while some prepaid cards might charge fewer fees than others, sometimes the no-frills, non-overdraft checking account with a debit card will still be cheaper than prepaid debit cards. And there's always the idea of using a credit card and simply paying off the balance every month to keep from racking up debt.
But for now, the rising popularity of prepaid debit cards means competition is fierce and consumers can expect better deals as fees are drastically reduced to attract consumers. A little research will go a long way to ensure your account balance isn't being diminished by excessive fees.
Three great ideas to earn big rewards and build credit:
Personalized Financial Plans for an Uncertain Market
In today's uncertain market, investors are looking for answers to help them grow and protect their savings. So we partnered with Vanguard Advisers -- one of the most trusted names in finance -- to offer you a financial plan built to withstand a variety of market and economic conditions. A Vanguard advisor will craft your customized plan and then manage your savings, giving you more confidence to help you meet your goals. Click here to get started.