Real estate has historically been one of the best long-term investments available. For most people, that's accomplished through ownership of their primary residence. But if you want to invest in private real estate, the kind that can pay better risk-adjusted returns compared to REITs, look no further than real estate crowdfunding platforms.

The field of real estate crowdfunding platforms is growing each year. Given that it's a relatively new asset class, choosing which platform to invest with can be confusing. For that reason, we're going to provide a head-to-head comparison of Arrived Homes vs. Fundrise.

Each will give you the ability to invest in commercial real estate deals, but in a unique way. After reading this comparison, you may want to make either Arrived Homes or Fundrise the platform you'll use for the commercial real estate asset class in your portfolio.
What Are Arrived Homes and Fundrise?
Arrived Homes is a real estate crowdfunding platform where you can invest in fractional shares in quality single-family rental homes. Since the platform is new, and no properties have been sold as yet, income is currently limited to dividends based on net rental income from each property.

It's expected that appreciation will provide an additional return as properties are sold. But since Arrived Homes only began acquiring properties in 2021, none have been sold so far. The company expects a holding period of between five and seven years on each property.

Each investor will be investing in shares of a Series or Series LLC that owns the underlying property. Arrived Homes intends for each individual home series to elect and be qualified to be taxed as a separate real estate investment trust (REIT). This is expected to take place in the taxable year ending after the completion of the initial offering of interests in each series.
Because you can invest with as little as $100, there will be multiple owners in each property. You will be entitled to your fractional interest in the income and capital appreciation on each property you invest in.

While Arrived Homes is a new real estate crowdfunding platform, Fundrise has been around for several years and is one of the better-established competitors in the field. It's also one of the most innovative platforms, offering five different investment plans, with minimum investments ranging from as low as $10 to over $100,000.

Because of its longer history, Fundrise publishes higher average annual returns. Fundrise also offers a feature that is fairly rare in the real estate crowdfunding space, which are early redemptions. Investors can withdraw funds, subject to certain limitations, on a quarterly basis.

While you'll invest in shares of individual properties with Arrived Homes, Fundrise offers shares in proprietary funds and non-public real estate investment trusts, each of which invests in multiple properties.
Arrived Homes vs. Fundrise: How Do the Real Estate Crowdfunding Platforms Work?
The table below is a side-by-side comparison of the basic features offered by both Arrived Homes and Fundrise. We'll go into more detail as we move through this comparison guide. But if you'd like a deeper discussion of either site, check out our reviews for both Arrived Homes and Fundrise.

We also encourage you to visit our 10 Best Real Estate Crowdfunding Sites, where you can check out summary reviews of other real estate crowdfunding platforms you may be interested in.
Platform / Feature
Arrived Homes
Fundrise
Best For
New investors and those who want to specialize in single-family rental properties
New investors and those who favor an income/growth balance
Minimum Investment
$100
Starter: $10+
Basic: $1,000+
Core: $5,000+
Advanced: $10,000+
Premium: $100,000+
Accredited Investor Requirement
No
No
Fees
1% annual fee
1% annual fee on funds and real estate investment trusts (REITs) + 1% redemption fee within the first 5 years
Investment Types
Single-family rental properties
Proprietary funds and REITs
IRA Availability*
Yes, traditional and Roth
Yes, traditional and Roth ($1,000 minimum)
Liquidity
Expected, but not yet in place – will be subject to six months wait from initial investment
Quarterly redemption option (not guaranteed)
Average Annual Return
5.95% – 7.54% (net of fees), based on dividends paid in the 3Q, 2021, annualized (property appreciation is not included because no properties have been sold)
8.81% – 16.11% (actual range from 2018 - 2021 Q3 – net of fees, not guaranteed)
Investment Holding Period
5 to 7 years
5+ years
Potential to Lose Money
Yes
Yes
Availability
All 50 states
All 50 states
Mobile App
N/A
iOS and Android
Customer Service
Phone and email, no days or hours specified
Email only (1–2 day response, Monday thru Friday, 9:00 AM to 5:00 PM, Eastern Time
Better Business Bureau Rating (Scale: A+ to F)
A
A
* IRA accounts must be held through a special type of account, known as a self-directed IRA (SDIRA). These are specialized custodians that specifically handle nontraditional investments, like real estate crowdfunding. The custodians are not popular investment firms, like Charles Schwab, Fidelity, or E*TRADE. Instead, they are smaller firms and generally considered to be riskier than common brokerage firms.
Arrived Homes vs. Fundrise: Due Diligence Processes
Due diligence may be the single most important element in real estate crowdfunding investing. That's the vetting process that crowdfunding platforms use in selecting properties for investors. Very specific criteria are applied to each investment to make sure it's investor-worthy.
Arrived Homes
Arrived Homes performs a 10-step due diligence process that includes the following: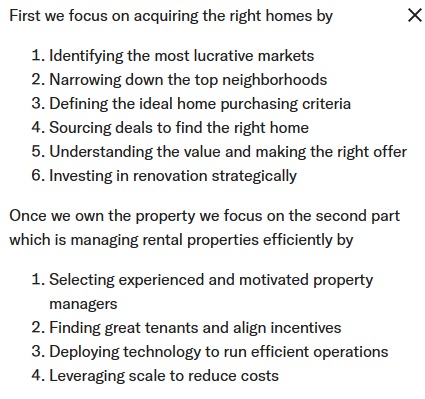 Fundrise
Fundrise similarly uses a multi-step due diligence process. A lead underwriter is assigned to evaluate each project. In all, Fundrise uses more than 350 data points in underwriting each project.

A few of those data points include:

• Visits to the property
• Consideration of comparable properties (including sales and rents)
• A thorough analysis of the project budget
• Pro forma financial analysis
• Performing a comprehensive appraisal
• Rent roll review
• Review of local laws, including the existence of rent control
• Capital expenditures of the previous five years

Once underwriting analysis has been completed, the project will be presented to the Investment Committee for approval. But that approval also includes an evaluation of downside scenarios, including stress testing of those possibilities.
Arrived Homes: Pros and Cons
Pros:
Opportunity to invest in single-family rental properties.
Requires a minimum investment of only $100.
Spread your investment across multiple properties for greater diversification.
No accredited investor requirement.
Pays quarterly dividends, as long as the amount per investor equals at least $5.
Cons:
You can request redemption after six months, but there is no guarantee it will be fulfilled, depending on the market.
Investment selection is limited to 28 properties
Arrived Homes is new for 2021: six properties were purchased in 2021, with the remaining 22 acquired in the third quarter of 2021.
Platform that has yet to fully complete (sell and payout proceeds) any properties held for investment.
Don't Miss: Arrived Homes Review: Real Estate Investing Starting at $100
Fundrise: Pros and Cons
Pros:
Choose from five different plan levels, each with its own unique investment style and expected returns.
One of the investment plans lets you invest in single-family properties.
You can invest for income, growth, or a combination of both.
Start with as little as $10.
Higher risk/high reward investments are available in the Advanced and Premium investment plans.
Low, transparent fee structure.
Quarterly redemption option for early withdrawal purposes.
Offers a dividend reinvestment plan.
90-day satisfaction guarantee if you're not pleased with the investment.
Cons:
Five-year investment horizon to maximize your return.
No control over specific investments within your fund or REIT.
Dividends are subject to ordinary income tax rates since they're not considered to be capital gains but a distribution of net profits.
Quarterly redemption option may not be available at all times and should not be relied upon. Availability will be more restricted during market downturns when there are more redemptions than purchases.
Customer contact is available only by email, with one- to two-day response time.
Don't Miss: Fundrise Review: Best Real Estate Crowdfunding Site for Beginners
How to Withdraw Money from Arrived Homes and Fundrise
Investing in real estate is a long-term commitment, and that applies to most types of real estate crowdfunding as well. Most platforms will require you remain invested for five years or longer. That timeframe is necessary so properties can be acquired, renovated (if necessary), and sold at a later date for a higher price. That process will maximize potential capital appreciation, which is one of the primary profit drivers with real estate.

For that reason, real estate crowdfunding platform investments, including those with Arrived Homes and Fundrise, will be illiquid. Once you make your investment, you'll generally be expected to stay invested for the full term of the property deal.

That said, each of the two platforms have different policies for early withdrawal or liquidation.
Arrived Homes
Arrived Homes warns investors to be prepared to invest for between five and seven years. Currently, there is no capacity to liquidate your investment early. However, the company states it is working on a program that will allow investors to redeem their shares. When it's available, it's expected there will be a six-month holding period on withdrawals from your initial investment.
Fundrise
One of the features that makes Fundrise unique – and popular with investors – is the early withdrawal capability. To be sure, Fundrise also recommends remaining invested for at least five years to get the maximum benefit from your investment. But it does provide an option if you need to get out sooner.

Fundrise attempts to offer early withdrawals on a quarterly basis. But you won't be eligible for withdrawals until you've been invested for a minimum of 90 days. Any withdrawals taken within the first five years of your initial investment will be subject to a 1% early withdrawal fee. After you've been invested for at least five years, the fee will no longer apply.

The withdrawal policy shouldn't be seen as a guarantee of any kind. Fundrise will only make early withdrawals available if it has sufficient free cash to accommodate redemptions. If those funds are not available, the withdrawal request will be denied.

The platform also advises withdrawals may be limited (or even completely unavailable) due to heavy demand for redemptions by other investors, or by a reduction in funds from new investors.
Are Arrived Homes and Fundrise Passive Income?
From an investor standpoint, passive income is the receipt of income on an ongoing basis, without any material effort made by the investor. By that definition, both Arrived Homes and Fundrise are passive income sources, and Fundrise even appears on our list of the best passive income ideas for 2022. Once you make your initial investment, all properties you invest in will be completely managed by the crowdfunding platform. You will not be required to participate in management at all.

Meanwhile, you'll earn dividends paid out of net rental income. Keep in mind that these dividends are classified as non-qualified, which means they are taxed as regular income instead of qualified capital gains. And once the property reaches its expected investment term, it will be sold. If it's sold for more than the cost of acquisition and renovation, you'll receive a distribution of capital appreciation on the property, net of transaction fees.

But while Arrived Home and Fundrise are passive income sources from an investor standpoint, they're not technically considered truly passive investments.

With investments, passive generally refers to funds that track popular indexes. The perfect example is an exchange traded fund (ETF) that tracks the S&P 500. The ETF will be considered a passive investment because no active management is required on the part of the fund manager. He or she establishes the fund to parallel the S&P 500 and makes trades within the fund only when companies are either added or subtracted from the index.

Real estate crowdfunding platforms are considered actively managed because managers are required to actively seek properties to invest in, manage them continuously, then dispose of them at the end of the investment term.

But while that's happening, there is no responsibility for managing properties on the part of investors. For them, real estate crowdfunding is a passive income source.
Still deciding? REITs vs Real Estate Crowdfunding: Which Is Best for Investors in 2022?
Summary: Is Arrived Homes or Fundrise Better?
In many ways, Arrived Homes and Fundrise are similar. Both have very low minimum initial investment requirements, and neither requires investors to be accredited. And while Arrived Homes offers only investments in single-family rental properties, Fundrise offers similar property investments.

Either platform would be well-suited to a new or small investor.

But Fundrise will be the better choice for you if you plan to start with single family investment property deals, but plan to eventually move up to more sophisticated real estate investments. Fundrise not only offers investments in other properties, like commercial and multifamily complexes, but it also has multiple plan levels that can grow as your portfolio and your interest in real estate investing expands.

For example, you can begin with the Starter program at just $10, then move up to Basic, followed by Core. Eventually, you may choose to move up to the Advanced or even the Premium plan, which will give you access to one-of-a-kind offerings that will require accredited investor status. Fundrise can accommodate investors of all sizes and preferences. It even offers customized portfolio strategies to help you achieve diversification across the real estate sector.

It's also worth pointing out that, at least at this point in time, Fundrise is the more proven of the two platforms. Since it's been around for several years, it has published results of the returns you can expect.

By contrast, Arrived Homes has been in operation for less than one year. Most of the properties they own have been acquired within the last few months. Since it takes several years for properties to be sold, there's no track record of long-term success.

Arrived Homes can be a good choice if you are a small investor looking for steady dividend income, and you're willing to take a chance on a new platform. Otherwise, Fundrise will be the better choice for most investors. You can learn more and get started by checking out Arrived Homes and Fundrise directly.
Looking for the best? Check out our list of the best real estate crowdfunding sites for 2022.

References:

https://www.investor.gov/introduction-investing/investing-basics/investm...
https://www.investor.gov/introduction-investing/general-resources/news-a...
https://www.bbb.org/us/wa/seattle/profile/real-estate-investing/arrived-...
https://www.bbb.org/us/dc/washington/profile/real-estate-investing/fundr...
https://fundrise.com/education/why-underwriting-is-the-most-important-pi...
https://www.reit.com/news/blog/market-commentary/comparing-average-reit-...
https://www.reit.com/news/blog/market-commentary/reit-average--historica...