We've reviewed CrowdStreet's platform, investment philosophy, process, and even interviewed their Chief Marketing Officer (CMO), Brent Hieggelke, to understand how investors can take part in commercial real estate investments through CrowdStreet.
What is CrowdStreet?
CrowdStreet is a crowdfunded real estate investment platform designed to give accredited investors access to private commercial real estate deals. CrowdStreet is not an investment vehicle (such as a REIT), but rather a platform that connects high-quality project sponsors directly with retail investors.
Brent Hieggelke states: "CrowdStreet ... gives accredited investors direct access to real estate investing opportunities. The online Marketplace is one of the largest and most diverse in the industry, and is constantly updated with real estate deals in a wide variety of asset classes, locations, and risk profiles."
CrowdStreet Pros and Cons
CrowdStreet is one of the best options for commercial real estate investing. Here are a few things it does very well...
Pros
Very high quality commercial real estate investment opportunities

Detailed transparency of all deals, including direct access to deal sponsors

Strict vetting process (only 5% of all deals reviewed make it to the marketplace)

User-friendly marketplace and user dashboard for making investment decisions
Cons
Accredited investor status required

$25,000 minimum investment for most deals

Illiquid investment, cannot access funds in an emergency

How does CrowdStreet Work?
CrowdStreet helps connect investors with commercial real estate projects, allowing them to invest directly with the sponsor for an equity portion in the project.
CrowdStreet sources the deals from high-quality real estate teams, carefully vetting each opportunity before listing them on the marketplace.
Here's Hieggelke on the vetting process: "Our Investments team conducts a 3-step review of each deal to see if it would be a good fit for our Marketplace, looking at the sponsor's credentials, the deal specifics, and the legal documentation to ensure each meets our standards. Out of every hundred deals we review, only about five make it all the way to our investors."
Once a deal becomes available on the marketplace, investors can review all the details of the project, including:
- Pictures of project
​- Targeted rate of return (IRR)
- Key project details
- Project FAQs
- Investment details (including distributions)
- Full business plan
- Project timelines
- Sponsor details
- Capital stack
- And more…
Potential investors are also invited to attend a live webinar with a sponsor to ask any questions about the deal before investing.
Hieggelke goes on to say: "Once a deal is brought to the Marketplace, investors have the opportunity to review the business plan and documents before investing begins. Each investment opportunity has its own specifics, with target metrics, payout structures, and max allocation amounts varying from deal to deal. We also host a webinar for each deal, allowing the sponsor to present the information directly to potential investors. During that webinar, investment opens and CrowdStreet investors can begin submitting offers.
Because there's a limited amount of investment money needed for each deal, slots are limited, and some deals will fill up very quickly. Others may be open for offers for a week or more."
Learn more about CrowdStreet here.
How to Invest with CrowdStreet
To start investing with CrowdStreet, investors can sign up for a free account on their website. Once your free account is created, you can fill out an investor profile (including confirming that you are an accredited investor), and start reviewing available deals on the marketplace.
CrowdStreet offers three main ways to invest:
Individual deal

Custom funds

Blended portfolio investment
Each of these investments are tailored to different goals and minimum investment amounts.
Here's how Hieggelke describes the individual deal investing process:
"Once offers are submitted, investors have some time to finalize the process and transfer the money. At this point, the investment management is fully in the hands of the sponsor, and they'll carry out the steps outlined in the business plan. Sponsors are required to communicate on a regular basis with their investors, and investors can track the performance of their deals on the CrowdStreet platform."
Individual Deals
The CrowdStreet marketplace has hosted over 450 real estate deals, with new ones being added monthly. These are individual projects that investors can browse and invest in directly. All project details are summarized and available for quick review, and project sponsors are available during a live webinar to answer any questions you may have before investing.
These deals typically have a 2-year minimum investment time span, but some may be much longer, and some have closed in a shorter time period. These deals are best for investors looking to invest in a specific project or market segment.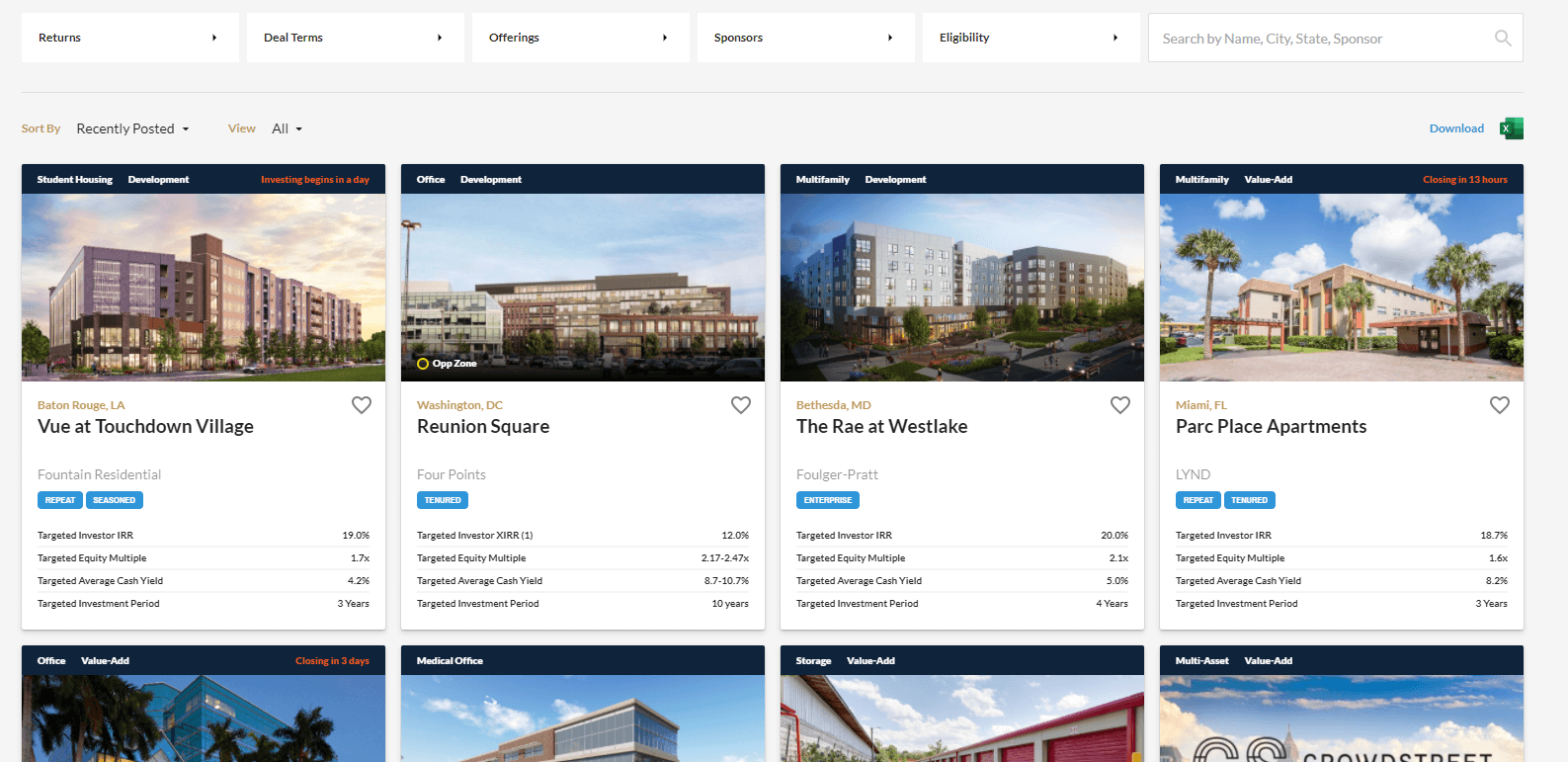 Funds
CrowdStreet also offers investment funds that are typically tied to larger projects. One example is a medical investment fund that is tied to a long-term development project of upgrading or developing medical office buildings. This project is ongoing, and offers an annual cash yield, in addition to the equity investment.
CrowdStreet also offers its own funds, with the ability to spread capital across multiple deals and sponsors. This can give investors more diversification in the commercial real estate space.
Custom Portfolio
For investors with $250,000 or more to invest, CrowdStreet offers its own custom portfolio management service through its subsidiary, CrowdStreet Advisors. This is a white-glove service that allows investors to work directly with a CrowdStreet advisor to build a custom portfolio of real estate investments using the CrowdStreet marketplace.
Learn more about CrowdStreet here.
Does CrowdStreet Pay Dividends?
CrowdStreet investors are investing directly into a real estate project. Some of them offer quarterly dividends, some offer monthly cash flow, and some simply pay out the profit after the deal is completed.
Every deal is unique, and investors need to read through the details of the payout structure before investing.
Hieggelke addresses this question below:
"Each deal is different, but many opportunities on the Marketplace do pay dividends. Sponsors handle the distributions for each deal according to the business plan presented to potential investors before they start accepting offers. Private managed accounts through CrowdStreet Advisors include funds that may pay out distributions as well."
CrowdStreet Prices and Fees
CrowdStreet fees depend on the type of investment or account you have set up with them. The minimum investment for most CrowdStreet deals is $25,000. It may be higher, though it typically does not go lower than that.
CrowdStreet does not charge investors any fees for its direct investment deals, but rather fees are charged directly by the sponsor. Crowdstreet does have fees associated with funds, and CrowdStreet managed accounts.
Here's a breakdown of how fees are charged for Crowdstreet investments:
Individual Deals
When investing in marketplace deals, Each deal will have its own associated fee structure, clearly laid out in the deal page.
For example; when investing in a commercial building rehabilitation project, the associated fees may be 2% - 4% of the development hard and soft costs. If you are investing in an apartment building for regular cash flow, there may be additional fees, including property management fees, asset management fees, and financial fees. Some deals may charge upwards of 10% fees on the project.
Note: Always review the "Fees" tab on the deal details to review all fees, and ask sponsors directly if any specific questions on deal financials.
Here's an example list of fees that may be associated with a project:
Design Fee: 3.0% of Hard Costs

Construction Management Fee: 5.0% of Hard Costs

Asset Management Fee: Varies

Property Management Fee: 2.00% of EGI

Financing Fee: 1.00% of Loan Proceeds
Funds
CrowdStreet offers single-sponsor funds, as well as its own portfolio funds. These are typically ongoing investments with multiple projects within a fund. Fees will vary per project.
Fees for investing in a single-sponsor fund may come with a management fee, acquisition fee, refinance fee, disposition fee, and a refinancing fee. All of these may be up to a combined 10% fee, but most of them are one-time fees, with only the management fee recurring.
Here's what the fee structure may look like on a single-sponsor fund:
Offering Management Fee: 1.5% annual management fee (paid monthly)

Acquisition Fee: 2% of the gross purchase price

Refinance Fee: 0.50% - 1.00%

Disposition Fee: 2% fee on sale of asset(s)

Development Fee: 5.0% development fee on new construction

Affiliate Fee: Varies
Fees for CrowdStreet funds vary, but are as low as 1% of assets under management. These funds are not always available, but are a much lower cost option than most other projects.
CrowdStreet Managed Accounts
For investors with $250,000 or more to invest, CrowdStreet offers privately managed accounts with dedicated advisors to help manage your investments. This service comes with an assets under management fee of 2.00% - 2.50% for the first year, and then only 0.25% each subsequent year.
Clients will also pay the underlying fees for the investments selected within the managed account.
Learn more about CrowdStreet here.
How to Sell Investments with CrowdStreet
CrowdStreet raises capital for commercial real estate projects, and investments into a project are illiquid, meaning you can't just withdraw it. Once your funds are invested, sponsors are using those funds for material purchases, labor, and other project-related costs.
Each project has its own targeted investment period for when a deal is completed and investors are paid out. Some deals are also on cash-flowing assets, such as an apartment building or senior living center, allowing investors to collect monthly income.
In short, investments in a project cannot be cashed out or withdrawn, and investors must wait for the project to be completed to see a return on their equity investment.
Who is CrowdStreet Best for?
CrowdStreet is ideal for investors who are looking to diversify their investment portfolio and want exposure to institutional quality commercial real estate projects. CrowdStreet has a high minimum investment for most projects ($25,000), and it is best suited for investors who have the ability to lock up their capital for a few years (or more).
Crowdstreet also has its own advisory service for investors who want a completely hands-off approach to real estate investing. If you want to invest $250,000 or more into commercial real estate. CrwodStreet's privately managed accounts service may be a good fit.
Why is Accreditation Necessary?
CrowdStreet is for accredited investors only. The criteria to qualify includes meeting at least one the following criteria:
Have an individual or joint net worth of $1 million or more (not including equity from principal residence)

Have earned $200,000 or more ($300,000 if married filing joint) over the past two years, with an expectation of earning at least the same in the current year

Own a business with total assets exceeding $5 million
There are a few more less-common criteria available from the SEC as well.
But why is CrowdStreet for accredited investors only?
The SEC regulates who CrowdStreet can market its deals to (accredited investors only), per Regulation D 506(c). They do this in order to ensure that investors have enough capital that investing in a non-liquid asset, such as commercial real estate, will not cause undue hardship in the future. Since you can't cash out on your own time frame you'll need additional funds to prevent financial emergencies.
Is CrowdStreet Legit and Safe?
CrowdStreet is a platform that connects accredited investors with commercial real estate sponsors. CrowdStreet has a very strict vetting process for deals, only approving about five percent of all deals reviewed onto its marketplace. These sponsors are institutional-quality real estate professionals that act in good faith with investor's funds.
Historically, CrowdStreet has had 51 fully realized deals, with only three of them resulting in a negative return. The average internal rate of return (IRR) is over 17%, giving investors a very good return on investment (ROI).
CrowdStreet has successfully funded almost $2 billion in deals since its inception. As a platform, they follow Security Organization Control (SOC) reporting requirements, and your personal information is hosted and protected through Amazon Web Service. More details about CrowdStreet's security protocols can be found in the help center.
That being said, all real estate investing comes with the risk of loss. When you invest with CrowdStreet, you are investing directly in a deal managed by an approved sponsor. The sponsor is responsible for using the funds wisely and working to produce a return on the project. The project has the risk of underperforming, or in some cases, producing a loss.
CMO Brent Hieggelke also offers insight into this question:
"Just like we tell users on our platform, you should conduct your own research, verify assumptions, confirm protocols, understand the risks associated with any online marketplace, and most importantly, understand what CrowdStreet is and isn't. CrowdStreet is an online marketplace that allows accredited investors to connect with and invest in real estate offerings. Yes, we're legit. When it comes to whether we are "safe," we note that that is incredibly subjective, and encourage you to create an account to come to your own conclusion. We, of course, think we are."
History of CrowdStreet
Investment advisors typically agree that diversification is an important part of any investment strategy. But getting exposure to certain asset classes, such as commercial real estate, has historically been difficult for smaller investors.
In 2012, the Jumpstart Our Business Startups (JOBS) Act was signed into law, and has given way to the rise in a new way to invest in real estate through crowdfunding. This gives retail investors access to commercial real estate deals previously reserved for ultra-wealthy investors with industry connections.
Founded back in 2013, CrowdStreet was one of the first businesses to offer access to private commercial real estate deals, and has grown to be one of the top crowdfunded real estate investment companies on the market.
CrowdStreet vs Fundrise
Both platforms are designed to help investors gain exposure to real estate investing without purchasing a property, but CrowdStreet offers a much different experience and opportunity for qualified investors.
Fundrise offers investors access to REITs and real estate funds, and also has options for non-accredited investors which CrowdStreet does not. Fundrise has a $1,000 minimum investment, which is much lower than CrowdStreet.
CrowdStreet on the other hand offers direct access to deals, funds, and private managed accounts, but is only open to accredited investors. Investment minimums start at $25,000 for most deals, and funds are locked for two years or more in most cases.
CrowdStreet is designed to help sophisticated investors diversify their holdings into commercial real estate. CrowdStreet focuses on institutional quality commercial real estate deals with high-quality sponsors that provide a higher-than-average return on investment.
Here's how Hieggelke compares the two platforms:
"CrowdStreet offers a very different investing experience than Fundrise and other similar platforms, so it's not a straight comparison. What platform is "better" for any one person depends on their circumstances and goals.
CrowdStreet is limited to accredited investors, and offers direct access to individual assets, funds, and private managed accounts, whereas Fundrise is open to non-accredited and only offers REITs and portfolios. So the products and benefits are very different, and aren't built to serve the same financial goals."
Learn more about CrowdStreet here.
Summary
CrowdStreet is a high-quality investing platform bringing institutional-quality investments to retail investors. With its strict deal vetting process, localized teams researching markets around the US, easy-to-use platform, and investment transparency, CrowdStreet is one of our top picks for real estate investing.
CrowdStreet is not for everyone, and non-accredited investors can't participate in the platform. That being said, accredited investors looking to diversify their holdings, and who don't mind locking in long-term investments in commercial real estate, will benefit from CrowdStreet's huge variety of investment options.