Investing in rental real estate has historically been a popular way to build wealth, but there is a high barrier to entry. Rental properties require a large upfront investment, cash on hand for improvements and maintenance, as well as the inevitable hassles that come with being a landlord.
Real estate crowdfunding sites like Arrived Homes offer a simple solution to this problem by giving investors access to high-quality real estate projects for a lower initial investment. While most of them focus on commercial real estate and require thousands of dollars to invest, Arrived Homes offers access to rental real estate investments for as little as $100.
What is Arrived Homes?
Arrived Homes (known as "Arrived") is a crowdfunded real estate platform, backed by Amazon CEO Jeff Bezos and Salesforce CEO Marc Benioff, among others. The platform is designed to allow investors to buy shares of income-producing rental properties for as little as $100.
We spoke with Arrived COO, Alejandro Chouza, about why Arrived Homes was founded: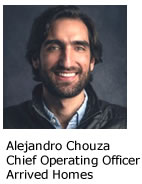 "Arrived Homes started with the idea that real estate has been a fantastic asset class, providing returns from appreciation and cash flow. But there are several barriers to entry in the real estate market, including high initial investments, operational experience required, and a big time commitment."

Arrived is designed to make investing in real estate as easy as investing in stocks, with a simple-to-use online platform that allows investors to quickly pick homes they like and invest directly. With a focus on single-family homes that generate cash flow and market appreciation, Arrived is hoping to lower the barrier to entry for average investors to start investing in rental real estate without the headaches (and big costs) that are normally associated with being a landlord.
How Does Arrived Homes Work?
Arrived Homes is a crowdfunded real estate platform that invests in single-family homes, selling shares of ownership to each home for as low as $100. The Arrived team of industry experts will research, evaluate, and purchase rental properties within the U.S., offering ownership through the Arrived Homes platform.
Daily operations of the property are handled by the Arrived Homes team, including finding tenants, maintenance, repairs, improvements, as well as handling accounting and taxes involved with the property.
Investors are paid from the cash flow of the property (e.g. monthly rent), and on the appreciation of the home when it is sold (capital gains). Cash flow payments are in the form of quarterly dividends.
Chouza describes the process that Arrived Homes uses:
"Arrived acquires high-quality rental properties across the United States and makes them available to investors. Investors can view different properties online, and then easily click to invest. Arrived handles all of the real estate operations, and investors receive a quarterly dividend. Arrived plans to hold each property for 5-7 years and then we'll sell the property, and investors will receive their share of any appreciation."
Who Can Invest with Arrived Homes?
Arrived does not limit investments to institutional or accredited investors, but any U.S. citizen or Permanent Resident that is at least 18-years-old can participate. Investors only need $100 to start.
How Does Arrived Homes Evaluate Potential Deals?
The team at Arrived Homes looks for single family homes that offer strong cash flow, as well as the potential for market appreciation. The potential deals are then evaluated by the investment committee, and approved deals are purchased via a cash offer.
According to Chouza, Arrived has a specific criteria in mind when looking for deals:
"We scrutinize each market carefully, and run each property through various financial analyses. We generally aim to purchase homes that were built within the last 10 years, have 3-4 bedrooms, and are in good neighborhoods. We believe in buying newer assets because they have less maintenance problems and are highly desirable."
Are Tenants Really Shareholders Too?
One of the unique ways that Arrived operates is in making the tenants of the rental properties shareholders of the property they live in. According to Chouza, the idea is to align the incentives for tenants to treat the property as if they own it because they do. There is an increased incentive over time, so if a tenant signs a longer lease (say, five years), there is a larger equity incentive built-in.
How to Invest with Arrived Homes
To start investing with Arrived, users can create a free online account using their email address. Users then can start browsing homes on the Arrived marketplace.
Once a home is chosen, you can select a number of shares to invest. The minimum is $100 for a set number of shares, up to a set maximum (which varies per property).
To complete the reservation of shares, users will need to verify their identity and link a bank account to fund the investment (similar to other investing apps). Users then sign a contract for investing in the property, and the funds are used to purchase and rent out the home.
Investors receive a percentage of net rental income in the form of quarterly dividends, as well as property appreciation once the property is sold.
Arrived Homes Investment Returns
Arrived Homes pays out both quarterly dividends, as well as market appreciation when a home is sold. While every market and opportunity is unique on the Arrived platform, investors can quickly review returns, as well as potential home appreciation, in the user dashboard.
Arrived is transparent about performance, releasing quarterly reports (like this one from July 2021).
As Chouza points out, returns can vary, but are generating decent returns for investors:
"Each property and market is different, and past performance is not indicative of future returns. Our July dividends were paid at an annualized rate of 5.21% to 6.42%, and that is before factoring in any appreciation from the growth in property values."
When Can I Cash Out?
When investing into a property on Arrived Homes, there is an initial six-month share lock up. After this period, investors will collect rental income in the form of dividends. If they wish to sell their shares of the property, they would need to contact the Arrived team and indicate their interest in cashing out.
Currently, users are locked into the investment until the house sells, which is typically five-to-seven years after initial purchase. But COO Alejandro Chouza spoke of a feature they are working on to allow users to sell their shares to other interested parties and effectively "cash out" of the investment:
"After a 6 month share lock up, investors are able to indicate their interest to sell shares to other investors. We're working to create a full secondary market place so that investors can buy and sell shares. There may be potential fees since the details of this program are not finalized."
Arrived Homes User Education
Arrived offers a user education center, which includes helpful articles on how to invest in real estate, how to navigate REIT taxes, and the benefits of investing in real estate vs. traditional assets. While this section is fairly new, there is new content being added regularly.
According to Chouza, Arrived Homes also gives investors direct access to its team to answer questions:
"Arrived has a ton of great content in our learning center, and we regularly do webinars with our leadership and acquisitions team. Our customer relations team also does 1-on-1 calls with investors to answer any specific questions."
How is Income Taxed?
Income from the quarterly dividends received is taxed at ordinary tax rates, but may also qualify for a 20% deduction, as it is considered Qualified Business Income (QBI). This deduction reduces the taxable income of your REIT investment, allowing 20% of the dividend income to be excluded from income tax.
As with all income tax situations, qualification and deduction amounts will be dependent on your personal situation. We recommend consulting a tax professional for advice specific to your situation.
Pricing and Fees
Each deal on Arrived Homes has a simple, transparent pricing structure, which includes two fees, as Chouze explains below:
"Arrived earns 2 fees: a sourcing fee and an Assets Under Management fee. The sourcing fee is upfront, and the AUM fee is 1% per year. Both fees are listed on each property's page for full transparency."
As far as the costs of the home, typical of many rental homes, there are operating costs, including paying the mortgage, taxes, maintenance, and a property management fee of 8% (which is lower than the industry standard of 10%). These costs are deducted from the rental income before profits are distributed to investors.
Is Arrived Homes a REIT?
A real estate investment trust (REIT) is a closed-ended investment company that owns real estate assets, and REIT shares can be purchased and sold like stocks. Arrived investments are private REITs that individuals can invest in, but are not publicly traded. The difference, as Chouza puts it, is that each Arrived property is structured as a REIT:
"Each Arrived Homes property is structured as a REIT. Other public REITs are one-size-fits-all, but with Arrived, investors can build a portfolio that is custom to where they want to invest. Each property is a REIT, so Arrived investments come with all the same tax benefits that any one-size-fits-all REIT has."
Arrived allows investors to invest in one, or more, properties at the same time, while still getting the same tax benefits and advantages of standard public REITs.
Who Should Invest in Arrived Homes?
Arrived Homes is designed with the average investor in mind. There is no need to be accredited, or invest a huge amount of money up front. Instead, users can dip their toes into real estate investing with as little as $100, owning a piece of a single-family home.
Investors looking to gain direct exposure to the real estate market without the huge costs and management headaches may want to consider Arrived Homes.
Here's why Chouza recommends considering Arrived:
"Investors who want comfort in knowing that their money is invested in high-quality rental properties. Since investors invest in individual assets, they know exactly what they own and can see the quality of the properties themselves.
Investors who are looking to diversify also benefit. Investors can diversify away from the stock market and they can also invest in homes across the country, so they aren't limited to real estate near where they live."
Is Arrived Homes Safe?
Arrived Homes is a safe way to generate passive income from single-family homes while completely avoiding the hassles commonly associated with being a landlord. Arrived's platform provides SEC-qualified investment offerings and transparent pricing and returns. Arrived Homes secured $37 million in funding in 2021 from several large venture capital companies, and it follows a strict vetting process for its investment properties. The platform also partnered with a reputable FinTech company, Plaid, for ACH transfers and banking integration for secure transfers.
Chouza elaborates on the platform:
"Arrived offerings are all qualified by the SEC and the company has reserved or funded dozens of rental properties from thousands of investors. Arrived properties are currently paying out dividends, and Arrived is backed by some incredible investors, including Jeff Bezos, Marc Beinoff (CEO of Salesforce), Spencer Rascoff (Former CEO of Zillow) and Dara Khosrowshahi (CEO of Uber)."
In addition, most Arrived properties only have 60% of the home value financed, while the rest is equity. This conservative approach allows Arrived to ride out market downturns without being forced to sell. Along with a sizable cash balance associated with each property, Arrived keeps the investor in mind when structuring each REIT investment.
Arrived Homes vs. Fundrise
Both Arrived Homes and Fundrise offer REIT investing for a low entry cost. But while Fundrise is a mix of both commercial and residential properties, Arrived has narrowed its focus to only single-family homes. The idea is that most average investors who want to invest in real estate are looking at rental properties, not commercial buildings and businesses.
Arrived Homes also structures each home as its own independent REIT, meaning that investors can build a portfolio of homes in different locales, giving them a geo-diversified investment portfolio for only a few hundred dollars. Users can also choose to invest in homes in their local area, helping them keep up with rising rents and home appreciation.
Arrived has a goal of educating investors to understand real estate as an asset class and to learn more about investing in rental properties. This includes an ever-growing education section on its website, live webinars, and full-detailed investing guidance for each property.
Overall, both Arrived Homes and Fundrise help investors diversify their investments into real estate for very little up-front cost. Fundrise is great for those looking at commercial and residential properties packaged into a diversified REIT, while Arrived is great for those who want direct access to single-family home rental properties.
Read our Fundrise review to learn more.
Pros and Cons
Pros
Low investment minimum ($100)

Simple-to-use investor dashboard

Can invest in multiple properties at the same time

Wide range of user education materials for new investors
Cons
Limited Liquidity - Money is typically tied up for several years until the home sells

Only a few dozen investment homes available (though growing rapidly)
Summary
Real estate is an asset class that has traditionally required a lot of up-front costs and ongoing management but crowdfunded real estate platforms have started to lower the barriers to entry for investors. Arrived Homes has now opened up rental real estate investing to every investor, with low minimums, direct access to single-family homes, and end-to-end management.
If you are looking for exposure to real estate in your investment portfolio, Arrived gives you the option of participating in rental real estate with the headaches. With the backing of investors like Jeff Bezos and Marc Benioff, Arrived is quickly adding to its portfolio of homes, with the goal of over 100 investments by the end of 2021.