As the saying goes, the first million is the hardest.
But those who crossed that threshold a couple billion ago will tell you it's still pretty difficult to manage a massive fortune. Here is a glimpse inside the portfolios of some of the world's wealthiest figures -- see where they've decided to park their vast wealth:
1. Carlos Slim Helu -- $53.5 billion
Recently named by Forbes as the world's richest man, Carlos Slim has been called the Mexican Warren Buffett. Slim has his hands in a variety of Mexican industries, with his total estimated wealth of $53.5 billion amounting to about 5% of Mexico's GDP.
This mogul made his fortune by taking the reins of a rapidly expanding telecom industry, but he's also been criticized for cornering markets with his monopolistic behemoths and possibly damaging the greater economy. Listed below are Slim's publicly disclosed holdings: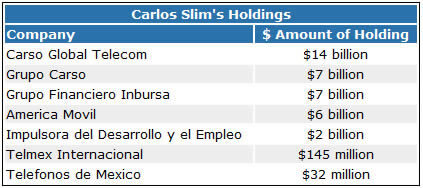 Slim's ownership interest in America Movil (NYSE:AMX) is likely much larger than stated here, but he's currently embroiled in a legal battle that makes the valuation of the company and his stake uncertain. Despite Slim's fat wallet, he is not one to flaunt his wealth. He has lived in the same house for 40 years and drives a worn-down Mercedes (granted, he is followed everywhere by a motorcade).
2. Warren Buffett -- $47.0 billion

The portfolio managed by the Oracle of Omaha epitomizes the
investing
strategy Buffett made famous: a well-diversified group of
stocks
poised for long-term growth. Buffett has never shied away from criticizing short-term traders, and is revered by
income
, growth and value investors alike. Class-A shares of Buffett's company,
Berkshire Hathaway Inc. (NYSE: BRK.A)
, have traded upward of $100,000 in recent years, effectively pricing out speculators.
As of June 24, 2010, Berkshire Hathaway, shares of which account for almost the entirety of Buffett's wealth, held positions in 36 publicly-traded stocks, in addition to a number of privately-held companies. Rather than naming each individual
stock
, let's take a look at how the portfolio is diversified by sector. Financial and consumer goods stocks make up the bulk of its holdings, anchored by large positions in
Coca-Cola (NYSE: KO)
and
Wells Fargo (NYSE: WFC)
. The remaining 20% of the portfolio is divided fairly evenly among other sectors, such as consumer services, industrials and health care.
3. Paul Allen -- $13.5 billion

We're going to skip the portfolio of the world's second-richest man (Bill Gates) except to note that a large majority of his wealth is tied up in
Microsoft (Nasdaq: MSFT)
, the Bill & Melinda Gates Foundation, and his
investment
holding company
, Cascade Investment LLC. Cascade's portfolio is remarkably similar to the portfolio of his good friend Warren Buffett.
So, let's instead look at the unique holdings of Microsoft co-founder Paul Allen.
Rather than build a software empire with good friend Gates, Allen divested from Microsoft in 1983 after being diagnosed with Hodgkins Disease. He used his wealth to undertake an array of new ventures. The former software tycoon has controlling stakes in three sports franchises: the Seattle Seahawks ($1.01 billion), the Portland Trail Blazers ($300 million), and the Seattle Sounders FC ($107 million). Allen is also a world-renowned art collector, owning valuable pieces by Monet, Picasso and Renoir, among others.

Implored by Gates and Buffett to do so, Allen recently pledged to donate over half of his wealth to charity. His philanthropic efforts are largely focused on fighting poverty in the Pacific Northwest and promoting research on brain diseases -- two causes near and dear to him. It is estimated that Allen has already donated upward of $1 billion to charity.
4. Mikhail Prokhorov -- $13.4 billion

This Russian billionaire is known almost as much for his outlandish spending as he is for his business acumen. Prokhorov revealed to 60 Minutes that he prefers to spend time looking at a model of his $45 million yacht to actually being on it, as it makes him seasick. He also recently lost a $53 million deposit on a $530 million home on the French Riviera.

Prokhorov has recently gained noteriety in the U.S. for his $250 million purchase of the N.B.A.'s New Jersey Nets (putting him in direct competition with Paul Allen). While there's not as much financial
gain
to be had from a successful sports franchise as many other business endeavors, there will undoubtedly be much personal pride at stake when these owners match up.
Prokhorov ascended to the status of a Russian oligarch after securing a favorable deal from the Kremlin on a valuable mining company, Norilsk Nickel. After transforming the
conglomerate
into one of the most profitable natural resource corporations in the world, Prokhorov sold his holdings and launched the
private equity
firm Onexim Group. Therein lies most of his wealth today; the firm has stakes in a multitude of Russian companies in mining, energy, finance and media. Look for this Russian mogul to play a much bigger role in American industry moving forward.
5. Donald Trump -- $2.0 billion

While most of our billionaires made their fortunes in the corporate world, Trump built his in real
estate
. Aftergraduating from the Wharton School of Business at the University of Pennsylvania, Trump joined his father's New York City property management firm. The rest is history, and the Trump name is now synonymous with real
estate
around the globe.
Rather than investing in stocks or
bonds
, 'The Donald' puts all his eggs in the real
estate
basket. This exposes him to great risk if his properties lose value, although he is somewhat diversified in that he owns properties in six different countries. Here is a rundown of how much of his wealth is tied up in each of his ventures (according to
Forbes
).