Real estate is considered one of the three primary investments available to the typical investor, along with stocks and bonds. But it represents an important diversification, since it's an investment in a tangible asset rather than in a company's stock or debt securities.

One of the best forms of real estate ownership is commercial real estate since its performance isn't directly related to that of stocks and bonds.

Once reserved only for wealthy investors, everyone else now has access to sophisticated commercial real estate investments through real estate crowdfunding platforms, like DiversyFund. While some real estate crowd platforms have high minimum initial investments or an accredited investor requirement, DiversyFund is available to all investors, with an initial investment of just a few hundred dollars.
What Is DiversyFund?
DiversyFund is a real estate crowdfunding platform that focuses on investing in multifamily properties.
Currently, it is offering a non-public real estate investment trust (REIT), which is the DiversyFund Growth REIT.

As a non-public REIT, the trust is not available for purchase and sale on major financial exchanges. It's privately issued, and available only through DiversyFund.

The REIT requires a minimum investment of $500. Unlike some real estate crowdfunding platforms, DiversyFund does not require you to be an accredited investor. That means the trust is available to investors of all wealth levels. In addition, residents of all 50 states are eligible to invest in the fund.

The advantage of a REIT invested in large apartment complexes is that they tend to perform well, having a solid track record in virtually all economic conditions, because of the consistent need for housing.

Large apartment complex investments are not directly correlated with stocks and bonds. It's even possible apartment complexes will provide positive returns during a bear market in stocks or bonds.

As a company, DiversyFund began operating in November 2018, when it became SEC qualified. That qualification requires that the company is transparent with its investing activities and operates under government oversight. That includes regularly filing financial documents and undergoing annual audits to remain SEC compliant. The platform was officially launched to investors in April 2019.

DiversyFund is led by co-founder and chief executive officer, Craig Cecilio, and co-founder and chief investment officer, Alan Lewis. The company is based in San Diego, California, and has an A+ rating from the Better Business Bureau (on a scale of A+ to F). DiversyFund reports more than 30,000 investors on the platform.
Don't Miss: REITs vs Real Estate Crowdfunding: Which Is Best for You?
How Does DiversyFund Work?
DiversyFund operates entirely online and can be accessed either on the web or from iOS and Android mobile devices. Similar to robo-advisors, the system is fully automated so you can invest without the need to speak with a company representative.

The platform is designed for investors at all levels, including those who have no experience in commercial real estate investing.

DiversyFund currently offers a single non-public REIT that invests entirely in multi-family value-add properties (the DiversyFund Growth REIT). The trust is sometimes referred to as REIT 2 because it was preceded by REIT I, which is fully funded and no longer available to new investors.

The fund invests exclusively in apartment buildings with at least 100 units and in markets across the U.S. There is a targeted rate of return between 10% and 20% for each property held in the fund. The fund has an investment cycle of five years, which is how long you will be expected to remain invested.

The value-add cycle has five stages:
Capital raise
Acquisition of properties
Renovation – to facilitate increasing rents and property appreciation
Appreciation – to allow time for the properties to increase in value
Disposition – the properties within the fund are sold and any profits are distributed to investors

The screenshot below shows the type of apartment complexes the DiversyFund Growth REIT invests in: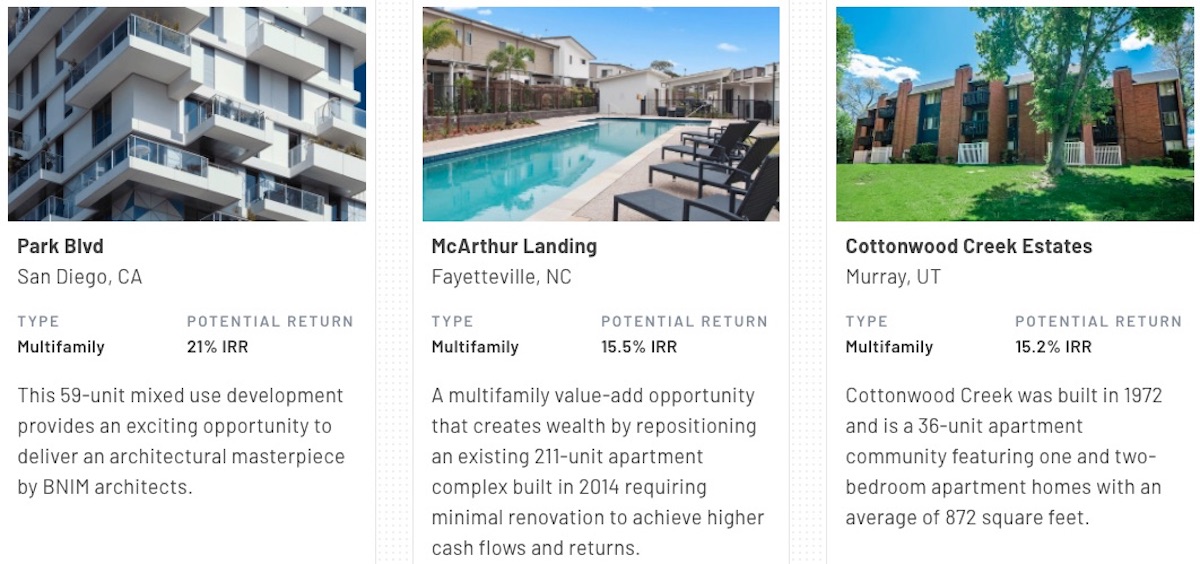 DiversyFund uses a strict vetting process, acquiring properties only in areas with strong population and job growth, and with vacancy rates below the national average.
Unlike many other real estate crowdfunding platforms, in which management of individual properties is provided by third-party sponsors, DiversyFund is the manager of all properties held in the REIT.
DiversyFund Fees
No fees are charged directly to the investor, such as a management fee or sign-up fee. But as is typical with real estate crowdfunding platforms, there are fees charged within each investment.

Similar to expense ratios with exchange traded funds, there are developer fees that can range between 2% and 8% per project. However, investment returns quoted by DiversyFund are presented as net of these expenses.
DiversyFund Income Tax Considerations
Dividends are paid monthly (but once again, they will be reinvested in the trust) and are subject to ordinary income tax in the year earned. You'll receive an IRS Form 1099-DIV each year you participate in the trust. The dividends will be taxed as ordinary income.
When the REIT is liquidated, you'll receive a final 1099 with income that will be reported as capital gains (assuming a gain on sale of the properties in the trust).
How to Invest with DiversyFund?
You can open an account, either from the website or the mobile app. To be eligible, you must be 18 years old or older, have a valid Social Security number, be a U.S. citizen, permanent resident, or have a valid U.S. visa, as well as a legal U.S. residential address within the 50 states or Puerto Rico.

There is no fee to open an account, and you will need to provide the following information:

Your full name
Email address
Street address
ZIP Code
Phone number
Your Social Security number or federal tax ID number (FEIN)

Next, you'll need to select the form of ownership. You can sign up either as an individual, jointly with another party, as a trust, or as an entity, like a limited liability company (LLC).

You'll need to fund your account using an ACH transfer from your bank. You'll do this by linking Plaid to your bank. The encryption offered by Plaid will protect your personal financial data, and your credentials will never be accessible to anyone.

Funds added to your account are processed by a third-party escrow company. The funds will be held in escrow for between five and eight business days to ensure compliance on all transactions. The escrow service may request additional documentation, such as proof of address, your driver's license, or passport. It's a one-time process that will only apply to your first investment.

Both the initial investment and any subsequent investments have a minimum of $500. You can also set up recurring investments through the Auto Invest feature.
How Do You Make Money on DiversyFund?
DiversyFund is designed to produce long-term capital appreciation. Though the fund does pay annual dividends of about 5%, the proceeds are reinvested back into the fund and used to make improvements on the properties held within the fund. For that reason, DiversyFund should not be seen as a source of ongoing income.

The holding period on the investment is at least five years. During that time, properties are purchased, renovated, and held for several years to maximize value. Once all the properties held in the fund have been sold, investors will receive their initial investment, plus any capital appreciation earned on the liquidated properties (though capital appreciation is never guaranteed).

The fund targets a return between 10% and 20% per year, which is net of fees. Though they haven't provided any investment data for 2019 or 2020, the fund reports returning 18% in 2017, and 17.3% in 2018.

But despite the projected and actual returns, it is possible you will lose money with DiversyFund. If the properties held within the fund are sold for less than the cost of acquisition and renovation, you'll receive less upon liquidation of the fund than the amount you invested in it.
DiversyFund Referral Program
DiversyFund recently rolled out their $100 Referral Program. If you introduce your friends or family members to the platform, both you and your referral will receive a $100 bonus investment in your respective accounts.

The referred party must complete an initial investment of at least $500.

Referrers must have an active, funded account. Bonus investments can take up to eight days to show up in your account as fully invested.

You can make up to 50 qualified referrals, which makes the potential bonus as high as $5,000.
Can You Withdraw From DiversyFund?
The short answer is no. When you invest with DiversyFund you're expected to remain fully invested until the investment term is complete and the REIT is fully liquidated. That means your investment is completely illiquid between the time you provide funding and the point at which all properties have been sold and the fund is liquidated.

The company projects the holding period of the fund to be at least five years.

It's also important to understand that while the company does pay dividends, they're automatically reinvested back into the REIT. The purpose is to provide additional capital to make improvements on the properties in the fund, producing greater capital appreciation upon sale.

If you plan to invest with DiversyFund, you should do so only with funds you're prepared to commit for the long term.
DiversyFund Pros and Cons
Pros:
No accredited investor status requirement.
Begin investing with as little as $500.
Excellent choice for investors who want to invest specifically in multifamily apartment complexes.
There's no management fee charged to your account (but there are developer fees charged within the fund for each property acquired).
Expected investment returns are between 10% and 20% per year, including 18% in 2017 and 17.3% in 2018.
Investors get the benefit of both current rental income and long-term capital gains if properties are sold at a higher price.
Properties purchased are renovated to maximize long-term capital gains.
Superior diversification, since individual property investments are located in strong markets across the U.S.
Cons:
Your investment will be tied up for at least five years, and there is no provision for early withdrawals from the fund.
Investments are limited to a single REIT, the Growth REIT II.
DiversyFund focuses entirely on long-term capital appreciation and is not suitable as a source of regular income.
Customer service is available only by email and chat – there is no phone contact indicated.
There is no IRA availability at this time.
DiversyFund vs. Crowdstreet and Fundrise
Though the real estate crowdfunding industry only began in 2012, there are dozens of competing real estate crowdfunding platforms available. Two of the most popular are CrowdStreet and Fundrise. The table below provides a direct comparison between DiversyFund, CrowdStreet and Fundrise.

Though there are some similarities between the three, notice that each targets a specific type of investor, offering access to different types of commercial real estate. But one thing they do share in common is above average investment returns.
Platform / Feature
DiversyFund
CrowdStreet
Fundrise
Best For
Investors looking for long-term capital appreciation
High net worth investors looking for individual property deals
New investors and those who favor an income/growth balance
Minimum Investment
$500
$25,000 or more
Starter: $10+
Basic: $1,000+
Core: $5,000+
Advanced: $10,000+
Premium: $100,000+
Accredited Investor Requirement
No
Yes
No
Fees
Developer fee per project, ranging from 2% to 8%, capped at 10%
Multiple fees charged by sponsors within deals or funds, but no fee paid directly to CrowdStreet
1% annual fee on funds and REITs + 1% redemption fee within the first 5 years
Investment Types
Proprietary REIT invested in multi-family properties
Individual deals, proprietary funds, blended (tailored) portfolios
Proprietary funds and REITs
IRA Availability*
No
Yes
Yes, traditional and Roth ($1,000 minimum)
Liquidity
None
Limited/Low
Quarterly redemption option (not guaranteed)
Average Annual Return
Fund targets%10 to 20%, net of fees;
Actual:
2017 – 18%
2018 – 17.3%
17.3% (on fully realized deals, not guaranteed)
8.81% – 16.11% (actual – net of fees, not guaranteed)
Investment Holding Period
5+ years
2.4 years average
5+ years
Potential to Lose Money
Yes
Yes
Yes
Availability
All 50 states
All 50 states
All 50 states
Mobile App
iOS and Android
No
iOS and Android
Customer Service
Chat or email – no days or times indicated
Email only, Monday thru Friday, 8:30 AM to 5:00 PM, Pacific Time
Email only (1–2 days response, Monday thru Friday, 9:00 AM to 5:00 PM, Eastern Time
*IRAs for real estate crowdfunding platforms must be held through a special type of IRA account, known as a self-directed IRA, or SDIRA. These are specialized IRA custodians that handle alternative assets, like real estate crowdfunding investments. Conventional investment brokers cannot accommodate IRA accounts for real estate crowdfunding platforms, since those investments don't trade on public exchanges.
Want another real estate option? Check out our Arrived Homes review.
Who Is DiversyFund Best For?
DiversyFund may be a good choice for nonaccredited investors who want to get started in commercial real estate investing with a small amount of money. The returns, both projected and realized, are impressive, though we would prefer the platform publish their investment returns for 2019, 2020, and even year-to-date 2021.

DiversyFund will not be a good choice if you're concerned about tying up your money for at least five years, or if the automatic dividend reinvestment strategy won't work for you.

Most real estate crowdfunding platforms do have long investment time horizons. DiversyFund is a bit more restrictive because there is no access to dividends and no ability for early withdrawals.
Don't Miss: The Best Real Estate Crowfunding Sites
Summary
Whether you choose to invest with DiversyFund or with another real estate crowdfunding platform, you should do so with only a small percentage of your total portfolio. While commercial real estate can be an excellent diversification to stocks and bonds, it is a completely illiquid investment, especially with DiversyFund.
Ready to learn more? Check out DiversyFund today.
References:

https://www.investor.gov/introduction-investing/general-resources/news-alerts/alerts-bulletins/investor-bulletins/updated-3
https://www.thebalance.com/what-is-asset-correlation-2894312
https://www.bbb.org/us/ca/san-diego/profile/real-estate-investing/diversyfund-1126-172012476
https://plaid.com/
https://www.sec.gov/investor/alerts/sdira.html