A value proposition is a marketing statement that positions a company's products in the mind of the consumer as the best one for their needs. It clearly, easily, and concisely articulates what the company sells and why it is better to buy this particular product or service (instead of a competitor's product or service).
While value propositions are meant to be easily remembered, they definitely aren't easy to create. It can be challenging to briefly summarize the entire value of a company's products or services to a target audience.
Types of Value Propositions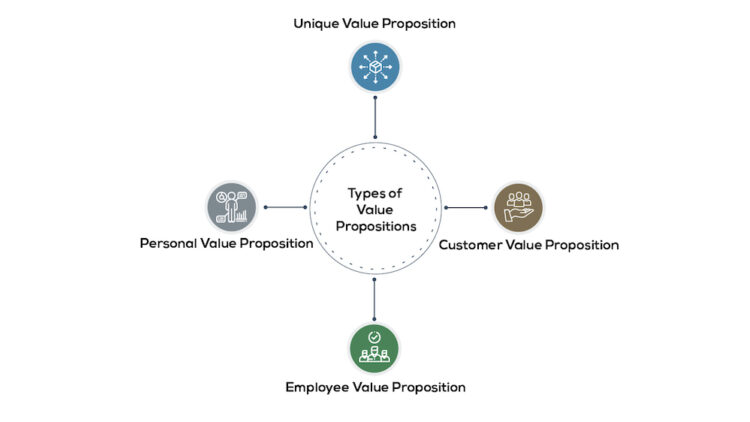 There are many types of value propositions. Some are meant to be internal (ie. inward-facing) and read only by the company's employees. Others are meant for the people who are most likely to purchase the products and services (ie. target audience).
Companies may create several value propositions – one for each audience type – and use them to form the basis of advertising campaigns aimed at each distinct market segment. These include:
Customer value proposition
Unique value proposition
Employee value proposition
Personal value proposition
There is no complete list of the types of value propositions. Companies are free to develop their own style, as needed. The only qualification for a value proposition is that it easily and succinctly conveys the special value a company's product has to the target audience.
Customer Value Proposition
A customer value proposition is a statement of the benefits a customer receives after purchasing a product or service.
Uber offers a great example of a customer value proposition: "One tap and a car comes directly to you. Your driver knows where to go. And payment is completely cashless." The customer value proposition on the company's app underscores the service's features and how they solve the customer's problems (e.g. finding a cab, clueless cab drivers, fumbling with cash). It's a short story that sums up for their target customer exactly why Uber is the best choice for a ride.
Unique Value Proposition
A unique value proposition – also known as a unique selling point (USP) – is a statement that focuses on the best single, special benefit that a product offers consumers – and only this product provides it. The USP is often used to build a slogan or advertising campaign.
For example, Coca-Cola's, "It's the real thing" slogan echoes their unique value proposition of being the original, first-to-market cola. All cola is made from sugar, flavoring, coloring agents, and carbonated water. Coca-Cola, however, is the only soft drink that can say it's the original, and therefore, the first flavor that people associate with cola.
Employee Value Proposition
An employee value proposition may be shared by a company to highlight its value to current and potential employees. It emphasizes what the company gives to employees in return for their services and skills.
One SaaS-based tax compliance software provider, has a strong employee value proposition. From Avalara's Jobs page: "Be a part of something big. Avalara is the technology company that everyone's used but nobody's heard of. We're at your gas pump, in your browser, and at checkout."
The company's employee value proposition emphasizes that you, the potential employee, will be part of something vital. They imply that they're a tech company that's going places and has a strong base.
Personal Value Proposition
A personal value proposition is included in a resume as the job seeker's statement. It's a summary of why a candidate is valuable to a potential employer and the benefits of hiring that employee.
Even though you might not think so, everyone actually has a personal brand, shorthand for the implicit promise a company makes when connecting with them. Your "brand" consists of your appearance, actions, speech patterns, clothing, online and social media presence, interaction with others, and anything that helps people paint a picture of who you are and what you might be like.
For example, Mark is a 30-year old executive assistant. He's great at managing executive calendars, spreadsheets, and managing multiple email inboxes. Mark's personal value proposition to potential employers is, "I save busy executives time by managing the details so they can focus on the big picture."
Examples of Value Proposition
In addition to the specific examples listed above, it's helpful to review additional examples of value propositions. You've probably heard or seen many value propositions on television or online when searching for products or services. Companies often place them prominently on the home page of their website or repeatedly throughout an advertising campaign to underscore their brand identity and uniqueness.
StitchFix
StitchFix offers clothing selected and shipped directly to customers based on their style preferences and size. The company works this into a value proposition like this:
Get hand-picked clothes delivered right to your doorstep.
Only pay for the items you keep.
Free delivery and return shipping.
Your stylist gets to know you, discovering your perfect fit from limitless style options.
Notice that the emphasis is on their unique attributes (e.g. hand-selected, personal stylist, limitless options). In other words, it's like hiring a personal stylist who will make you look good because they have unlimited choices yet understands and know what you like to wear. Using the word "everybody" is also a play on "every body": they also cater to petite and plus sizes. It's a powerful value proposition that leads to compelling marketing campaigns.
Pipedrive
Many businesses turn to Pipedrive, a software company that makes CRM and sales pipeline management cloud-based software. The company's value proposition is simple:
We organize your sales pipeline so you can focus on the important thing: closing the sale.
No credit card required
Easy setup
Used by 90,000 companies (trustworthy)
Pipedrive's value proposition works because it addresses the big "pain point" many companies experience: finding time to organize and manage their sales pipeline. If they didn't have to spend time organizing and tracking leads, the promise implies that they would close more sales and be more successful at bringing in additional business. Pipedrive ultimately drives the value of "organizing leads so you can focus on closing sales."
HelloFresh
HelloFresh bills itself as "America's most popular meal kit." The company sells a mail-order kit that includes all the ingredients a home cook needs to prepare an interesting meal, including the recipe. The company's value proposition includes:
"No skimping' on the chicken! (or beef, or fish)." In other words, you'll receive plenty of ingredients and the portion sizes are generous.
No commitment. You can order meals for the weeks you want and skip them when you don't need their service.
Chef-created, affordable meals. The implicit promise is that these meals are both tasty and priced for your budget.
HelloFresh understands their target market of upscale home cooks. These are people who normally love to dine out and want a similar meal experience at home. They may not, however, wish to shop for the ingredients and figure out a way to use the leftovers. Such consumers love the convenience of receiving a meal kit at home and they love being the 'hero' to their family by preparing tasty, restaurant-inspired, home-cooked meals.
How to Write a Value Proposition
To write a value proposition, you need to understand your product's features and benefits. You'll also need to understand who your target customer is and what they want/need from the product. You can discover this information through market research, surveys, or simply listening to your customers during your interactions.
The steps below assume you're writing a value position for a company or service. Tweak the steps to focus on a company's workplace culture for an employee value proposition (or what you offer to potential employers for a personal value proposition). The steps remain the same no matter which type of value position you're writing.
Value Proposition Design
A value proposition typically contains:
Headline
Subheadline
3 bullet points
A visual element that sums up the value proposition
Steps to Write a Value Proposition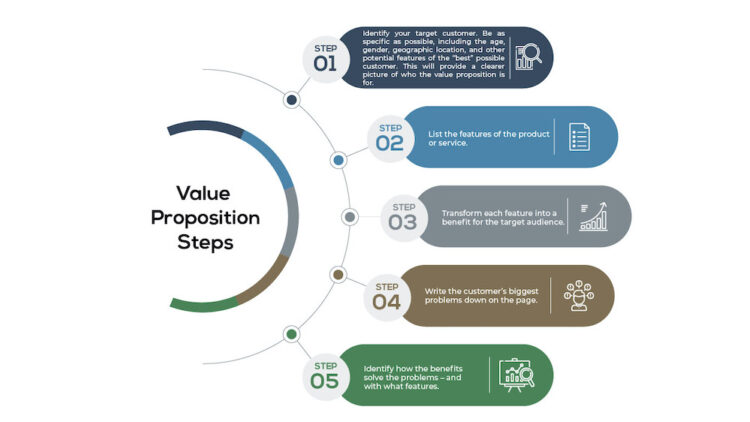 A Useful Value Proposition Template
One of the most useful and popular value proposition templates was created by author Geoff Moore. Moore's template, below, is used by companies and marketing agencies worldwide to create value propositions for everything from food products to automobiles.
For ____________ (target customer)
who ____________ (statement of the need or opportunity)
our (product/service name) is ____________ (product category)
that (statement of benefit) ____________ .
SmartSheet offers a downloadable version.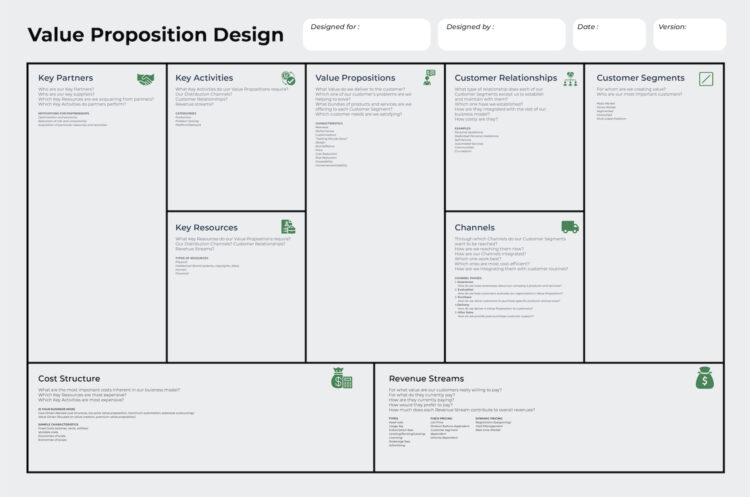 Value Propositions and the Business Model Canvas
Created by Alexander Osterwalder, a business model canvas is a lean startup tool that helps companies link all of their products or services to customer value. It consists of a grid with nine boxes of different sizes, with each box listing different company attributes.
Many startups fail to align their products with any value proposition. Rather than a thoughtful approach to building products that solve customer needs, results can be a hodgepodge of products developed out of the founders' "big ideas," immediate needs, or ad hoc requests. A business model canvas can help align ideas, concepts, and projects with the company's value proposition to ensure that everything the company does benefits the end user.
Value proposition falls into the nine boxes or categories on the Osterwalder model. It is in the "offering" section and focuses on either qualitative or quantitative value.