What is Profit Before Tax?
Profit before tax measures a company's operating and non-operating profits before taxes are considered. It is the same as earnings before taxes.
Profit Before Tax Example
Simplifying things a bit, revenue minus expenses equals earnings. The resulting figure is usually listed on a company's income statement right before taxes are listed. For example, take a look at the income statement for Company XYZ: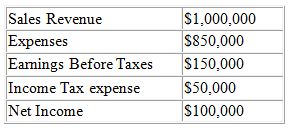 In this example, profit before tax is $150,000 while net income is $100,000.
Why Profit Before Tax Matters
Profit before tax provides investment analysts with useful information for evaluating a company's operating performance without regard to tax implications. By removing the tax factor, profit before tax helps to minimize a variable that may be unique from company to company, in order to focus the analysis on operating profitability as a singular measure of performance. Such analysis is particularly important when comparing similar companies across a single industry.
If You Have at Least $3,000 to Invest, then Follow These 3 Steps
Create a retirement savings goal
Design an investment plan to reach it.
Get a professional money manager to continually monitor and rebalance your portfolio
Sound complicated? Don't stress. Vanguard's new robo advisor service can help you put all of this (and more!) on autopilot, all for an annual gross advisory fee of just 0.20%.
Click here to learn more about Vanguard's new Digital Advisor service.