How to Find a Personal Loan with the Best Rate
There comes a time in everyone's life where an unforeseen bill can create financial chaos. Car repairs or medical bills often stretch a budget beyond its limits. In these situations, personal loans may ease the burden and turn a balance due immediately into manageable payments made over time.
Do personal loans offer the best possible chance to stay out of debt? More importantly, where can you find the best rates for personal loans? Before you apply, it's crucial to know about the types of loans available, the terms of each loan, and how different interest rates can affect how much you pay each month.
How Do Personal Loans Work?
A personal loan originates with a lender (usually a bank or credit union). Borrowers will take money with an agreement to pay it back over a specific period of time.
While most personal loans are unsecured debt, some require collateral to guarantee the loan. Depending on the type of loan you take (as well as your credit history), your interest rate can vary between 6% and 36%.
What Can You Use a Personal Loan For?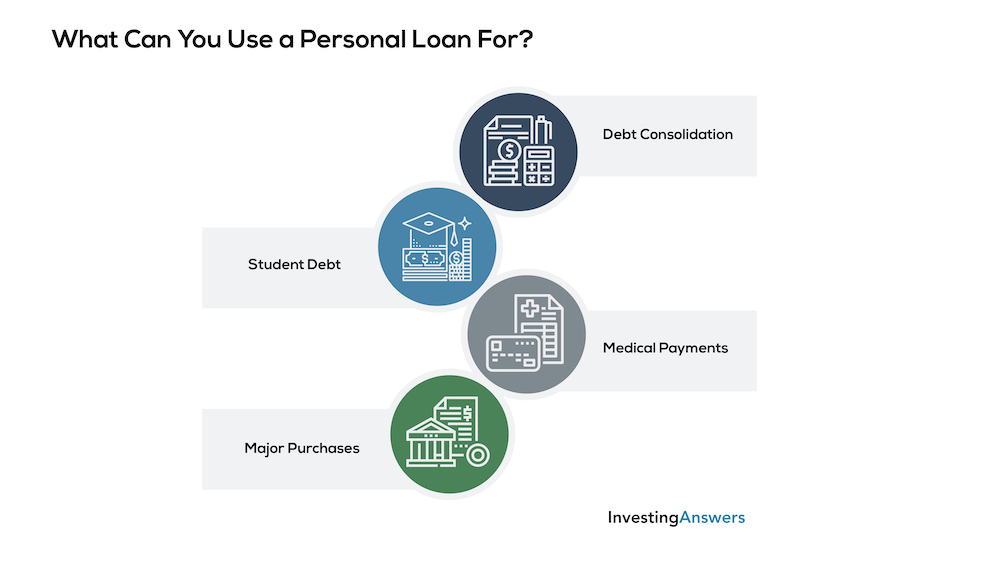 Because they are not necessarily tied to an asset, personal loans offer a lot of flexibility. Situations where a personal loan is a good idea include debt consolidation, medical payments, and making major purchases.
Personal Loans for Debt Consolidation
One of the most common reasons for personal loans is debt consolidation. People who have debt spread across credit cards may find relief by lumping all of their balances with high interest rates into one payment with a collectively lower interest rate.
While they can offer help when you are maxed out, personal loans may create trouble as well. Undisciplined spenders who continue to max out their cards could find themselves paying twice the monthly payments on the same income.
Personal Loans for Student Debt
If your student loan servicer doesn't offer a debt consolidation or refinancing option, a personal loan can help borrowers pay off their student debt. Through a personal loan, borrowers can combine multiple loans – both Direct Loans and private loans – into one sum with a single monthly payment.
Before graduates apply, it's important to understand that personal loans can extend the repayment date and increase the amount of interest. Be sure to read the terms and conditions carefully before signing any promissory note.
Personal Loans for Medical Payments
Medical debt is a major concern in the United States. According to the U.S. Bureau of Labor Statistics, in 2018 the average American spent nearly $5,000 on health care expenses every year.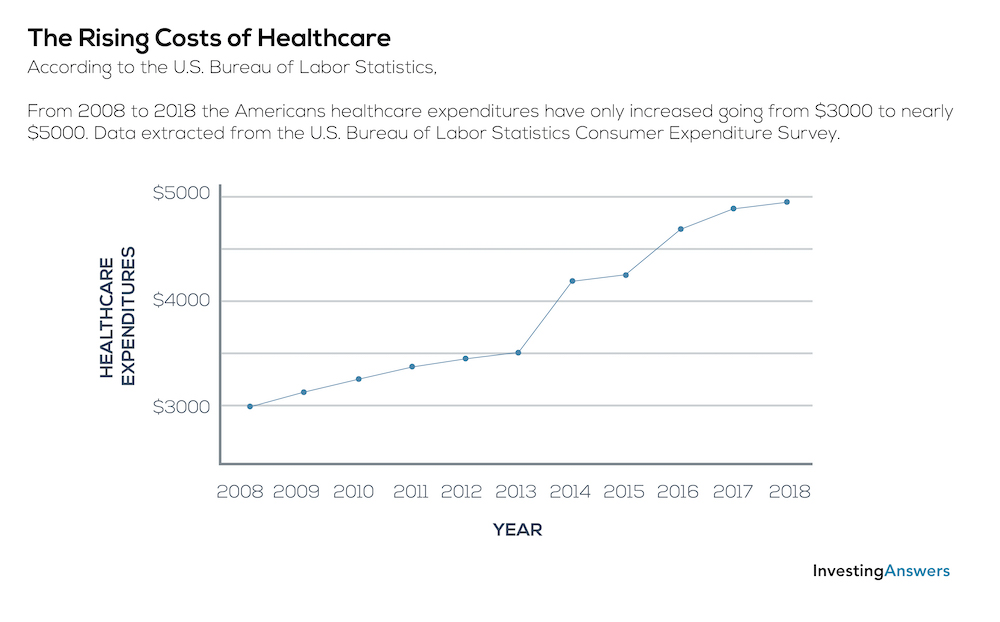 If the hospital won't let you pay over time, personal loans might provide relief. There are several companies that work through hospitals to offer installment plans to patients. Before your procedure, ask your hospital billing team if they work with specific medical lenders.
Personal Loans for Major Purchases
Personal loans aren't limited to just consolidations and emergencies. People use personal loans for many major purchases, including wedding expenses, vacations, and home repairs.
Although you could get personal loans for these big occasions, it may not be the best use of one. To limit the amount you borrow (and pay interest on a one-time expense for), it's always best to use cash first.
Prohibited Uses of Personal Loans
While personal loans are designed to be flexible, there are certain things borrowers can't use them for. Using a personal loan for any kind of gambling – including investing in stock markets – is not allowed. That's because investments can lose value and leave banks without a way to collect unsecured debt.
Borrowers also can't use personal loans for a down payment on a house. To ensure prospective homeowners can afford their new home, mortgage lenders track every source of funds used in a purchase. When the bank discovers the down payment comes from a personal loan, they will often deny the mortgage outright.
How to Find the Right Personal Loan for You
Once you've determined your reason for seeking a personal loan, it's time to start doing the math to determine your best options. There are several items you will need to consider, including how much you actually need, your target monthly payment, and what kind of loan you are looking for.
Determine How Much You Need to Borrow
As with any loan, it's important to borrow the necessary minimum to reduce monthly payments and loan interest. Before you start shopping for the best rates for personal loans, it's important to consider how much money you'll need for your next big purchase. If you can put some cash towards the purchase, you may not need as much as you think.
Check Your Credit Score
How much you want to borrow and will be allowed to borrow is based, in part, on your credit score. That's why it's important to know your credit score before shopping for a personal loan. In addition to limiting your borrowing power, your credit score will also help determine your interest rate.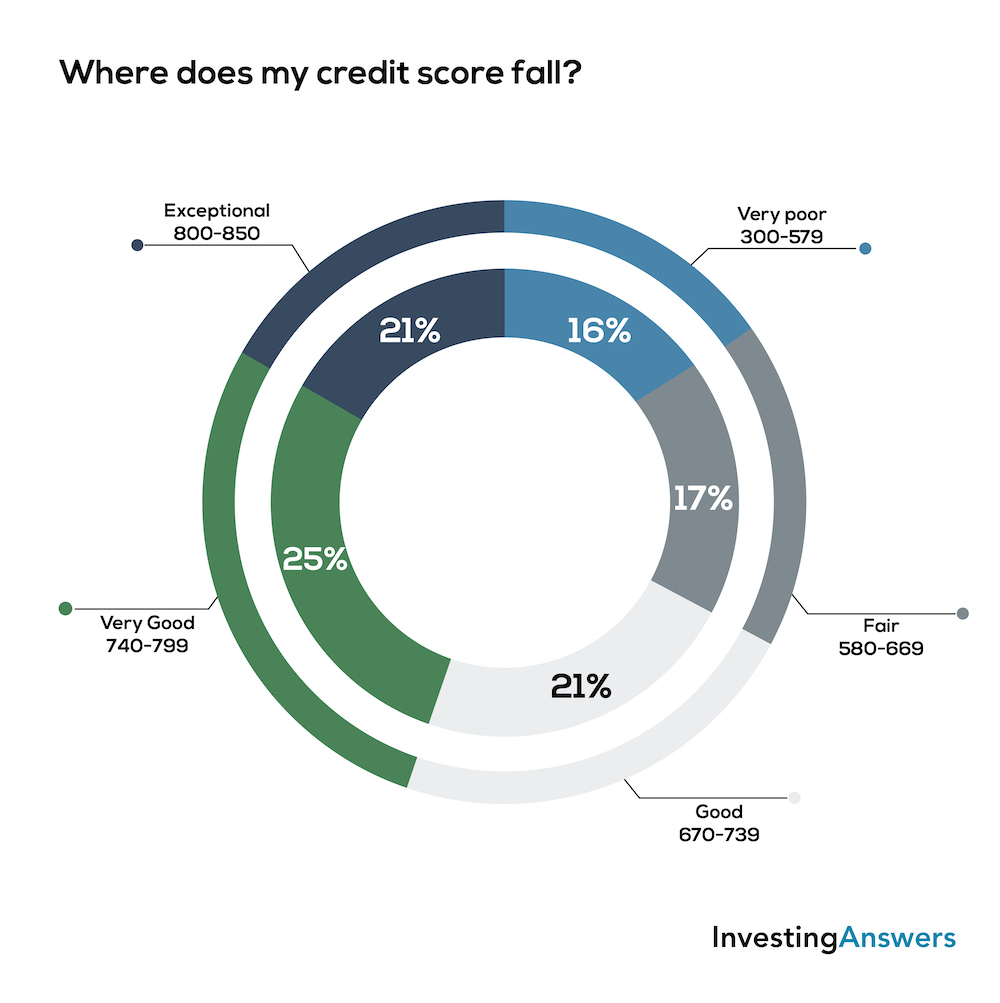 Date Source: Experian- What is a Good Credit Score?. July 20.2020.
As a general rule, your interest rate will be lower if your credit score is higher. Many banks (including Bank of America, Chase, and Capital One) offer credit score trackers where you can see your credit score for free.
Use a Personal Loan Calculator to Determine Possible Monthly Payments
Once you've determined the minimum amount you need to finance your personal loan – and once you have an idea of the interest rate based on your credit score – it's time to calculate your monthly payment. You can use calculated monthly payments in Excel to determine how a personal loan payment would fit into your finances. Otherwise, you can use our personal loan calculator to see how much you could pay every month.
Say you wanted to take out a $20,000 personal loan with an interest rate of 5% over 60 months. Our calculator estimates you would have a personal loan payment of $377.42 per month. During the term of the loan, you'd pay $2,645.48 in interest.
Want to see how different loan amounts, lengths, and interest rates could affect your monthly payment? You can use our loan interest calculator to change the variables – and discover the right combination of factors – to make your personal loan affordable.
Make Sure You Can Afford a Monthly Payment
After deciding how much you want to borrow and estimating your interest rate, it's time to look at your overall budget. Simply put, if you can't afford your monthly payment, personal loans are probably a bad idea.
With consolidation loans, start by looking at how much you will save by taking the loan. The monthly payment should always be less than what you were paying. If you're thinking about personal loans for any other reason, consider how much you can comfortably spend over the loan term. If the loan will stretch your budget to the point where you have to make serious sacrifices, you may not be able to afford the loan.
Research the Personal Loan Types
If you can afford a personal loan at your projected borrowed amount, interest rate, and length, the next step is to decide what kind of personal loan you are looking for. These might include fixed rate personal loans, secured personal loans, and installment loans.
Compare Multiple Lenders
Remember: Not all personal loans are the same. Different lenders may offer you varying terms, interest rates, and fees based on your situation.
When you get to the point of shopping for personal loans, consider multiple lenders. Banks, credit unions, and private lenders all offer a variety of personal loan options you'll want to consider in order to get the best monthly payment possible.
Types of Personal Loans
Just like there are multiple reasons to consider personal loans, there are many loan types available based on your situation and need. These are the most common variety of personal loans you may encounter:
Variable vs. Fixed Rate Personal Loans
Like other forms of credit, personal loans can come with a variable rate or a fixed rate. With a variable rate loan, your interest rate will change based on several factors, including the prime rate. As a result, your monthly payment may start low but can increase over time as rates change.
With a fixed rate personal loan, your interest rate is locked in throughout the life of the loan and will not change. Your first payment and last payment will be exactly the same.
Secured vs. Unsecured Personal Loans
Unsecured personal loans are the most common type offered by lenders. With an unsecured loan, borrowers are given money based on their credit history – without any collateral.
Secured personal loans, however, must be guaranteed by collateral. An example of acceptable assurance includes cars, home equity, a retirement account, or cash in a savings account. Secured loans are the most common personal loans for bad credit because creditors can collect an item if the borrower stops making payments.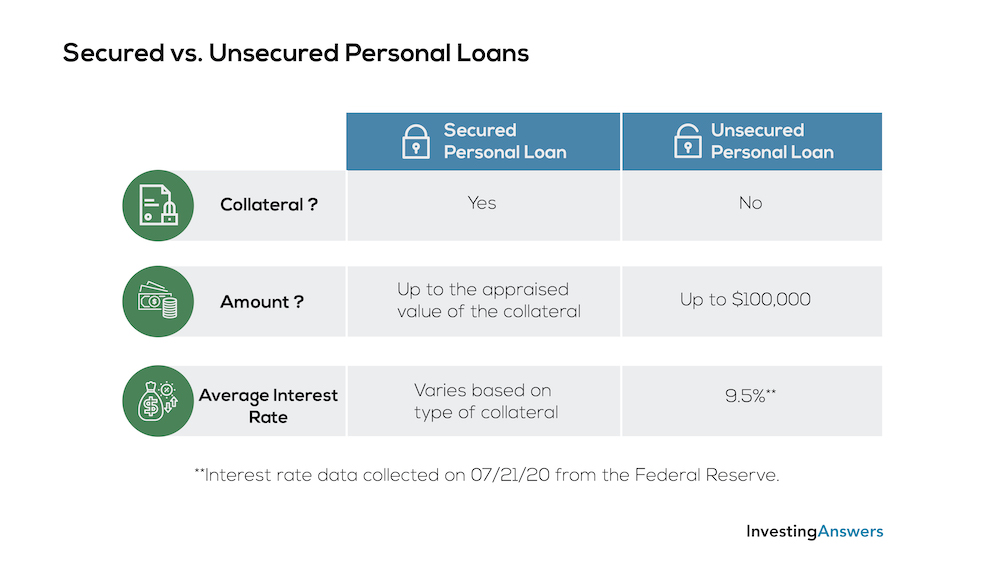 **Interest rate data collected on 07/21/20 from the Federal Reserve.
Installments vs. Single Payment Personal Loans
Just as the name suggests, installment loans are paid in small increments over time, with the principal and interest rolled into one monthly payment. These are the most popular types of personal loans, as they let the borrower make payments over an extended period of time.
Single payment personal loans (also known as bullet loans) must be paid off at one time, in one lump sum. Borrowers must pay the full amount of their loan – plus interest – on the loan maturity date. These loans are helpful for people who need to borrow a small amount and who can pay off the loan in one step.
Alternatives to Personal Loans
Payday vs. Long-Term Personal Loans
The most common type of personal loans are long-term personal loans which allow borrowers to pay their balance off over time. A sound personal loan will tell you the length, interest rate, and monthly payment up front. Personal loans are also regulated by state and federal laws which limit the interest they can charge.
A payday loan is not a personal loan. With most payday loans, the borrower writes a personal check (dated to their next payday) for the amount of their paycheck. In turn, the loan originator will give the borrower a portion of their paycheck amount immediately in cash. These loans come with high interest rates and extremely high fees should the check bounce. This can keep the borrower indebted to the payday loan lender.
Simply put: payday loans are predatory, and usually create even more, not less, indebtedness for the borrower. They should be avoided if at all possible.
Auto Title Loans vs. Personal Loans
Auto title loans are often advertised as a personal loan alternative, much like payday loans. However, these loans are often predatory and target subprime borrowers who are desperate for cash.
Auto title loans work by putting a lien on your personal car. In exchange for your car title, you can borrow up to the agreed-upon value of the vehicle. The auto title loan company holds your title while you pay off the loan.
According to the Federal Trade Commission, auto title loans charge an average rate of 25% per month, which adds up to an annual percentage rate of 300%. So if you took out a $500 title loan and paid it off within 30 days, you would have to pay back $625 (plus loan fees).
If you couldn't pay it off, the interest would compound monthly, getting to the point where you would have to give up your car to pay off the loan. Always shop for personal loans before considering an auto title loan.
Where to Get Personal Loans
It's not hard to find personal loan lenders near you. Banks, credit unions, and private lenders will often advertise rates through the mail, via e-mail communications, and at their brick-and-mortar locations. Some lenders only operate online, claiming that the lack of branches saves money.
There are pros and cons to every lender. That's why it's important to shop around.
What Banks Offer Personal Loans?
Most of the major national banks offer personal loans as part of their product lineup. The biggest banks to offer personal loans include:
| BANK | SIZE BY AVERAGE DEPOSITS | PERSONAL LOAN AMOUNTS | LEARN MORE |
| --- | --- | --- | --- |
| Citi | $1.2 Trillion | $2,000 - $30,000 | Website |
| Fifth Third Bank | $374 Billion | $2,000 - $25,000 | Website |
| KeyBank | $111.8 Billion | $5,000 - $20,000 | Website |
| PNC Bank | $335.2 Billion | $1,000 - $35,000 | Website |
| TD Bank | $670 Million | $2,000 - $25,000 | Website |
| US Bank | $403 Billion | $1,000 - $25,000 | Website |
| Wells Fargo | $1.3 Trillion | $3,000 - $100,000 | Website |
There are three major banks that do not offer personal loans to their customers: Bank of America, Chase, and Capital One. However, depending on what you are financing, these three banks may be able to offer you a different type of loan to fit your situation.
Are Online Personal Loans Better Than at Banks?
Online lenders (like SoFi and Marcus) may spring to mind because of their advertising online, on television, and in magazines. But are their personal loans any better than what your bank offers?
Online banks may sometimes offer lower rates because of their digital-first approach, but your personal bank can offer greater convenience and a one-stop shop for everything financial. Be sure to compare the interest rate, fees, and terms before making a decision.
Are Credit Union Personal Loans Better Than at a Bank?
When considering where to get personal loans, credit unions may come to mind for their lower rates and community focus. As a general truth, credit unions will usually offer better rates than banks or online lenders because their board is beholden to the bank shareholders, not corporate investors.
However, credit unions are often smaller institutions with stricter loan requirements than larger banks. If you are a member of a credit union and have great credit, they may be able to offer you the best rates for personal loans. If you have subprime credit, a credit union may not be the best place to secure a loan.
How to Find the Best Personal Loan Rates
The best personal loan rate will vary for each individual because it's largely determined by the individual's credit score. In general, the higher your credit score, the lower interest rate you may qualify for.
According to data from the Federal Reserve Current Consumer Credit Release, the average interest rate for a 24-month personal loan was 9.5%. If you have great credit, it may be worth considering a low-interest credit card instead of a personal loan.
Finding the best rates for personal loans doesn't have to be a long, time-consuming process. Using the tool below you can find the best personal loan rate, giving you the edge in finding the right loan with the best terms – at a monthly price you can afford!
How to Compare Personal Loans
The easiest way to compare personal loans is to pre-quality with your chosen lenders to see how much you may qualify for (and at what rate). Each lender's pre-qualification process is different but it usually involves giving them your address, phone number, and the last four digits of your Social Security Number.
Although pre-qualification doesn't guarantee that you'll get a personal loan, it is a step towards finding your ideal terms. Pre-qualification will also give you an idea of what interest rate you could get, as well as insight into any additional fees added to your loan and your monthly payment.
See What Interest Rate You Might Qualify For
The most important part of pre-qualifying for a personal loan is understanding how much you may qualify for, how long your loan will be, and what interest rate you may qualify for. Different lenders may offer you different interest rates based on your credit history and consumer report.
If you don't like the interest rate you pre-qualify for at one lender, it's okay to see what other rates are available to you. Because the pre-qualification process requires a consumer report – and not a credit report check – it won't appear as an inquiry on your credit report.
Check for Any Personal Loan Fees
Once you find the right personal loan for your needs, it's time to read the fine print. Before applying, be sure to understand what personal loan fees you may be responsible for. Each lender is different and may add origination or administrative fees to the loan. Otherwise, it may require you to pay them upfront.
Understand Personal Loan Terms and Your Monthly Payment
After you have the best rate for your personal loan and understand the fee schedule, it's time to lock down the two most important parts: your loan term and your monthly payment. These two items tell you how much your regular payments will be and how long you will be paying them for.
Additionally, it's important to find the right payment date for your personal loan. In most cases, you can work with your lender to determine a date every month that aligns with your paycheck or other bills you may be paying.
Research the Lender
Before you sign any loan, you must do homework on the lender. Good personal loan lenders will be accredited by the Better Business Bureau and will have few-to-no complaints with the Consumer Financial Protection Bureau. If the lender has a low score with the BBB – or several unresolved complaints with the CFPB – you may want to reconsider accepting their loan.
Is It a Good Idea to Get a Personal Loan?
Everyone's reason for getting a personal loan is different. From reconsolidating credit cards or deferring medical debt, a personal loan can be the right choice to ensure financial stability.
But like any loan, it requires careful discipline and careful management alongside your other obligations. If you can't afford to make a monthly payment – or have concerns about responsibly managing your credit – a personal loan may not be right for you.