The Best Banks and Credit Unions in 2021
Whether you are looking for a fee-free checking account or a savings account with the best interest rate, we're here to help! Check out our favorite banks and credit unions to find the best deposit accounts available today.
Top Bank Overall
Ally Bank is our top choice for banking needs. Though they do not have any physical branches available, they offer 24/7 phone support, no-fee checking, access to over 40,000 ATMs nationwide and some of the best interest rates available on their savings accounts and CDs.
Top Credit Union Overall
Credit Unions offer the best in local customer service while providing access to competitive checking and savings accounts. Credit unions are nonprofit institutions that are member-owned, meaning no unnecessary fees and great interest rates.
There are over 5,000 credit unions in the United States, many of them right in your own backyard. Because these are specific to your area we can't send you in one specific direction. Instead, search for a local credit union near you by using the NCUA's credit union locator tool.
Top Checking Account
NBKC Bank holds our top honors at the best checking account, with their "Everything" account. In this single account, there are no fees, no minimums, a debit Mastercard and your money still earns an unheard of 0.50% interest rate. It also has an integrated app to track your spending, and automatic bill pay to put your financial life on cruise control.
Check out the NBKC Bank Everything Account here.
Top Savings Account
The American Express® Personal Savings account is one of our favorite savings accounts. It not only provides one of the best interest rates around, but with no minimums, no fees, and 24/7 customer service, this account makes it simple to save.
Check out the American Express® Personal Savings here.
Our Full List of the Best Banks and Credit Unions of 2021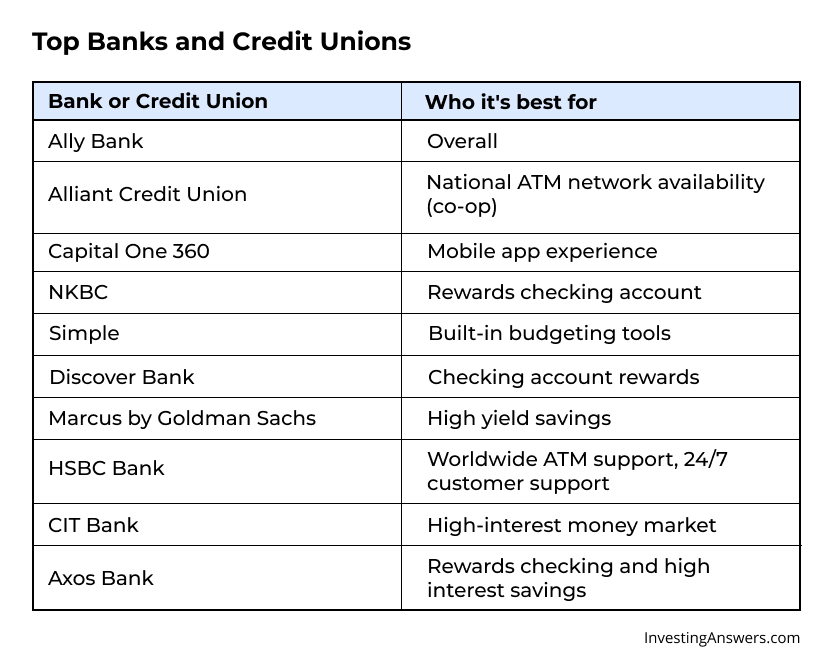 Why Online Banking Is Now The New Normal
2021 brought a lot of changes for all industries and banking was no exception. In-person banking was closed or very limited for much of the year, forcing consumers to rely on digital banking services. While online banking was becoming mainstream, now it is almost required.
According to a recent study by Chase, this is welcome news to most consumers. Nearly 80% responded that they prefer to manage their finances online and use a mobile app or their computer to handle their daily banking activities.
Online banking is the new normal, but that doesn't mean you will lose the benefits of in-person banking. Many institutions are investing in digital meeting options, including video calls with current and prospective clients. With online chat and phone support available around the clock, most banking services can be done remotely, and in most cases, much quicker.
That all sounds great, but you may be wondering if online banking is safe?
The short answer - yes.
Banks have always led the way with data safety and encryption services and these practices have made their way onto their mobile apps and online banking services as well. With two-factor authentication and 256-bit encryption as the new standard, your banking and personal data is well protected. Add in FDIC and NCUA insurance protecting up to $250,000 of your deposits, you can rest well knowing your money is safe.
Online banking is the new normal, and for most, this is a welcome change that will make managing your money a simple, seamless process.
What Are My Savings Account Options?
Community banking is the cornerstone of financial services in the United States. For many, opening a savings account marks our first interaction with a bank, and it's considered the first step on the road to financial independence.
Thanks to technological advances, we're inundated with options, each claiming to be the best for our money. Before you decide where you should place your savings, it's important to do your research to determine which one is right for you.
Regular Savings Account
Offered by every bank and credit union, regular savings accounts help individuals and families store money in reserve funds. Account holders can either direct deposit their paychecks or make transfers from a checking or brokerage account.
In turn, the financial institution pays a small amount of interest on the savings balance. Regular savings accounts are best for those who are just starting out or who want to build a small emergency fund that can be easily accessed.
High Yield Savings Account
High yield savings accounts share all the same features of a regular savings account, but pay account holders a higher interest rate for their savings. In many cases, these accounts are tiered: The more you hold in an account, the greater your interest rate will be.
High yield savings accounts are best for people who want a stable return on a large sum of money, but only if they're planning to hold it in their account for an extended period of time.
Money Market Account (MMA)
The hybrid of a checking account and regular savings account, money market accounts offer a higher-than-normal interest rate with the ability to write checks. MMAs are best for people who want to earn interest on a high balance while still having access to their money.
How Do I Find the Best Savings Account Rate?
Savings account annual percentage yield (APY) rates are different at each financial institution, and are set based on several factors. To find the best savings account rate, be sure to shop between banks, credit unions, and online institutions. In some cases, you may be able to find a higher interest rate online than at your local bank.
Should I Use a CD Instead of a Savings Account?
Certificates of Deposits (CDs) are often utilized by investors as a way to earn guaranteed returns on their money over a set period of time. Held by a financial institution for a period between six months and five years, CDs tend to offer higher-than-normal APYs than high yield savings accounts and money market accounts.
CDs are attractive to people who have large cash sums they want to grow but who don't want to risk a loss from investing on the stock market. However, because CDs are locked in for a period of time with early withdrawal penalties, they don't work for those who may need access to their funds in the event of an emergency. Before investing in a CD, take a close look at your finances to determine whether you can afford not having access to reserve funds.
Credit Union vs Bank: Which is Better?
There are over 5,000 commercial banks and credit unions in the United States, each offering a different suite of products and services to their clients. When comparing credit unions versus banks, which one is right for you?
Credit unions tend to be smaller and are owned by customers through individual shares. As a result, dividends that would be normally paid to shareholders are returned to the community in reduced interest rates for credit products.
Because of their size, commercial banks tend to offer more services to their customers. This can include investing, wealth management through private banking, and a variety of loan options.
As you consider your overall needs, think about what you might need from a bank today and what you'll need as your wealth grows. If you're looking for basic banking products and lower interest rates on loans, a credit union may be your best option. If having access to your money online and around the world – along with access to specialty products like private banking – is more in line with your goals, a commercial bank may be a better choice.
Banking Calculators
Find Out How Much You Need to Save In Order to Retire
Starting to think about retirement? Worried about how much you need to save today to be comfortable as you grow older? Our retirement calculator can help you set goals to ensure that your golden years are far more comfortable.
Use Our Million Dollar Savings Calculator
Wondering how to save a million dollars over your lifetime? It's possible, but it takes careful, disciplined planning. Discover how you can achieve this goal by using our million dollar savings calculator.
See the Power of Compound Interest and Watch Your Money Grow
Compound interest collects returns on returns, helping your investments grow exponentially over time. Our calculator can help you visualize the results of compounding, giving you the tools you need to set an investing goal.