Warren Buffett is the world's most successful investor. According to Forbes, he's worth $68 billion and is the fourth-richest person on earth.
The investments made by his firm, Berkshire Hathaway (NYSE: BRK-B), gained 513,055% from 1964 to the end of 2011. The S&P 500, including dividends, gained 6,397% over the same time period.
Now, you may have seen these stats before. But let me ask you a question.
If you could jump in a time machine and meet Buffett in 1964, back when he was still rustling up money from a handful of private investors, would you take your checkbook with you?
Story Of Tino DeAngelis
Before you answer, ask yourself if you would have had the guts to make this type of investment.
In 1963, a small-time businessman named Tino De Angelis owned a company, Allied Crude Vegetable Oil. De Angelis would borrow money from a bank via a line of credit, buy shiploads of vegetable oil, store the oil in tanks on shore, sell the oil and then pay back the line of credit. The oil in the tanks was inspected regularly and was pledged as collateral for the line of credit.
Eventually, De Angelis figured out a way to outsmart the bankers who came by to check on the collateral. Instead of filling his ships with vegetable oil, he filled them with water and then pumped in a thin layer of oil on top. When the bankers sampled the load, they never reached below the oil floating on the top of the water. They thought the whole tank was filled with oil, as promised.
De Angelis used this 'phantom oil' as collateral for more and more loans, borrowing more than $150 million (over $1 billion in today's dollars) against tanks of water. By the time the bankers finally caught on, the $150 million was gone.
The loss hit the banks hard. One bank in particular, American Express (NYSE: AXP), lost half its value due to the 'salad oil scandal.'
Buffett's Investments
But a cagey investor from Omaha took notice of a great company selling at the fire-sale price of $35 per share -- and he loaded up on $13 million worth of AXP.
Consider: If you had followed Buffett's lead in 1964 when he made his first investment in American Express, you would have made a tidy 162,543% return today based on share price alone. That's the power of holding 'forever.'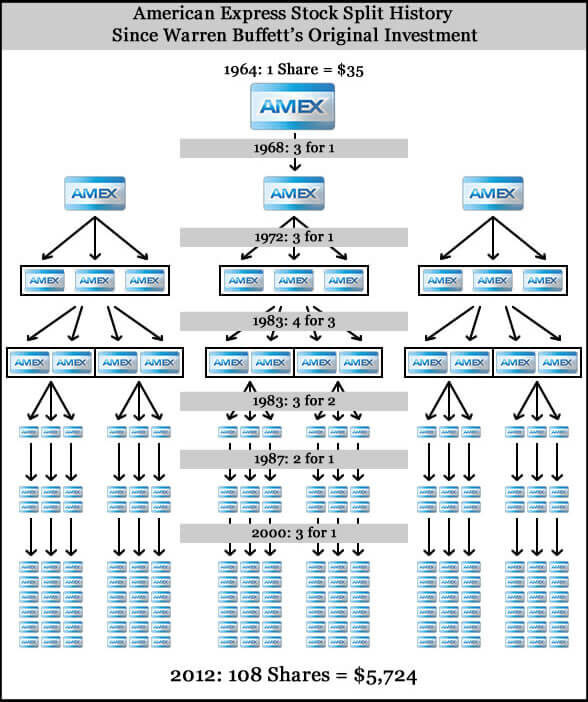 Without even accounting for 48 years of dividends, just one $35 share of American Express purchased alongside Buffett in 1964 would now be worth around $5,724, thanks to six different stock splits.
Today, the book value of Buffett's original $13 million investment is about $2.1 billion. His total investment in the company is worth over $7.2 billion (he's made subsequent stock purchases).
Unlike those potential investors who had to make real-time decisions about investing with a young kid from Omaha, we have the benefit of hindsight -- and we can see the impressive 48-year track record Buffett's built.
So, what if we knew what Buffet was 'loading up' on today? Well, luckily we do.
Each quarter, Berkshire Hathaway has to disclose its holdings in a form called a 13F. The 13F is filed with the Securities and Exchange Commission (SEC) and posted publically on the SEC website. Berkshire released its latest 13F filing on February 14, 2012.
The highly-anticipated release offers the timeliest way to see which stocks Warren Buffett bought, sold or held during the previous reporting period.
I took a look at the most recent filing and put together this list of 10 stocks Berkshire was buying in the fourth quarter 2011: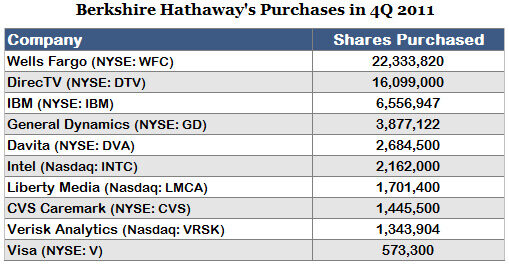 Once we know what companies he was buying, we can figure out the average price he paid.
For example, Buffett bought 2,865,008 shares of Visa during the fourth quarter 2011. Its average price during that time was about $93.81. Today, Visa (NYSE: V) trades north of $117 per share, giving Buffett a 25.0% gain in just 10 short weeks.
Buffett obviously got a great deal on Visa stock. But there are plenty of other stocks in his 13F that haven't quite taken off yet. In those rare cases, we still have the chance to pay the same price as the world's greatest investor.
The Investing Answer: Buffett's American Express homerun shows the power of investing alongside the world's greatest investors. Luckily, every quarter almost every famous investor (not just Buffett) has to file a 13F and tell you what he or she is buying.
Virtually every big-money investor is required to file a 13F, so you can track almost anyone you want, based on your investing style. Like value stocks? Here's quick list of some of the top money managers that you may want to regularly follow: