How I Discovered CrowdStreet
I've been investing in rental properties for the past 20 years, and I now own and manage a portfolio of several dozen properties throughout Texas, Virginia, and Colorado. I love real estate because it's tangible, it's relatively stable, and it serves as a great inflation hedge. Real estate can also deliver outstanding gains, especially if you use leverage wisely and you invest in fast-growing markets like my hometown of Austin, Texas. For example, as I write this, housing prices have jumped 29% in Austin over the past year.
But owning rental properties, especially multiple properties and out-of-state properties, is more time-consuming than people think. From accounting complexities, to busybody neighbors trespassing on my properties, to tenants who nearly burned one of my properties down, it can quickly become a part-time or even full-time job.
I'm fine with working hard, but with several kids at home and multiple businesses to run, a few years ago I started searching for a new way to profit from real estate without the time commitment, the hassle, and the expense of direct property ownership.
That's when I discovered real estate crowdfunding.
Similar to how Amazon's marketplace helps bridge the gap between buyers and sellers, real estate crowdfunding websites like CrowdStreet, Fundrise, Cadre, and Diversyfund connect small investors in search of real estate exposure with large-scale real estate developers in search of fresh capital. By pooling funds from hundreds or even thousands of investors, sites like CrowdStreet allow small investors to invest in big-time real estate deals that would otherwise be out of their league, including large apartment complexes, hotels, industrial facilities, and prominent downtown skyscrapers.
I think the best way to understand this market is to look at a specific example. Below you'll find a fairly typical real estate crowdfunding deal that appeared recently on CrowdStreet...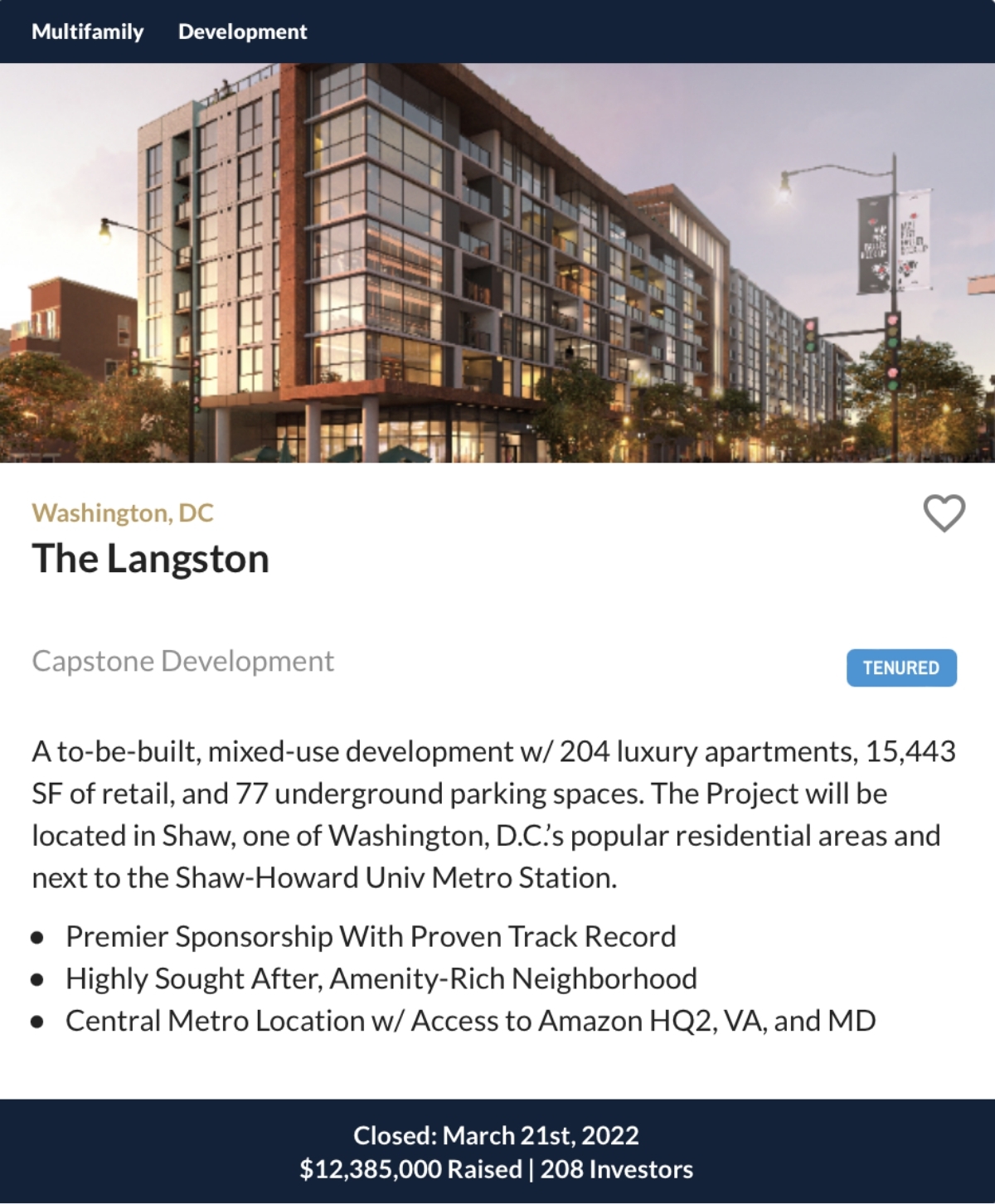 The deal sponsor, Capstone Development, used CrowdStreet's online platform to raise $12.3M from more than 200 investors to help fund the construction of a luxury apartment complex in Washington, D.C. Capstone will use the funds raised, along with $4M of their own money and $71M in debt financing, to build the project, with the goal of selling it to a large institutional investor once it's completed and fully leased up. The targeted holding period for this investment (both for the developer and for CrowdStreet investors) is four years.
While there are certainly no guarantees, if the developer hits all of its financial targets, then CrowdStreet investors could see a 21.1% annual return from this deal after the property is sold. That's enough to turn every $25K invested into $55K in about four years, and it's about 2X better than the average annual return generated by U.S. stocks.
My Personal Experience with Real Estate Crowdfunding
I made my first real estate crowdfunding investment in 2017 and so far I've been impressed with the results. I haven't seen a loss, and in most years I've generated high single-digit capital gains. I've also collected dividend payments of more than $12,000 along the way.
I'm so confident in real estate crowdfunding that I now have a total of almost $500,000 invested across a handful of platforms, most of which I've invested with my two favorite sites – CrowdStreet and Fundrise. No investment is without risk, and past performance doesn't guarantee future results. However, I'm confident in this market because of the outstanding quality of the deals offered on these platforms, and because each investment is backed by the ownership of high-quality real estate assets.
Looking ahead, if I manage to generate returns of 10% per year from my real estate crowdfunding holdings, then I could pull in nearly $50,000 in passive income per year, or more than $4,000 per month. If I can amplify my returns to 20% by investing in a small basket of high-performing CrowdStreet deals like the ones I'll introduce you to later in today's article, then my income stream could jump to more than $8,000 per month.
In addition to strong returns, real estate crowdfunding sites have given me the greatest gift of all -- more free time to spend with my wife and five children. They offer a simple and convenient way to profit from real estate while avoiding the major time commitment associated with owning rental properties. Each investment I make is as simple as clicking a few buttons, and the ongoing maintenance required is no more than a couple of minutes per year (typically around tax time), making real estate crowdfunding a truly passive way to invest in real estate.
Why CrowdStreet is My Favorite Real Estate Crowdfunding Platform
As of this writing, CrowdStreet and Fundrise are the two runaway winners in the real estate crowdfunding market. I prefer to stick to the industry leaders, as they offer the easiest-to-use platforms, have the best customer service, and tend to attract larger, more experienced developers (or in the case of Fundrise, develop large-scale projects themselves).
Whereas Fundrise is my favorite crowdfunding platform for beginners, CrowdStreet is the clear winner for experienced real estate investors. Their platform offers a steady flow of high-quality real estate deals to invest in, and the performance has been exceptional, with the average closed deal generating annual returns of 18.3%. By comparison, Fundrise has delivered average gains of about 11.8% over the past five years. For a deep dive into CrowdStreet's historical returns, check out my related article: CrowdStreet Returns & Investment Performance.
If you're willing to devote a little bit of time to researching individual property deals with the goal of generating higher returns, then CrowdStreet could be a great fit for you. Just keep in mind that the platform is for accredited investors only (those with an annual income of $200K+ individually, or $300K+ jointly, or with a net worth in excess of $1M), and you'll need to fill out a few forms to prove your accredited investor status before you can get started. In addition, the minimum investment size is $25,000 per deal, so the platform isn't for everyone and it's better suited for more experienced, higher net worth investors.
I started tracking CrowdStreet's deal flow in 2020, and I first invested in their platform in 2021. As of this writing, I've invested $350,000 into seven different deals on CrowdStreet. In just a moment I'll walk you through all seven of these deals and I'll explain why I invested in each one, as well as how each project has performed thus far. In the meantime, if you'd like to learn more about CrowdStreet and why I'm such a big fan of their platform, check out these related articles
CrowdStreet Review - My Personal Experience
Why I Invested $350,000 in CrowdStreet
How I Decide Which Deals to Invest In
When I make personal investments on CrowdStreet's platform, here are the things I look for:
Experienced Sponsors – I want to invest alongside developers who have built and successfully closed similar projects in the past. If they've worked in the local market before and with the same general contractor in the past, then that's also a huge plus.
Attractive Property Types – I've focused my investments primarily on large multifamily developments. A nationwide housing shortage is forcing many would-be homebuyers to rent, and as a result, apartment buildings are benefitting from strong occupancy rates and rising rents. That makes multifiamily a great choice for both developers and investors right now.
High-Growth Markets – In a trend that started decades ago but has accelerated in recent years, Americans are migrating out of big expensive cities in colder climates and into more affordable business-friendly locations in warmer climates. To take advantage of this, I've focused my CrowdStreet investments almost exclusively on fast-growing "sunbelt" states like Texas, Florida, and North Carolina.
A+ Locations – All other things being equal, the more convenient a property's location is for its residents, the faster it will lease up, and the better it will perform for investors. That's why I invest exclusively in projects that benefit from what I call "A+" locations. Examples include waterfront property, uber-walkable downtown or university-focused developments, and projects adjacent to bustling metro rail stations.
Strong Business Plans – I want to invest alongside developers who have detailed, well-thought-out business plans. "Me too" developments don't qualify. Instead, I look for projects with unique amenities, floorplans, and other characteristics that are designed to fill an underserved niche in their local market.
Generous Capital Structures – Each deal on CrowdStreet's platform is structured differently. Some are more favorable to the developer, whereas others are more generous to small investors. I prefer to invest in deals that offer strong upside potential to CrowdStreet investors if the project performs better than expected. Some sponsors also offer preferred investor returns of 8%, 10%... or even up to 12%, which is a nice bonus and helps mitigate risk.
Conservative Projections – Every business plan comes with a spreadsheet showing forecasted revenues and expenses, and these forecasts are based on a certain set of assumptions. I want to invest alongside conservative developers who set themselves up for success by underpromising and overdelivering. If their projections assume below-market rents and a reasonable resale cap rate, then it gives me a greater degree of confidence that they will meet or exceed expectations.
If you're considering opening a CrowdStreet account and you'd like step-by-step instructions showing exactly how to get started with their platform, as well as how to analyze and make your first investment, then stay tuned for my upcoming article titled Getting Started with CrowdStreet - How to Analyze a Deal and Start Investing.
A Closer Look at the 7 CrowdStreet – How to Analyze a Deals I've Personally Invested In
I've followed and analyzed each and every deal that has been posted to CrowdStreet's marketplace since 2020. Most of the deals are of good quality, but a handful really stood out above the rest. Enticed by their experienced sponsors, strong business plans, A+ locations, generous capital structures and reasonably-achievable projections, I invested $50K into each of the deals listed below.
Let's take a closer look at each of the seven investments I've made on CrowdStreet's platform thus far...

Vue at Touchdown Village (Flatiron)
Location: Baton Rouge, Louisiana
Amount Invested: $50,000
Start Date: June 2021

This 294-bedroom student housing complex is being built across the street from Louisiana State University (LSU). The deal sponsor, Fountain Residential, specializes in student housing. Led by two industry veterans with more than 40 years of combined experience, Fountain has successfully developed 12 similar university apartment complexes in recent years.
What I like most about this deal is the A+ location adjacent to the largest university in the state of Louisiana. The project is in a highly visible location just a few blocks from Tiger Stadium, which ranks as the 6th largest stadium in the world. It's also just a five-minute walk to the business and engineering schools, and a short walk further to the rest of campus.

In my personal experience, A+ locations next to major universities are pure gold. I've been investing in student housing for more than a decade, and I now own 11 houses just steps away from the University of Texas and the University of Virginia. Student housing accounts for the largest chunk of my personal real estate portfolio, and for good reason. As long as it's located within walking distance to a top-tier university, I think student housing is one of the most stable asset classes money can buy. My student rentals typically pre-lease two or even three years in advance, and I never experience any vacancy.

Fountain Residential also showed a great deal of foresight by creating an apartment complex that will be nicely differentiated from competitive buildings nearby. For starters, they're offering turnkey furnished rentals, which should help them lease up the building faster. They were also thoughtful when creating floorplans and unit mixes for this building. More than two-thirds of the units are one-bedroom efficiencies, which tend to be in high demand and short supply at most universities.

LSU is no exception, and the university's website makes it clear that "single occupancy rooms are very limited in number." Most students who want to live in a one-beroom unit on campus will find themselves on a long waiting list. Fountain Residential is aware of this, and their new building will offer 96 private rooms to help fill this pent-up demand. And because students will pay a premium to live on their own, the rent per square foot on these one-bedroom units is projected to be about 40% higher than the multi-bed units.

In addition to one-bedroom efficiencies, the remaining 30% of the apartments will be four or five-bedroom units. These will accommodate students who want to live with a larger group of friends, but who often have smaller budgets and aren't willing to spend the extra money to live in a one-bedroom. In my experience, students either want to live on their own or they want to live in larger groups with as many of their friends as possible. By catering to both groups, Fountain's goal is to maximize rental revenues while also ensuring a faster lease-up period. It also gives them a differentiated offering versus adjacent apartment buildings, most of which offer a mix of 2 and 3-bedroom units.

Here are a few of the other reasons why I think this particular project will perform well...

Vue at Touchdown Village will be 6 years newer and will include better amenities than the competition. As a result, it should be fully leased well before construction is even completed.
No new walkable apartments are scheduled to be delivered adjacent to LSU for the next three years, so this project will face no new competition.
LSU is expanding enrollment. The most recent freshman class grew to 7,038 students, which represents a 5.2% increase over last year. This will lead to increased demand for off-campus housing.
With 294 beds to lease, this is actually a relatively small project by student housing standards. That should make it easier to lease at premium rates, as Fountain Residential only needs to attract less than 1% of the student population in order to fully lease the building.
Fountain Residential offered a generous 12% preferred return to CrowdStreet investors in this deal.
Even though the target return on this deal is 19% per year, the developer was conservative with its projections. They're expecting to generate the same rental rates when compared to older buildings that are farther from campus. As a result, I think they have a good chance of exceeding their revenue projections, as well as delivering a higher-than-expected IRR to CrowdStreet investors.
Because this deal is relatively new, I don't have any financial performance updates to share. I'll keep you posted on Vue at Touchdown Villiage (which has now been renamed "FlatIron" due to the building shape being similar to the iconic New York building of the same name) as more data comes in. In the meantime, this developer has done a nice job of communicating with investors, and they've even posted a live webcam so investors can keep track of their construction progress. These are fun, so take a look!

https://app.truelook.com/?u=m11643894540#tl_live

If you'd like to receive an email next time I discover an attractive student rental investment deal on CrowdStreet's platform, then sign up for my email newsletter and I'll keep you in the loop.
EastPark Apartments
Location: Madison, Wisconsin
Amount Invested: $50,000
Start Date: November 2021
This 306-unit Class-A luxury apartment complex will be built from the ground up in my childhood hometown of Madison, Wisconsin. A quaint college town with beautiful scenery and a strong economy, Madison consistently ranks as one of the best places to live in America.

Although I normally invest exclusively in fast-growing sunbelt states like Texas and Florida, I made an exception here, as I grew up in Madison and am very familiar with the local market. I'm also proud to have been born on the family farm in Wisconsin, not too far from EastPark's development site.

I last visited Madison in September 2021 and was blown away by the amount and scale of the construction that had taken place since my last visit. What amazed me most was the development east of town, between the State Capitol building and the airport. Take a look at this development on East Washington Avenue, which is just down the road from where EastPark Apartments is being built...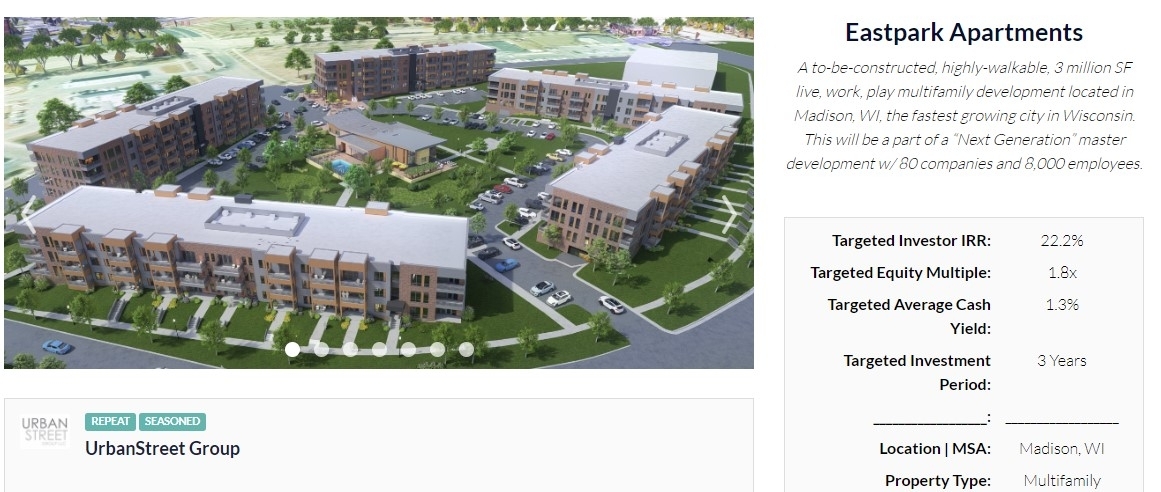 I grew up on the west side of Madison, an area that was historically considered the more desirable part of town. But as is the case with many other cities across the country, urban development and gentrification efforts have led to a revitalization of areas close to the urban core, as well as those close to the airport. EastPark's new apartment complex sits less than 7 miles northeast of the State Capitol building and just 1.5 miles from the Dane County Regional Airport. As the city expands north and east, EastPark's prime location will only continue to get better and better.
Here are a few other reasons why I was so excited to invest alongside UrbanStreet Group in this unique multifamily development...
Madison now ranks as the fastest-growing city in the state of Wisconsin.
Demand for apartments on the east side of town currently exceeds available supply. As a result, apartment occupancy rates now sit at all-time highs of more than 98%.
Part of a master-planned community, the project will be walkable to 8,000 jobs and 80+ companies. Home to a new University of Wisconsin health center, as well as the headquarters of American Family Insurance, this master-planned community ranks as the largest employment center outside of Madison's central business district.
Based on stringent property zoning, EastPark is one of only two apartment complexes allowed to build within the 447-acre, 3-million-square-foot community, giving the property an A+ walkable location and a significant barrier to entry versus the competition.
EastPark will also be walkable to various parks and restaurants, as well as 3+ miles of walking trails. You can check out the trail map here.
The project is located adjacent to U.S. highway 151 and within one minute of Interstate 90. Strong visibility should help attract new tenants and facilitate a faster lease-up period.
The developer, UrbanStreet, has nearly three decades of experience building similar projects.
UrbanStreet has an in-house construction crew and owns the general contractor. This gives the developer more control over the construction process and helps mitigate errors, delays, and other execution risks that are otherwise all too common among third-party contractors.
UrbanStreet is forecasting an IRR of 22.2% for this project, but I believe they could exceed expectations thanks to rising rents in Madison (up 4.8% in the past 14 months) and based on recent leasing success enjoyed by nearby comparable properties.
I'll bring you additional updates as this deal progresses. In the meantime, here's some aerial drone footage showing the latest construction progress that has taken place...
Park Place Nashville
Nashville, Tennessee
Amount Invested: $50,000
Date: December 2021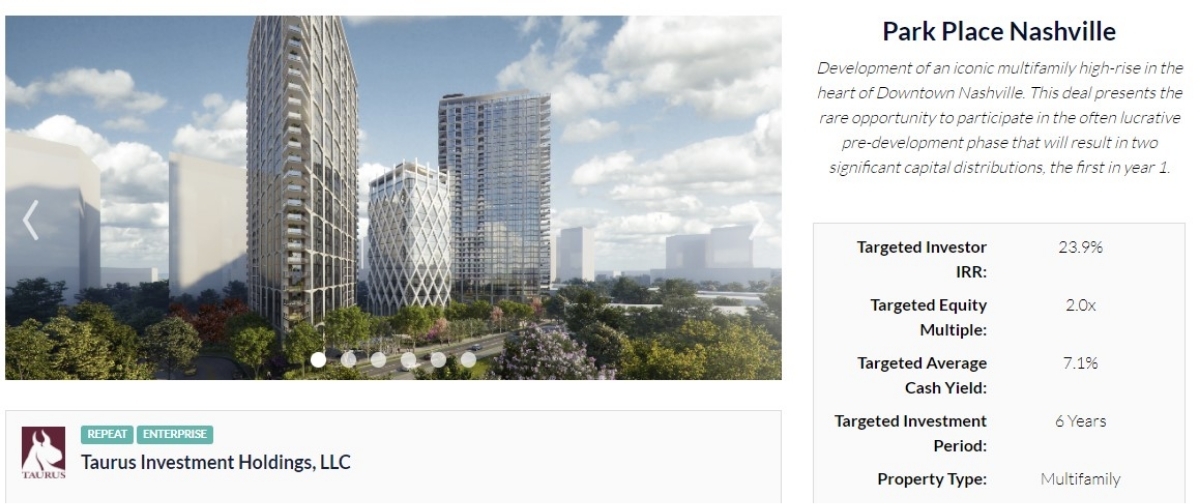 Perfectly situated in the fast-growing urban core in downtown Nashville, this 2.1-acre development site will feature two iconic residential towers, ground floor retail, a one-acre park, and a 280-room hotel site that will be sold to another developer (reducing risk on that portion of the development). With multifamily properties enjoying 16.3% rent growth over the past year, Nashville is one of the hottest real estate markets in America.
This project was only available to CrowdStreet investors for a few hours before being oversubscribed (meaning more investors wanted to invest in the deal than the sponsor was able to accept). I feel fortunate to have had a chance to invest in this project, and although there are no guarantees, I believe it will deliver 20%+ annual returns in the coming years.
In an interesting twist, this deal also comes with the potential to generate a projected initial payment of about $19.7 million, or roughly 76% of CrowdStreet investors' initial investment, roughly one year after the deal is closed. This potential payment would be based on an increase in the value of the land as a result of the developer's successful bid to improve the zoning for the 2-acre parcel.
Although the details are a bit complicated, after buying the land for $35M, the developer pushed for and successfully won (pending an appeal) its campaign with the city to triple the building density and height allowed on the property. Based on this, they expect the land to appraise for about $65M, leading to a sizable initial gain that they then plan to recapitalize when they take on an additional equity partner in the first quarter of 2023. The bottom line is that if all goes according to plan, this deal could return most of our capital in early 2023, followed by a second payment to investors upon the completion of the deal in 2028.
Here are a few other reasons why I decided to invest in Park Place Nashville...
Park Place will be an iconic part of downtown Nashville. The buildings will be a destination unto themselves and will be differentiated from the competition in part due to the size, scale, and beautiful design of the one-acre park surrounding the property. This should improve leasing rates, as well as the resale value of the project.
The development is in an A+ location within walking distance of Nashville's downtown core, its entertainment district, and major employers including Amazon and Alliance Bertstein.
According to CrowdStreet's 2022 rankings, Nashville ranks as the #3 best city to invest in. Lured by an influx of new jobs and a booming economy, Nashville's population has jumped 21% over the past decade.
The deal sponsor, Taurus Investment Holdings, has more than 40 years of experience.
The deal boasts a high targeted IRR of 23.9% along with the potential to recoup most of our initial investment within the first year.
CrowdStreet investors have a rare opportunity to participate in 10% of the general partner equity on this deal. This could lead to outsized gains.
If you'd like more info on Park Place Nashville, then please bookmark this page and stay tuned for future updates.
Millennium Apartments
Location: Arlington, Virginia
Amount Invested: $50,000
Start Date: January 2022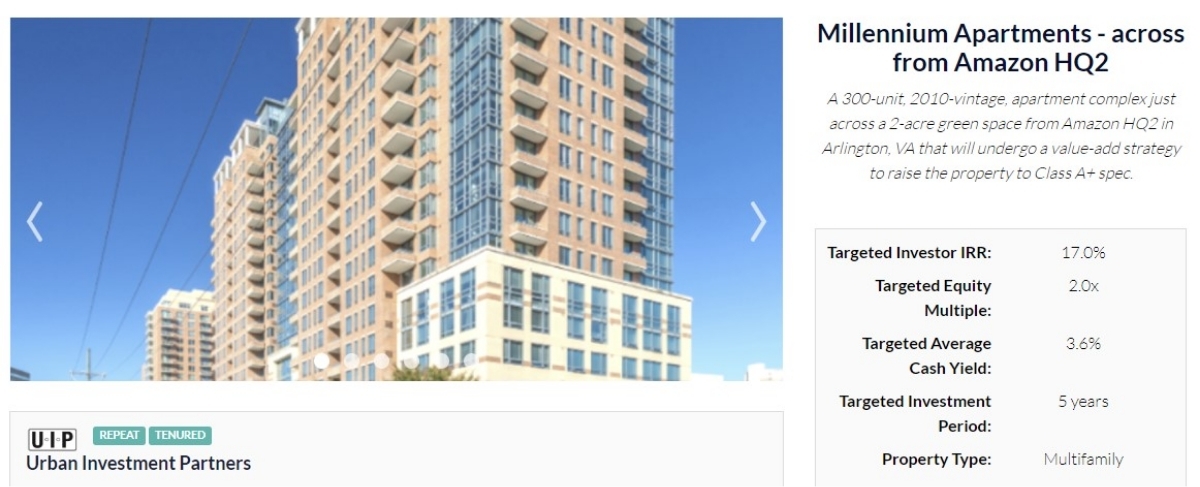 One of my personal favorites, this existing 300-unit high-rise apartment building sits directly in front of Amazon's brand new headquarters in Arlington, Virginia. The sponsor plans to renovate the building, increase rents, add ground-floor retail space, and then sell the property in a few years for a projected IRR of 17% for CrowdStreet investors.
I lived in Arlington for several years in the early 2000's, so I'm very familiar with this market. And based on my personal experience with the area, I'm convinced this A+ location will perform well for investors. Millennium Apartments sits just two blocks from the Pentagon City metro station, a block from Whole Foods, and walking distance to countless shops and restaurants. The building is also less than a mile from the airport, and it's just across the river from downtown Washington, D.C.
Millennium's A+ location will also get even better once Amazon moves in next door. The first phase of Amazon's new headquarters in Arlington will consist of two 22-story office buildings, both of which sit directly across the park from Millennium Apartments. Both buildings are under construction and are on target to be completed in 2023. When they open their doors, I expect to see an uptick in demand for apartments that are within an easy walking distance, and no other building enjoys as good of a location as Millennium.
In addition to its A+ location, this deal offers a host of other benefits for CrowdStreet investors. Here are just a few of the reasons why I chose to invest in Millennium Apartments...
Millennium's projected IRR of 17% is a touch lower than some of the other deals I've invested in. However, by acquiring an existing cash-flowing building and just doing a light renovation, this deal carries less risk than the full-scale new construction that you often see with other deals on CrowdStreet's marketplace.
Amazon plans to employ an estimated 25,000 people in Arlington by 2030, and the firm has already hired 5,000 workers in the area. This influx of high-paying jobs, with expected average annual salaries of $150K, should help boost demand for Class A apartments within a short walking distance of Amazon's HQ2.
Amazon plans to invest up to $20M into Metropolitan Park, which is located directly in front of Millennium Apartments. It also plans to add ground-floor retail to its office buildings, creating a vibrant pedestrian-friendly district directly across the street from Millennium Apartments.
A variety of other public and private entities, including Virginia Tech and Boeing, among many others, are planning to invest a total of $12 billion into the local submarket. This will include more than 500,000 square feet of new retail space and 8 million square feet of office space, all of which will be walkable from Millennium Apartments.
Studies show that the 4 square mile "National Landing" neighborhood submarket, as it is commonly known, will likely rank as the fastest-growing market in the Washington, D.C. metro area in the coming years.
The deal sponsor, Urban Investment Partners, has previously renovated more than 50 apartment buildings and brings two decades of experience with similar projects exclusively in the Washington, D.C., area.
Urban Investment Partners is vertically integrated. It owns its own construction and its own property management company, giving it full control over each of its projects.
The developer's business plan and projected rental increases seem achievable, and the local submarket currently enjoys 94% occupancy rates.
One of the equity partners in the deal, Churchill Living, plans to sign a master lease covering 150 of the 300 units at Millennium Apartments. This will reduce turnover costs and will mitigate vacancy risks. Churchill offers furnished, extended-stay apartments primarily for corporate relocation clients. They've been around for 30 years and have contracts with a number of major employers and government agencies, and they've already successfully leased out 175 units in the neighborhood. Churchill plans to consolidate its local business and operate it out of Millennium Apartments going forward.
Thanks to the fact that Millenium is an existing cash-flowing building, the developer expects to pay quarterly cash dividends to investors starting in 2022.
I'll keep you posted as Urban Investment Partners continues to execute its plan for this building. I'm also looking forward to seeing how this project's rents and occupancy rates are impacted by the improvements Urban Investment Partners is making to the building, as well as by all of the development that's happening in the neighborhood.
Over the past few years, the National Landing submarket quickly went from being the dream child of local visionaries to the home of countless major corporate and non-profit employers. I think it's poised to become one of the fastest-growing urban developments in the country. Seeing is believing, so check out this related YouTube video for a glimpse into this neighborhood's future...
The Joinery Phase II
Location: Charlotte, North Carolina
Amount Invested: $50,000
Start Date: February 2022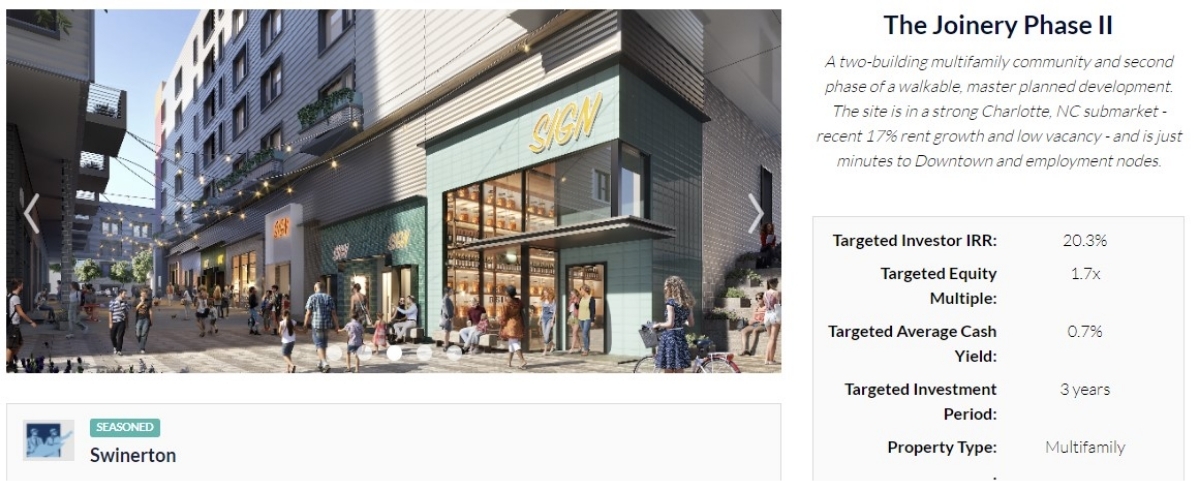 This new 361-unit apartment and retail project is being built next to a popular metro rail station in one of America's fastest-growing cities - Charlotte, NC. It will be the second phase of a three-phase development, and the sponsor has already completed the first phase on time and on budget.
Transit-oriented investments are some of my all-time favorites, as they're like beachfront real estate... only much less common. Only a handful of major U.S. cities are fortunate enough to have urban light rails, and the rail stations in Charlotte are extremely popular, as they now serve more than 16 million passengers per year.
For several years I lived across the street from the Virginia Square metro station in Arlington, VA, and I can tell you from personal experience that the convenience of being located directly on the rail line can't be overstated. In the case of The Joinery, this location in Charlotte is just one rail stop away from Uptown and 3 stops away from the city center, making it a great spot for employees looking for a quick commute to downtown.
Here are a few other reasons why I decided to invest in The Joinery Phase II...
The developer, Swinerton, acquired the land at a major discount to competing properties.
Thanks to this development's transit-oriented location, fewer parking spaces will be needed for residents. Instead of devoting space and money to building a larger parking garage, the developer will build more leasable units, leading to better returns for investors.
Based on the success of comparable properties in the area, the sponsor's reasonable assumptions for rental rates, as well as the top-of-the-line finish-out they're planning to build, I think this project has an excellent chance of meeting or exceeding the sponsor's projected 20.3% IRR for CrowdStreet investors.
If you'd like to get an email the next time CrowdStreet offers a compelling transit-oriented development similar to this one on their platform, sign up for my email newsletter.
One River
Location: Fort Lauderdale, Florida
Amount Invested: $50,000
Date: February 2022

This 338-unit Class-A multifamily project is nicely positioned in one of the most desirable areas of Dallas, Texas. With 16.8% year-over-year multifamily rent growth and an expected 21% increase in home prices this year alone, Dallas is one of the most attractive markets in the country for this type of project. Part of the appeal of this deal is that the developers are also working with local city officials to secure a 10-year tax abatement, which would add nearly $5 million in additional value to the project.
How to View CrowdStreet's Current Active Deals
Although the seven deals I mentioned above are now closed to new investors, I included them to give you a sense of the different types of projects that are regularly available on CrowdStreet's platform. To see a list of all deals that are now available for investment, sign up for a free CrowdStreet account here. Registration is free, you aren't committed to anything, and after you sign up you'll gain immediate access to CrowdStreet's marketplace, which lists all active deals that are currently open for new investment.
If you'd like to get an email whenever an experienced sponsor posts a compelling new offering on CrowdStreet's platform, then sign up for my newsletter and I'll keep you posted. Otherwise, please check this page often, as I'll continue to update it whenever I invest in a new deal that appears on CrowdStreet. I'll also post updates to each of the deals above as more data becomes available.
In the meantime, if you're ready to start generating truly passive income from real estate, then I can't recommend CrowdStreet highly enough. There's no obligation to invest a single penny, and you can learn a great deal about commercial real estate investing just by following some of their deals, as well as the free webinars and educational materials on their site. Sign up for a free CrowdStreet account today.
Thanks for reading!