Before I explain why CrowdStreet is one of my favorite real estate crowdfunding platforms, let me first tell you a bit about my background.

I've been investing in real estate since 2004, and I now own more than 35 properties throughout various cities in Texas, Colorado and Virginia. Over time, I've also invested in a wide variety of property types: condos, duplexes, single-family homes, commercial office buildings, retail shops, and student housing.
I once owned the largest single-family short-term rental in Austin, Texas, which I later sold in exchange for bitcoin back in 2017. I've also bought and sold parking lots in Chicago and Memphis, as well as storage units in downtown Austin.

If it involves real estate and the purchase price is under $2M, then you name it, and I've probably tried it.
So you can imagine my surprise when a good friend named Scottie approached me with a completely different type of real estate opportunity a few years ago. It was something I'd dreamed about for years, but I'd never tried because I considered it way "out of my league."

You see... Scottie was friends with some big-time real estate developers who were planning to build a 22-story, 200-unit multifamily tower in Austin's booming central business district. In partnership with a top-notch national real estate firm and with approved site plans in place, they were ready to start construction on a $150+ million deal.
The development team had an excellent track record of building similar properties, and their business plan was rock solid. Living in Austin and working just a few blocks from the future construction site, I knew the neighborhood well, and I had a high degree of confidence that the project would be successful.
Deals like this don't come around often, at least not for individual investors like me. They're typically reserved for big institutions and a handful of ultra-rich, well-connected families. So you can imagine my excitement when Scottie called to let me know that they were willing to offer a few small investor stakes in the project to "friends and family," including me.
Although I had little doubt that the project would do well, at the end of the day, I decided not to invest. I was used to having 100% control of my real estate investments, and at the time, I just wasn't ready to step out of my comfort zone.
Boy, did I regret that decision.
A few years later, the project was built, delivered, and sold to a publicly-traded $10 billion international hospitality group. By investing alongside other friends and family, my friend Scottie generated a 27% IRR and doubled his money in just three short years.
My Second Chance to Invest in High-Quality Institutional Real Estate
The story above is pretty typical of how things used to be. If you wanted to invest alongside experienced national developers in $100M+ projects with the chance of generating outsized annual returns of 20% or more, you had to either be extraordinarily wealthy, well connected, or both.
Fast forward to today, and everything has changed. Thanks to advancements in the world of digital fundraising and a favorable regulatory environment after the passage of the JOBS Act of 2012, investors like you and me can profit from large-scale real estate investments like the one I missed out on.
In recent years, dozens of real estate crowdfunding platforms like Fundrise, CrowdStreet, DiversyFund, Cadre, EquityMultiple, and others have sprung up. Similar to how Amazon's platform allows buyers and sellers to exchange goods, these new platforms connect experienced property developers (referred to as "sponsors") with small investors like you and me.
The best part is that these platforms can help you generate completely passive real estate income. You won't have to worry about finding a rental property, dealing with real estate contracts, lenders, tenants, or midnight freak-out phone calls about leaking toilets or broken air conditioning units.
If you're new to real estate crowdfunding and you'd like to learn more, you can get up to speed quickly here:
Real estate crowdfunding is now a $10B+ global business. My two favorite websites in this space, Fundrise, and CrowdStreet, have signed up a combined 400,000 users and have pulled in nearly $6 billion in investor money.
I've personally invested more than $350,000 in CrowdStreet and $125,000 in Fundrise. If you'd like to read my complete comparison of these two platforms, check out CrowdStreet vs. Fundrise: How Do You Choose?
CrowdStreet is hands-down my favorite real estate platform, but it's only available to high-net-worth individuals. You'll need to be an accredited investor (defined as someone with an individual income of $200K+ per year, a joint income of $300K+ per year, or a net worth of $1M+ excluding your primary residence) to invest. Each deal carries a minimum investment size of $25,000, putting the platform out of reach for many investors.
If you don't have at least $25,000 to invest, or if you're just looking to learn the ropes of real estate crowdfunding, you might want to first open an account with my other favorite player in this market -- Fundrise.
But if you do qualify for a CrowdStreet account, then you're in luck, as the returns have been exceptional. Since 2014, CrowdStreet has offered a steady stream of carefully vetted, high-quality individual real estate deals that have delivered average annual returns of 18.3%. For an in-depth overview of CrowdStreet's track record, check out CrowdStreet Returns & Investment Performance.

CrowdStreet - The Best Real Estate Platform for High Net Worth Investors
If you have a high net worth and are willing to devote time to researching individual property deals, then Crowdstreet is my favorite platform for accredited investors.
As I mentioned earlier, CrowdStreet is only available to those with an annual income of $200K+ personally or $300K+ jointly with their spouse, or with a net worth of more than $1 million (excluding their primary residence). If you fit this profile and you'd like to generate more passive income from real estate without the headaches of owning and managing properties directly, then CrowdStreet could bring you and your family one step closer to financial freedom.
The most significant benefit of Crowdstreet is that it allows you to invest directly into specific property deals, many of which (as we'll see in a moment) have delivered outsized annual returns of 30% or more.
The minimum investment is a fairly steep $25,000 per property, so the platform isn't for everyone. However, if you're a high-net-worth investor and you're looking to profit alongside experienced property developers with the goal of generating above-average returns, then Crowdstreet is tough to beat.
Here are a few recent examples of closed deals on Crowdstreet. As you can see, some of them have delivered annual returns of 42.2%, 76.5%, and even up to 116.7%.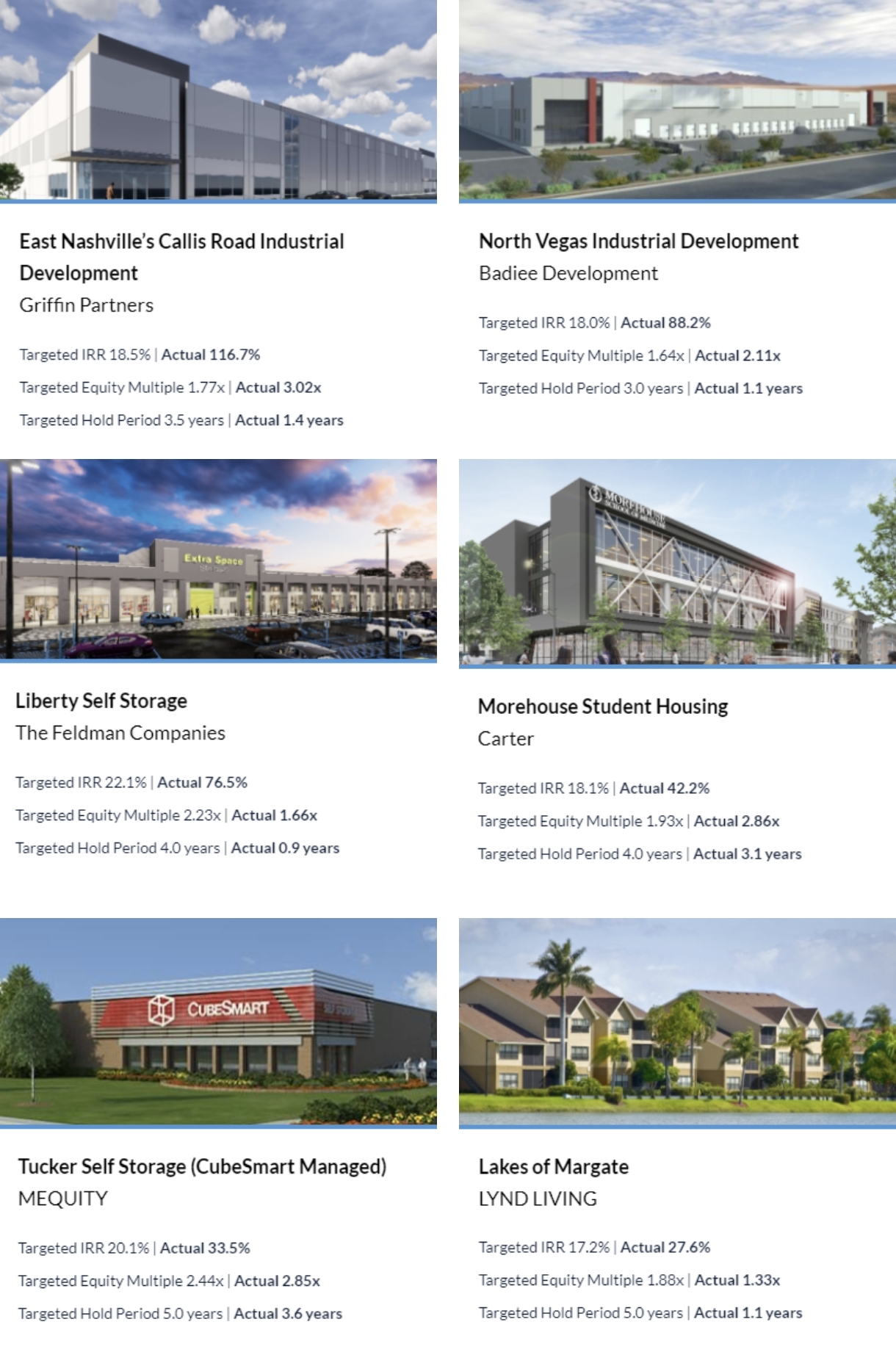 [If you don't understand the terminology shown in any of the screenshots above (things like IRR, Equity Multiple, etc...), I will explain it all in a new article coming soon "How to Analyze a Real Estate Crowdfunding Investment."]
Over the past eight years, CrowdStreet's platform has featured 629 deals. Out of those, 105 have been "fully realized." What that means is that CrowdStreet investors funded the deal, the sponsor held onto the property for a period of time (typically while doing substantial construction and/or making other improvements along the way), the property was then sold, and the proceeds were distributed back to the sponsor and to CrowdStreet investors.
These 105 fully realized deals generated average returns of 18.3% per year. These returns blow away the long-term average gains offered by stocks, which have gained about 11.4% per year over the past 25 years (as measured by the S&P 500). And as you can see above, if you're able to identify some of the best-performing deals on CrowdStreet, the returns can be extraordinary.
Best of all, the real estate developers (aka "sponsors") on the platform do all the heavy lifting for you. Your investment is purely passive. Simply sign up for a free CrowdStreet account to get started. From there, just identify an investment opportunity you like, spend a few minutes filling out the paperwork, and wire funds to invest. Although researching deals can take an hour or two (and is quite fun, at least for finance nerds like me), the remainder of the investing process takes less than 20 minutes.
After that, your job is to sit back and relax. Whether it's building a brand-new high-rise in downtown Nashville or renovating an apartment complex in Charlotte, the deal sponsors (developers) do all of the heavy lifting associated with acquiring, managing, and selling a specific underlying real estate investment. They then share the profits with you.
This type of hands-off investment vehicle is perfectly aligned with my goals. Thanks to passive income from rental properties, dividend-paying stocks, and real estate crowdfunding, I was able to quit my day job at age 37 with enough passive income to support my wife and five kids.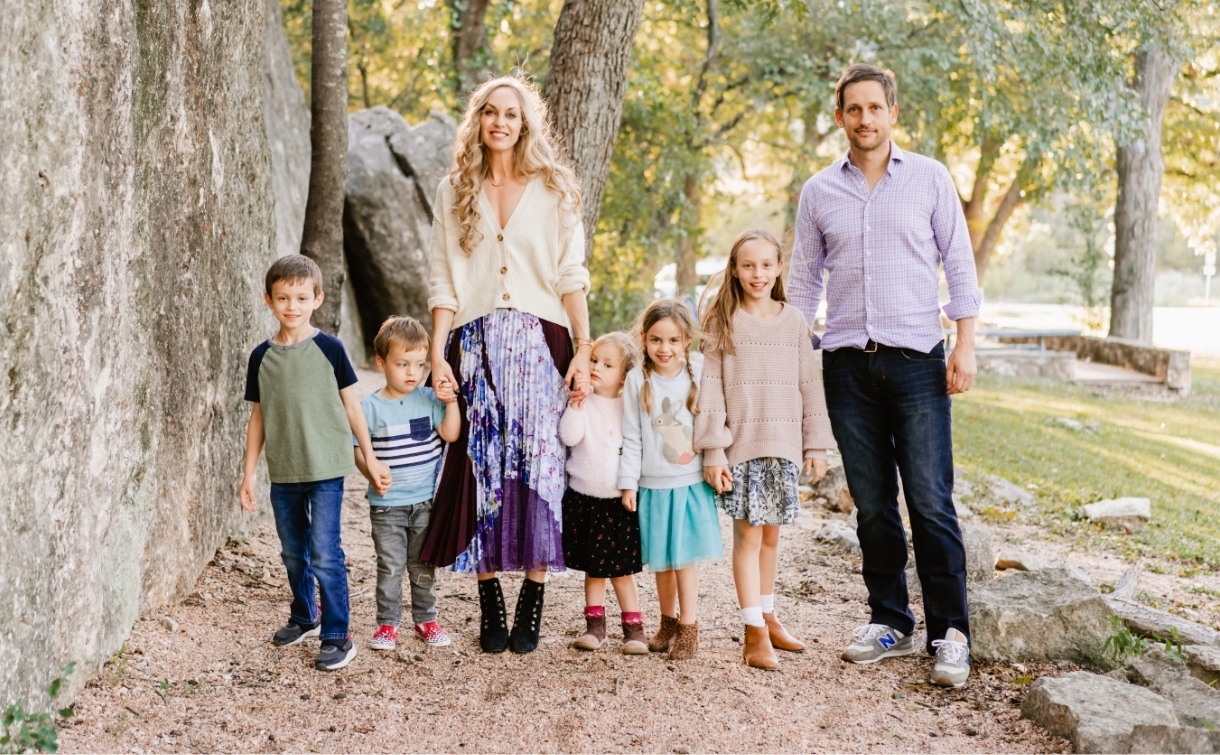 If financial independence is your goal and you're ready to break free from the daily 9-to-5 grind to spend more time doing the things you enjoy with the people you love, then I recommend taking a closer look at real estate crowdfunding.
CrowdStreet vs. the S&P 500
To give you a sense of what this relatively new asset class could do for you, let's look at a hypothetical example using the average long-term return for U.S. stocks (11.4%) compared to the average IRR on all closed deals at CrowdStreet (18.3%).
Assuming you start with a portfolio of $10,000 and invest $250 a month over a 20-year time horizon, here's the difference between the growth of two portfolios, one of which compounds at 11.4% and the other at 18.3%.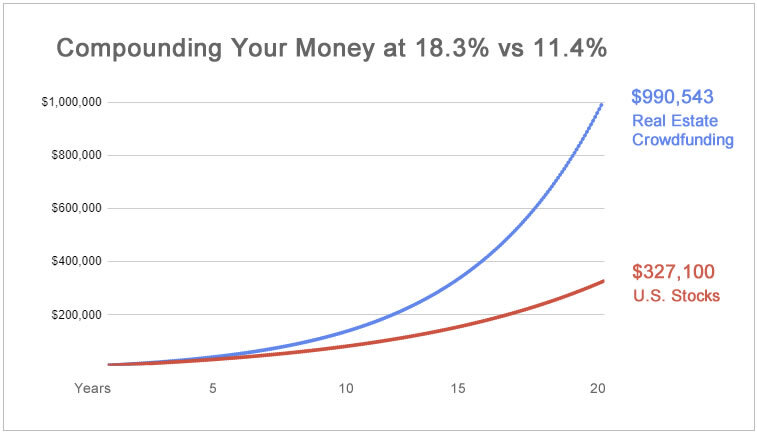 [I'm aware that U.S. stocks have delivered stellar gains in recent years (after falling by -4.4% in 2018, the S&P posted annual gains of 31.5%, 18.4%, and 30.9% from 2018 to 2021). However, I think the easy gains have already been made in U.S. stocks, especially in big tech companies. With stocks now trading at historically high valuation multiples, with inflation running rampant, and with a massive undersupply of housing in America, I'm betting that real estate will outperform stocks over the next five years (and with much less volatility along the way).]
If you can afford to invest more than $10K, then you could see an even more significant impact on your family's finances over a shorter period. For example, if my current $350K investments in CrowdStreet deliver an IRR of 18.3% in the coming years, they would generate nearly $65,000 per year in passive income or about $5,400 per month. And thanks to compounding and reinvestment of future gains, the returns could go higher from there.
That's the power of CrowdStreet's platform. As I mentioned earlier, it gives ordinary folks like you and me a chance to make outsized returns from big $100M+ real estate deals that were, until just a few years ago, "out of our league." If you're an accredited investor with at least $25,000 to devote to deals on the platform, you can get started by visiting CrowdStreet and signing up for a free account.
CrowdStreet's Three Key Advantages
Now that we've talked a bit about how CrowdStreet could help you build a solid passive income stream, let's look at why I decided to invest in their platform instead of going with one of their competitors.
If you want to learn every detail about why I love CrowdStreet, then please read my CrowdStreet Review. In the meantime, here are the three main reasons why I think you should seriously consider investing in their marketplace:

1. Industry-Leading Size and Scale
With more than $3 billion invested by 100K+ investors, CrowdStreet is the largest real estate crowdfunding platform based on assets invested. And when it comes to real estate crowdfunding, scale matters.

The best way to understand this concept is to look at this market from the perspective of a major real estate developer. Let's say you were planning to build a $100M apartment complex and needed to raise $20M in a few short weeks or months. Which platform would you list your deal on? Would you go with the industry leader, which would help you tap into the largest pool of accredited investors in this space and would likely give you the best chance to raise the full $20M at the most favorable terms? Or would you go with a second-tier platform where the odds of raising the money could be lower?
The answer is obvious.
As CrowdStreet's platform continues to grow, it offers developers access to a larger and larger pool of potential investors. Meanwhile, from the perspective of individual investors like you and me, CrowdStreet's platform keeps getting better as it expands because it offers access to more (and higher quality) deals for us to invest in.
And when I say "higher quality," I mean it. Over the past few years, I've reviewed every new deal posted on CrowdStreet's website, and in my opinion, the more recent deals I'm seeing are much more attractive than the ones from a few years ago.
When CrowdStreet first started sourcing deals back in 2014, the company didn't have much to offer to property developers. They had a fledgling new website, just $1.4M in outside funding, and a lot of hopes and dreams, but at that point in time they couldn't offer developers access to a large pool of investors. As a result, the deals they managed to attract to the platform were with smaller, less experienced developers who were looking to raise a few hundred thousand dollars to perhaps $1M-$2M. But the deals were pretty much capped out at that size.
Fast forward to 2022, and all of that has changed. Thanks to size and scale advantages (and $24.9M in venture capital funding), today's established CrowdStreet platform attracts more experienced sponsors. These seasoned, professional developers often raise $10M or $20M+ to help them fund prominent $100M+ deals. Here's an example of one that I invested in back in 2021: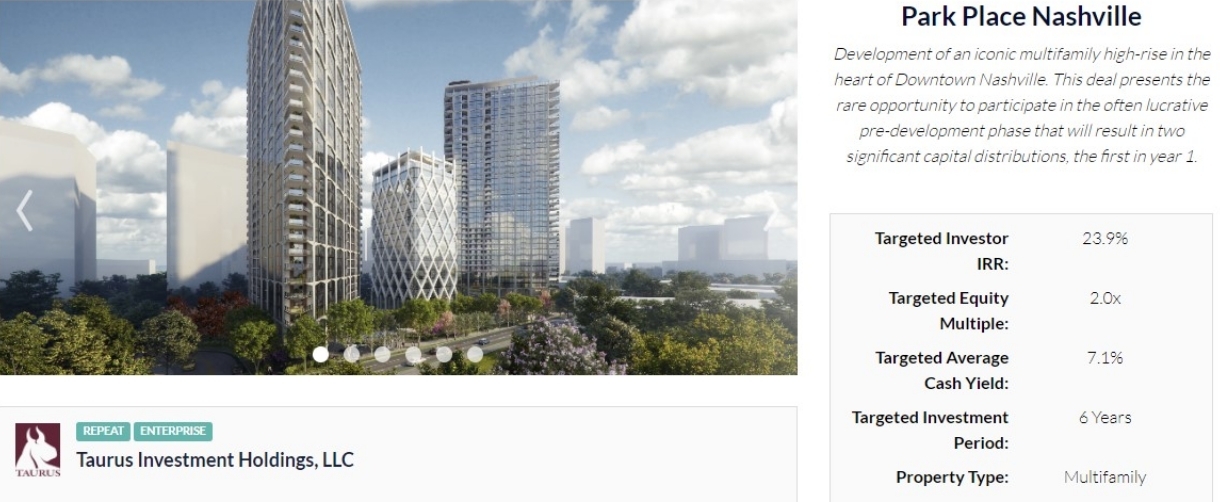 This deal sponsor, Taurus Investment Holdings, has been in business for over 40 years and currently manages $3.4 billion in assets. Talk about experience! They're investing $10M of their own money to build an iconic series of towers in the heart of one of the most attractive real estate markets in the country -- Nashville. By tapping into CrowdStreet's platform, Taurus raised $25M and the deal was fully booked up just a few hours after it launched.
As this example illustrates, size and scale matter in the world of real estate crowdfunding. And on those fronts, my two favorite platforms, CrowdStreet and Fundrise, are by far the biggest players in this market, and they're attracting some of the best deals to their marketplaces.
2. Entrenched Relationships with Experienced Developers
The investment opportunities posted on CrowdStreet's website don't appear out of thin air. Instead, the company employs a small army of financial experts to identify, analyze, and attract a steady stream of new real estate deals to their platform.
Now, with nearly a decade under their belt, CrowdStreet's team has sourced more than 600 real estate deals from hundreds of different sponsors.
By analyzing the results each developer has delivered thus far, CrowdStreet's deal team can identify which sponsors have met or exceeded expectations and which have underperformed. If they're smart (and based on my meetings with management, I believe they are), they'll improve the returns they generate for their investors over time by weeding out the weakest, poorest-performing real estate developers and inviting only the best-performing sponsors back to their platform.
This process is similar to what happens with my son's Little League baseball team. At the end of each season, coach Ryan selects an "All-Star" team of players to compete against the best players from neighboring cities. By hand-picking the best players who delivered the most consistently outstanding performance throughout the season, he always ends up with a group of proven winners who are fun to watch and can compete (and win) at a very high level.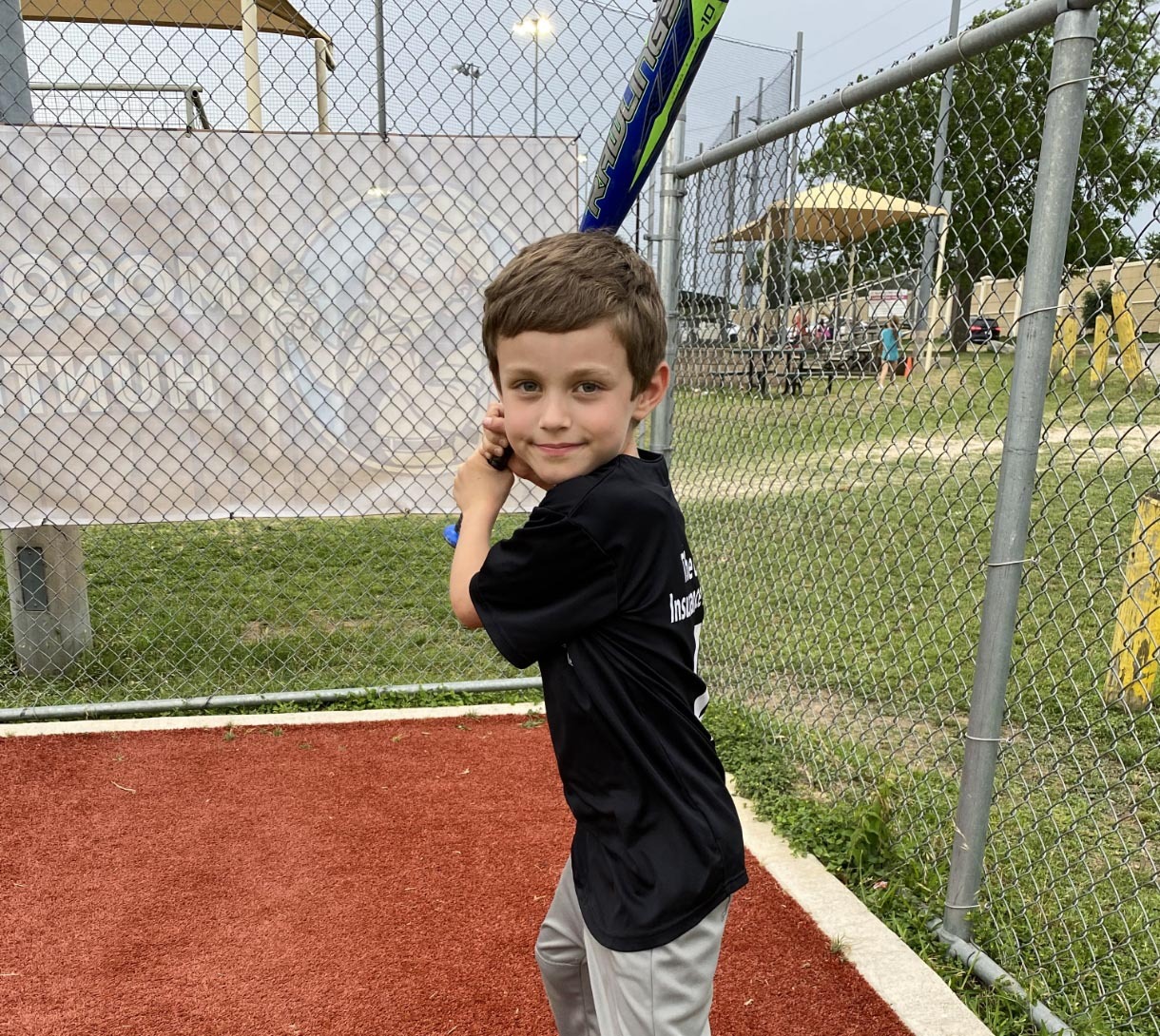 Similarly, CrowdStreet's deal team is building long-lasting relationships with a shortlist of All-Star property developers who have the experience and the track record to potentially deliver 20% or even 30%+ annual returns for investors time and time again. [For a closer look at which sponsors have provided the best gains on CrowdStreet's platform, check out my CrowdStreet Returns and Investment Performance page.]
3. Thorough Vetting Process
CrowdStreet's capital markets team is constantly poring over potential real estate deals throughout the United States. After they identify a deal as a possible fit, their 15-person investments team does a deep dive to ensure the deal is legit. Among other things, they analyze each sponsor's:
Historical track record and core competencies
Experience with similar deals and similar asset classes
Personal and corporate backgrounds
Banking relationships
Key leadership experience and investing acumen
Investor references
Financial assumptions (to ensure recent comps and other available data support them)
They even run a criminal background check and a lawsuit records search to ensure each company and its key executives are entirely above-board.
At the end of the day, very few real estate deals and sponsors are able to meet or exceed CrowdStreet's rigorous investment criteria. In fact, their review process is so stringent that for every 100 deals they analyze, only about FIVE of them actually make it onto CrowdStreet's online marketplace. So when you see a potential real estate deal on CrowdStreet.com, you can rest easy knowing that it's legit and has been vetted by a team of industry experts.
Crowdstreet: The Bottom Line
After personally opening accounts with and analyzing more than a dozen of the most prominent players in the real estate crowdfunding space, I can confidently tell you that Crowdstreet's deal review process, high-quality sponsors, and consistent flow of attractive commercial real estate deals is second to none.
If you're an accredited investor willing to put a minimum of $25,000 into a given investment, then Crowdstreet is hands-down my single favorite real estate crowdfunding site. I'm so confident in the quality of their deals that I've already personally invested $350,000 of my own money on their platform.
With an average IRR of 18.3%, Crowdstreet has delivered BETTER returns than what you typically see from the stock market, helping individual investors like you and me avoid the hassles associated with property ownership. More than 100,000 investors have opened CrowdStreet accounts, and with results like these, it's easy to see why so many people are jumping on the bandwagon.
If you're serious about profiting from real estate crowdfunding, I recommend clicking here to open a CrowdStreet account. The signup process takes just a few minutes, the account is free, and there's no obligation to invest a penny. Best of all, once you've opened an account, you can log in anytime to view the latest deals available on the platform.
At a bare minimum, I'd encourage you to sign up for a free account and watch a few investor webinars covering CrowdStreet's latest deals. Each webinar features a presentation from the top real estate executives who've put together each deal. You get to hear from experienced institutional-quality real estate investors, in their own words, exactly how they identified their upcoming real estate investment, why they like it, and what their plan is to unlock maximum value from each property. If you sign up to watch the live deal presentation, you'll also get a chance to ask these experts any questions you might have, and you'll walk away knowing you did your due diligence.
Here's a screenshot of the one-hour webinar I watched before investing in the Nashville high-rise deal I mentioned earlier: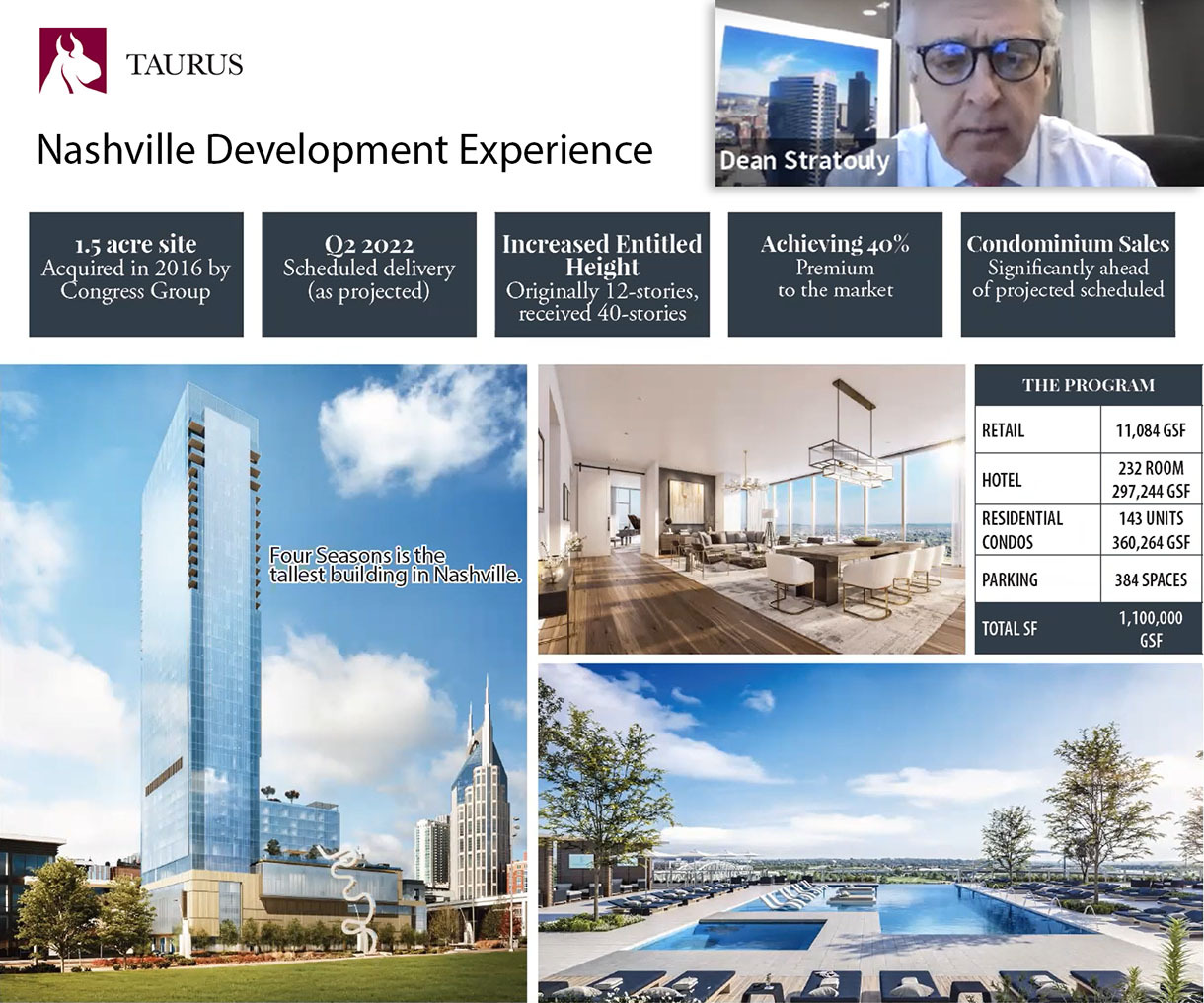 By paying close attention to how these experienced real estate sponsors analyze and approach their investments, you're likely to become a more sophisticated real estate investor yourself. And I can tell you from personal experience that with every deal I review on CrowdStreet's platform, I always walk away with at least one or two interesting tidbits of information I didn't know previously.
Better education leads to better investment choices, and each new investment could bring you one step closer to financial freedom. So if you'd like to start browsing commercial real estate deals with the potential to deliver gains of 20% or even 30%+ per year, then visit this link to sign up for a free CrowdStreet account.
Thanks for reading!