Analyzing CrowdStreet Returns
With more than $3 billion invested and 100,000+ registered members, Crowdstreet is the world's largest and one of the most trusted real estate crowdfunding sites. I've been using it for several years, and I like it so much that I've personally invested $350,000 of my own money into their platform.
CrowdStreet is a personal favorite of mine because it gives individual investors like you and me access to institutional quality real estate deals, many of which have delivered above-average returns. In fact, the average closed deal on Crowdstreet's marketplace has returned 18.3% per year. That's more than 2X the average gain of U.S. stocks (as measured by the S&P 500) over the past 30 years.1
But here's the problem...
It's not easy to research historical performance on CrowdStreet. The company provides summarized data on its website for the 105 deals closed thus far. They also offer specific returns from a handful of cherry-picked individual deals. However, CrowdStreet doesn't provide some of the data I REALLY want to see.
Here's the data I think they're missing...
I want to see a table showing the performance of ALL individual deals on Crowdstreet (not just a partial list of SOME closed deals).
I want to know how many deals make money versus lose money. What's their success rate?
I want to know how specific property types have performed. For example, if I'm mostly interested in multifamily properties, what type of returns have those delivered?
I'd like to see which deal sponsors have delivered the biggest gains for their investors.
I want to know if certain geographic locations (cities or states) offer better returns than others. Which has performed best?
Crowdstreet doesn't offer this data on their website, so I did a deep dive and was able to uncover some of the data I was looking for. I reveal everything I found in the article below. [If you want, you can skip ahead to the full data set showing all of CrowdStreet's individual deal returns I was able to locate.]
If you're serious about using Crowdstreet's platform, then please read this full article and examine all of the data before investing. Educated investors make better choices, and my goal is to help give you the tools and data I would want to see if our roles were reversed.
What is CrowdStreet and Who is it Best For?
In case you aren't already familiar with CrowdStreet, the company provides a platform that lets individual investors like you and me invest alongside experienced developers in large-scale commercial real estate projects. These include everything from apartment buildings to offices, hotels, retail, medical buildings, and more.
The minimum investment in each deal is $25,000, and your money will typically be tied up for several years (typically about 3 or 4), so CrowdStreet's marketplace is best suited for experienced high net worth investors. But if you're an accredited investor looking to generate passive income from real estate without the hassles associated with buying, owning, and managing individual properties yourself, then CrowdStreet could be a perfect fit.
To give you an idea of the potential, here's a quick look at the extraordinary returns generated by some of the closed deals on CrowdStreet's marketplace...
CrowdStreet Returns - Best-Performing Closed Deals
Deal Name
City, State
Property
Type
IRR
Equity
Multiple
Hold Period
(Years)
Liberty Self Storage
Philadelphia, PA
Storage
76.5%
1.66
0.9
Burnside
Portland, OR
Multifamily
49.9%
1.73
1.3
South Seattle Business Park
Seattle, WA
Mixed Use
42.8%
2.28
2.3
Oakland Airport Plaza
Oakland, CA
Office
41.9%
1.90
1.9
Clear Point Gardens
Columbus, OH
Multifamily
41.0%
1.52
1.2
Modern on the Rail
Phoenix, AZ
Multifamily
40.7%
1.68
1.4
Sonoma Villas and Pines
Phoenix, AZ
Multifamily
36.0%
1.56
1.5
River's Edge
Haverhill, MA
Multifamily
30.8%
2.13
3.2
Quadrant Office Building
Brooklyn Park, MN
Office
30.1%
1.61
1.9
Hellyer Oaks Tech Park
San Jose, CA
Office
29.3%
1.81
3.0
I've been using CrowdStreet's marketplace for years, and I like it so much that I've personally invested a total of $350,000 across seven different deals. However, if you'd prefer to invest smaller dollar amounts, or if you're seeking broad diversification in a large basket of real estate deals, then check out Fundrise instead. It's my favorite real estate platform for beginner investors, and you can get started with as little as $10.
CrowdStreet Returns: Quick Facts
In a moment, I'll show you a table of returns for each individual deal on the Crowdstreet platform. I'll also walk you through what I look for when making my own investments on the platform, and I'll break down the company's performance based on asset class, city/state, sponsor, and a number of other factors.
But first, let's take a bird's eye view of Crowdstreet's overall marketplace performance on all 105 realized deals since the company's inception in 2012...
18.3% Average IRR. The average deal on Crowdstreet's marketplace has generated 18.3% returns per year for investors. This return is net of any fees, which is an important distinction because many of CrowdStreet's competitors list gross returns (before fees) when publicizing their performance metrics. As an investor in the platform, I appreciate the fact that CrowdStreet only reports net returns because they represent real cash earnings that their investors have actually generated.
An 18.3% IRR is far better than the average return offered by U.S. equities over the past 30 years. And if you don't love risk (who does?), it's also worth mentioning that stocks tend to be much more volatile than real estate.
629 deals funded. CrowdStreet has funded more than 600 deals since 2012, partnering with top commercial real estate sponsors to select the highest-quality investment properties around the U.S. As the platform has grown, the deal sizes have gotten larger and CrowdStreet has been able to attract higher quality and more experienced sponsors.
Stringent review process. It's worth noting that for every 100 deals CrowdStreet's experienced selection committee reviews, only the top 5 of them actually make it onto the platform. So when you see a deal on Crowdstreet's website, you can rest easy knowing that it's legit and it has been thoroughly vetted by their experienced team of real estate experts. Nice!
$3.16 billion was raised by more than 100,000 individual investors. CrowdStreet account holders have invested billions of dollars into commercial real estate on the platform. With more than $3 billion raised, CrowdStreet now ranks as the world's largest real estate crowdfunding platform based on this measure.
105 deals have been realized. A "realized deal" is one where the sponsor has purchased a property alongside CrowdStreet investors, has held it for a period of time (typically while renovating, building, or making other improvements along the way), has sold the property to another investor, and has distributed all remaining cash to its pool of investors, including those on CrowdStreet's platform. These realized deals are the only ones that are fully complete, and as a result, we know the exact IRR, holding period, and equity multiple generated.
Since 629 deals have been funded on the platform and 105 of them have been realized, this means that 524 deals are still active, as of April 20, 2022. I'll report on those and will add their results to this page as new data comes in throughout the year, so you might want to bookmark this page so you can revisit it later on.
$591 million in distributions. CrowdStreet has paid out more than half a billion dollars in distributions to investors since 2012. In addition to rental income, this includes both return of capital as well as capital gains on fully realized deals.
1.49x equity multiple. An "equity multiple" is simply the ratio of the total cash distributions received from an investment divided by the total equity invested. Crowdstreet's realized deals have generated an average equity multiple of 1.49x.
To understand how this works, consider this simple example. If you initially invest $25,000 and you receive $50,000 in total cash distributions over the course of your investment, then your equity multiple would be 2.0x.
In the case of CrowdStreet, the average realized deal has delivered a 1.49x equity multiple, which equates to $37,250 in cash distributed for every $25,000 invested.
2.7 year average holding period. The average holding period of a realized CrowdStreet investment has been just shy of three years. Holding periods vary per project. One interesting thing I discovered when digging into the data is that the "target" hold period (the amount of time that the sponsor initially expected to hold a given investment) was about 4.6 years, but the ACTUAL hold times ended up being much shorter.
I chalk this up to the fact that the U.S. real estate market has been very strong over the past few years. It's been a "seller's market" for sure, leaving sponsors with an ample pool of buyers and a strong economic incentive to cash out of deals earlier than expected. It'll be interesting to see whether the actual hold periods move more in line with target hold periods going forward. Time will tell.
Now that we've examined CrowdStreet's overall returns, let's dive into the specific questions I mentioned at the beginning of today's article...
I Want the Performance of All Crowdstreet's Realized Deals
In the early years at CrowdStreet, the company disclosed the exact return of each and every realized deal on their "Marketplace Performance" page. But those "good old days" are now in the rearview mirror.
As the company has grown in recent years (and perhaps as their legal team has expanded) they've changed their policy, and they now no longer list ALL closed trades on their website. From my perspective as an active investor in their platform looking for full disclosure, as well as an analyst looking to do a deep dive into their performance for the benefit of my readers, this is frustrating.
CrowdStreet has an office in my hometown of Austin, Texas. I've had in-person meetings and am in regular communication with some of their employees. I recently spoke to one of the company's managers about this, and I sent him on a mission to provide us with a spreadsheet showing the returns on all closed deals on their marketplace. Sadly, he wasn't able to get the data I requested, as he was blocked by the firm's internal compliance team.
As a workaround, I spent hours poring over the company's website and other publicly-available data. In doing so, I was able to identify 46 realized deals. Below you'll find the performance of each of these investments, along with other valuable information like actual IRRs, realized equity multiples, and holding periods.

CrowdStreet's Investment Returns on Completed Projects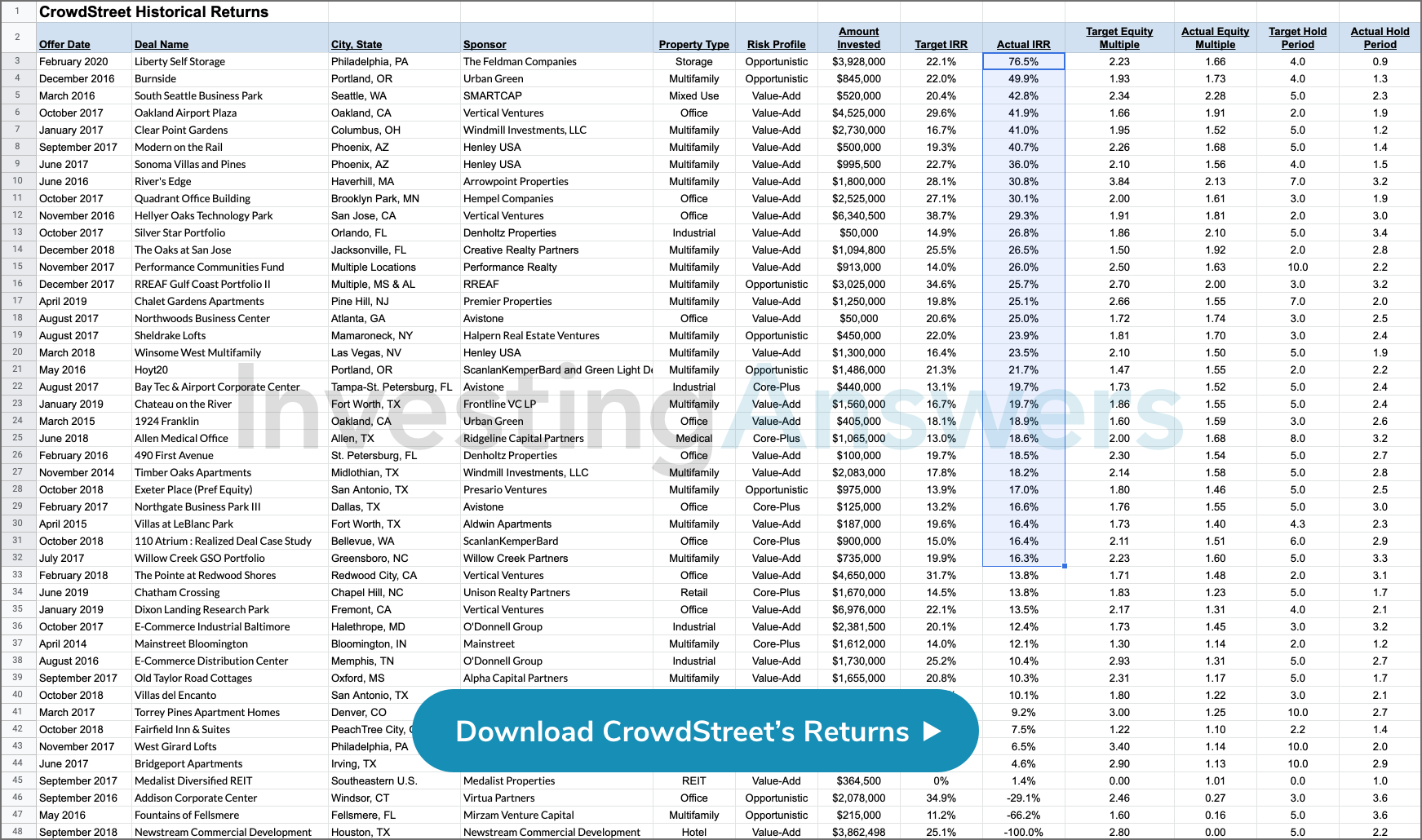 [Disclaimer: As always, while historical returns can be a helpful reference guide, they're by no means a guarantee of future results.]
I'm going to keep pressing the company to get a full accounting of all closed deals, but we might have to get more creative if we want to unearth the full data set. With this in mind, if you're reading this article and you've invested in any realized CrowdStreet deal that you do NOT see listed in the table above, then please send me an email and let me know the name of the deal you invested in, as well as what the final IRR, equity multiple, and hold period were. (Please provide screenshots or other proof of returns so we can ensure the integrity of our data.) With the help of readers like you, my hope is that we can eventually complete the data set above so it includes a full list of all 105 confirmed realized deals. In the meantime, we'll have to make do with what we have.
It's worth mentioning that the list above is not readily available anywhere else, and I believe it's the most comprehensive source of publicly-available return information for CrowdStreet that you'll find anywhere. So let's use this data to answer some of my other burning questions as best we can.
What is CrowdStreet's Win Rate?
Out of the 46 closed deals on the list above, 43 of them were profitable and 3 of them lost money for CrowdStreet's investors. That's a 93.5% win rate.
While it's scary to invest in deals that may lose you money, with only three losers out of 46 deals, this is promising.
It's never fun to see losses, but some of those were special circumstances due to the COVID-19 pandemic, as well as a flooded property due to a tropical storm, etc. Things happen, and the environment was extraordinarily challenging for sponsors looking to sell deals when the pandemic first hit in early 2020.
Nonetheless, the 93.5% win rate is better than most traders ever see. And for what it's worth, even during unusual years where the stock market blasts higher, like it did last year, many individual stocks still lose value. For example, although the S&P 500 jumped an incredible 26.9% in 2021, 73 of the 500 members of the S&P (a full 15%) actually lost money in the year. That gives the S&P a win rate of just 85% during one of the best years in market history.
When you look at it this way, the 93.5% win rate on CrowdStreet's closed deals is impressive. In recent years the macro environment has become more favorable for real estate and the quality of the deals on the platform has improved. So as additional deals close in the months and years ahead, I expect the firm's success rate will improve over time.
How Have Specific Property Types Performed on Crowdstreet?
CrowdStreet only discloses average returns by risk category on their website. They refer to these categories with terms like "core", "core plus", "value-add", and "opportunistic". Although these terms are commonplace among professional developers, my personal opinion is that the average CrowdStreet investor isn't terribly familiar with these terms and doesn't make their final investment choices based on these predetermined buckets.
Instead, my guess (speaking from personal experience, as well as conversations I've had with dozens of real estate investors) is that most people have a handful of favorite property types that they focus on. The most common types of commercial properties are multifamily, mixed-use, medical, office, industrial, storage, retail, and hotels.
When it comes to CrowdStreet's return data, one of the key data points I REALLY want to see is how these different property types have performed. Since CrowdStreet doesn't offer that data on their site, I decided to create it from our data set above.
Here's a look at how the deals on CrowdStreet's marketplace have performed when sorted by property type, from best to worst:
Poperty
Type
Closed
Deals
Average
IRR
Average
Equity Multiple
Storage
1
76.5%
1.66
Mixed-Use
2
24.7%
1.71
Industrial
3
19.6%
1.69
Multifamily
23
19.1%
1.48
Medical
1
18.6%
1.68
Office
11
17.7%
1.48
Retail
1
13.8%
1.23
Hotel
2
(43.3%)
0.55
I won't discuss all of these various property types in depth, but let's take a closer look at a few of the categories...
Mixed-Use
Mixed-use properties have also been big winners on the CrowdStreet platform, delivering an average IRR of 24.7% and the highest average equity multiple of 1.71. If you aren't familiar with the term, "mixed-use" buildings are ones that involve several different property types... often including some combination of residential, retail, office, commercial, and parking spaces.
I love this asset class because once a mixed-use project is built, the whole is typically worth more than the sum of its parts. That's because there's often a symbiotic relationship between the various property types.
Let me illustrate this with an example. In February 2022 I invested $50,000 in the following deal on CrowdStreet's marketplace: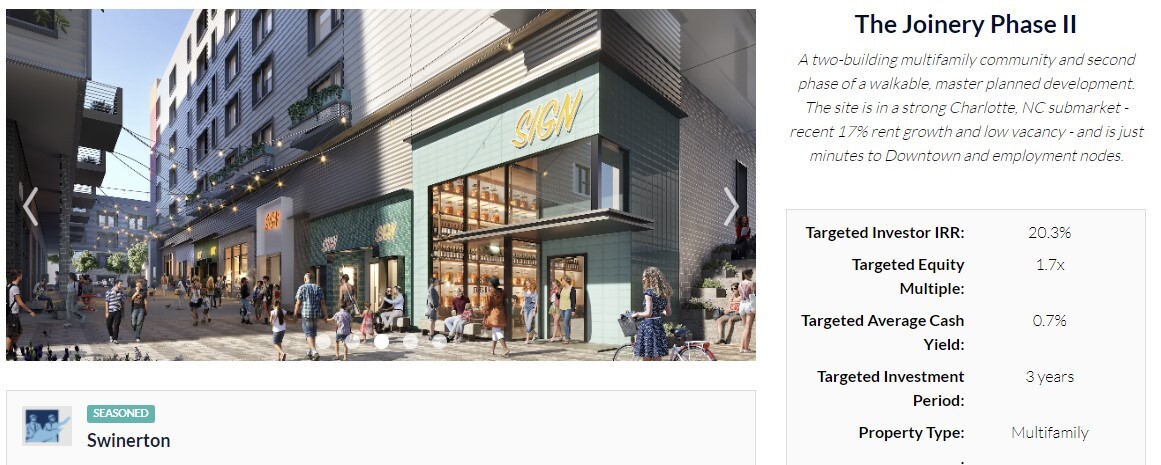 The Joinery is a mixed-use project that's being built next to the Lynx's Parkwood Light Rail Station in Charlotte, NC. In addition to the obvious benefits associated with its prime transit-oriented location, what I liked about this deal was the fact that it wasn't JUST another multifamily project.
The deal sponsor will eventually build 706 new apartment units in this complex, but it's also building nearly 25,000 square feet of retail. They've already partnered with a local boutique coffee shop, as well as a popular local brewery, to help fill a portion of the retail space. By providing both multifamily units AND a large amount of on-site retail, The Joinery will become a destination unto itself. This provides a benefit to existing and prospective future tenants, who will love the added convenience of walkable dining and retail options. Meanwhile, the retail tenants will benefit from having a captive audience of 1,000+ on-site apartment residents. It's truly a "win-win" relationship.
This isn't rocket science, and it's not a new concept in the world of real estate development. If you live in a large or even intermediate-sized city, I'm willing to bet that you've seen countless new projects like this spring up in your local neighborhood.
But have you ever profited from one of these mixed-use developments?
That's where CrowdStreet comes in. Their platform gives everyday people like you and me an opportunity to profit from big-time real estate projects that were, up until just a few short years ago, untouchable for everyone except for the ultra-wealthy or well-connected. If you're a high net worth investor and you'd like to start profiting from deals similar to this one, then I'd encourage you to visit CrowdStreet and register for a free account.
In summary, I love mixed-use developments, and I'll keep you posted in the coming years as we tally the final realized returns from The Joinery and other similar mixed-use projects on the CrowdStreet platform.
Mulitifamily
Half of all realized deals on CrowdStreet's marketplace have been multifamily properties, and they've posted strong IRRs of better than 19% per year.
In a nutshell, here's why I love multifamily deals right now...
A nationwide supply/demand imbalance in the housing market has led to strong occupancy rates in multifamily. And because construction takes so long (especially in today's world of labor shortages and disrupted supply chains) it is going to take MANY years for this imbalance to correct itself. As a result, as of late 2021, the nationwide multifamily occupancy rate jumped to historic highs above 94%.
Meanwhile, skyrocketing real estate values and rising interest rates are pricing out many would-be homebuyers. This should force many people into renting, creating a strong tailwind for multifamily investments over the next 3 to 5 years.
To give you an idea of how bullish I am on multifamily properties, out of the 7 deals I've invested in on CrowdStreet's marketplace, 6 of them are multifamily. Here's a quick summary of a few of those deals: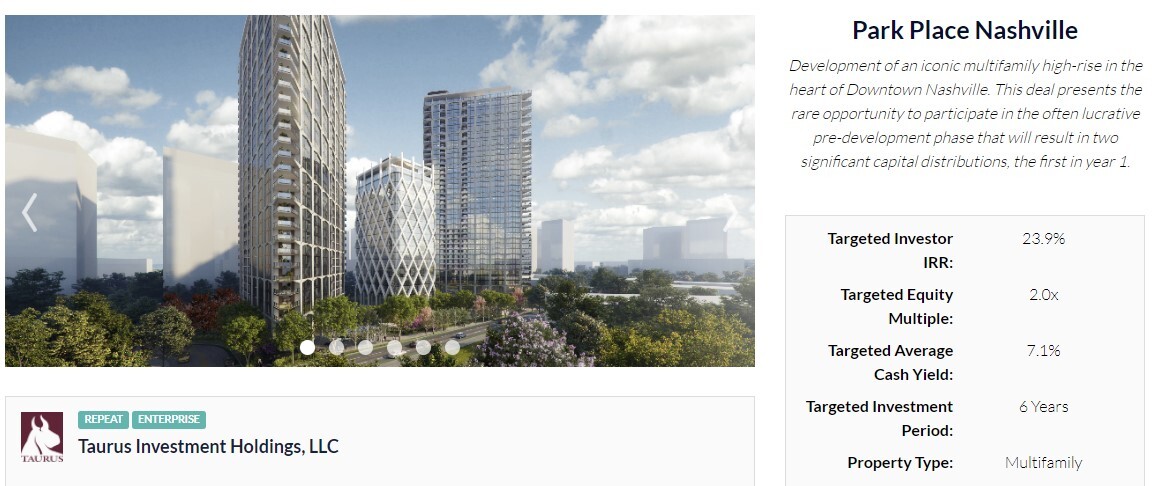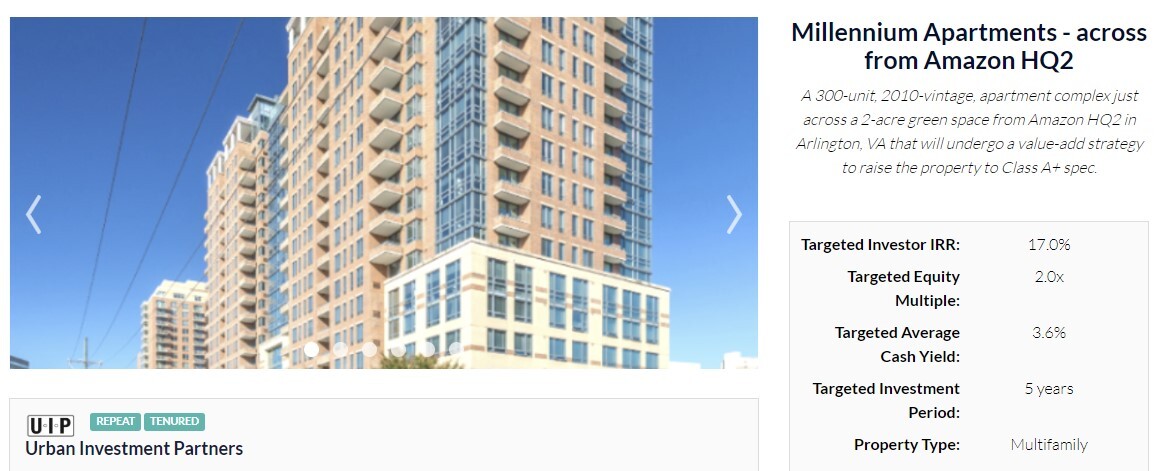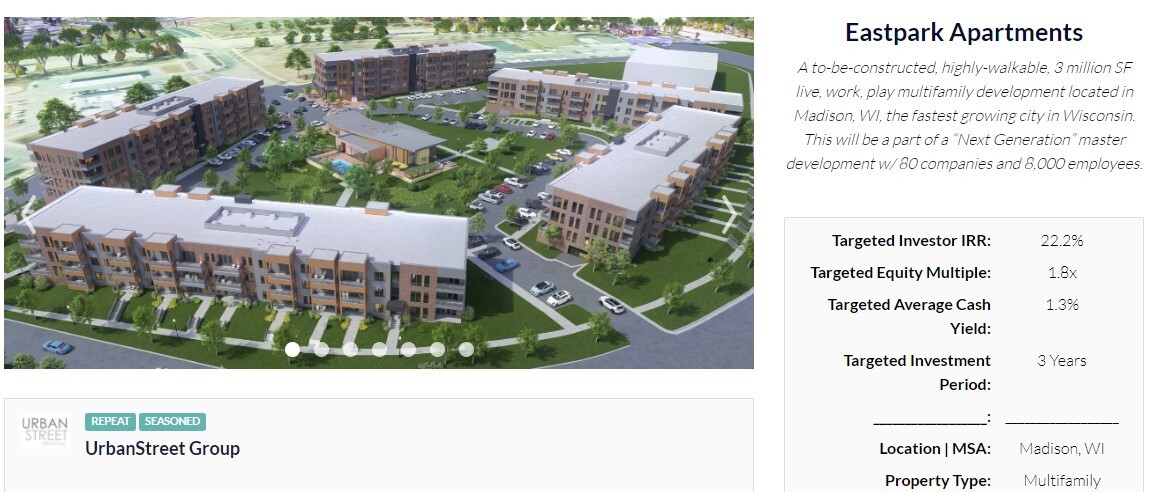 Although the deals highlighted above are now closed to new investors, I included them to give you a sense of the different types of multifamily projects that are regularly available on CrowdStreet's platform. To see a list of all active deals that are now available for investment on the CrowdStreet marketplace, sign up for a free CrowdStreet account here.
Office
Although I still own a few office buildings in Austin, Texas that I bought more than 10 years ago, I'm currently avoiding investments in new office properties. In fact, I'm even in the process of converting one of the office buildings I own, which has been vacant since the COVID-19 pandemic started, into a boutique 10-bedroom short-term rental in downtown Charlottesville, VA.
There's a nationwide oversupply of office space right now as people continue to work from home following the onset of the pandemic, and this will likely remain a major headwind for office space in the coming years. As such, I haven't invested in any office deals on CrowdStreet's marketplace, and I don't intend to anytime soon.
Hotels
I'm also not focused on hotels, as they pose too much downside execution risk. I'm fine owning or investing in hospitality projects, but before doing so, I need to make sure either I have 100% control over the finished product (and the ongoing management), or that the sponsor is exceptionally well positioned for success. As you can see from the poor hotel returns in the main table above, the downside risk in hotels can be significant. (Obviously the timing of some of those deals, which coincided with the onset of the pandemic, didn't help at all either.)
Student Housing
You might notice that student housing is absent from the table above. Although CrowdStreet doesn't have any closed deals in this category yet, their platform has featured a handful of new student housing investments in recent years. These include Vue at Touchdown Village, a 294-bedroom furnished apartment complex that's being built directly across from Louisiana State University. Attracted to its walk-to-campus location, 19% projected IRR and 12% preferred return, I invested $50,000 in this deal back in 2021...

I've always loved the student housing market for its high occupancy rates, which currently stand at a staggering 98.5%. Rent growth has also been strong in student housing, averaging 4.3% in 2021.
When it comes to direct property purchases outside of the CrowdStreet platform, I've personally invested a large chunk of my real estate portfolio into properties that are walkable to two of the most prestigious and in-demand state universities in the country -- The University of Texas and the University of Virginia. In 10+ years of owning nearly a dozen student rentals, I've never experienced a single month of vacancy. Meanwhile, some of my higher-end properties are now pre-leasing 3 or even 4 years in advance.
For my fanciest high-end student rentals, it's gotten to the point where I'm having regular conversations with parents whose kids are still in high school... and they're wanting to lock in a rental house for their senior year in college. Talk about stable cash flow!
A year ago I nearly invested in a large student housing project on the CrowdStreet platform near Ohio State University. Sadly, I missed out on that deal. But I'll keep you posted going forward, as I plan to take a deep dive into each and every future student housing deal that comes up on the CrowdStreet marketplace.
Which Crowdstreet Sponsors Have Delivered the Biggest Returns?
When you invest in a deal on the CrowdStreet platform, you're really investing in two things. The first one is the most obvious, and it's the one most investors spend the bulk of their time analyzing -- the project itself.
As we talked about earlier, from high-rise apartment buildings to hotels to storage facilities, CrowdStreet's marketplace offers a variety of different property types to invest in. Meanwhile, each project has its own various nuanced details, including its size, location, timeframe, projected returns, unique capital structure, and countless other technicalities that are specific to each deal.
Again, that's the obvious one. But when it comes to whether a deal succeeds or fails, the project is NOT the most important factor.
Instead, the most critical determinant of success for any given real estate deal is the sponsor itself -- the development firm that's in charge of making it all happen. At the end of the day, everything else is just an assortment of projections, spreadsheets, and fancy artist renderings of future rooftop pool decks. But those plans are only as good as the sponsor's ability to execute on them.
So you can (and should) think of the deal sponsor as your business partner in each real estate investment you make on the CrowdStreet platform. The sponsor is in charge of driving the deal through to completion, keeping costs low, and maximizing returns for both investors and for themselves. The importance of this role can't be understated. So when researching a deal on CrowdStreet, one of my goals as an investor is to identify the most honest and experienced sponsors with the best business plans.
But how do we analyze a sponsor? I will cover that in more detail in an article I am working on titled "How to Analyze a Deal on the CrowdStreet Platform," so I won't repeat everything here. In summary, the most important things to look for are lengthy development experience (especially with deals of similar size in similar locations), as well as the developer's track record of success or failure.
When investing in a deal on CrowdStreet, each sponsor will typically walk you through a brief summary of their historical track record. You can find this in both the offering summary, as well as in the webinar that accompanies each deal.
But what if I wanted to know the results delivered by each and every sponsor on the CrowdStreet platform? In particular, I'd like to know which sponsors have delivered the biggest gains for investors.
Sadly, CrowdStreet doesn't make this information readily available on their website, so I decided to tabulate those results using our data table above. Armed with this data, you and I can then make better decisions about which deals and which sponsors to invest alongside in the future.
After digging into the data for all 46 closed deals I was able to identify, the first thing I did was eliminate any sponsor that has only completed a single deal on the platform. One deal isn't enough data to provide any sort of track record.
This left me with a shortlist of just a few top-performing sponsors. Here's how they've performed, ranked from highest to lowest average IRR:
Sponsor
Closed
Deals
Average
IRR
Average
Equity Multiple
Henley USA
3
33.4%
1.58
Vertical Ventures
4
24.6%
1.63
Avistone
3
20.4%
1.60
The performance delivered by these sponsors is pretty impressive, so I decided to dig into each company's background to uncover how they operate.
Henley USA. Henley has been in business since 2006, helping institutional and private investors deploy capital into commercial real estate deals. CEO Ian Rickwood is an Economics major and grew two retail businesses for 10 years prior to founding Henley. Henley's experience is impressive, with 170 investments and more than $2.6 billion in capital deployed over the years. Based on the data set I was able to generate, the firm has closed three deals on CrowdStreet's platform for an average IRR of 33.4%, and their best-performing deal generated an IRR north of 40%.
Vertical Ventures. Founded in 2004 and specializing in the California market, Vertical Ventures focuses on adding value to existing properties. They look for assets in exceptional locations that are temporarily undervalued, and they then rehabilitate each property before selling it to a major institutional investor. On their website, they claim that they generated 35% average IRRs on their real estate deals between 2010 and 2020. And based on their performance on CrowdStreet, I believe it. Vertical Ventures has closed 4 deals on CrowdStreet's platform for an average IRR of 24.6%, and their best deal generated a nearly 42% IRR.
Avistone. Avistone is a newer player to the game, founded in 2013, with a focus on multi-tenant industrial properties and hotels. I like the fact that they tend to underpromise and overdeliver, as all three of the deals they've closed on the CrowdStreet platform have outperformed their projected IRR by a wide margin. They also employ a strategy that I've used many times over the past 20 years to generate some of the best returns of my real estate career -- they buy properties that are trading at a steep discount to their replacement value. This topic is worthy of a full article, so I won't go into a lot of detail here, but it's a strategy that, when employed correctly, can dramatically reduce your risk on any given real estate investment. Avistone's three closed deals have generated an average IRR of 20.4%. Not bad!
While these are the current top-performing repeat sponsors, there are more than 500 active deals on CrowdStreet's platform. I'll keep this list updated and will expand upon it as more deals close. If we can identify a handful of winning sponsors with a track record of meeting or exceeding expectations, then this data could prove invaluable to us when making future investment decisions on CrowdStreet.

Which Regions Have Delivered the Best Returns for Crowdstreet?
In addition to investing alongside a capable sponsor, I want to focus my portfolio on fast-growing states where real estate values (and rents) have the best chance of appreciating during my holding period. I also look for cities within those states that aren't already overvalued (think - Nashville, not New York City). If we can invest in booming cities during a period of rising rents and strong property price appreciation, then this should give the deal sponsor a better chance of meeting (or exceeding!) their projected returns.
I'm focusing most of my personal real estate holdings, as well as my real estate crowdfunding investments, in the sunbelt region of the U.S. In the world of commercial real estate, some folks call these the "sunbelt" states or the "smile" states...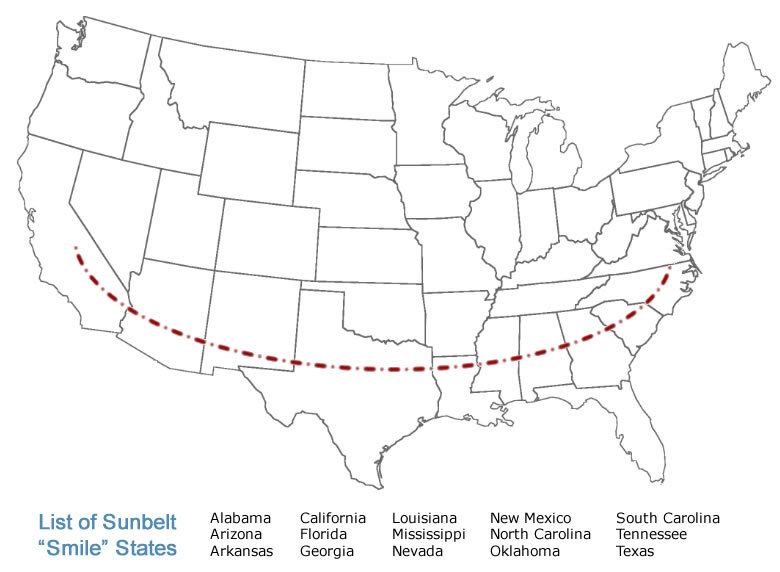 This area of the country, which includes states like Arizona, Texas, Florida, and North Carolina, is experiencing strong employment and population growth thanks to a nationwide migration toward warmer (and more business-friendly) climates.
In an effort to understand which areas of the country have delivered the biggest gains on the CrowdStreet platform, I quickly tabulated the data for both cities and states. (I only considered data from major U.S. metros, as some of the smaller cities aren't likely to have significant future deal flow on CrowdStreet's marketplace.)
Here are the five best performers among both categories...
CrowdStreet Returns - Best Performing Deals by State
| | |
| --- | --- |
| State | Average IRR |
| Ohio | 41.0% |
| Arizona | 38.4% |
| Oregon | 35.8% |
| Massachusetts | 30.8% |
| Minnesota | 30.1% |
CrowdStreet Returns - Best Performing Deals by City (Major Metro Areas)
| | |
| --- | --- |
| City | Average IRR |
| Seattle, WA | 42.8% |
| Philadelphia, PA | 41.5% |
| Columbus, OH | 41.0% |
| Phoenix, AZ | 38.4% |
| Portland, OR | 35.8% |
Although this data is fun to look at, as a word of caution, I wouldn't put much stock in these city and state performance numbers right now. The data set is still pretty small and most markets (whether cities or states) have only seen a handful of closed deals thus far. It's also important to remember that the returns generated from a given CrowdStreet deal depend on MANY different factors, most of which are specific to the individual project, property type, sponsor, and business plan. Although important, geography is just one factor among many that influence overall returns.
What Can CrowdStreet's Marketplace Do For You?
I sincerely hope this article gives you and other investors a better understanding of CrowdStreet's historical returns. Every investment carries some risk, but by analyzing which types of deals and which sponsors have delivered the best returns, we should be able to make smarter investment decisions on the platform going forward.
I'm so confident in CrowdStreet that I've already invested $350,000 of my own money into a series of deals on their marketplace. While past performance is no guarantee of future results, if those deals deliver an 18.3% average IRR, then I could generate more than $60,000 in passive income per year from CrowdStreet alone. And if I reinvest my gains, then the returns could go even higher from there.
That's enough to pay the monthly mortgage on a $1,000,000 home, or to pay annual tuition for one of my kids to attend Harvard or Stanford, even if they don't get a full ride on a tennis or baseball scholarship. (A father of five young kids can dream big, can't he?)
For the past 20 years, I've spent each and every day experimenting with different strategies and investment tools. Since day one, my goal has been to generate a steady stream of passive income from multiple sources. At age 37 this ultimately helped me break free from the 9-to-5 grind so I could spend more time with my kids.
It also gave me freedom of location that allowed our family to live in a stunning mountain town outside of Breckenridge, Colorado in 2020, as well as on a charming horse farm in the wine country of central Virginia in 2021. Although we're now back in sunny Austin, Texas, the memories we made on our trip and the joy of watching my kids bike down our Virginia driveway still make me smile...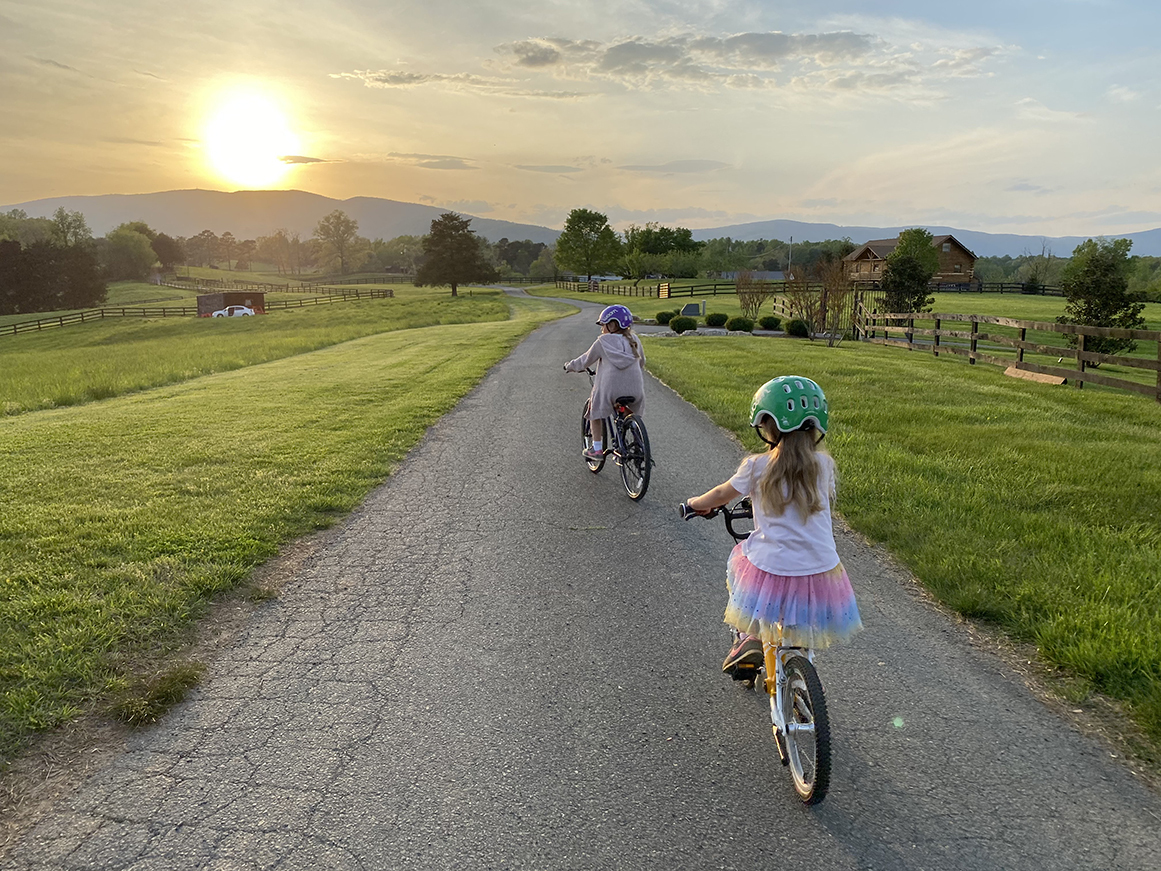 Without passive income, none of this would have been possible.
So if you're an accredited investor looking for passive income to help you chase your dreams, and if you want to start profiting from the booming real estate market WITHOUT the hassle and expense of buying and managing individual rental properties, then I recommend giving CrowdStreet a try.
More than 100,000 investors have already signed up for a CrowdStreet account. It only takes a few minutes to register, the account is free, and you aren't obligated to invest a single penny.
Best of all, after you open an account you'll gain immediate access to their marketplace where you can review all of the deals available on CrowdStreet right now. As I write this, there are 11 deals open for new investment, including a multifamily community in Los Angeles with an 18.2% projected IRR, a student housing project in Washington with a 21% projected IRR, and a research facility in Boston with a 7.1% projected cash yield and estimated annual returns of 17.8%.
If you want to jump on the bandwagon and start profiting from real estate the easy way, then sign up for a free CrowdStreet account.
Thanks for reading!