Vanguard is one of the largest and most well-known investment firms in the U.S., offering simple, low-cost index funds for every investor. Vanguard is best known as one of the pioneers of index funds for individual investors, as well as operating as a "client-owned" firm and providing its funds and services at extremely low costs.
Vanguard stepped into the robo-advisor space in 2020 by offering its Vanguard Digital Advisor investing service as a low-cost alternative to companies such as Betterment and Wealthfront.
What is Vanguard Digital Advisor?
Vanguard Digital Advisor is a robo-advisory service that offers fully automated investment management, including asset allocation, automatic portfolio rebalancing, and financial advice based on your goals. The service uses advanced algorithms to create a broadly diversified investment portfolio while keeping fees very low. Its algorithm tailors each client's portfolio to their needs based on their stated goals, timelines, and risk assessments.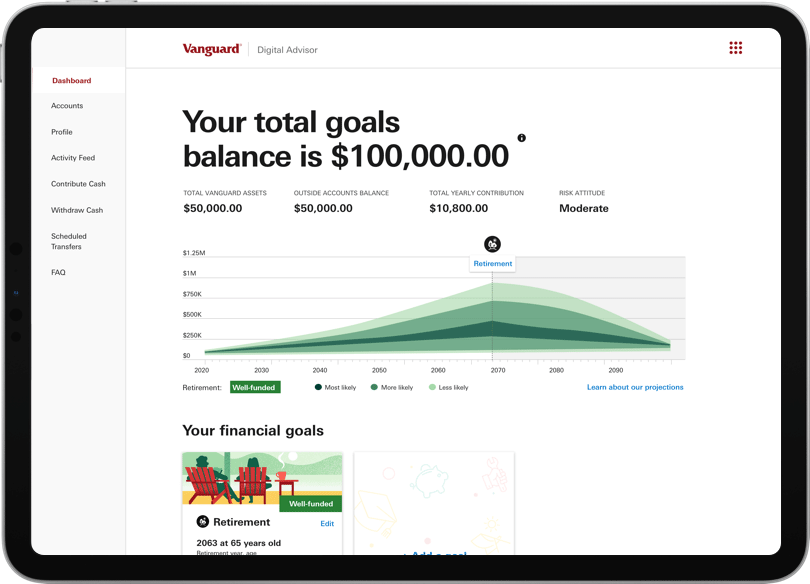 The service is geared toward those saving for retirement and strategizing how to pay off debt, with capabilities expected soon to help people save for other personal goals, such as a house, major home renovation, or dream vacation. Vanguard Digital Advisor is completely digital, with all financial advice coming from the automated tools in your client dashboard. If you want unlimited access to human advisors, for an additional fee, you can get the best of both worlds with Vanguard Personal Advisor Services.
Vanguard Digital Advisor at a Glance
| | |
| --- | --- |
| Item | Details |
| Minimum Investment | $3,000 |
| Net Advisory Fee | No more than 0.20% of assets under management |
| Investment Expense Ratios | Approximately 0.05% average weighted expense ratio for a typical portfolio of broadly diversified Vanguard ETFs |
| Types of Accounts | Individual and joint brokerage accounts; Roth, traditional, rollover IRAs |
| Access to Advisors | None |
| Planning Services | Retirement and other financial goals, debt payoff strategies |
| Tax Strategy | Tax-efficient investing |
| Customer Service Options | 8am - 8pm EST, Monday - Friday. |

How Vanguard Digital Advisor Works
To sign up for Vanguard Digital Advisor, clients can create a free Vanguard online account. The service then prompts clients to complete a risk assessment. The results of this assessment help Vanguard structure an investment portfolio based on each client's risk tolerance, personal financial goals, and timelines for those goals.
Once the assessment is complete, clients also have the option to connect external financial accounts. This overall financial picture helps Vanguard project the client's likelihood of reaching his or her financial goals.
Finally, clients are asked to fund the account to get started. Vanguard requires a minimum of $3,000 in each enrolled account to get started with its Digital Advisor service, and clients can have a mix of Vanguard cash accounts and IRA accounts. If you are a Vanguard 401k plan holder, the minimum investment is only $5. However, please keep in mind that your 401k plan must make Vanguard Digital Advisor available to its participants, and participants can't enroll their 401k assets individually.
Vanguard Digital Advisor Dashboard
Vanguard offers a simple dashboard to help users plan for retirement and other financial goals. This includes seeing how monthly contributions impact the plan, adding money to accounts, and reviewing plan progress.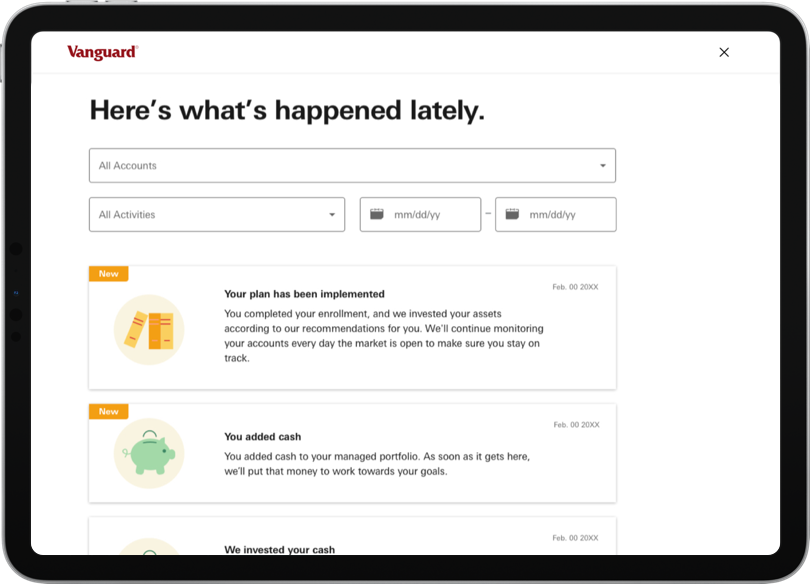 Types of Accounts
Vanguard Digital Advisor can manage four different types of investing accounts:
Individual or joint taxable account

Traditional IRA

Roth IRA

Rollover IRA
If you are a new client and do not have one of these accounts opened, you will be prompted to open one of these accounts to fund your portfolio.
Minimum Investment
Vanguard requires a $3,000 minimum deposit in each account enrolled in its Digital Advisor service, which is a bit higher than the industry average. For comparison, Betterment has no minimum deposit, and Wealthfront only requires $500.
If your company has a Vanguard-managed 401k plan, check to see if your plan allows access to Vanguard Digital Advisor Services for as little as a $5 minimum investment.
Investment Choices
Vanguard's Digital Advisor service currently centers its portfolios on four Vanguard exchange-traded funds (ETFs). These funds are broad-market ETFs that hold as many as 25,000 securities that cover most of the U.S. and international markets. The four included funds are:
Vanguard Total Stock Market ETF (VTI)

Vanguard Total International Stock ETF (VXUS)

Vanguard Total Bond Market ETF (BND)

Vanguard Total International Bond ETF (BNDX)
Vanguard 401k plan participants may have access to additional funds but will vary by employer.
Portfolio Options
Vanguard constructs portfolios based on a client's risk tolerance, preferred asset allocation, as well as goal timelines. Vanguard follows a proprietary glide path for the portfolio, automatically adjusting the asset allocation and asset mix as clients get nearer to their goals (similar to a target date fund).
Asset allocation is weighted heavily by the answers to the initial assessment given at sign up, with five different risk attitudes available based on the results of each client's risk assessment. These five risk profiles include:
Very Conservative

Conservative

Moderate

Aggressive

Very Aggressive
In general, the more risk-averse you are, and the longer you have to accomplish your goals, the less will be invested in equities.
Vanguard follows Modern Portfolio Theory (MPT), preferring low-cost index investing. This is achieved by creating a personalized portfolio mix of the four ETFs based on a client's age, risk tolerance, goals, timelines, and overall financial picture.
Note: This is why Vanguard recommends connecting external financial accounts as well, to give more accurate financial guidance for building a portfolio based on your entire financial situation.
Portfolios are rebalanced automatically if any asset drifts more than 5% away from its target allocation. Vanguard also utilizes its proprietary MinTax algorithm to help minimize the tax impact when selling securities.
Debt Payoff Calculator *
Vanguard Digital Advisor also offers a debt payoff calculator tool, allowing clients to track their debt payoff through the debt avalanche method. This allows you to compare debt payoff options with the goal of reducing your total interest expenses and paying off your debt faster.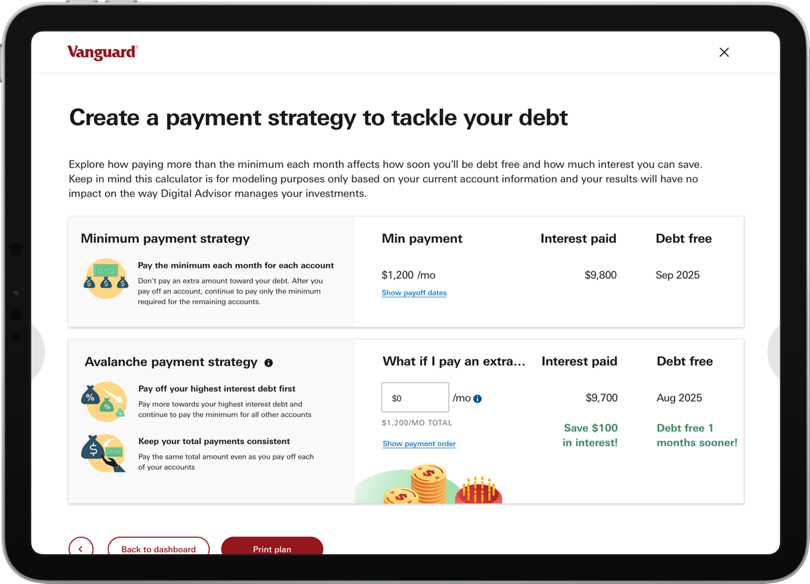 Vanguard Digital Advisor Pricing and Fees
Vanguard offers a very low net annual advisory fee for its Digital Advisor service. Vanguard charges an annual gross advisory fee of no more than 0.20% for its Digital Advisor service. Yet they credit back any revenue they receive from the underlying investments, which typically results in a net advisory fee of approximately 0.15%.
The funds offered have very low expense ratios as of July 31, 2021...
VTI = 0.03%

VXUS = 0.08%

BND = 0.035%

BNDX = 0.08%
By comparison, both Betterment and Wealthfront charge 0.25% of AUM, and some of their funds may also include higher fees.
Vanguard's all-in cost for retail clients is 0.20%. There are no additional account or service fees, making this one of the lowest-cost options in the robo-advisory market.
Pros and Cons
The Vanguard Digital Advisor service gives investors access to simple tools for planning and investing. While it offers some of the lowest fees around, the tool is a bit more limited compared to its rivals. Here are a few things we like (and would like to see improved) about Vanguard Digital Advisor:
Pros
No advisory fees for the first 90 days

High-quality ETFs

Tax-efficient portfolio

Personalized advice
Cons
No tax-loss harvesting

Limited investment options (only four funds)

No fractional shares

Limited account types (no 529, solo 401k, or SEP IRA)
Who Vanguard Digital Advisor is Best for?
Vanguard Digital Advisor is geared toward any investor who wants a hands-off approach to investing. Vanguard is known for its high-quality, low-cost index funds. Clients who want a personalized mix of funds that instantly diversify their holdings, as well as automatic rebalancing and asset allocation adjustments, would enjoy the simplicity and affordability of Vanguard Digital Advisor.
While it may not have all the bells and whistles of other robo-advisory services, Vanguard is a rock-solid option for investors.
Who is Vanguard Digital Advisor not Best for?
Vanguard Digital Advisor offers a basic service at a good value, though is not for everyone. Specifically, those who are comfortable setting and rebalancing their asset allocation may find the 0.15% fee unnecessary. In addition, if you already utilize free financial planning tools and have defined your investing goals and risk tolerance you may not need help in these areas.
Alternatively, those who want more advanced services or have more complex financial needs should consider Vanguard Personal Advisor Services® or engaging the services of a Certified Financial Planner instead. With advancing age and assets, the complexity of your financial situation likely increases as well, which often leads to a greater need for financial professionals to help integrate planning, tax strategies, and legal advice.