What is Vanguard?
Vanguard is one of the world's largest investment management firms, with over $8 trillion in assets under management as of 2021. Founded by John C. Bogle in 1975, Vanguard was one of the early pioneers of the index fund, which changed the investment industry forever.
Vanguard is also an "investor-owned" firm, meaning that Vanguard is not publicly traded with shareholders demanding higher profits.
Instead, Vanguard funds are owned by shareholders, and in turn, the funds themselves own Vanguard. One of the company's goals is to use any profits it makes to reward its investors with low fees.
What is Vanguard Personal Advisor Services?
Vanguard offers a low-cost advisory service that gives customers access to licensed investment advisors for personalized portfolio management. This is a full planning service that helps investors create investing goals, evaluate their risk tolerance, build an investment portfolio, and adjust the plan as needed.
Vanguard also has a comprehensive planning dashboard that shows the details of your financial plan, including the investment approach, spending strategy, and a goals analysis. It also allows you to explore "what if" scenarios, showing the impact on your financial plan by adjusting your savings rate or age of retirement.
Based on your goals, timelines, and risk tolerance, Vanguard advisors will build a diversified portfolio of low-cost funds and ETFs that is evaluated on a quarterly basis. All changes to your portfolio require client approval, so you still maintain control of your investing strategy.
While most advisor firms limit the number of times you can meet with your advisor, Vanguard advisory services are available from 8am - 8pm EST for a consultation. You can schedule a meeting at any time, and consult with a licensed financial advisor (which may not necessarily be the one who set up your original plan).
Learn more about Vanguard Personal Advisor Services here.
Vanguard Personal Advisor Features
Vanguard Personal Advisor Services offers clients unlimited access to their advisors, as well as a dashboard to see their portfolio and plan progress in real-time.
Here are a few features that make Vangaurd's advisory services stand out in the financial planning industry:
Goal Setting
When you initially meet with your Vanguard advisor, you will give them all of your financial information to help them develop a plan for you. As part of the process, you will talk through your financial goals and when you want to achieve them.
While retirement is a common goal in financial planning, you can also develop a plan for other financial goals, including buying a home, paying for college, or other large purchases and life events. These goals will be implemented into your total financial plan, and you can track progress in the Vanguard dashboard.
Portfolio Construction
Vanguard will help you develop an investment portfolio based on your age, goals, and risk tolerance, which will include a mix of Vanguard funds and ETFs. The portfolio construction will be broken down by asset class, and the percentage invested in each fund will be broken down in the Vanguard dashboard.
Before your investments are adjusted to the proposed financial plan, Vanguard will display your "before and after" portfolio analysis. This breaks down how your money is currently invested, then shows you the exact breakdown for the proposed portfolio Vanguard will construct for you.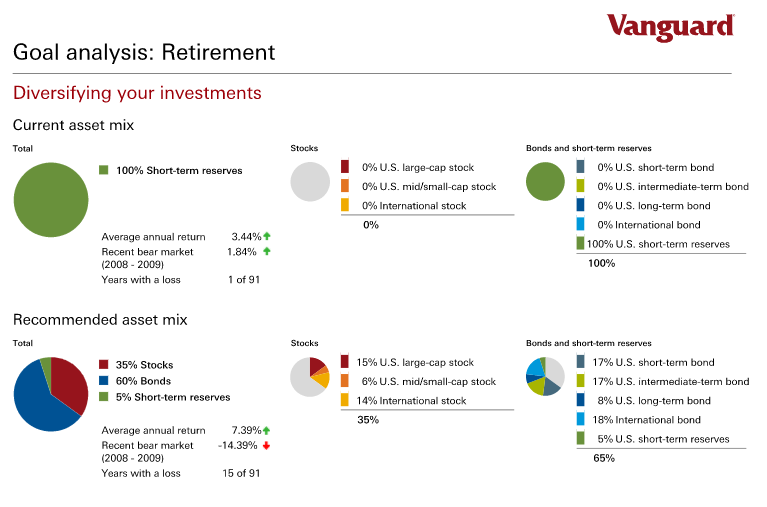 Portfolio Monitoring / Oversight
Vanguard keeps track of your portfolio, sending out quarterly updates on your performance and goal progress, as well as rebalancing when necessary.
Note: For customers with less than $500K in the service, Vanguard does not assign an individual advisor, but instead offers a team of advisors available for consultation at any time. For those with more than $500K in the service, Vanguard will assign a specific Certified Financial Planner to their account.
Vanguard is also starting to provide tax-loss harvesting via their MinTax service, but this service is not broadly available to the general public just yet.
Vanguard adheres to Modern Portfolio Theory (MPT), proposing investment in broad-based index funds among multiple asset classes. This approach is more "hands-off" than many managed mutual funds, and instead gives clients exposure to entire markets instead of trying to pick individual winning investments or funds.
Clients can request specific investments or make changes to their portfolio at any time, and Vanguard will always run investment suggestions by clients before executing trades. Any changes to the plan will be updated and reflected in the online dashboard for clients to track. Overall, Vanguard will stick to the proposed plan, keeping a focus on long-term goals over short-term gains.
Note: While Vanguard will develop a comprehensive financial plan that considers outside investments (such as 529 College Savings Plans or HSA accounts), they will not directly advise on those assets unless they are held with Vanguard. As such, clients are advised to regularly update their advisor to ensure the accuracy of their total financial plan stays current.
Get started with Vanguard Personal Advisor Services here.
Vanguard Personal Advisor Services' Fees
Vanguard offers lower-than-average fees for its advisory services, charging 0.30% per year for all advised assets in your portfolio. The fee level drops when assets reach a certain value, with incremental decreases down to 0.05% for clients with $25 million or more in assets.
Here's the breakdown of their annual fee schedule:
| | |
| --- | --- |
| Fees | Managed Assets |
| 0.30% | Up to $5 million |
| 0.2% | Over $5 million up to $10 million |
| 0.1% | Over $10 million up to $25 million |
| 0.05% | over $25 million |

Vanguard mutual funds have an expense ratio as well, which averages .1% - but you'll pay that even if you don't use the Personal Advisor Services.
Vanguard advisors will help you identify low-cost Vanguard-sponsored funds in an effort to help you reach your financial goals.
Vanguard Personal Advisor Services Overview
| | |
| --- | --- |
| Minimum Investment | $50,000 |
| Management Fees | 0.05% to 0.30% of advised assets in the portfolio |
| Investment Expense Ratios | 0.07% average weighted expense ratio |
| Types of Accounts | Individual and joint brokerage accounts; Roth, traditional, rollover and SEP IRAs; 401ks held through Vanguard; trusts |
| Access to Advisors | Monday - Friday, 8am - 8pm EST via phone or email. |
| Planning Services | Retirement and other financial goals, tax optimization, social security planning, Roth conversions, estate planning, and trust services |
| Tax Strategy | Tax-efficient investing and withdrawal strategy. |
| Customer Service Options | 8am - 8pm EST, Monday - Friday. Can schedule an advisor appointment at any time. |
How to Get Started with Vanguard Personal Advisor Service
To get started with Vanguard Personal Advisor Services, users can sign up for a free online account, or call Vanguard directly.
Customers provide their detailed financial information, discuss their financial goals and timelines, and answer a few questions about risk. Vanguard will then create a proposed portfolio based on the information provided. If there are any questions or changes wanted on the proposed plan, clients will need to speak to a Vanguard advisor over the phone or on a video call.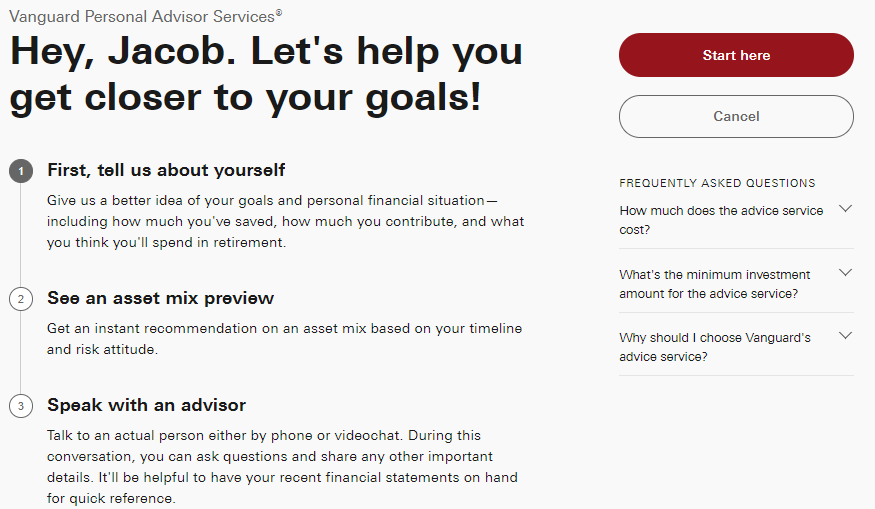 Vanguard requires a minimum $50,000 investment, which can be a mix of brokerage, IRA, and trust accounts. Vanguard cannot manage your other investment accounts that are held outside of Vanguard, though those accounts will be considered when developing your total financial plan.
Note: Vanguard requires that clients speak to an advisor before setting up their accounts. Users can submit their information, review the proposed portfolio, and start using the services following a short phone call with a Vanguard advisor.
However, Vanguard still recommends speaking with a live advisor before completing the account setup process.
Vanguard Personal Advisor Services Pros and Cons
Vanguard Personal Advisor Services gives clients a lot of value for a relatively low fee, but they aren't perfect. Here are a few of the unique advantages of Vanguard advisory services, as well as a few drawbacks:
Pros
Lower-than-average management fees

Access to multiple financial advisors

Access to low-fee funds

Detailed financial analysis and planning included
Cons
Requires moving all funds to Vanguard

High account minimum ($50,000)

Website can feel overwhelming to new investors
Are Vanguard Personal Advisor Services Worth It
Vanguard has one of the industry's strongest (and longest) track records of offering low-cost investment options and quality financial advice. Giving users access to a live human advisor for less than one-third the cost of traditional advisory firms is a big step. This is a huge advantage to those with complicated financial situations, or who simply want someone else to manage their investments for them.
Though their website experience may be a bit clunky to new investors, their strong financial stability, extremely low-cost funds, and access to a live advisor five days a week makes their advisory service hard to beat.
If you have a complex financial situation, or simply want professional guidance on your financial goals, Vanguard Personal Advisory Services may be a good fit.
Get started with Vanguard Personal Advisor Services here.
Alternatives to Vanguard Personal Advisor Service
While Vanguard's advisory services provide quality guidance for a low cost, they might not be the best fit for everyone. Here are a few Vanguard alternatives to consider:
Vanguard Personal Advisor Services vs Fidelity
Both Vanguard and Fidelity offer access to live human advisors with their advisory services, with the ability to manage multiple financial goals and help manage their customer's investments. Vanguard charges 0.30% while Fidelity charges 0.50%.
Vanguard also offers tax-efficient investing, advice on estate management and trust services, and more, while Fidelity human advisors act more as an extension of their digital robo-advisory service.
Fidelity does offer a lower minimum initial investment of $25,000, compared to Vanguard's $50,000 minimum. They also have access to no-fee funds, which Vanguard does not offer at this time.
Overall, Vanguard offers a more comprehensive service at a lower cost, and is best for clients with $50,000 or more in assets. If you have more than $25,000 but less than $50,000, Fidelity could be a decent option for access to a live advisor.
Vanguard Personal Advisor Services vs Personal Capital
Both Vanguard and Personal Capital offer personal advisory services and access to online financial planning tools. While Vanguard gives users access to a team of advisors, Personal Capital gives clients 1:1 access to an assigned advisor.
Given that, Personal Capital charges a 0.89% management fee, while Vanguard's fee is only 0.30%. Vanguard also offers a lower account minimum of $50,000, while the Personal Capital account minimum is $100,000.
Personal Capital offers free financial planning tools with their website and mobile app, helping clients review their investment progress, find hidden fees, and project their retirement date. Vanguard does not offer any free planning tools, but does host a wealth of free educational content on their website.
For clients who want simple financial planning with access to a live advisor, Vanguard gives one of the lowest-cost options available.
For clients who want direct access to an assigned financial planner that can give them a customized financial plan that can invest in any number of funds they wish, Personal Capital may be a good option.
Vanguard Personal Advisor Services vs Betterment
Vanguard and Betterment both offer hybrid robo-advisory services, with automated digital tools for creating an optimized portfolio, as well as access to human advisors for a personal touch. Their live advisory fees are both very low, with Vanguard charging 0.30% of assets, while Betterment charges 0.40% of assets. Betterment also offers al la carte financial planning calls starting at $299 per call.
Betterment offers a slick mobile app that helps investors visualize their portfolio, track their goals, and track their cash flow, while Vanguard offers a rudimentary mobile experience with basic account information and options.
Betterment has access to ETFs from both Vanguard and iShares, but they offer a limited selection and pre-made portfolios. With their personal advisory service, you can customize your portfolio slightly, but still have access to the same funds as their regular robo-advisor platform. Vanguard, on the other hand, has over 200 mutual funds and ETFs to choose from. That being said, most Vanguard retirement portfolios are constructed with less than a dozen of their funds.
Overall, Betterment is a good option for investors who want 1:1 advice from an assigned financial planner, while Vanguard is a great option for investors with $50,000 or more in assets who want sound financial advice and management for a very low fee. Meanwhile, for wealthy investors with more than $500K who want a dedicated Certified Financial Planner assigned to their account, Vanguard is also an excellent option.
Summary
Vanguard is one of the most trusted names in investing, and for good reason. As a pioneer of index fund investing, and a company structure that makes the investors the owners, Vanguard gives its clients confidence that their money is being well-managed.
Vanguard Personal Advisor Services offers well-balanced portfolio management services for a fraction of the cost of other personal advisors. With live access to licensed financial advisors, a solid investment philosophy that follows Modern Portfolio Theory, and some of the lowest-cost index funds on the market, Vanguard Personal Advisor Services is one of the best options for new investors and aspiring retirees alike.