Investing in commercial real estate used to be reserved for companies with a large amount of capital and/or for institutional investors. With the advent of crowdfunded real estate, average investors can now access this high-performing asset class with relatively little money, and let the investing platform handle the day-to-day real estate activities.
Streitwise offers investors access to commercial real estate investments, specifically office buildings with high-quality tenants. Investors can sign up and invest entirely online, and Streitwise handles the taxes, insurance, operations, and maintenance of the properties within its investment fund. While the minimum investment is higher than some crowdfunded real estate platforms, both accredited and non-accredited investors can take part in the Streitwise REIT.
Streitwise Overview
Feature
Details
Investing Fees

3% one-time fee
2% annual management fee

Minimum Investment
~ $5,000
Investment Options
REIT
Annual Returns
8% - 10%
Tax Strategy (Opportunity Zones, 1031, IRA, etc.)
IRA and 401(k) investing
Customer Service and Support
Phone, email, or chat support available. Business hours not listed.
Mobile Compatibility
Website mobile-friendly. iOS mobile app available.
Account Setup
Sign up with email and password. Select current REIT fund, fill in online form, deposit funds (via ACH, wire transfer, or crypto).
Transparency
Complete offering circular available online (but difficult to read through). Transparent fees.
Education and Security
No help center, but includes educational articles and FAQ. Data security details not available.
Accredited Investor Required?
No
What Is Streitwise?
Streitwise is a real estate investing platform that gives investors access to private commercial real estate investments through a real estate investment trust (REIT). Streitwise currently offers a single REIT investment, but has plans for more in the future.
The currently available REIT (1st Streit Office Inc) consists of two commercial office buildings. The first building houses the Panera Bread Headquarters, New Balance's regional headquarters, Wells Fargo, and other strong tenants. The second building houses the Allied Solutions headquarters, a few restaurants, and other business tenants.
Streitwise's REIT is backed by Tryperion Partners, a commercial real estate developer.
According to Streitwise:
"Streitwise's REIT is managed by Tryperion Partners. A sponsor that has generated a 30.3% IRR / 1.87x on all realized investments (as of Q1 2021). Tryperion's co-founders have over 40 years and over $5.4bb in combined experience as well as over $5 million skin-in-the-game in Streitwise, indicating their incentives align with investors."
How Does Streitwise Work?
Streitwise offers access to buy shares of commercial real estate projects in which a sponsor (in this case, Tryperion Partners) chooses the investments, makes the purchases and improvements needed, and manages the day-to-day operations of the property. In exchange, users pay a small fee, and receive dividends and (eventually) capital gains when the properties are sold.
Streitwise is a web-based platform where investors can sign up, deposit funds, and start investing all online. There is currently a single REIT fund available to invest in. Users can start by signing up for a Streitwise account, inputting some personal information, and inputting the investment amount. Streitwise requires a minimum 500-share purchase (currently valued at $5,000) to get started.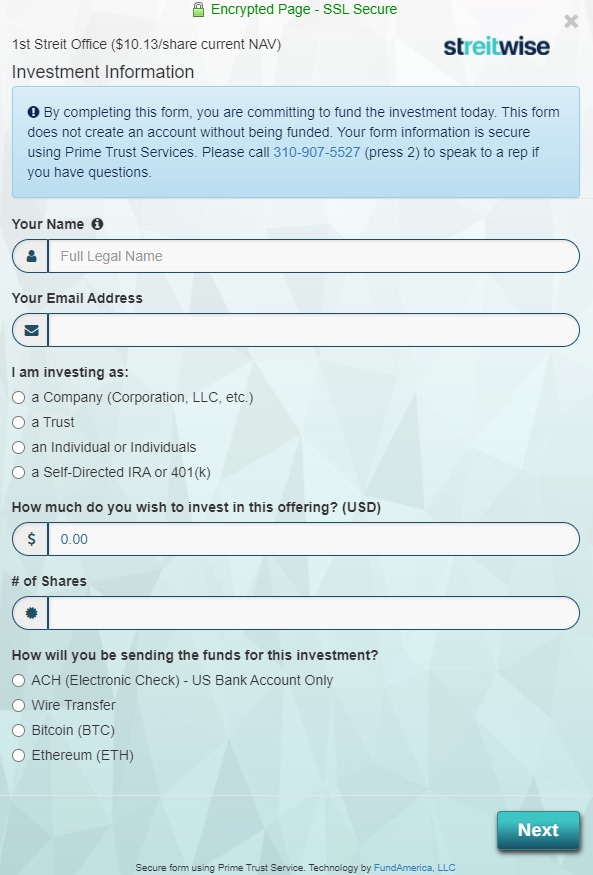 While you don't need to be an accredited investor to use Streitwise, the onboarding still asks if you are, as there are less investing restrictions for those that are accredited. You will need to fill out your net worth and income details to confirm this.
Finally, you will connect your bank account to ACH transfer your funds into your Streitwise account. This may take some time, as funds will need to be cleared on the platform before you can invest.
The Streitwise REIT investment is not publicly traded, and is designed to be a long-term investment. It comes with a one-year lockup period, and users wishing to sell their shares prior to five years will also be required to sell at a discount.
Streitwise Pros and Cons
Streitwise offers a simple way for investors to own shares in high-quality commercial real estate with the 1st Streit Office REIT. Here are some of our favorite things about Streitwise, plus a few things that could be improved.
Pros:
High-quality properties
High returns (8% - 9% dividend yield, net of fees)
Available to non-accredited investors
Strong sponsor partner
Can invest using crypto (including Bitcoin and Ethereum)
Cons:
High initial fee (3% up front)
Very few properties owned (only two currently)
Illiquid investment (non-tradable REIT, lockup period)
Who Can Invest With Streitwise?
Streitwise does not require users to be accredited to invest, meaning there are no net worth or minimum income requirements to sign up. That being said, Streitwise does have some investment restrictions on non-accredited investors.
Streitwise maximum investment for non-accredited investors:
10% of your total income, or
10% of your net worth (excluding primary residence)
This means that a user earning $50,000 per year can only invest up to $5,000 total (assuming a sub-$50k net worth), or a user with a $100,000 net worth can invest up to $10,000 total.
Streitwise Minimum Investment and Fees
Streitwise requires a minimum investment of 500 shares to get started, currently priced at just over $10 per share. This $5,000 initial investment is steep compared to some platforms, but much lower than other commercial real estate investment platforms. After the initial investment, users can add to the investment in increments of as little as $500.
Streitwise charges a 3% up-front fee to invest in the REIT, and a 2% ongoing annual fee. The annual fee is deducted from the dividend payouts, so users will not be paying out of pocket each year.
It's important to note that there are no other fees that users (or sponsors) pay on an ongoing basis, including profit-sharing fees, acquisition fees, servicing fees, financing fees, disposition fees, or any other hidden fees. This is rare among REIT and other real estate investment platforms, making Streitwise one of the most transparent options available.
Still Deciding? Check out REITs vs Real Estate Crowdfunding: Which Is Best?
How Do Investors Make Money?
Streitwise pays investors from rents collected from tenants leasing space in the property, and eventually a distribution of equity when the property is sold. Dividends are paid out quarterly, and capital gain distributions will be made when a property is sold (this has not happened with any Streitwise property as of yet). Dividends can be reinvested into the fund, or taken out as cash.
Streitwise has paid out a historical average of 8% - 9% annually in dividends since 2017, which is a strong performance. This does not include any asset appreciation.
Here's more from the Streitwise team:
"From Q2 2017 to Q3 2021 (18 quarters), we distributed a historical average annualized return of 9.4% to investors, net of fees. A hypothetical investment of $10,000 in 2017 would be worth over $15,000 today with dividend reinvestment enrolled, as an example. For 3Q21, we declared a 8.4% dividend and the target dividend continues to be 8-9%.
Dividends are paid out quarterly with option for dividend reinvestment. There are also upside appreciation opportunities as well (with downside risk). We cannot guarantee these returns or future appreciation."
Biggest Difference Between Streitwise and Other Platforms
Streitwise is a smaller real estate investment platform, with only one REIT currently available. The sponsors of the REIT are also co-owners of Streitwise, and have more than $5 million invested into the REIT themselves. This gives the ownership direct incentive to continue posting solid returns and growth in the coming years.
Streitwise is also one of the few platforms that offers access to commercial real estate office buildings without the need to be an accredited investor. This gives folks without a $200,000 annual income or $1 million in assets (outside of primary residence) a chance to invest in the REIT. In addition, Streitwise did not lower its dividend payout during a tumultuous 2020, and has continued to post solid payouts each and every year it has been in business (since 2017).
Want more options? Check out our Crowdstreet vs Fundrise comparison.
Are REIT Dividends Taxable?
Yes, REIT dividends are taxable, and investors will receive a 1099-DIV at the end of the year for reporting the income to the IRS.
That being said, there are several tax advantages to investing in REITS, including:
20% deduction of dividend income. This allows investors to deduct up to 20% of the dividend income.
No double taxation. REITs avoid corporate taxation.
Depreciation. REITs can take advantage of real estate depreciation, possibly lowering the taxable portion of the dividend by classifying it as a return of capital instead of ordinary income.
Finally, Streitwise allows investors to invest inside of a tax-sheltered account, such as a self-directed IRA or 401(k).
Want more? Check out all of the best real estate crowdfunding sites.
Summary
Streitwise offers a simple way to invest in high-quality commercial real estate, with a reasonable ($5,000) minimum investment. Streitwise has only been around for a few years, but has continued to pay out quarterly dividends to investors, no matter what the economic outlook is. Streitwise owners also have skin in the game, with over $5 million invested in the REIT fund, aligning ownership and investor incentives.
Overall, Streitwise offers access to a very specific type of real estate investment (commercial office buildings), with consistent returns and a top-notch management team. If you are considering investing in crowdfunded real estate or REITs, Streitwise is worth a look.
Ready to give Streitwise a try? Sign up with Streitwise today.
References:
https://streitwise.com/current...
https://streitwise.com/histori...
https://streitwise.com/reit-ta...
https://streitwise.com/self-di...