Getting health insurance isn't necessarily the most exciting thing in the world, but protecting yourself (and your assets) from a large pile of unexpected medical bills is a great financial move.
No one plans to get sick or hurt, but having the proper health insurance – before something happens – can save you thousands of dollars (or more) and give you peace of mind.
Find what you need to know about health insurance, open enrollment, health savings accounts and more.
How Much Is Health Insurance?
Health insurance costs are often confusing and it can be hard to know whether you have the right coverage at a fair price. Let's break down the details of how much health insurance costs, where to find it, and how to find subsidized and free health insurance policies.
Health Insurance Premiums
Health insurance premiums are the monthly costs you pay for your health insurance coverage. Many Americans get their health insurance coverage through an employer-sponsored group plan while others purchase coverage for themselves.
In 2020, the average health insurance premium for individuals was $456 per month and for $1,152 per month for families. The costs vary, depending on the coverage you elect and the number of people covered under the policy.
Can I Find Affordable Health Insurance?
Finding affordable health insurance can feel like an impossible task, but there are many options available to fit your budget and your lifestyle.
While many employers offer subsidized health insurance coverage, there are an increasing number of people receiving individual coverage through their state health insurance marketplace.
On the health insurance marketplace, the most affordable options are called the "Bronze" plans (which carry the lowest monthly premiums). On average, individual plans cost $452 per month on average while family coverage is $1,041 per month1.
You may be eligible for premium tax credits to help offset the monthly cost of health insurance marketplace plans, making them much more affordable. Depending on your household income, most or all of your monthly healthcare premium may be covered. See more details on how to save on monthly premiums here.
Can I Get Free Health Insurance?
Several options for free health insurance are covered under government programs such as Medicaid and CHIP (Children's Health Insurance Program). These programs are designed to provide free or low-cost health insurance coverage for lower-income individuals, families, pregnant women, the elderly, and those with disabilities.
Using the Healthcare.gov estimation tool, you can quickly check coverage eligibility based on your income.
Your Health Insurance Options
With so many options available, understanding each healthcare coverage option will help you find the best choice for your needs. The most common health insurance options include:
Employer-Sponsored Plans
Many employers offer employer-sponsored health insurance plans (ie. Group Plans). To sign up for your employer-sponsored health insurance plan, contact your Human Resources department and ask them for the details of your health insurance options.
Benefits of Employer-Sponsored Plans
Costs are usually heavily subsidized by the employer and can save you a significant amount of money in monthly premiums. They often get you better coverage as well. In addition to monthly cost savings, the premiums that you do pay are taken directly out of your paycheck (and not subject to federal taxes).
Drawbacks of Employer-Sponsored Plans
One of the drawbacks to employer-sponsored plans is that your health insurance coverage is tied to your employment. If you ever cut ties with that employer, you will need to find another option for health insurance coverage. Since your company chooses the group plans, you also have limited coverage options.
Health Insurance Marketplace
For those without access to an employer-sponsored plan – or who want individual coverage not tied to their employer – you can find insurance policies available on your state health insurance marketplace.
Created under the Affordable Care Act, this marketplace allows you to get health insurance coverage at a more affordable rate. With these individual policies, the cost is dependent on your income, the coverage chosen, and the number of people you want covered.
There are 4 "Metals" of coverage available, each with differing levels of coverage and monthly premium costs. The bronze plan has the lowest monthly premium, but highest out-of-pocket costs. The Platinum plan has the highest monthly premium, but the lowest out-of-pocket costs.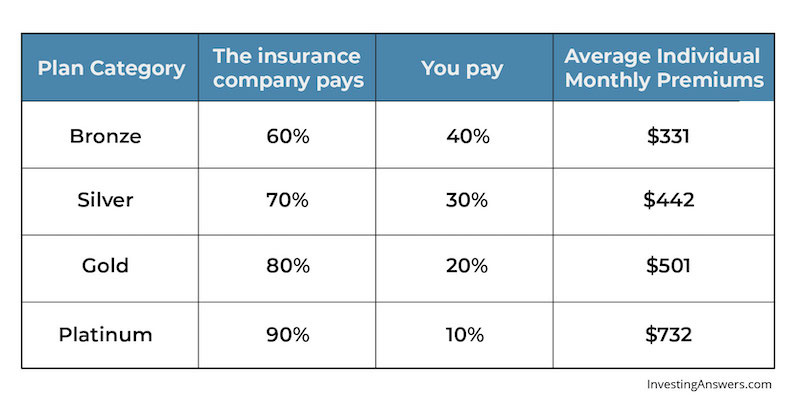 Source: Kaiser Family Foundation Health Insurance Marketplace Calculator
You can get an estimate by visiting your state health insurance marketplace and filling out a free application.
PPO vs HMO
There are many health insurance coverage options to choose from, and two of the most popular are Preferred Provider Organization (PPO) and Health Maintenance Organization (HMO) plans.
Both plans can be a great option, depending on your health insurance needs. Here's a quick comparison chart to help you decide which one is best for you: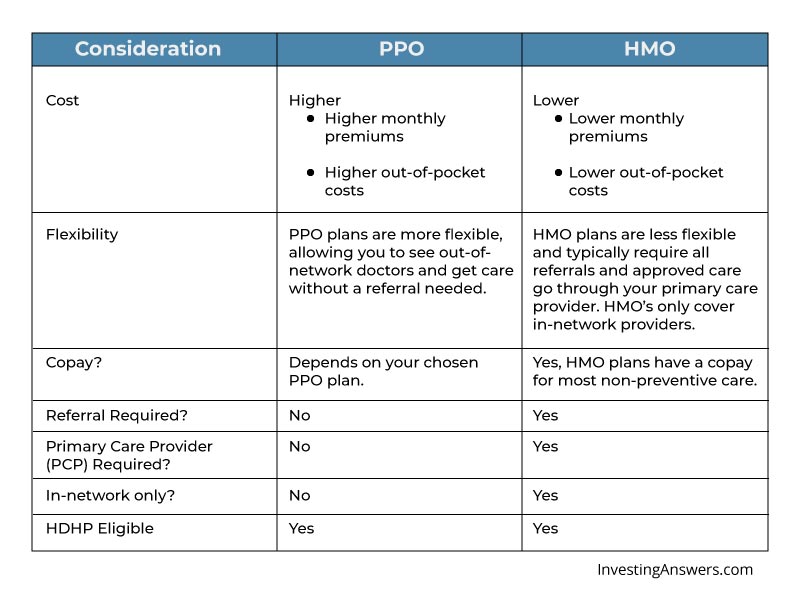 If monthly cost is the most important thing, an HMO may be the best fit. As long as you don't mind using a PCP to coordinate all your care, an HMO could save money in the long run.
If you already have a PCP (or medical specialist that you like and who isn't in the network), a PPO plan may give you the best flexibility and choice for your healthcare.
EPO Plans
An EPO plan (Exclusive Provider Organization) is a discounted insurance plan that only provides coverage from doctors and/or healthcare providers within a specific network. If you receive care from a provider outside of that network, your health insurance plan will not cover the costs associated with that visit. The only exception to this rule is emergency care typically being covered, even if out-of-network.
To sign up for an EPO plan, check with your employer-sponsored group plan, or you may elect to get an EPO plan through the marketplace.
Benefits of EPO Plans
One of the major benefits of staying in-network is the ability to visit a specialist without a required referral from your Primary Care Physician (PCP). As long as the specialist is in-network, it should be covered. Due to the limitations of the "in-network" visits, EPO plans also typically have lower premiums than other health insurance options.
Short-Term Health Insurance
If you experience a lapse in standard health insurance coverage, you may want to consider short term health insurance. While it may be tempting to simply wait until your next long-term policy coverage kicks in, this temporary option can help avoid expensive healthcare costs while you're in between long-term health insurance coverage dates.
Some reasons for a lapse in coverage include:
Changing jobs
Losing employer-sponsored coverage
Moving states
No longer eligible for parental health insurance coverage
Waiting for open enrollment
Note: Before getting a short-term health insurance policy, make sure to check if you are eligible for COBRA coverage from your employer. If you lose employer-sponsored health insurance coverage, you may be eligible for COBRA health insurance.
What Short-Term Health Insurance Covers
Short-term policies typically cover emergency services and some prescriptions, but not visits or treatments related to pre-existing conditions.
Not everyone will qualify for short-term coverage and this depends on the state of your health, pre-existing conditions, or pregnancy. Make sure to check the details of the short-term policy before applying.
Travel Health Insurance
When you are planning to travel abroad, you might want to consider picking up a travel health insurance policy. These policies help cover healthcare costs when traveling or working abroad, with short- and longer-term options available to help cover emergencies and other healthcare-related visits.
You may want to consider travel health insurance if you're:
planning international travel and your standard insurance doesn't cover you abroad
intending to work internationally
a student or faculty member who's part of an international education program
part of a long-term international mission trip
While many health insurance plans may cover some medical costs while traveling abroad, many don't offer the same level of coverage – or any at all. Before traveling, check what is (and what isn't) covered under your current health insurance policy.
If you find that you need extra coverage for medical emergencies or treatments while traveling abroad, you can explore different travel health insurance options.
Note: Applying for travel health insurance is similar to short-term health insurance. The plans are available from private health insurance companies with various term lengths and coverage options.
High-Deductible Health Plans
If you're looking for a way to lower your monthly insurance premiums, consider applying for a high deductible health plan (HDHP). Just as it sounds, these plans give you a higher deductible to meet before the insurance starts to cover your healthcare costs, but they also offer much lower monthly premiums in return. These policies are great for those with low current healthcare costs and limited visits for health related needs.
Advantages of HDHPs
A major benefit for carrying a high-deductible health plan is qualifying to open a Health Savings Account (HSA).
If your employer offers an HSA option, they may also offer incentive funds to help fund your HSA account as an added employee benefit. This can be hundreds (or even thousands) of dollars per year.
If you're in relatively good health and don't mind paying out-of-pocket for healthcare costs, a high-deductible health plan could save you money each month while offering you a great investment option.
How to Get Health Insurance
As you can see, there are multiple types of health insurance coverage to choose from. Make sure to do your research and find the one that best fits your budget, lifestyle and healthcare needs. When determining health insurance plans, be sure to look into:
Government Plans Like Medicare and Medicaid
If you are older than 65 years old – or looking for low-cost coverage – you may be eligible for a government health insurance plan.
Medicare
Medicare provides Americans 65 and older with more affordable healthcare coverage options. Funded by the Social Security Administration (SSA), it is designed to cover the costs of healthcare associated with advanced age.
There are multiple types of coverage within Medicare, including:
Part A - Hospital Insurance
Part B - Medical Insurance
Medicare Advantage Plan - Prescription drugs, vision, hearing, and dental
Part D - Prescription drug coverage
Standard enrollment gives you access to Part A and Part B. If you need additional coverage, you can elect for supplemental coverage to fit your needs.
To apply for Medicare, enrollment starts 3 months prior to your 65th birthday (including your birthday month), and ends 3 months after that birthday. If you are already collecting social security benefits, you'll automatically be enrolled in Part A and Part B when you turn 65.
Medicaid (and CHIP)
Medicaid (and CHIP) is a government-owned insurance program that provides affordable health insurance plans to low-income individuals and families. Medicaid (and CHIP) also covers children in low-income households, women who are pregnant and those with disabilities.
It is managed and funded by each state with general federal guidelines, so each state has its own requirements and operates differently. To apply for Medicaid, create an account through the Healthcare.gov marketplace and apply for coverage in your individual state.
Veteran Affairs Health Insurance
Veteran Affairs (VA) offers free health insurance options for veterans of the US military (and their families under certain situations). To qualify, you typically need to have served a minimum of 24 continuous months, completed the full period of active duty for which your were called, or were discharged with a disability or hardship
If you are a former military member, this could be an excellent option to substantially lower your healthcare costs. You may also qualify for VA health insurance benefits while holding other health insurance coverage.
To apply for VA healthcare coverage, fill out an application on the Veteran Affairs website.
Your Parent's Plan Until 26 Years Old
If you are under 26, you may be eligible for coverage under your parent's health insurance plan. Whether employer-sponsored or a private plan from the health insurance marketplace, federal law allows you to be covered.
To be eligible, you need to be under 26 years old, and can still qualify even if you are:
Married
Not living with your parents
Attending school (at least part-time)
Covering your own living costs
Eligible for insurance coverage elsewhere
To qualify for coverage, your parent would need to apply during the open enrollment period for their insurance plan, then elect to have you covered.
Your Employer's Health Care Plan
To sign up for employer-sponsored health insurance coverage, you'll need to apply during your employer's open enrollment period. If you have a life circumstance change (e.g. gave birth, got a new job, got married), you may qualify for a Special Enrollment Period (SEP). This would allow you to apply for coverage outside of the typical open enrollment period.
Contact your HR department to learn more about your health insurance coverage options, as well as open enrollment start and end dates.
Shop the Health Insurance Marketplace
If you're self-employed – or want to shop for your own health insurance coverage outside of your employer – you can shop for plans in your state health insurance marketplace.
To see plans and prices on the marketplace, details are available on the Healthcare.gov website.
How to Use Insurance: 5 Things You Need to Know
Getting health insurance coverage is important, but it's equally important to know how to get the most out of your benefits.
Here are 5 things you need to know about before using your health insurance.
Your Copay
When you go in for a doctor visit or pick up a prescription at the pharmacy, you may have to pay a small fee for the service. This fee is called your copayment (or "copay").
This sum is the amount you pay and your insurance typically covers the rest of the service. Typically, the higher your monthly insurance premiums, the lower the copay (and vice-versa).
Your Deductible
Your health insurance deductible is the annual amount you agree to pay before your insurance starts covering your healthcare costs.
Typically, this is a fixed amount for individuals and a total amount for family coverage.
Example of a Deductible
Say that your health insurance deductible is $2,000 for the year. When you have a medical procedure in February, the cost is $1,200. You would pay the total of this cost because you haven't met your deductible yet.
In April, you break a finger playing basketball, and the total medical cost is another $1,200.
You would pay the first $800 (when you meet your deductible) and the remaining $400 would be covered by your medical insurance – up to your coinsurance amount.
Your Coinsurance
After your deductible is paid, your insurance will typically cover a percentage of your medical costs. The remaining balance (called your coinsurance) is your responsibility.
This percentage varies by the level of coverage selected. Typically, the higher the monthly premiums, the lower your coinsurance amount.
Example of Coinsurance
Your deductible is $2,000 and your insurance covers 80% of your medical costs. In March, you break your arm playing football, and the medical costs are $3,000.
You are responsible for the first $2,000 in costs to meet your deductible. Of the remaining $1,000, $800 would be paid by your insurance company (80%) and you would pay the remaining $200 balance.
Coverage For Emergencies and Preventative Care
Understanding what procedures and events are actually covered by your health insurance is vital to knowing whether you have the right amount of coverage. What's more, understanding your emergency and preventative care coverage can help you take better charge of your own health.
All of the health insurance plans on the public health insurance marketplace are required to cover emergency services and most preventive care visits. They also cover things like prescriptions, pregnancy, maternity, and newborn care. You can see a full list of essential health benefits covered here.
Not all medical insurance is held to this same standard, so meet with your insurance company or HR Department to be certain that you're properly covered for emergencies and have access to preventative care.
Your Prescription Coverage
If you have regular prescriptions – or may have a need for them in the future – be sure to understand your health insurance plan's prescription coverage. While the public health insurance plans on the health insurance marketplace are required to cover prescriptions, not all plans are created equally.
Whether you are on an employer-sponsored plan, a public plan, or a government health insurance plan, meet with your respective insurance agent to go over what your prescription needs are and what their plans cover. If you find that your coverage is lacking, update your coverage during the next open enrollment period. Otherwise, consider a short-term health insurance option.
What Is an HSA?
A health savings account (HSA) is a tax-free account that allows you to save money toward future medical expenses. These funds are not subject to federal tax when you save them, and when you use them toward qualifying medical expenses, the growth in your HSA account is tax-free as well.
To qualify, you must be 18 years old, enrolled in a qualified high-deductible health plan (HDHP), and not enrolled in any other health insurance coverage.
Most HSA accounts allow you to invest the money saved and are similar to a brokerage investment account. Many have access to stocks, bonds and mutual funds, and can be a great way to grow your wealth tax-free.
In 2020, the maximum contributions for an HSA account were $3,550 for individuals and $7,100 for families. There is an additional $1,000 "catch-up" contribution available for those who are age 55 and older.
How Should I Use my HSA?
To make the most of your HSA, any withdrawals should only be used for qualified medical expenses. This allows your withdrawals to be made tax-free. Many HSA accounts come with a debit card which can be used to pay expenses directly from your account.
Another strategy is to pay your medical expenses out-of-pocket, save your receipts, then take a tax-free distribution from your HSA at a future date (in the amount of those qualified medical expenses).
Finally, if you have money in your HSA account at 65 years old, you can start taking distributions from your HSA account just like you would from a standard IRA account (for non-medical reasons and with no associated penalty).
FSA vs HSA: What's the Difference?
There is a common misunderstanding between the two types of medical savings accounts: HSA and the Flexible Spending Account (FSA). Though the names sound similar, there are some significant differences to understand before applying to either one.
The FSA is an employer-sponsored account that allows you to contribute tax-deferred contributions directly from your paychecks. FSAs are not available to self-employed individuals.
The HSA, on the other hand, is available through your employer and to self-employed individuals as well. You must be covered by a high deductible health plan to qualify for opening an HSA. HSA funds can typically be invested while FSA funds cannot.
HSA vs. FSA Contributions
For an FSA, you generally have to declare the amount you want saved in your FSA during open enrollment. That amount cannot be changed during the year though exceptions can be made if you experience a qualifying event (e.g. birth of a child, marriage, divorce). For both 2020 and 2021, the limit on contributions is $2,750 for individuals and $2,750 for an employer match.
For an HSA, you do not have to declare a set amount to save. Similar to an IRA account, you can contribute throughout the year up until tax day the following year. HSA funds roll over from year-to-year and are not "lost" like in FSA accounts.
In 2020, the current limit on contributions was $3,550 for individuals and $7,100 for families. For 2021, the limit on contributions will be $3,600 for individuals and $7,200 for families. Limits on total amounts include any employer contributions.
HSA vs. FSA Withdrawals
The funds in your FSA account are "use it or lose it," which means that any leftover funds at the end of the year are forfeited. You will also lose any remaining funds if you leave the company that sponsored the FSA. Any FSA funds used for qualifying medical expenses (or qualifying child care expenses) are treated as tax-free withdrawals.
The funds in your HSA can be used at any time and the HSA is transferable, even if you change jobs. Any of these funds used for qualifying medical expenses are treated as tax-free withdrawals. Also, after age 65, you can withdraw HSA funds for any reason, and the non-medical expenses are taxed at regular income rates (just like an IRA).
HSA vs. FSA: The Bottom Line
Unfortunately, though the name implies flexibility, FSA accounts are typically very limited. The funds cannot be invested and will be lost at the end of the year if not used.
On the other hand, HSA accounts are extremely flexible, funds can be invested for long-term growth, and you never "lose" your money if it goes unused. As a bonus, HSAs can be treated just like another retirement account after 65.
Overall, an HSA provides better benefits and long-term options. If you have predictable qualifying child care expenses, the FSA could save you money on taxes, but in most cases, the HSA is the better option.