What is Pre-Tax Operating Income?
Pre-tax operating income is a company's operating income before taxes. The formula for pre-tax operating income is:
Pre-Tax Operating Income = Gross Revenue - Operating Expenses – Depreciation
How Does Pre-Tax Operating Income Work?
Let's assume Company XYZ reported the following information for the fiscal year: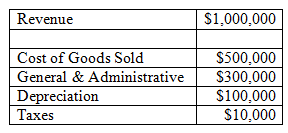 Using the formula and the information above, we can calculate that Company XYZ's pre-tax operating income was:
$1,000,000 - $500,000 - $300,000 - $100,000 = $100,000
Why Does Pre-Tax Operating Income Matter?
Pre-tax operating income is a measure of a company's operating efficiency because it only takes into account expenses that are directly related to ongoing business operations. Note, for example, that it does not include interest expense, which is influenced by the company's leverage decisions, nor does it include dividends or nonrecurring items. And notably, it also excludes taxes, which might vary with a company's capital structure (even if those companies have the same revenues).
Pre-tax operating income is a non-GAAP measure, meaning that what is included and excluded differs by company and industry. Thus, the definition of a "high" or "low" pre-tax operating income should be made within this context.
If You Have at Least $3,000 to Invest, then Follow These 3 Steps
Create a retirement savings goal
Design an investment plan to reach it.
Get a professional money manager to continually monitor and rebalance your portfolio
Sound complicated? Don't stress. Vanguard's new robo advisor service can help you put all of this (and more!) on autopilot, all for an annual gross advisory fee of just 0.20%.
Click here to learn more about Vanguard's new Digital Advisor service.