Long-Run Average Total Cost (LRATC)
Verified Content You Can Trust
At InvestingAnswers, we pride ourselves on quality, research and transparency. All of our content is verified for accuracy by certified financial experts, and we source information only from highly credible academic institutions and financial organizations. 
Certified Experts
All of our content is thorougly reviewed by experienced CFAs, CFPs, and CPAs.
10,000+ Research Pages
Our thousands of comprehensive definitions, articles, and calculators are written in plain, easy-to-understand English.
Trusted by Millions
Every year, 10+ million visitors turn to us for answers to their most important financial questions.
Giving Back
For every visit, we makes a charitable donation to financial education programs for those in need.
Updated August 22, 2020
What Is Long-Run Average Total Cost (LRATC)?
Long-run average total cost (LRATC) represents the average cost per unit of production over the long run.
In this calculation, all inputs are considered to be variable, because, over the long term, no costs are considered fixed. In the long term, businesses can adapt and change elements of the production process, for example, by changing the supply chain, but the effects of those changes are not seen immediately.
Ideally, a company should always be working toward targeting and achieving the lowest LRATC possible. 
How LRATC Works
LRATC should diminish as the company refines its production process and achieves economies of scale.
When the scale of production is expanded, with the same fixed costs spread out over more units, then average costs are reduced, production becomes more efficient, and a company can become more competitive in the market.
LRATC would increase if the company's costs increased, for example, as equipment becomes obsolete and needs replacement. 
LRATC Example
When a company that produces goods is just starting out, the costs of production can be high. However, as the product and production process are refined and volume increased, the costs usually decrease as production becomes more efficient.
Once a company can establish itself, expand its customer base and increase demand, the output required to meet that demand lowers overall cost in the long run.
The calculation can be envisioned as a curve that combines a series of shorter-term curves, showing the lowest costs that a company will be able to reach for any phase of production over time.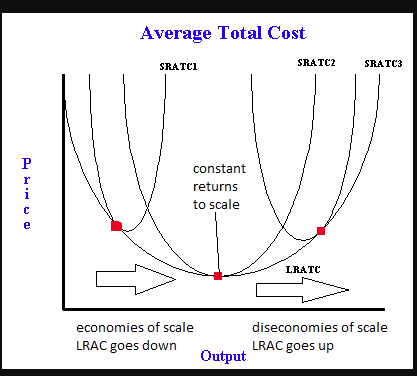 Why LRATC Is Important
Knowing the LRATC curve is helpful in planning for a product's optimal level of production and for assessing a company's competitive advantages.
However, just because a company is able to scale doesn't mean that it will achieve maximum profitability or minimum LRATC. If a process grows past its optimal production level, costs may increase and the operation may lose efficiency. 
Personalized Financial Plans for an Uncertain Market
In today's uncertain market, investors are looking for answers to help them grow and protect their savings. So we partnered with Vanguard Advisers -- one of the most trusted names in finance -- to offer you a financial plan built to withstand a variety of market and economic conditions. A Vanguard advisor will craft your customized plan and then manage your savings, giving you more confidence to help you meet your goals. Click here to get started.