What is a Common-Size Income Statement?
A common-size income statement is an income statement in which each line item is expressed as a percentage of sales.
How Does a Common-Size Income Statement Work?
For example, let's assume that Company XYZ's income statement looks like this: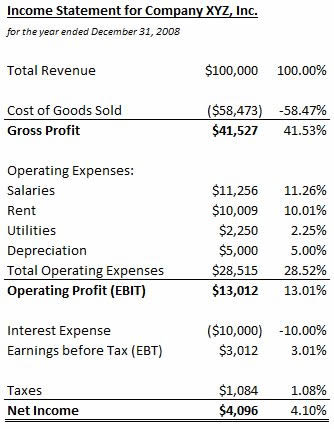 The right side of the income statement, which shows each expense as a percentage of sales, is a common-size income statement.
Why Does a Common-Size Income Statement Matter?
Common-size income statements facilitate easy comparison. Not only can readers easily see how much of every dollar goes to rent, for example, they can compare that percentage to other companies or other periods in time. This allows analysts to compare companies of different sizes and not be "blinded" by the size differences inherent in the raw data.
If You Have at Least $3,000 to Invest, then Follow These 3 Steps
Create a retirement savings goal
Design an investment plan to reach it.
Get a professional money manager to continually monitor and rebalance your portfolio
Sound complicated? Don't stress. Vanguard's new robo advisor service can help you put all of this (and more!) on autopilot, all for an annual gross advisory fee of just 0.20%.
Click here to learn more about Vanguard's new Digital Advisor service.