Most credit cards offer a sign-up bonus as an incentive to choose and use their credit card for your upcoming purchases. The best credit card sign-up bonus will make you feel like you won the lottery with offers that range from free travel to cashback in your pocket.
How Do Sign-up Bonus Cards Work?
Credit card sign-up bonuses (also called introductory offers or welcome offers) come with strings attached. In most cases, you will need to spend a specific amount within the first few months of opening up the card to earn the sign-up bonus.
Every sign-up bonus is different and the rewards come in multiple forms, depending on the type of credit card chosen.
What Kinds of Sign-up Bonus Credit Cards Exist?
Common credit card types with the best sign-up bonuses are cash back, travel rewards, and balance transfer cards. Take a look at the overview of sign-up bonus credit cards below to help you choose one that best fits your needs.
Cash Back Rewards
Cash back credit cards pay you a certain percentage for purchases made on the credit card. Some of these cards offer a higher percentage of cash back on specific purchases (like gas or groceries).
Sign-up bonuses with cash back credit cards are generally in the form of a statement credit or direct cash back. Some cards allow you to use your cash back sign-up bonus for purchases at stores (like Amazon) or have it deposited directly into your bank account.
Travel Rewards
Travel credit cards generally offer rewards in the form of points or miles. Points or miles are based on your purchases, with specific categories earning more points (though this depends on the travel credit card).
Travel reward sign-up bonuses are quite varied. Typically, you'll earn a large number of points or miles (ie. free travel) once the spending requirement is met. Points or miles will appear in the rewards portal within two billing cycles. How you redeem the points depends on the credit card issuer.
Business Cash Back Cards
Business cash back credit cards work the same way as personal cash back cards. The only change is that you must be a business owner to qualify for the card.
The sign-up bonus for these cards is typically cash back (in the form of a statement credit). Like most sign-up bonuses, you can earn the cash by meeting a spending requirement.
If you – or your employees – travel for business, you may want to skip the business cash back rewards card and look for a travel rewards card with a good sign-up bonus.
Balance Transfer Credit Cards
Balance transfer credit cards allow you to move your existing debt onto the new credit card. Any type of reward credit card (cash back or travel) can offer a balance transfer deal.
Most of the time, the sign-up bonus (e.g. cash back) aren't applied based on the balance transfer amount, as you need to make new purchases on the credit card. You should be willing to let go of a sign-up offer with a spending requirement when you want to carry out a balance transfer.
Instead, look for a sign-up offer of 0% APR for a specific period of time. Ideally, when doing a balance transfer, you'll pay off debt while avoiding high interest. Once your debt is paid off, you can consider a new credit card with a sign-up bonus like travel points or cash back.
How to Choose the Best Sign-up Bonus Credit Card
There are plenty of sign-up bonus options from multiple credit card issuers. To make the best decision, here's what you should know about how these credit card sign-up bonuses work:
Qualifying for the Highest Sign-up Bonus Credit Card
You want to qualify for the highest sign-up bonus possible. In most cases, you'll need good-to-excellent credit to get the best offers. You also want to be sure you can meet the spending requirement to receive a sign-up bonus without stretching your budget too much.
If you had the same credit card (or a similar one from the same issuer in the past), you may not be eligible for the sign-up bonus. That's because they're often considered a one-time opportunity. Read over the terms and conditions to make sure you remain eligible.
Evaluating the Annual Fees
Even if you qualify for the highest sign-up bonus, you want to evaluate the annual fee to see if it's worth it.
Let's say the annual fee is $95, the spending requirement is $3,000 in the first two months, and the cash back sign-up bonus is a $250 statement credit. Subtract the annual fee from the statement credit and you'll end up with $155 cash. It's a nice perk, but only if you were already going to spend the $3000 – and can pay it off.
The second part of evaluating an annual fee requires looking at the credit card for long-term use. After all, that fee will come back each year. If you think the regular rewards in travel or cash back will wipe out that fee, it's a good choice. If it won't, it might not be the best sign-up bonus credit card for you.
Why Choose The Highest Sign-up Bonus Card?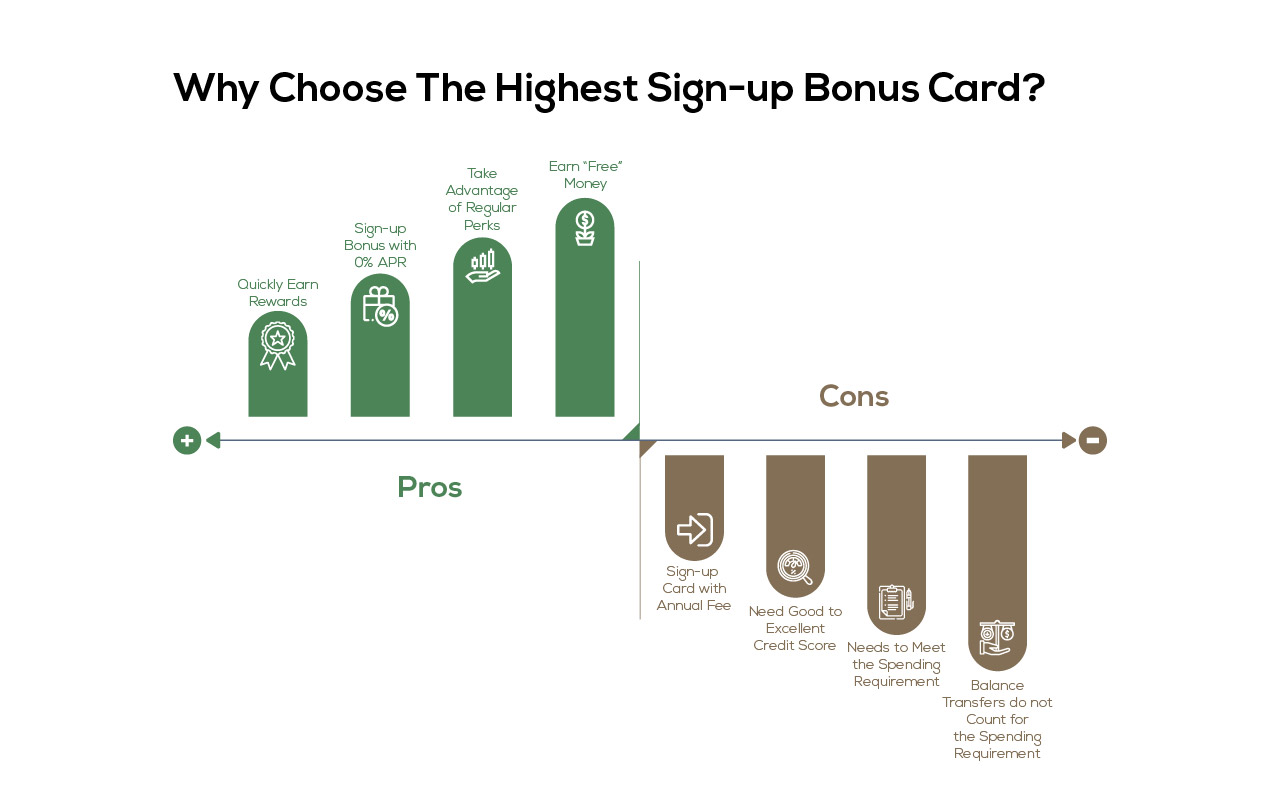 A credit card sign-up bonus is a one-time opportunity, so make sure it's the right decision for your current financial situation. Below are the pros and cons for choosing one:
Pros
You can quickly earn rewards.
You may be able to find a sign-up bonus with 0% APR.
Your credit card will have regular perks (e.g. a flat-rate cash back card) even after you have received the sign-up bonus.
It could be a way to earn "free" money for what you already buy.
Cons
The highest sign-up bonus cards may come with an annual fee and a high regular APR.
You will need to have a good or excellent credit score to get the highest sign-up bonus offers.
You will need to meet a spending requirement within a specific time frame.
Most of the time, balance transfers don't count for the spending requirement.
Get the Most Out of Sign-Up Bonuses
If you strategize your credit card sign-up bonus, you can end up on the rewarding end of a credit card. However, if you can't follow the sign-up bonus rules – or you end up paying interest on the purchases made to meet the spending requirement – a sign-up bonus credit card is not going to work for you.
The best sign-up bonus credit card is one that you can benefit from despite the spending requirements and annual fee.
FAQs About Sign-Up Bonus Credit Cards
Is a $500 Sign-Up Bonus Card Good?
The quick answer is yes: $500 is a great sign-up bonus. In fact, it's the starting point for the upper end of sign-up bonuses (which can go all the way up to $800).
Once you find a bonus that works for you, the way you use it is important. If it has to be redeemed for travel through the site, be sure the card issuer works with the airlines or hotels you want to use. If it comes in the form of a statement credit, be sure you're okay having that cash applied to your credit card balance.
Are Cash Back or Reward Points Better?
One type of reward is not necessarily better than the other. You'll want to choose a card that:
Offers a sign-up bonus you'll use.
Has an easy to understand sign-up bonus program (i.e. the points translate to $750 worth of travel).
Has a spending requirement you can meet.
You're able to pay off each month or within a 0% APR period.
What Can You Do with Your Sign-Up Bonus?
You can use your sign-up bonus in a variety of ways, depending on the credit card issuer and card guidelines. Some of the most common ways to use a sign-up bonus include:
Statement credit
Online shopping
Booking travel
Do I Need to Pay Taxes on a Sign-Up Bonus?
In general, you won't need to pay taxes on a sign-up bonus. You're required to spend in order to receive the bonus so it's non-taxable. If you're concerned, review the fine print in the terms and conditions of the credit card.