Rapid improvements in technology have helped to increase worker productivity, just as healthy global competition has encouraged businesses around the world to work harder and make better products. But there is the inevitable and painful byproduct of free enterprise -- job losses.
As you might expect, many jobs that will be shed over the next decade will be lower-skilled production occupations, such as shoe machine operators and sewing machine operators.
But what's more troubling is that many future job losses will come from middle-class occupations: A disturbing four out of the top five occupations that experienced the fastest job number declines from 2010 to 2020 are middle-class jobs. (On this list, middle-class jobs are defined as professions that have median salaries of $30,000+ per year.)
According to job data from the BLS Occupational Handbook, here are 10 of the fastest declining middle-class jobs (ordered from slowest to fastest decline):
10. Reporters and Correspondents (Journalists)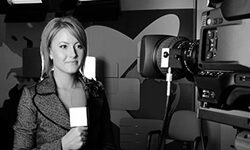 Median Salary: $43,640
Projected Job Losses By 2020: 3,900
Percentage Decline By 2020: -7.5%
Consolidation has been the trend in the news industry. As big news organizations gobble smaller news outlets through mergers and acquisitions, redundant journalists covering the same topics are let go.
But there are more headwinds. Newspaper readership has fallen significantly in recent years, and broadcast news channels' audiences have shrunk. As a result, advertising is harder to sell, and payroll is harder to make. Luckily, there's a bright spot: As Internet readership grows, journalists can expect job opportunities to pop up.
Overall, BLS expects that roughly one in 13 reporters and correspondents will not be in the field by 2020.
9. Farmers, Ranchers and Agricultural Managers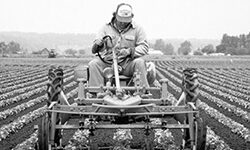 Median Salary: $60,750
Projected Job Losses By 2020: 96,100
Percentage Decline By 2020: -8.0%
Returning from our earlier list of vanishing middle class jobs is one of humanity's oldest professions.
As agricultural technology and fertilizer improve, farmers now produce two and half times more food per acre than they were able to in 1948 -- and fewer acres means fewer farmhands.
In many cases, only corporations and wealthier, more established farmers have been able to afford the land, multi-thousand-dollar machinery, seeds, fertilizer and other chemicals needed. Larger farms dominate the industry and are more cost-efficient than small farms, as they need fewer workers to produce the same amount of food.
Though farming is far from extinct -- smaller organic farms are growing, and there are still more than 1.2 million farmers nationally -- the BLS expects 96,100 fewer farming jobs by 2020, the most job losses of any profession.
8. Computer Operators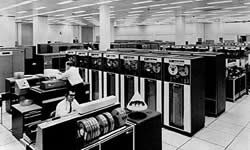 Median Salary: $39,280
Projected Job Losses By 2020: 7,400
Percentage Decline By 2020: -8.6%
This job returns from our earlier list as well.
Decades ago, in the days when data-crunching mainframe computers filled rooms, computer operators would run tests on the machines to ensure they were bug-free and operating smoothly.
Many corporations have swapped mainframe computers for smaller, more efficient personal computers, leading to a dampened demand for computer operators. These specialists do, however, still manage server and backup systems -- vital in getting office computers running again after servers fail or disasters strike.
In 2008, BLS projected the number of computer operator jobs would decline by a depressing 8.6% by 2018.
BLS has revised that projection upward this year, but a still daunting one in 12 computer operators -- 7,400 workers -- won't be in the profession by 2020.
7. Postal Service Mail Carriers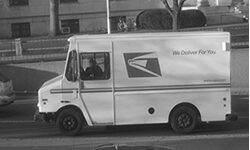 Median Salary: $53,860
Projected Job Losses By 2020: 38,100
Percentage Decline By 2020: -12.0%
The U.S. Postal Service is facing a $15 billion loss this year and nearing bankruptcy after email and automated bill-pay sapped demand for first-class mail delivery. Less mail means less need for deliverers.
In addition, newly automated 'delivery point sequencing' systems sort letter and flat mail more efficiently. That means existing carriers can take up larger routes and fewer carriers will be needed overall. The USPS is also asking communities to use cluster mailboxes so mail carriers don't have to spend time visiting as many doorsteps.
One in eight Postal Service mail carriers -- more than 38,100 workers -- won't deliver mail in eight years.
6. Desktop Publishers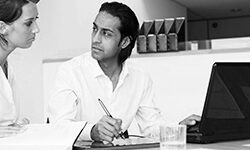 Median Salary: $36,610
Projected Job Losses By 2020: 3,300
Percentage Decline By 2020: -14.7%
Desktop publishers primarily design brochures, advertisements, banners, newsletters and forms. But now with user-friendly software such as Microsoft Publisher and PowerPoint, nearly any office employee can produce similar quality print materials -- even without having a knack for making neat graphics.
For more graphically challenging tasks, companies are utilizing existing graphic designers, web designers and copy editors instead of hiring desktop publishers.
Disappearing at a slightly slower pace than previously projected in 2008, the BLS predicts one in seven desktop publishing jobs will disappear by 2020. Just 19,200 positions will remain.
5. Semiconductor Processors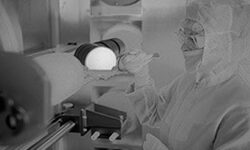 Median Salary: $33,130
Projected Job Losses By 2020: 3,800
Percentage Decline By 2020: -17.9%
Because semiconductors are used in every electronic device on the planet, you'd expect the demand for semiconductors to grow stronger over the next eight years. So why the job losses in that field?
Automation.
As we expect processing chips' speed in our computers and smartphones to increase, the semiconductors on those chips need to become smaller and closer. For example, Intel's latest Ivy Bridge processing chips carry semiconductors that are nanometers apart -- about 100,000 times smaller than the width of a human hair. That's too small for human hands, but it's perfect for a finely tuned machine.
And as with other jobs, the BLS expects many semiconductor processor jobs will be outsourced to countries that can manufacture them more cheaply.
Semiconductor processor jobs were ranked first on our last list of vanishing middle-class jobs, but BLS has considerably revised its projections to show less steep job losses.
It is now expected that one in six semiconductor processor jobs -- or 3,800 positions (down from 10,000 in the previous list) -- will be obsolete by 2020. Only 17,300 positions are expected to remain.
4. Postmasters and Mail Superintendents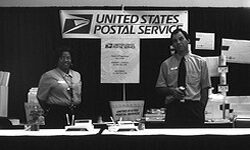 Median Salary: $60,300
Projected Job Losses By 2020: 6,800
Percentage Decline By 2020: -27.8%
With the post office saddled with record losses for the past three years, postal patrons were recently forced to make a decision to either shutter thousands of post offices -- one plan last fall was to close a whopping 3,700 offices -- or drastically cut retail hours.
Communities stressed massive office closures would cause hardship, so decision makers chose the latter option. Some 13,000 post offices will operate under minimal hours -- as little as two hours per day -- by 2014.
Fewer post office openings and operating hours mean the Postal Service won't need as many postmasters and mail superintendents to run shop. Fortunately, most of the job declines will be from attrition -- retirement incentives will be offered and fewer new managers will be hired.
All said, BLS projects that nearly one in three postmasters and mail superintendents will not work at the post office by 2020.
3. Fabric and Apparel Patternmakers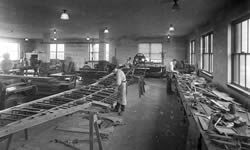 Median Salary: $38,970
Projected Job Losses By 2020: 2,100
Percentage Decline By 2020: -35.6%
Fabric and apparel patternmakers -- who create patterns for curtains, tablecloths, blankets and clothes --have moved from fourth to third place in this updated list of vanishing middle class jobs.
While improved technology has allowed patternmakers to produce more fabrics per person -- thus requiring fewer workers -- the real job killer has been overseas competition. Foreign manufacturers can produce textiles more cheaply and efficiently, making the U.S. textile manufacturing industry one of the nation's fastest declining industries.
A projected one in three patternmakers will be out of the job over the next eight years, leaving 3,900 employed by 2020.
2. Postal Service Clerks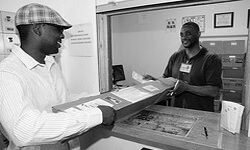 Median Salary: $53,100
Projected Job Losses By 2020: 31,600
Percentage Decline By 2020: -48.2%
Decreased use of first-class mail and the financial troubles of the Postal Service also threaten USPS clerks' positions.With some post office cutbacks on hours (particularly in rural areas), the demand for USPS clerks will not be as robust in coming years.
Once a lucrative middle-class job with excellent benefits, BLS expects that nearly half -- or 31,600 -- of postal mail clerks will retire or be forced to find other work in the next eight years.
1. Postal Service Mail Sorters, Processors and Processing Machine Operators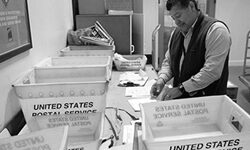 Median Salary: $53,080
Projected Job Losses By 2020: 68,900
Percentage Decline By 2020: -48.5%
Ranked number two on last year's list, mail sorters, processors and processing machine operators carry the unpopular title of the fastest declining middle-class job in America until 2020. What's driving these job losses?
The Postal Service has adopted mail sorting technology that can automatically take hundreds of pieces of mail, read text on the front of each mail item, and sort, forward and process those items quickly for distribution through the complex postal system. In short, fewer human mail sorters will be needed to organize the mail items by hand as this technology is implemented nationwide.
In 2008, the BLS projected that about 30% of the 142,000 USPS sorting jobs would disappear by 2018. But given the multi-billion-dollar losses that the post office has faced, the department has had to revise that decline to a dismal 48.5%.
New projections show that nearly half of all existing USPS mail sorters, processors and processing machine operators -- or 68,900 workers -- will retire or lose their job between 2010 and 2020. That's the second most expected job losses of any profession, only behind farming.
Over a 10-year period, that averages out to 574 job losses per month.
Jobs From Our Previous List That Didn't Make This List
Our previous report, 10 Middle-Class Jobs That Will Vanish By 2018, was based on pre-recession data from the Bureau of Labor Statistics' Occupational Handbook that was released in December 2009. By contrast, the new report uses data from the more recent BLS Occupational Handbook, released in January 2012.
Six of the previous 10 middle-class jobs have returned to this list, but because the economic environment has changed so much, the remaining four occupations have fallen off the list.
Wellhead Pumpers: Originally expected to decline by 28% with 5,300 job losses, the BLS has revised its 2009 estimate, thanks to relatively booming oil production in the United States since then (America is expected to produce nearly half the crude oil it consumes). BLS now expects wellhead pumper jobs to grow by 5%, adding 700 new jobs by 2020.
Paper Goods Machine Setters, Operators and Tenders: Still expected to modestly decline by 6% and shed 5,500 jobs by 2020 due to outsourcing and automation, these operators are not declining as fast as the others on this list of vanishing middle-class jobs.
First-Line Supervisors/Managers of Production and Operating Workers: Thanks to a modest pickup in some parts of U.S. manufacturing, the BLS now expects jobs in this line of work to grow slightly by 2% and add 10,900 new jobs by 2020.
Machinists: Because many of today's students are opting to go to college rather than learn a trade, machinists will be in shorter supply than BLS anticipated. The bureau now expects the number of machinist jobs to grow by 8%, adding a surprising 31,500 new jobs by the end of the decade.

The Investing Answer: No one has a crystal ball. However, before you start a new job, it is important to have a general feel for the current state of the industry which you're about to be part of.
Do your homework. Check out your company's annual report. Read trade publications that cover your industry. Talk with friends who work in the industry.
If things do seem to be going south, you may still want to take the job -- especially if you've been unemployed for some time. However, it may also be a good idea to keep your eyes open for other opportunities, and perhaps get training or develop skills that could help you land a job in a more stable field.
And there will be opportunities. The BLS predicts that there will be hundreds of thousands of good middle-class job openings by 2020. See which professions will fare the best over the next decade in The 7 Fastest-Growing Middle Class Jobs In America.