Have you been thinking about expanding your investment portfolio to include commercial real estate? But have you hesitated due to strict investor requirements, high minimum initial investments, and the high-risk nature of the asset class?

In this Groundfloor Review, you'll learn this is one real estate crowdfunding platform that's truly eliminated most of the barriers to commercial real estate investing. Groundfloor has a low minimum initial investment requirement, is not reserved strictly for accredited investors, and offers one of the lowest risk investments in the real estate crowdfunding space.
What Is Groundfloor?
Groundfloor is a real estate crowdfunding platform that offers only debt-related positions in real estate transactions. You can begin investing with as little as $10 and purchase small slices of loans. Because of the low minimum investment requirement, it's possible to spread a small investment across dozens of different loans.

The platform pre-funds loans on each individual property, then makes fractional slices in those loans available to investors. You'll be investing in limited recourse obligations (LROs). Groundfloor holds the first lien position on each loan, which is backed by the underlying property. You'll be able to choose which projects/loans to invest in, and how much you want to invest in each.

Groundfloor investments center on fix-and-flip real estate deals. Deal sponsors, who are borrowers on the platform, purchase 1-to-4 family residential properties. The properties are then renovated (fixed), then sold (flipped) as soon as they are in a completed state and ready for sale.

Compared with most real estate crowdfunding platforms, Groundfloor investments are relatively short-term in duration. They typically range between 90 days and 12 months, though the term may be longer or shorter on certain deals. Most real estate crowdfunding sites take several years before investments can be fully realized and paid out to investors.

The platform was launched in 2013 and has been providing investors with returns in the neighborhood of 10% per year (10.5% to be exact, according to the company website). It's an opportunity to profit from fix-and-flip transactions, but without all the downside risk such deals usually involve.

Loan to investors are repaid in a lump sum, comprising both principal and interest earned. At the end of the tax year, investors will receive a 1099-INT from Groundfloor.

Located in Atlanta, Georgia, Groundfloor has a Better Business Bureau rating of A+, the highest rating on a scale of A+ to F. And though Groundfloor has been accredited by the BBB since 2015, no complaints have been filed against the company.
Groundfloor's Pros and Cons
Pros:
Begin investing with as little as $10.
The low minimum investment enables investors to spread their funds across multiple deals using only a small amount of money.
Investors can choose the specific deals they invest in.
Unlike many real estate crowdfunding platforms, investors are not required to be accredited investors. That means the platform is open to everyone.
Investors pay no fees to participate in investments offered on the platform.
Groundfloor offers an opportunity to participate in the profitable fix-and-flip real estate business with limited downside risk.
Investments on the platform are short-term compared to other real estate crowdfunding platforms, generally settling within 12 months.
You can make a one-time, lump sum investment, or set up automatic periodic investments.
The Groundfloor Notes feature enables investors to invest in several loans through a single fund.
Available to investors in all 50 states, as well as non-U.S. residents.
Cons:
The lack of equity investing limits investment returns to the interest received on loan notes.
Returns on Groundfloor are lower than many competing platforms, due to the absence of an equity participation option.
Investments are limited to loans on fix-and-flip property deals. No other investment type is offered at this time.
Borrowers can and do default on their loans, creating the risk that investors can lose money on their investments.
Who Can Invest in Groundfloor?
Groundfloor describes itself as "real estate investing for everyone," which is an accurate description. Investing in the platform is open to both U.S. and non-U.S. residents, as well as both accredited and non-accredited investors.

But while U.S. residents can open an account with as little as $10, non-U.S. investors are required to provide a minimum of $5,000.

You can sign up for an account on the Groundfloor website. Once you open your account, you'll need to link an external bank account to fund your investor account. You can link more than one external bank account for funding purposes.

Once funds are transferred to your account from your bank, it can take between three and five business days for the transfer to be completed. You can begin investing once the funds have cleared your Groundfloor account.
Are you a non-accredited investor? You may also want to check out our Fundrise review.
What Makes Groundfloor Different?
Unlike many financial products and investments, real estate crowdfunding platforms are hardly standardized. Similarities are limited to the crowdfunding aspect, and the fact that investments center on real estate. Otherwise, each platform is unique. That is especially true of Groundfloor.

Here are the factors that make Groundfloor different from the competition:
1. Very Low Minimum Initial Investment
While some real estate crowdfunding platforms require a minimum initial investment ranging from $500 to $50,000 or more, you can begin investing with just $10 with Groundfloor. There may be some real estate crowdfunding platforms with a similar minimum initial investment, but none are lower.
2. No Accredited Investor Requirement
If the $10 minimum required investment doesn't open Groundfloor to nearly every investor, the absence of an accredited investor requirement certainly does.
3. No Fees to Investors
It's not that Groundfloor is the only real estate crowdfunding platform that doesn't charge fees to their investors, but it is uncommon. Most platforms charge fees, and that's one of the factors that sets Groundfloor apart.

Groundfloor doesn't charge any fees for investors to use the platform. All fees are paid by borrowers, and range between 2% and 4.5% of the loan proceeds. Borrowers also pay a $250 application fee, as well as $1,250 in closing costs. Interest rates paid to investors are net of borrower-paid fees.
4. IRA Accounts
While it's true some real estate crowdfunding platforms do offer IRAs, not all do. Groundfloor can be used within an IRA which will enable you to hold real estate related investments in your retirement account.

However, you won't be able to hold Groundfloor investments in a typical IRA account. Popular investment brokerages, like Fidelity, Charles Schwab, Ally Invest, and E*TRADE can't accept this type of investment because it is not publicly traded.

Instead, you'll need to open a dedicated self-directed IRA (SDIRA) designed specifically to hold alternative assets. Groundfloor works with an IRA custodian, IRA Services Trust, to set up an IRA for both businesses and individuals.

Apart from the difference in IRA custodians, SDIRAs function the same way as any other IRA. That includes tax deductibility of annual contributions, tax deferral of investment earnings, and penalty-free distributions after reaching age 59 ½.
5. Groundfloor Investments
Most real estate crowdfunding platforms offer equity investments. Groundfloor does not. The sole investment offered on the platform is shares of notes provided to real estate entrepreneurs to engage in fix-and-flip deals. The fix-and-flip aspect of Groundfloor would be even more notable if investors could hold equity positions in the deals. But the fact that they can participate through loans is a unique feature.

Loans offered by Groundfloor carry fixed interest rates and are secured by a pool of loans held by the platform. Maturity dates are specific to each note, and usually mature in 30 days, 90 days, or 12 months.
Groundfloor loan parameters are as follows: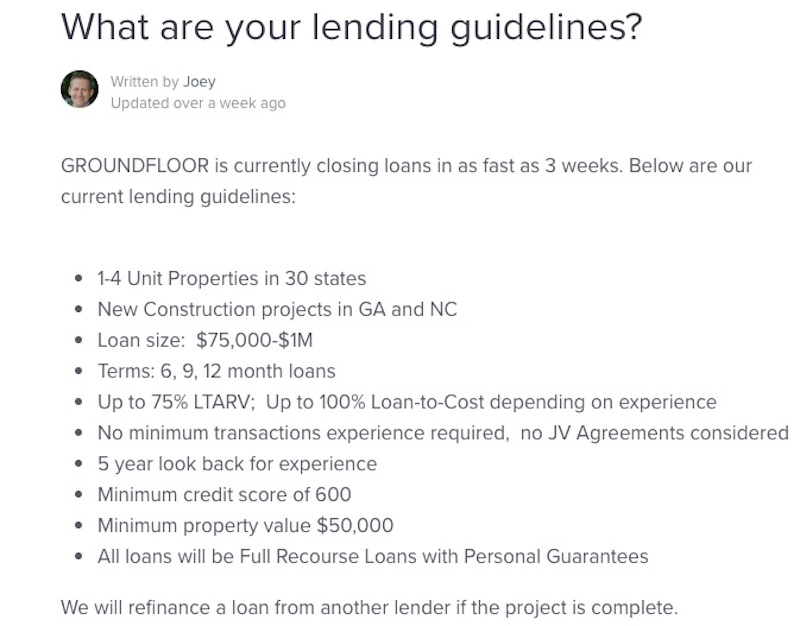 (SOURCE: Groundfloor)
Groundfloor obtains monthly status updates on each project from the borrowers. This minimizes potential last-minute surprises. Each loan has a schedule for completion of the renovation work, as well as listing the project for sale. An independent inspector can be sent to the property to check on the status of the work being performed. Inspections are required prior to the issuance of any draws provided to the borrower.

If a loan goes into default, investors will continue to earn interest until the loan is paid in full. Default interest may be added to the loan and paid to investors. Groundfloor makes every effort to provide a resolution on defaulted loans that will provide maximum recovery in the shortest amount of time. Foreclosure is considered to be a last resort only.
6. Investment Grading
Groundfloor uses a standardized grading system to rate the risk involved in the deal, as well as setting the interest rate it will pay to investors.

Similar to personal loan crowdfunding platforms, like Prosper and LendingClub, the borrower (deal sponsor) submits an application to Groundfloor for financing. Groundfloor reviews and underwrites the loan, and assigns each a letter grade based on risk, ranging from A (highest) to G (lowest).

The interest rate charged on each loan will vary by the letter grade it receives. At the low end, a loan with an A grade will pay as little as 5.5%, ranging up to as high as 26% for loans carrying a G grade.

Part of the grading system is based on how much money the borrower has invested in the deal. Groundfloor considers "skin-in-the-game" as an important factor in loan grading, given that a borrower with a substantial investment will be less likely to default. The more the borrower has invested, the higher the grade that will be assigned.

When you receive a loan repayment (after a deal has been completed), the funds are placed in your Groundfloor Invest Account. You can withdraw the funds or reinvest them in new loans, 4 to 5 business days after they post to your account.
7. Short Investment Time Horizon
With most real estate crowdfunding platforms, you're expected to remain invested for the full term of an investment. That's true with Groundfloor as well, but the deals close in much less time than with other real estate crowdfunding platforms.

The typical timeframe for an investment on real estate crowd platforms ranges from five years to 10 years and can even be longer. It's completely understandable given that commercial real estate investments are long term in nature, and usually take several years for full realization.

The difference with Groundfloor is the nature of the underlying investments. Since the loans are investments in fix-and-flip property deals, investment terms are typically one year or less. That's because there's no holding period with fix-and-flip deals. Properties are purchased, renovated, then sold for a profit as soon as possible.
Want more? Check out all of the best real estate crowdfunding sites.
Is Groundfloor a Good Investment?
Real estate is an excellent diversification within a balanced portfolio that also includes stocks, bonds and cash equivalents. This may be especially true in the case of Groundfloor. Since the company offers high interest on what are essentially short-term notes secured by real estate, an investment with the platform can be a superior way to add a high-income component to a portfolio.

Groundfloor offers what is also an uncorrelated investment. Fix-and-flip deals are driven by entrepreneurs operating in local markets and are not directly affected by the ebb and flow of the financial markets. It's possible you'll be earning steady interest even if the stock market goes into a long-term bear cycle.

The fact you can invest as little as $10 gives you control over the amount of risk you'll be taking with your investment. Since Groundfloor uses a grading system that both sets the interest rate on loans and indicates the risk level of each, you can choose a higher risk/higher return note, or lean in favor of lower risk/lower return notes.

Groundfloor gives you plenty of flexibility to manage your investments and welcomes investors of all financial profiles. It's a solid choice if you've been looking to diversify part of your portfolio into commercial real estate.
Want more info? Check out Groundfloor today.
References:
https://groundfloor.us/
https://www.nasdaq.com/glossary/l/limited-recourse
https://www.forbes.com/sites/forbesfinancecouncil/2019/05/29/fix-and-flip-what-it-is-and-how-you-can-make-the-most-of-one/?sh=6ac3fcb814f6