Updated October 18, 2020
What is a Venn Diagram?
A Venn diagram is an illustration of common characteristics.
How Does a Venn Diagram Work?
Named after John Venn, a Venn diagram is often little more than two or more overlapping circles (you can use other shapes, too). The places where the circles overlap indicate where items have something in common.
For example, let's say you want to compare the players in the mobile phone industry as The Atlantic did in a piece by Alexis Madrigal: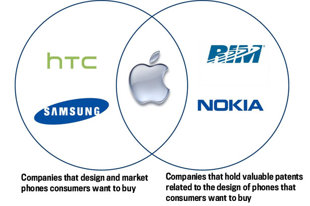 Why Does a Venn Diagram Matter?
Venn diagrams can simplify and summarize analyses considerably. They help cut through the clutter and show the essence of a comparison or argument.
Personalized Financial Plans for an Uncertain Market
In today's uncertain market, investors are looking for answers to help them grow and protect their savings. So we partnered with Vanguard Advisers -- one of the most trusted names in finance -- to offer you a financial plan built to withstand a variety of market and economic conditions. A Vanguard advisor will craft your customized plan and then manage your savings, giving you more confidence to help you meet your goals. Click here to get started.