What is Sector Rotation?
Sector rotation is a strategy based on moving investments across business sectors to take advantage of cyclical trends in the overall economy.
How Does Sector Rotation Work?
The basic idea behind sector rotation is that the economy operates in cycles. At various points in the cycle, certain business sectors will perform better than others. For example, consumer discretionary stocks are most attractive during the early stages of an economic recovery when consumer demand begins to build.
A sector rotation strategy divides the economy into various sectors, as shown in the diagram below. Sector rotation also assumes four stages in the business cycle: early recovery, recovery, early recession and recession. Various sectors become more or less attractive at different stages in the cycle.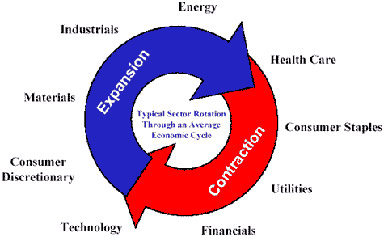 Source: Business Week
Why Does Sector Rotation Matter?
The strategy suggests investors can generate profits by watching the business cycle and buying or selling stocks based on how they perform at each stage in the cycle.
However, investors should recognize that sector rotation is a general theory based on past stock market performance and that there is no guarantee that any particular stock will follow these patterns in the future.
[InvestingAnswers Feature: Sector Rotation - Find the Best Stocks to Buy Now.]
If You Have at Least $3,000 to Invest, then Follow These 3 Steps
Create a retirement savings goal
Design an investment plan to reach it.
Get a professional money manager to continually monitor and rebalance your portfolio
Sound complicated? Don't stress. Vanguard's new robo advisor service can help you put all of this (and more!) on autopilot, all for an annual gross advisory fee of just 0.20%.
Click here to learn more about Vanguard's new Digital Advisor service.