What is the Phillips Curve?
The Phillips curve refers to the theory that unemployment rates relate inversely to inflation rates.
How Does the Phillips Curve Work?
Proposed by British economist A. W. Phillips, the Phillips curve graphically expresses an inverse correlation between an economy's unemployment rate and inflation rate as shown below: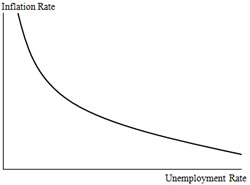 Phillips posits that low levels of unemployment lead to higher prices. As more people become employed, wage levels increase. Broad increases in wages lead to higher demand for goods and services. This upward shift in demand results in higher prices (also called demand-pull inflation).
Why Does the Phillips Curve Matter?
The Phillips curve comprises two economic variables which monetary policy-makers are responsible for maintaining at low levels: unemployment and inflation. The inverse nature of the Phillips curve shows that maintaining a low level in either one leads to a likely increase in the other. For this reason, monetary strategists and policy-makers need to strike an effective balance between inflation and unemployment.
Personalized Financial Plans for an Uncertain Market
In today's uncertain market, investors are looking for answers to help them grow and protect their savings. So we partnered with Vanguard Advisers -- one of the most trusted names in finance -- to offer you a financial plan built to withstand a variety of market and economic conditions. A Vanguard advisor will craft your customized plan and then manage your savings, giving you more confidence to help you meet your goals. Click here to get started.