What is an L-Shaped Recovery?
An L-shaped recovery refers to substantial losses in economic growth followed by a period of stagnation. Represented graphically, GDP data looks like the letter "L."
How Does an L-Shaped Recovery Work?
For example, suppose country ABC experiences a decline in gross domestic product (GDP) from $100 billion to $80 billion between 2002 and 2003. If country ABC's GDP remains at $80 billion until 2008, the country experienced an L-shaped recovery as shown below: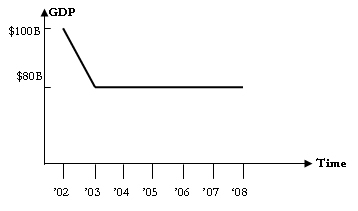 Why Does an L-Shaped Recovery Matter?
The most famous example of an L-shaped recovery is that experienced by the Japanese economy through the 1990s and beyond. Following an abrupt decline in productivity, Japan's economy was plagued by stagnant productivity for several consecutive years.
If You Have at Least $3,000 to Invest, then Follow These 3 Steps
Create a retirement savings goal
Design an investment plan to reach it.
Get a professional money manager to continually monitor and rebalance your portfolio
Sound complicated? Don't stress. Vanguard's new robo advisor service can help you put all of this (and more!) on autopilot, all for an annual gross advisory fee of just 0.20%.
Click here to learn more about Vanguard's new Digital Advisor service.