What is a Gas Guzzler Tax?
The purpose of the gas guzzler tax is to discourage the manufacture of inefficient cars. The sticker on a new car should disclose the amount of gas guzzler tax that a manufacturer has paid on a car. Trucks, SUVs and minivans are not subject to the tax, allegedly because the Energy Tax Act was passed when these types of vehicles were not traditional passenger vehicles.
How Does a Gas Guzzler Tax Work?
The Energy Tax Act of 1978 established the gas guzzler tax. Trucks, minivans and sport-utility vehicles are exempt from the tax. Auto manufacturers pay the tax directly to the government, though they often pass this tax on to the car buyer.
The tax is based on a formula that weights fuel economy based on 55% city driving and 45% highway driving. It is also based on the number of gas guzzler vehicles sold in a particular year. Generally, cars that get fewer than 22.5 miles per gallon incur the tax.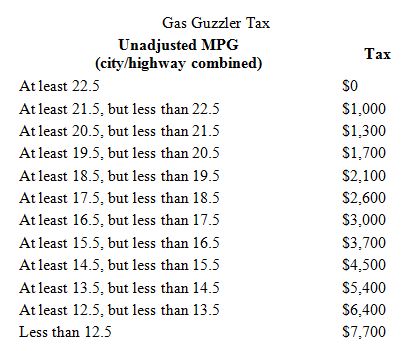 Why Does a Gas Guzzler Tax Matter?
A gas guzzler tax is a tax on the sale of cars with poor fuel economy.
Personalized Financial Plans for an Uncertain Market
In today's uncertain market, investors are looking for answers to help them grow and protect their savings. So we partnered with Vanguard Advisers -- one of the most trusted names in finance -- to offer you a financial plan built to withstand a variety of market and economic conditions. A Vanguard advisor will craft your customized plan and then manage your savings, giving you more confidence to help you meet your goals. Click here to get started.