Flat Yield Curve
What is a Flat Yield Curve?
Flat yield curve refers to a yield curve which reflects little or no disparity between short-term and long-term interest rates.
How Does a Flat Yield Curve Work?
A flat yield curve is essentially a horizontal line representing similar yields for short-term and long-term debt securities in the same credit category, as shown below: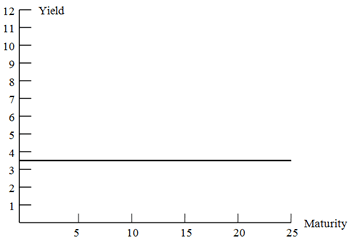 Under these circumstances, for instance, a bond with a 30-year term would have virtually the same yield as a similarly-rated bond with only a five-year term.
Why Does a Flat Yield Curve Matter?
Personalized Financial Plans for an Uncertain Market
In today's uncertain market, investors are looking for answers to help them grow and protect their savings. So we partnered with Vanguard Advisers -- one of the most trusted names in finance -- to offer you a financial plan built to withstand a variety of market and economic conditions. A Vanguard advisor will craft your customized plan and then manage your savings, giving you more confidence to help you meet your goals. Click here to get started.