What is a Downstream?
Downstream refers to the benefits (or costs) that will ultimately result from decisions made today.
How Does a Downstream Work?
In finance, a series of investments might be made with the anticipation that at a point in time in the future these efforts will yield a series of returns.  These returns occur after the initial investments.  As a result, they are referred to as downstream benefits.  Similarly, investments can have downstream "costs" as well.   The expectation is that the downstream benefits will outweigh the downstream costs.
At the same time, because the future is hard to predict, downstream effects are often unanticipated, setting off unintended costs and consequences.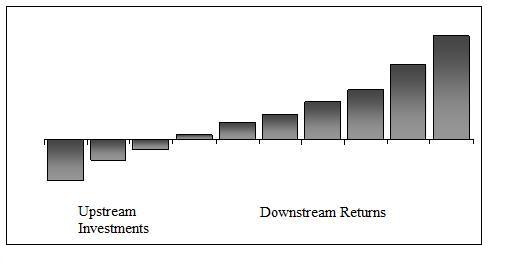 Why Does a Downstream Matter?
 It is important to consider the "downstream" effects of an investment decision since it will impact ones future economic performance.
If You Have at Least $3,000 to Invest, then Follow These 3 Steps
Create a retirement savings goal
Design an investment plan to reach it.
Get a professional money manager to continually monitor and rebalance your portfolio
Sound complicated? Don't stress. Vanguard's new robo advisor service can help you put all of this (and more!) on autopilot, all for an annual gross advisory fee of just 0.20%.
Click here to learn more about Vanguard's new Digital Advisor service.