Best Travel Rewards Cards
It's amazing to board a plane or check into a hotel knowing that you won't be paying a dime. The best travel rewards credit cards make this possible. If you're ready to plan your next vacation or business trip, the travel rewards guide below will give you the essential information you need to choose the best card for you.
How Do Travel Rewards Cards Work?
Depending on the kind of travel rewards credit card, you can earn points or miles when you:
Use your card for your regular spending.

Strategically use your card for purchases that offer a higher reward rate. For example, some travel reward cards offer 3x the points when you spend in a specific category like restaurants.

Find a travel rewards card with a big sign-up bonus. You will need to meet a spending requirement in order to receive the sign-up bonus.
When you have earned enough points or miles, you can redeem them for your next trip. This is done through the credit card issuer rewards portal.
How Do Travel Rewards Work?
There are two main flavors of travel card rewards: points and miles. Earning and redeeming these points might seem tricky until you know what to look for.
Travel Reward Points
Points are a common type of travel reward. Look for a high reward rate with an easy-to-understand point redemption system.
A high reward rate typically involves:
Extra points for certain purchases in a specific category (such as 5 points per $1 spent on travel).

A high-value flat rate (such as 2 points for every dollar spent).

A combination of these two offers.
Earning points isn't everything though: You also want to make sure that points convert for a fair redemption rate. Generally speaking, your points should be redeemable for at least $0.01 per point in value. Some rewards points are actually worth more than their dollar equivalent if redeemed through the credit card's preferred booking system. For example your points may be worth 20% more than the cash equivalent if spent on travel through that credit card's reward site.
Transferable Points Are the Best
Transferable points are flexible and make rewards very valuable. The best point travel rewards card should have the option to transfer points. This can take one of two forms:
Points transfer to "cash" and are applied to your balance for eligible travel purchases, or

Moving points to a "transfer partner" (which may include other airline and hotel companies).
Travel Reward Miles
Just like points, airline miles are earned when you use the credit card. If you fly often, this type of travel rewards system might benefit you best – as long as you find a high reward rate.
A high reward rate for airline mile credit cards is 1 mile for every $1 spent on normal purchases, combined with a higher rate for purchases in specific categories (i.e. 3 miles per $1 spent on travel).
Most of the time, travel credit cards that offer miles are co-branded travel rewards cards. This means they are offered by a credit card issuer (like Chase or American Express) who have partnered with an airline like Delta or Southwest. Miles earned on these credit cards can only be used with that specific airline or an airline transfer partner. Before you sign up for a miles travel rewards card, make sure the airline offers flights to your desired destinations.
How to Choose the Best Travel Rewards Credit Card
To choose the best travel rewards credit card, you'll need to compare multiple cards. The most important features to take note of are the introductory offers, rewards rates, travel perks, and annual fees.
1. Find the Best Introductory Offer for Your Next Trip
Introductory offers (or sign-up bonuses) are what make so many travel reward cards worth it. The opportunity to earn a huge amount of points or miles can make your next trip close to free.
The trick is to find a travel credit card with a high-value sign-up offer and a spending requirement you can easily meet with regular purchases. You don't want to end up in credit card debt just to earn a sign-up bonus!
2. Review the Rewards Rate
The rewards rate should be high enough that you can accumulate points or miles at a reasonable rate (i.e. 1 point/mile per $1 or more).
You'll also want to choose a card that gives rewards in an area you spend often. This way, you can earn as many points as possible. That could be a card with a high flat rate for all purchases or a card that rewards in a specific category.
For example, if you spend regularly at restaurants and a travel card offers 3x the points for every dollar spent dining out, this might be your perfect match.
3. Check out Travel Perks
Travel rewards credit cards allow you to earn free travel credit and perks. A few perks may include:
Elite status with a hotel chain or airline

Airport lounge access

A Companion Pass (that allows you to take a friend on a flight for free)

Free checked bags

Free stays at hotels for a certain number of nights

No foreign transaction fees
While these perks are a major plus, your choice of travel credit card should really be influenced by the rewards rate and introductory offer. Also, to state the obvious, the value of the benefits from a travel rewards card is highly dependent on how much you anticipate travelling.
4. Don't Forget About the Annual Fees
Travel credit cards may have an annual fee attached. The fee can range from $90 all the way to $400+ for premium cards.
No one wants to pay a fee, but in some cases, the travel credit card's annual fee might be wiped out by rewards. See what the credit card offers and if you'll use all of the perks (plus sign-up bonus) before making your decision.
Note: If you can't stomach the thought of paying to maintain a card, it's also possible to find zero annual fee travel reward credit cards.
Why Choose a Travel Rewards Card?
Debating between a travel rewards and another type of credit card? These pros and cons should help you make a decision.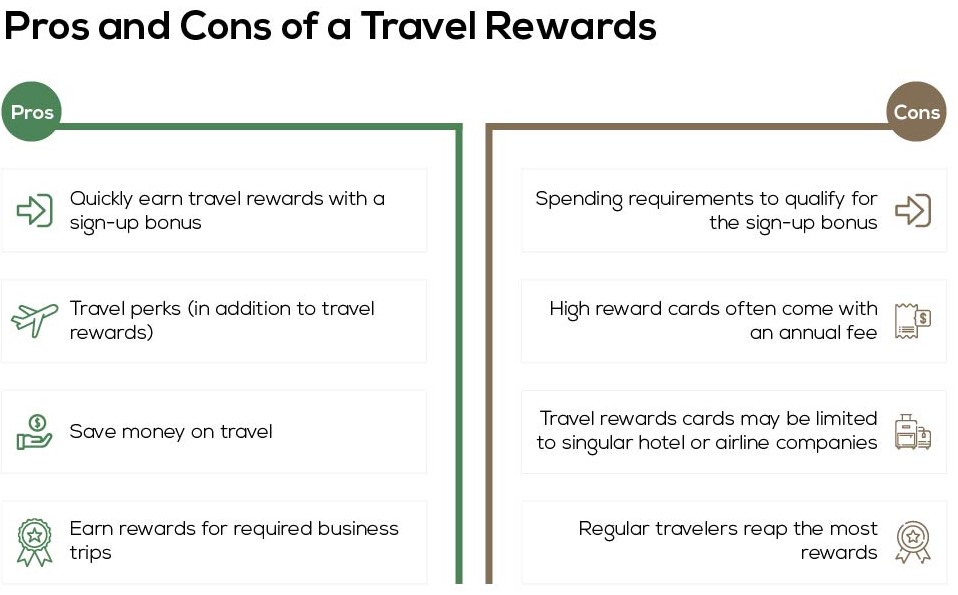 How to Benefit from a Travel Rewards Cards
In order to get the most out of your travel reward credit card, you will want to follow these 4 steps.
1. Get the Sign-up Bonus
The sign-up bonus is a huge part of why you would apply for a new travel credit card. Make sure you are eligible for the card's offer and that you can meet the requirements to earn said offer.
2. Use the Card Regularly
The more you use your travel reward credit cards, the more you'll accumulate points or miles. Also be sure to use the card for purchases that offer a higher reward rate.
3. Pay off your Credit Card Balance
While you should use your card for your regular purchases (to earn the most rewards), you need to be able to afford it. Pay off the credit card balance at the end of each month. Additionally, restructure your money management to keep cash in your bank account in order to pay off your card.
4. Redeem Your Rewards for Travel
Travel rewards cards are meant to be redeemed on travel for the biggest benefit. While some card issuers will allow you to redeem points for a statement credit or online purchases, it's usually at a less valuable ratio. Redeeming points or miles for anything other than travel means you're not getting the optimal value for your hard-earned rewards.