Getting something back for spending money? Cha-ching! Reward credit cards give you something back every time you use the card.
Our experts have compiled everything you need to know about choosing a rewards credit card – and raking in the benefits for purchases you already make.
How Do Rewards Cards Work?
Credit card rewards are incentives that encourage cardholders to use their cards more often. Generally, the more you utilize your credit card, the more rewards you earn.
You can redeem these rewards for many things – including travel and cash – in the form of a check or statement credit. Many reward credit cards offer higher redemption values in specific categories. That's why the type of rewards credit you choose should:
Reward you for what you spend the most on and,
Offer a way to redeem the rewards that benefits you
The 3 Kinds of Rewards Credit Cards
Reward credit programs come in many forms, the most common being:
1. Cash Back Reward Cards
Cash back rewards are probably the easiest to understand as they have a straightforward system. For each purchase you make, you earn a percentage of cash back.
Cash back reward rates come in one of the following categories:
Flat Cash Back Rate
The Citi® Double Cash Credit Card is an example of a flat rate cash back rewards card. It offers 1% cash back for every dollar you spend and 1% cash back for every dollar you pay on your balance.
Tiered Cash Back Rate
This type of card has a standard flat rate and special cash back rates in specific categories. For example, the Blue Cash EverydayⓇ Credit Card from American Express offers 3% cash back at US supermarkets, 2% cash back at US gas stations, and 1% back on other purchases. (Terms Apply)
Tiered Cash Back Rate That Changes
Some credit cards may offer tiered cash back rates in categories that change periodically. For example, the Discover ItⓇ Cash Back Credit Card offers 5% cash back in categories like groceries, gas, and online shopping. These categories rotate each quarter.
How to Redeem Cash Back Rewards
Redeeming the cash back rewards depends on the credit card issuer. Generally, you can redeem them in one of the following ways:
Statement credit
Check
Direct Deposit
Some credit card issuers even have the option to redeem your cash back with an online retailer like Amazon.
Who Cash Back Reward Cards Are Best for
Cash back reward cards are best for everyday spenders who want a simple and straightforward rewards program.
Tiered cash back credit cards can be especially rewarding if you find a card with a high cash back reward for areas you spend regularly. If you do not spend regularly in one category, then a flat-rate cash back reward credit card may be a better option.
2. Point Reward Cards
Point reward credit cards allow you to earn points for every purchase you make. With many point reward cards, purchases in certain categories earn you even more points. For example, the Chase Sapphire PreferredⓇ Credit Card offers 1 point per dollar spent on all purchases and 2x points on travel and dining at restaurants worldwide.
Points are common with travel reward credit cards, but they aren't exclusive to them. The Citi Rewards+℠ Card has a point rewards system though it's not considered a travel reward card. This card offers 1 point per dollar spent and 2x points at supermarkets and gas stations. You can redeem the points for travel rewards or gift cards.
What to Look for in a Point Reward Card
Credit card points are a common type of rewards program, but they can be a bit tricky to navigate if you don't know what to look for.
Before you apply for a point reward credit card, be sure you understand how to earn points and redeem points. In most cases, you'll be able to redeem points for their highest value on specific items (like travel).
For example, the Ultimate RewardsⓇ points earned on the Chase card carry 25% more value when they're redeemed for travel (instead of another redemption option like statement credit).
Who Point Reward Cards Are Best for
If you're a frequent traveler, the point reward cards can be especially valuable (if this is the case, Chase cards with Ultimate RewardsⓇ points should be at the top of your list).
Looking at a point rewards card that isn't a travel credit card? Make sure you understand the earning and redemption systems. Next, compare these types of cards to cash back reward credit cards to see which one is a better fit for you.
3. Mile Rewards Cards
Just like points, you can earn airline miles when making purchases with certain reward credit cards.
How Mile Reward Cards Work
Most of the time, reward credit cards which offer miles are co-branded travel rewards cards. This means that they're offered by a credit card issuer who has partnered with an airline. The Delta SkyMiles® Gold American Express Card or the Southwest Rapid Rewards® Plus Credit Card (issued by Chase) are examples of co-branded travel rewards cards.
Miles earned on these credit cards can only be used with that specific airline or an airline transfer partner. Before you sign up for a miles travel rewards card, make sure the airline flies to your desired destinations.
What is a Good Mile Reward Rate?
You'll also want to check the reward rate for airline mile cards. A high reward rate is 1 mile for every $1 spent on normal purchases (just like with points). This combined with a higher rate for purchases in specific categories – like 3 miles per $1 spent on travel – is a decent reward rate.
Who Mile Reward Cards Are Best for
If you regularly fly with a specific airline, this type of travel rewards system might benefit you most – as long as you find a high reward rate.
Note: If you're a business owner, you can find business rewards credit cards in the same reward categories (i.e. cash back, points, and miles) listed above.
How to Choose the Best Rewards Credit Card
Choosing a rewards credit card isn't an easy task since there are plenty of options. The most important considerations are as follows:
1. Check the Annual Fee
Annual fees are often attached to high reward credit cards. They're pesky and you should make sure that they won't set you back. It's only worth paying if the rewards outweigh the cost. If they don't, sidestep the annual fee and choose a reward credit card without one.
2. Review the Credit Requirements
The best reward credit cards are only available to those with good to excellent credit. This may be great news for you if you fall within that range. However, if you have bad to fair credit, you're not totally out of luck: There are plenty of secured credit cards with rewards, like the Discover it® Secured which offers cash back rewards.
Before you choose any reward credit cards, always review the eligibility requirements to see if you qualify.
Analyze your Own Spending
You'll want to review your own monthly spending and financial situation for two reasons:
A. You want to be able to meet a spending requirement for a sign-up bonus.
Many credit cards offer a sign-up bonus when you first apply. This is a major perk but it does come with a minimum spending requirement to get that reward. If making all your purchases on the rewards card will allow you to earn the sign-up bonus, great! If not, find another credit card.
B. You don't want to get into credit card debt.
Reward credit cards are only 'rewarding' if you can afford to pay off your credit card each month. If the spending requirement for a sign-up bonus is so high it will put you in debt – or you haven't been able to regularly pay off your credit card balance – a rewards card may not be the right choice for you.
Why Choose a Rewards Card?
Rewards credit cards can be valuable, but only if you're fully informed and know the pros and cons:

How to Benefit from a Rewards Card
To benefit the most from your rewards card, choose one based on the type of spender you are.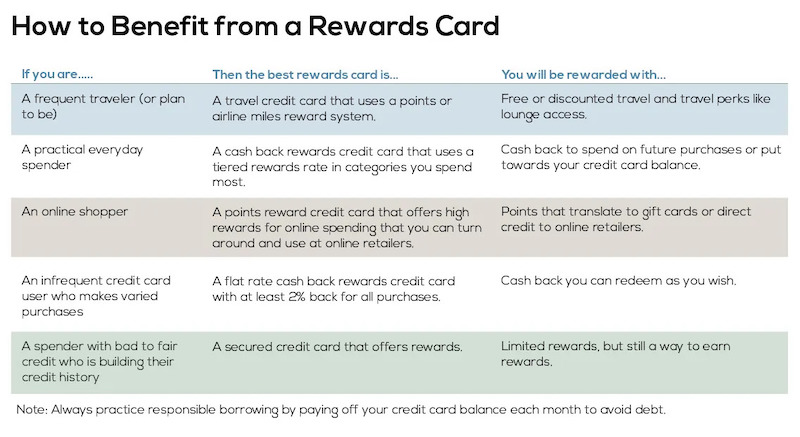 Note: Always practice responsible borrowing by paying off your credit card balance each month to avoid debt.