Find and Compare Life Insurance Rates
How Do I Compare Life Insurance Quotes?
Before selecting a life insurance policy, it's wise to understand all of the options available to you. Though reviewing the rates of several life insurance companies can be time-consuming, you could end up saving a significant amount of money in the long-term. You can elect to have a life insurance broker shop around on your behalf. They will review multiple life insurance carriers for the best rates for your desired coverage.
Depending on the company you choose, policy prices can vary based on age, gender, and health history, as well as coverage terms and death benefits.
Top Life Insurance Companies
With so many life insurance companies to choose from, we've compiled a list of the top life insurance companies.
AARP Life Insurance
AARP Life Insurance offers members both term and permanent group coverage with no physical exams required. Acceptance is based on answers to health questions and other information you provide. AARP offers instant quotes when applying online.
Colonial Penn Life Insurance
Colonial Penn Insurance offers affordable coverage no matter your age. Policies include renewable term life insurance, permanent whole life insurance, and guaranteed acceptance life insurance. The company also allows you to collect up to 50% of your benefit through an early payout option should you become seriously ill. Colonial Penn has been in business for over 63 years.
Prudential Life Insurance
Prudential Life Insurance understands that everyone's needs are different and therefore offers several policies to meet each unique situation. Policies include term, universal life, survivorship universal life, and variable universal life insurance. The company gives you access to money if you become sick. They also give you the opportunity to minimize or offset taxes, and protect your business when you pass away.
New York Life Insurance
New York Life Insurance has spent 175 years helping people financially protect their families. Its term life insurance policy offers an affordable life insurance option with a pathway for permanent coverage for those just starting out. It also offers plans with further flexibility (such as variable universal life insurance), which includes lifetime protection with market-based growth potential. New York Life provides access to a financial professional to help customize plans. 
Everyone wants to know that their family will be taken care of once they're no longer there to provide for them. Life insurance is a great option for individuals whose families depend on them to pay bills, fund college, or even keep the family business going.  
This article breaks down the different types of life insurance policies and reviews how to choose the best policy for you and your family.
Let's Review The Basics: What Is Life Insurance?
Life insurance is a legally binding contract between an insurance company and policy holder. It financially protects your loved ones by replacing lost income and paying off debts after you pass away (when the insurance company pays a sum of money to the beneficiaries). To guarantee that beneficiaries receive this money, the conditions of the contract must be met and the premiums paid.
How Does Life Insurance Work?
Depending upon the type of life insurance, a policyholder makes a lump sum payment or pays regular premiums throughout their lifetime. Once it is determined that all conditions were satisfied, beneficiaries will receive a lump-sum payment upon the death of the insured person.
What Is Term Life Insurance?
Term life insurance guarantees that the insurance company will pay the death benefit if the insured person dies during a specified term. Payments are fixed for a limited amount of time, and once the policy term expires, the previous premium rate is no longer guaranteed. 
Policyholders can convert the policy to permanent coverage, terminate the life insurance policy, or renew it for another term. If a policyholder chooses to renew, they should expect that the new policy entails different payments and conditions.
Policyholders usually choose this option when they are looking for coverage during a time they know a dependent will be under their care (e.g. raising a child, paying off the mortgage with a spouse).
Term life insurance is a less expensive policy that still provides significant coverage. The insurance premiums are based on the age, health, gender, and/or life expectancy of the insured person.
What Is Whole Life Insurance?
Whole life insurance (also known as "straight life") guarantees that the insured person is covered for their entire lifetime – as long as the conditions of the contract are met and the premiums are paid.  
Whole life insurance premiums are typically higher than those of term life insurance, and this type offers an investment savings element that allows cash to accumulate.
Dependent care is also taken into consideration when choosing whole life insurance. If you have a life-long dependent, such as a child with special needs, you can work with an attorney to ensure the life insurance policy is used to create a special needs trust for your child.
Term vs. Whole Life Insurance: How Do I Choose?
There are many benefits to term and whole life insurance: If you purchase level-term insurance (term or whole), they both have premiums that generally stay the same and payout is guaranteed when the terms of the contract are met.
If you're looking for a policy with a low premium that will only last for a specified period of time, term life insurance is a great option.  If you want lifelong coverage that accumulates cash value, whole life insurance would be a better policy to choose (though whole life insurance may be too expensive for many).
---
How Much Life Insurance Do I Need?
Typically, you only need life insurance if a loved one is at risk for suffering financially if you were to pass away. The main purpose of life insurance is to provide for your family's financial future.
When evaluating a life insurance policy, there are several factors to take into consideration, including: your age, financial obligations, and years until retirement. 
Some insurance companies state that a reasonable amount of life insurance for someone between 20 and 30 years old is 15 times their annual salary. However, if you're over 50, they recommend six times your annual salary.
What Should I Look for In a Life Insurance Policy?
When choosing a life insurance policy, consider the affordability, living benefits, payout structure, conversion policy, and your current health. Do your research and shop around for the best rates and features which meet you and your family's needs.
You can review the life insurance companies' reviews and ratings online by checking sites such as the Better Business Bureau or American Customer Satisfaction Index. However, unless you are combining life insurance with other products, the most important consideration is the company's financial health so they can afford to pay out on your policy if you submit a claim.
There are plenty of life insurance scams to watch out for, so be careful with whom you share your personal information. Ask questions and be wary of vague answers. Look for top-rated, reputable companies with policy terms you understand.
Term Life Insurance Rates
According to the S&P Global Market Intelligence, in 2019, US life insurers saw aggregate life insurance rates increase by 4.5% year-over-year. Individual life insurance premiums grew 4.4% to 138 billion, while group life premiums rose 4.9% to $39.59 billion. 
There were only three life insurance companies that recorded year-over-year declines in total 2019 premiums: MetLife, Inc., Nationwide Mutual Group, and Voya Financial, Inc.
Average Term Life Insurance Rates
The following table shows the current estimated term life insurance rates for a healthy non-smoker who has chosen a level-term, 20-year, $500,000 policy. Changes to these factors and policy selections could provide quotes that are different than your final price.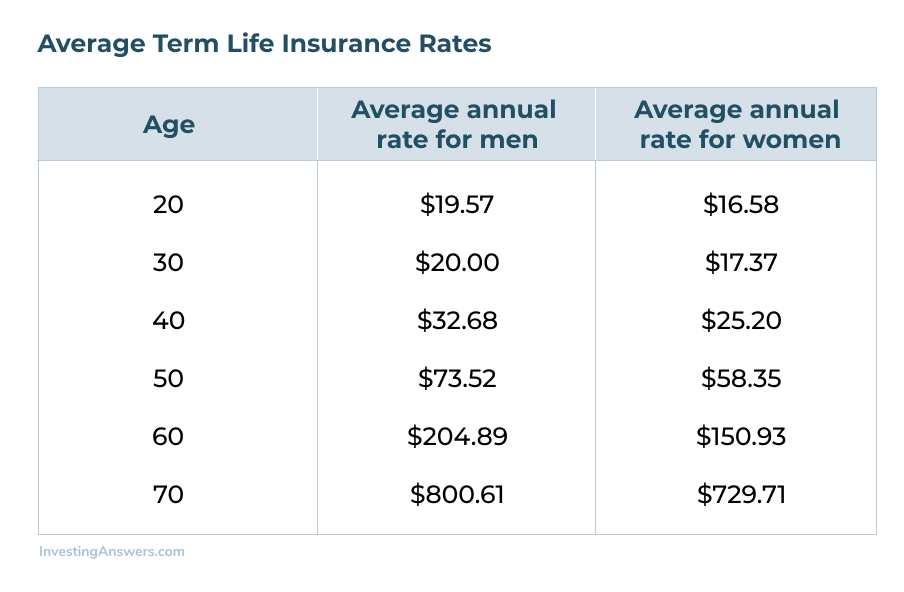 Source: Quotacy
The longer you wait to obtain a life insurance policy, the higher your rate will be. For men between 50 and 60, the cost rises significantly by over $100 per month.
Ask An Expert About Life Insurance
At InvestingAnswers, all of our content is verified for accuracy by certified financial experts. Our experts also take the time to answer your questions at the end of each article.
Is Gerber Life Insurance Legit?
Yes, Gerber Life Insurance provides life insurance policies for children as well as short-term and whole life insurance for adults. Before purchasing life insurance for a child, consider the policy's financial trade-off: Your money might be better spent on other financial options to best support your child (such as a college savings plan or custodial account).
What Is Universal Life Insurance?
Universal life (UL) insurance is a type of permanent life insurance that provides an investment savings option with greater flexibility on premium payments. The difference between term life insurance and UL insurance is the accumulated cash value that UL insurance makes available. As the cash value increases, so does the death benefit. However, the reverse is also true: As the cash value decreases, so does the death benefit.
With UL insurance, you have flexibility with both the amount of premium you pay and the death benefit that is paid out. It's important to note that some of the risk of maintaining the death benefit is shifted from the insurance company to the policyholder. The policy will lapse if the cash value is no longer sufficient to cover the policy expenses. 
As with whole life insurance, the fees associated with permanent insurance are often very high and can include many difficult to understand riders and other provisions which increase the cost further. This in turn can significantly diminish the value of the assets invested in the policy when compared to buying a traditional term policy and investing the remainder in a taxable account.
How Do I Find Out if Someone Had Life Insurance?
To determine whether someone had a life insurance policy, start by checking through their personal belongings (e.g. old mail, employment information, financial records). Free websites can conduct online searches for unclaimed assets and death benefits, but beware of scams and fraudulent sites when searching for the policy. Check the site's credibility and reviews before providing any personal information.
If an insurance company is unable to locate the policy's beneficiaries, it will eventually turn the assets over to the state. Check the state's unclaimed property site to see whether the insurance policy has been turned over.