Find the Best Homeowners Insurance Rate
Many people save for years to own their own house, so protecting that investment with the best homeowners insurance is vital. Discover the types of homeowners insurance, how much it costs, and the best companies that can provide coverage for your home.
What Is Homeowners Insurance?
Homeowners insurance is a type of property insurance that covers a personal residence. To obtain a mortgage, lenders require proof of homeowners insurance. This protects them against financial loss should the residence be damaged or destroyed.
Even if you're fortunate enough to have enough money to cover major home repairs – or the entire replacement of your home if it should be destroyed – homeowners insurance provides a financial cushion against many types of damage.
A typical homeowners insurance policy may cover the replacement or repair of a dwelling due to fire, but it may also cover the cost of a hotel (or other temporary residence) while your home is being repaired.
How Much Is Homeowners Insurance?
The cost of homeowners insurance varies considerably, according to the location and value of the home, the limits carried on the policy, and the deductible (the amount of money the homeowner is responsible for paying before the insurance company's payments will start).
Average Homeowners Insurance Cost
The average cost of homeowners insurance in the United States is $1,215 per year. The average premium cost is as low as $55 per month in some states, though the national average $101 is per month.
What Does Homeowners Insurance Cover?
Homeowners insurance covers the cost of repairing/replacing the covered dwelling and personal property located inside the dwelling. It also covers liability arising from activities taking place at the property (e.g. someone trips and injures themselves at a party).
Policies are divided into Section I (damage to property) and Section II (personal liability).
What Isn't Covered by Homeowners Insurance?
It's also important to recognize what isn't covered by the standard homeowners insurance policy. If you require coverage for additional items that aren't covered by a standard home insurance policy, speak with an insurance representative. It may be available as an amendment, a rider to your current policy, or even a separate policy.
Flood Damage
Damage from floods is not covered under the standard homeowners policy. People living in flood zones must obtain separate flood insurance coverage to supplement their main homeowners policy. To find out if your home is in a flood zone, consult FEMA maps.
Earthquake Damage
Home insurance does not cover earthquake damage to a home. A separate earthquake protection policy may be purchased to supplement a basic homeowners policy. The US Geological Survey has more information about earthquake insurance and whether taking out such a policy is a good idea.
Damage or Neglect Caused by Homeowners, Family, Guests, or Pets
Intentional damage to your home isn't covered, nor is damage caused by you, your children, or your pets.
What Does Section I of the Homeowners Policy Cover?
Section 1 of a basic homeowners policy covers the dwelling, the property located inside the dwelling, and loss of use. This section is divided into coverage subsections A, B, C, and D.
Coverage A: Protecting Your Home
Coverage A refers to the protection given to the main structure on the covered property/your home. Coverage includes damage from some (but not all) naturally-occurring events such as lightning strikes, tornado damage, windstorms, and hail. It also includes coverage for objects (ie. trees) falling on the home, as well as damage from vehicles and aircraft. It covers the home against fire and smoke damage, as well as vandalism, riots, and unrest.
Coverage B: Other Structures
Coverage B provides coverage for replacing other structures on your property (ie. detached garage, deck, shed).
Coverage C: Personal Property
Coverage C provides coverage for personal property. This includes losses due to both disasters (e.g. fire, weather-related damage), as well as losses from burglary or theft.
Coverage C does not include coverage for pets or their loss. It limits coverage for jewelry and fine art. Jewelry and collections of fine art may be covered by supplemental policies or riders if the covered amount exceeds the policy's limits.
For example, if the policy limits jewelry coverage to $5,000 – but you own a necklace worth $10,000 – it may be wise to cover the replacement of the necklace with a jewelry rider or separate jewelry policy.
Coverage D: Loss of Use
Section D includes coverage for loss of use. If your home is uninhabitable due to loss, the policy covers the cost of temporary housing.
What Does Section II of the Homeowners Policy Cover?
Section II is divided into two parts: E (personal liability) and F (medical payments to others).
Section E covers bodily injury caused by the policy holder or their pets. Section F covers medical treatment and funeral costs for others due to injury caused by the policyholder (whether the policyholder is at fault or not).
For example, a pedestrian claims that your garbage can caused them to trip on the sidewalk outside your home. You left the garage can at the curb for pickup, but sanitation workers blocked the sidewalk. Since you were at work when the trash was picked up, it isn't your fault – but it is still your responsibility. If the pedestrian sues you, your homeowner's insurance policy should cover the cost of legal representation, awarded damages, and the cost of the plaintiff's medical care.
How Much Homeowners Insurance Do I Need?
In the US, ⅔ of homes are underinsured. It's vital to accurately estimate how much rebuilding your home may cost. Your insurance agent will help assess the cost to rebuild, but you can do it yourself, too.
To estimate how much homeowners insurance you need, determine the square footage of your home and multiply that number by the local cost to build a home.
Find the Square Footage
You can estimate your home's square footage by making a quick sketch of your house, measuring each room, calculating the square footage of each room, then adding it together.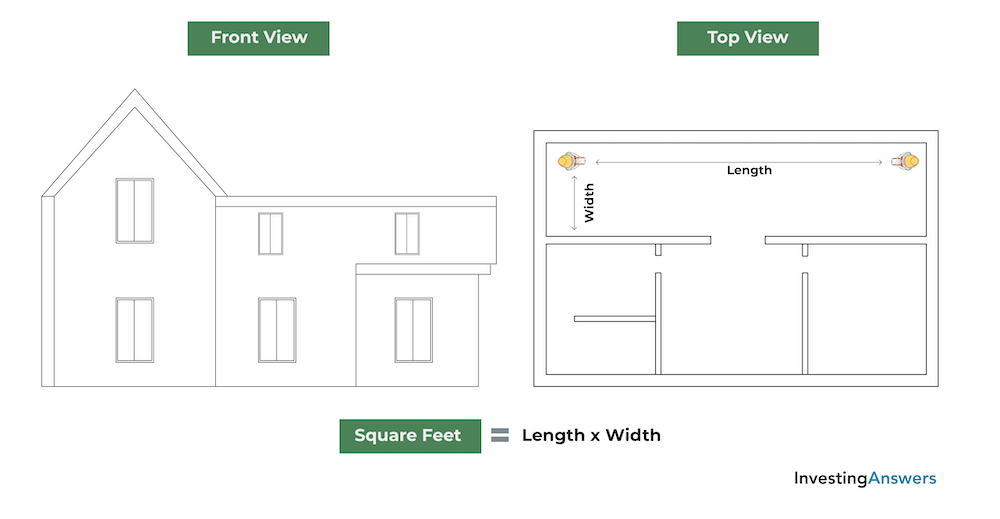 Estimate Construction Costs
The National Association of Home Builders estimates the cost of building a house to be $114 per square foot.
The actual cost to rebuild your home depends on its age, the materials, local building codes, and where it's located. Other factors that can impact rebuilding costs include the roofing materials, flooring materials, and kitchen and bathroom fixtures.
Add Extra for Personal Possessions
In addition to the cost of rebuilding your home, there's also the cost of replacing furniture and personal possessions. The average estimate is 20 to 50% of the coverage limits of your home.
How Do I Find the Best Homeowners Insurance?
The best homeowner's insurance provides adequate coverage to replace your home. It should also be offered by a reputable company with solid financial backing.
To find the best home insurance:
Know your home's replacement value (using the steps above).
Contact several companies directly – as well as independent agents – to receive comparative quotes.
Review the company's record online using internet searches. These should reveal complaints that could be a red flag if you ever need to file a claim.
Review the financial strength of the company backing the insurance.
How Do I Find the Best Homeowner Insurance Rates?
To find the best homeowner insurance rates, start your search for insurance about four weeks before you need coverage. That means starting four weeks before your current coverage expires (or when you need new home coverage).
Always comparison shop for insurance rates. Give identical information about your home and insurance needs to each company so you can compare the price quotes across multiple companies.
Check that the deductible and limits for the policies are the same in the quotes returned to you. Some companies may have different limits or might offer higher deductible policies. This can lower your rate, but if you need to file a claim, you'll be asked to pay more upfront before the insurance coverage pays for the claim.
Can I Lower My Homeowners Insurance Rate?
There are several steps you can take to lower your homeowners insurance rate.
1. Bundle Your Insurance
Companies may offer special discounts to bundle home, auto, and other policies.
2. Maintain a Good Credit History
Insurers are increasingly reliant on customers' credit information to determine rates. If you don't have a great credit history, there are several steps you can take to improve it.
3. Check Membership Discounts
If you are a member of AARP, AAA, a union, a college or university alumni association, or an industry membership organization, check your member benefits for insurance benefits. Some provide discounts on home and auto insurance.
4. Reduce Risk
Insurance companies reward customers who decrease the risk of claims. You can choose certain home construction elements (like wind-resistant roofing material or fire retardant siding) to reduce the risk of home damage. If you're updating your home or building a new home, speak to your insurance company about items which may reduce risk and lower premiums. Also ask what might increase your risk such as owning a pool, certain dog breeds, or a trampoline.
5. Add Monitored Alarm Systems
Monitored alarm systems are those managed by an outside company. Such companies respond to home alarms by checking with homeowners, sending their own security personnel, or dispatching police or fire personnel as needed. Adding a monitored alarm system to a home can save up to 10% off the premium per year.
6. Catalog and Review Personal Possessions Annually
Each year, it's a good idea to take pictures of your main personal possessions (e.g. special furniture, electronics, antiques). Review the catalog and note any items you may have sold or given away. If some were of considerable value, alert the insurance company and they may reduce the policy premium.
Keep the list and photos of your personal possessions on the Cloud or on a USB drive in a fire-proof box/safe. In the event of a disaster, you'll be able to share it with your insurance company to receive reimbursement on your claim.
7. Stay with the Same Company
Although we recommend shopping around every three or more years, there are benefits to staying with the same insurer. Many offer loyalty discounts if you've been a customer for more than five years. This can also save you some money on your premiums.
8. Pay Annually
Some companies offer customers the option to pay for their homeowners insurance every month. Such installment payments make it seem like the premium cost is lower than it actually is, and some companies add fees onto the monthly payment. Compare monthly payments versus a lump sum annual payment – go with an annual payment if it can save you money.
What Are the Top-Rated Homeowners Insurance Companies?
The top-rated homeowners insurance companies are reviewed by noted companies such as J.D. Power, AM Best, and Consumer Affairs, as well as by other organizations including the Better Business Bureau. From these recommendations, the top homeowner insurance companies are:
How Do I Find the Cheapest Homeowners Insurance?
To find cheap homeowners insurance, you need to know the value of what you are insuring. Many people "go cheap" when trying to save money on policies, but cheap isn't necessarily the best option for homeowners insurance.
To receive the best possible price, shop around. Check with your union or alumni association to see whether they offer discounts on insurance for members. If so, you may be able to save money (and receive a great policy) simply by sharing your membership number with the insurance company.
Look online for lesser-known insurance companies that may save money on expensive advertising or spokespeople in order to provide lower rates to customers.
Insurance often seems like a useless expense – until you need to file a claim. Then, the difference between "cut rate" companies and top companies becomes apparent in the speed with which they send an adjuster out to process claims.
Do You Rent Instead Of Own? Get Renters Insurance
Renters may be shocked to learn that even if the property owner has insurance on the residence, home insurance does not cover a renter's personal property or temporary housing in the event of a disaster. Renters insurance provides such coverage to those renting homes or apartments.
Why Renters Insurance Is Essential
Renters insurance covers all of your personal property. If your home is burglarized – or items are lost in a disaster such as a fire or tornado – renter's insurance provides coverage for the replacement costs of clothing, furniture, and other personal property that may be damaged or destroyed.
Another great reason why renters insurance is essential is that it protects you from liability if someone files a claim against you. If a guest slips on a wet floor, your renters insurance covers you if the guest decides to make a claim for injuries/damages sustained in the fall.
Lastly, renters insurance provides coverage for temporary housing if your home becomes unlivable. Without such insurance, you'd be on your own to pay for a temporary home or apartment until your residence was habitable again.
How Much Does Renters Insurance Cost?
Renters insurance is very inexpensive. At around $15 per month or $180 per year, it's a smart investment to cover personal property replacement costs and protect you from liability claims.