A young man named Sam Walton grew up during the Great Depression.
As you can imagine, times were hard. But Sam did everything he could to earn an extra buck -- as a boy he sold the surplus milk from the family farm... He delivered newspapers and sold magazines... In college, he waited tables.
Then after serving in the Army in World War II, Sam used a $20,000 loan from his father-in-law and $5,000 of his own savings to purchase a small variety store in Newport, Arkansas.
By working hard and making sure his shelves were always well-stocked with simple goods that people needed, he grew revenue from $80,000 to $225,000 in three years.
The rest was history.
Today the company Sam Walton founded -- Wal-Mart -- generates over $500 billion in revenue a year. It's the largest retailer on the planet with nearly 10,000 stores spanning the globe.
And although Sam Walton passed away in 1992 at the age of 74, his legacy lives on...
The Walton family still controls over 50% of the company's stock. His heirs consistently make the annual Forbes list of richest people in America. Christy Walton, widow of John Walton -- one of Sam's children -- is the richest woman in the world, with an estimated $35.4 billion fortune. Sam's youngest son, Jim, is worth an estimated $33.8 billion. Alice, one of Sam's daughters, is worth $33.5 billion. You get the idea.
Like John D. Rockefeller, Andrew Carnegie and others before him, Sam Walton was one of the richest men in U.S. history.
And the wealth and influence that these men had didn't just last a lifetime.
It's lasted for generations.
And although these great men are gone, their wealth -- and their legacies -- live on.
We've spent years analyzing some of the most successful families in history, including how they made their fortune and how they were able to create, protect and grow vast amounts of wealth over a lifetime. And over the course of studying these figures, a pattern began to emerge. We noticed that time and again these families used a special type of asset to make a fortune. We decided to call them 'Legacy Assets,' because they possess the rare ability to last for generations.
For example...
The most popular stock held by members of the U.S. Congress is a 'Legacy Asset.' All told, 83 members of Congress hold this stock in their portfolios.
This 'Legacy Asset' was founded in 1892. Of the original 12 members of the Dow Jones Industrial Average, this 'Legacy Asset' is the only one still in operation. This 'Legacy Asset' has endured and prospered for over 120 years, making generations of investors rich along the way.
Just $1,000 invested in this asset 20 years ago would be worth $5,497 today.
The name of this 'Legacy Asset?'
General Electric (NYSE: GE).
And although GE has certainly been around a long time and has created vast amounts of wealth for members of Congress and other investors, when it came time to pick our 'Top 11 Legacy Assets of All Time,' GE didn't make the cut.
Neither did Wal-Mart.
That's because although Wal-Mart and GE are both great businesses, they haven't performed as well during both bull and bear markets as the companies in our 'Legacy Assets' portfolio.
For example, one of our 'Legacy Assets' is a stock that's turned every $100 invested in 1980 into $21,208 today. Just $4,715 invested back then would be worth more than $1 million today.
This asset gives you part ownership in some of the most popular brand names in the world. It boasts a 43% market share of a product that many consumers say they 'can't live without.'
During the fiscal crisis of 2008 and 2009, while over 9,000 U.S. companies were laying off workers and slashing budgets, this 'Legacy Asset' made more money than ever. While companies like Lehman Brothers were going bankrupt, this asset increased revenue by over half a billion dollars.
You see, during our research, we noticed that families like the Rockefellers and Vanderbilts weren't just good at making money.
They were also good at keeping their money.
And when it came time to pass their wealth on to the next generation... they were absolute masters.
How did they do it?
By investing in assets that continue to generate wealth not just for weeks or years... but for generations.
Let's take a look at another one of our 'Legacy Assets' to see what I mean.
One of our 'Legacy Assets' traces its roots back to 1866. That's one year after the civil war ended and 30 years before the Dow Jones Industrial Average was even created. Roughly 70% of this company has remained under the control of the founding family for over 144 years.
You'll recognize the priceless brand names this company owns. Even so, the company itself is not well known. But like all of our 'Legacy Assets,' this company makes a product that thrives during both bull and bear markets.
When the dot-com bubble burst in March of 2000, U.S companies lost $5 trillion of market value over the next two years. But not this 'Legacy Asset.'
This company's share price actually gained 28% over the same time period.
And lest you think I'm talking about some boring old company whose best days are long gone, take a look at the chart below.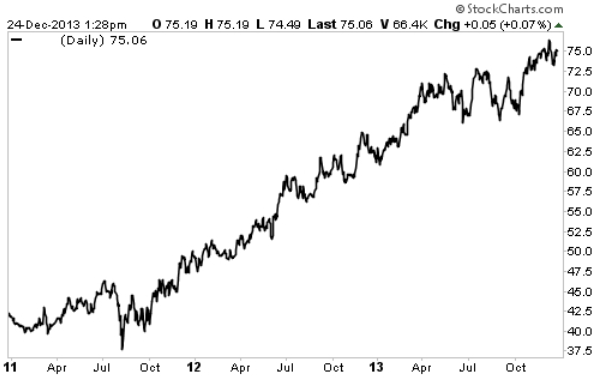 This 'Legacy Asset' stock has gained 76% over the last three years.
As the chart shows, 'Legacy Assets' work just as well in today's bull market as they did during the bear markets of 2000 and 2008.
Bloomberg projects earnings for this company will increase 20% over the next two years. And with free cash flow of $438 million over the last 12 months, this firm has plenty of money on hand to invest in growth and raise dividends.
And here's the good news: Investors who don't own these assets haven't missed the boat...
Because these stocks thrive in good times and bad, it almost always makes sense to buy them. My advice: Look for 'Legacy Asset' stocks like these and make them the cornerstone of your portfolio.