Updated November 5, 2020
What is an Old Lady?
In the banking world, Old Lady is a nickname for the Bank of England. The full nickname is "Old Lady of Threadneedle Street."
How Does an Old Lady Work?
The Bank of England is the United Kingdom's central bank, meaning that it is a bank for banks and works closely with the government's treasury.
Why Does an Old Lady Matter?
The Bank of England was founded in 1694. The nickname first appeared in a caption to a political cartoon by James Gillray, published in 1797. It depicts the prime minister trying to woo the bank, which took the form of a money-clad old lady.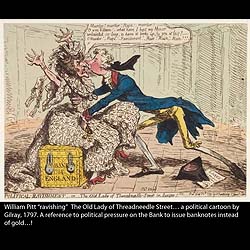 Personalized Financial Plans for an Uncertain Market
In today's uncertain market, investors are looking for answers to help them grow and protect their savings. So we partnered with Vanguard Advisers -- one of the most trusted names in finance -- to offer you a financial plan built to withstand a variety of market and economic conditions. A Vanguard advisor will craft your customized plan and then manage your savings, giving you more confidence to help you meet your goals. Click here to get started.