What is a Flag Formation?
The flag formation is a technical analysis pattern that occurs when there is a straight upward move in a stock.
How Does a Flag Formation Work?
The flag formation movement is often nearly vertical, and at the very least is extremely steep. The move is so rapid, in fact, that on a daily chart a trendline can't even be drawn. Typically, the move occurs on very strong volume and lasts a few trading days. Gaps will often be present within this part of the move.
This rapid upside movement is called the 'flagpole.' Gradually, however, buyers are no longer willing to bid the stock up. Sellers, many of whom are showing extremely nice profits in a short period of time, then decide to lock in profits. But rather than sell off sharply, prices decline very gradually as eager buyers who missed the initial move snap up the stock.
The flag is thought of as a consolidation pattern. A stock typically leaves a consolidation pattern in the same way it enters it. The flag is therefore expected to eventually move higher. What forms after the flagpole is the flag itself.
The flag part of this technical formation typically takes the shape of a parallelogram or a rectangle that is tilted on its side and is sloping downward. Occasionally a flag may consolidate at the top of the flagpole in a normal rectangle, and more rarely still it may slope upward. As the rectangle matures, there is typically a drop off in trading volume as the stock fades as a 'hot issue' and other sizzling stocks with more recent news take its place in the minds of traders. Below you will find a historical example of a flag formation: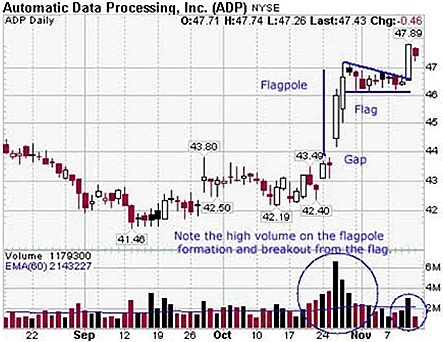 Why Does a Flag Formation Matter?
Flag formations are one of the most exciting to catch for short-term traders. Typically, flags resolve to the upside and can create explosive profits for swing traders. Although they do not occur frequently on charts, they are well worth watching for.