What is Efficient Frontier?
Different combinations of securities produce different levels of return. The efficient frontier represents the best of these securities combinations -- those that produce the maximum expected return for a given level of risk. The efficient frontier is the basis for modern portfolio theory.
How Does Efficient Frontier Work?
In 1952, Harry Markowitz published a formal portfolio selection model in The Journal of Finance. He continued to develop and publish research on the subject over the next twenty years, eventually winning the 1990 Nobel Prize in Economics for his work on the efficient frontier and other contributions to modern portfolio theory.
According to Markowitz, for every point on the efficient frontier, there is at least one portfolio that can be constructed from all available investments that has the expected risk and return corresponding to that point.
An example appears below. note how the efficient frontier allows investors to understand how a portfolio's expected returns vary with the amount of risk taken.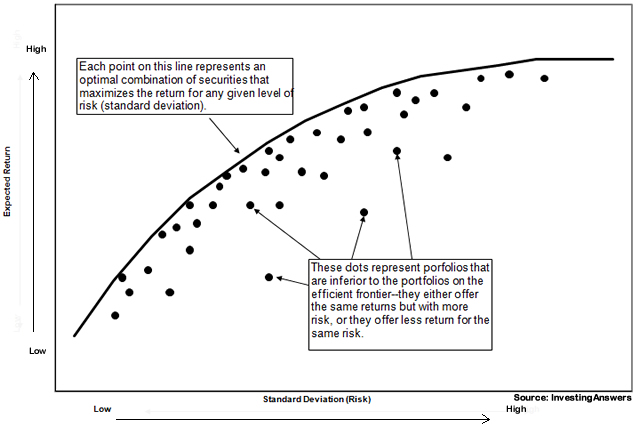 The relationship securities have with each other is an important part of the efficient frontier. Some securities' prices move in the same direction under similar circumstances, while others move in opposite directions. The more out of sync the securities in the portfolio are (that is, the lower their covariance), the smaller the risk (standard deviation) of the portfolio that combines them. The efficient frontier is curved because there is a diminishing marginal return to risk. Each unit of risk added to a portfolio gains a smaller and smaller amount of return.
Why Does Efficient Frontier Matter?
When Markowitz introduced the efficient frontier, it was groundbreaking in many respects. One of its largest contributions was its clear demonstration of the power of diversification.
Markowitz's theory relies on the claim that investors tend to choose, either on purpose or inadvertently, portfolios that generate the largest possible returns with the least amount of risk. In other words, they seek out portfolios on the efficient frontier.
However, there is no one efficient frontier because portfolio managers and investors can edit the number and characteristics of the securities in the investing universe to conform to their specific needs. For example, a client may require the portfolio to have a minimum dividend yield, or the client may rule out investments in ethically or politically undesirable industries. Only the remaining securities are included in the efficient frontier calculations.
Personalized Financial Plans for an Uncertain Market
In today's uncertain market, investors are looking for answers to help them grow and protect their savings. So we partnered with Vanguard Advisers -- one of the most trusted names in finance -- to offer you a financial plan built to withstand a variety of market and economic conditions. A Vanguard advisor will craft your customized plan and then manage your savings, giving you more confidence to help you meet your goals. Click here to get started.