What is a Death Cross?
A death cross is a technical indicator that occurs when a stock's short-term moving average falls below its long-term moving average.
How a Death Cross Works
Market technicians believe moving averages define the trend and provide support or resistance. They also give trading signals when they move through each other. These signals are called 'moving average crossovers.'
A crossover signal is generated when a shorter moving average crosses over a long-term one and visa versa.
As the name implies, the death cross is a highly bearish sign signifying that the current downtrend is likely to remain in force for a long period of time.
When a shorter-term moving average crosses below the longer-term, a technical analyst considers it a sell signal.
Different combinations of moving averages can be used. The 40-week moving average combined with the 10-week moving average is particularly valuable for indicating the long-term movement of a stock. Technical analysts believe that observing a cross in real time can, therefore, provide a very valuable buy or sell signal.
For example, we can use this three-year weekly chart of AT&T to identify both the bearish death cross and bullish golden cross: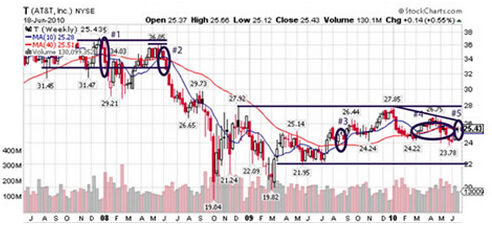 Circle #1) The first death cross occurred in early January 2008 when the 10-week moving average crossed below the 40-week moving average. From a high near $37, the stock fell to a low near $29 in less than month.
Circle #2) Just after hitting historical resistance around $36, the stock falters again. A death cross occurred as the 10-week moving average went below the 40-week. Within five months, the stock dropped to a low near $19.
Circle #3) In late July 2009, the stock managed to climb above the 10- and 40-week moving averages. A bullish golden cross appeared shortly after. Following the golden cross, AT&T rose from about $24.50 to $27.85, where it encountered significant resistance.
Why a Death Cross Matters
Technical analysis is based on the belief that past market trends can predict the future behavior for the market as a whole and for individual stocks, and a death cross is just another technical indicator used in this process.
If an investor can correctly interpret a chart's 'message' and predict a stock's movement, he or she can obviously make a lot of money. Certain aspects of technical analysis are controversial, such as the belief that stocks and markets move in trends that can play out over a long period of time and the contention that market action can detect shifts in supply/demand relationships.