Understand Identity Theft and Find the Best Identity Theft Protection
Updated April 19, 2021
What Is the Best Identity Theft Protection?
There are a number of ways to protect your identity, including varying your passwords, avoiding shady websites, and checking your credit report at least once a year. 
But for complete protection of your personal information (and your assets), you may want to consider services that can help you protect it further. These services include fraud alerts, credit monitoring, and reimbursements for costs involved in recovering your identity.
Here are our top 3 identity theft protection services that can help you protect your identity – without breaking the bank.
LifeLock
| Lifelock Features |   |
| --- | --- |
| Monthly Cost | From $9.99 to $29.99 (discounts for annual plans) |
| Free Trial | 31 Days |
| Family Plans Available | Yes |
| Mobile App | Yes |
| Customer Service | 24/7 Phone/Chat |
Our Review: Lifelock is a full digital device and identity protection service offering delivered by Symantec (the same company that created Norton Antivirus). Norton has combined its digital security plans with Lifelock's identity theft protection to create an all-in-one security suite.
Lifelock has been a trusted name in identity theft protection since 2005, offering credit monitoring, identity monitoring, recovery services, and reimbursement for expenses related to identity theft (up to $1 million, depending on the chosen plan).
Lifelock Pros:
Protection for your digital devices
24/7 chat support
Up to $1 million in reimbursement available
Lifelock Cons:
Family plans cost more than competitors
Credit monitoring for 3 bureaus in Ultimate Plus plan only
Learn more about Lifelock here.
Identity Force
| Identity Force Features |   |
| --- | --- |
| Monthly Cost | $15.99 (2 free months with annual plan) |
| Free Trial | 30 Days |
| Family Plans Available | Yes |
| Mobile App | Yes |
| Customer Service | 24/7 Phone/Chat |
Our Review: Identity Force is a comprehensive identity protection service offering personal information monitoring, financial account alerts, lost wallet assistance, and complete identity recovery management (with up to $1 million in recovery insurance).
Identity Force has helped individuals and businesses with identity theft protection since 2005 and offers some of the lowest cost options available. Identity Force is a great value for protecting your identity.
Identity Force Pros:
Comprehensive identity protection covering personal, financial, and credit information
Lower cost than competitors (including 2 free months with annual plan)
$1 million in insurance 
Social media monitoring
Identity Force Cons:
Only two plans to choose from
No refunds after the 30-day trial period
Learn more about Identity Force here.
Identity Guard
| Identity Guard Features |   |
| --- | --- |
| Monthly Cost | $8.99 to $29.99 (discounts for annual plans) |
| Free Trial | 30 Days |
| Family Plans Available | Yes |
| Mobile App | Yes |
| Customer Service | Phone: Mon - Fri, 8am - 11pm EST & Sat - Sun, 9am - 6pm EST |
Our Review: Identity Guard has partnered with IBM to use artificial intelligence to help give customers real-time fraud alerts. Every day, their AI system "Watson" scans millions of articles, public records, and social media posts (as well as the "dark web") for your personal information.
Identity Guard offers 3 plan levels, including the low-cost "Value" plan to give consumers real-time alerts for only $8.99 per month. If you opt for their "Total" plan, you'll also get credit monitoring, tax refund alerts, and financial alerts. Identity Guard takes a real-time approach to identity theft and offers great value – as well as peace of mind – to its customers.
Identity Force Pros:
Artificial Intelligence for "real-time" fraud alerts
Value plan gives identity protection at a lower cost than competitors
Secured browsing tools and mobile app
$1 million in identity theft insurance
Identity Force Cons:
Credit reporting only once a year
Limited customer service hours
Learn more about Identity Guard here.
What Is Identity Theft Protection?
Identity theft protection is a service that helps secure your personal information, including your social security number, financial accounts, and online passwords. These companies help you monitor, report, and recover from identity theft.
How to Check for Identity Theft
Identity theft occurs when someone has access to your personal information and uses it for nefarious purposes. This can include:
Stealing your credit card number and racking up a large balance
Using your social security number and stealing your tax refund
Using your social security number to apply for a credit card or loan
Stealing your medical insurance information to obtain a subscription
This can have obviously massive financial implications, but here are a few things you can do to check for identity theft:
1. Get Your Free Annual Credit Report
One of the simplest ways to see what's happening with your financial information is to pull your free annual credit report from all 3 credit bureaus (Experian, Transunion, and Equifax).
Carefully comb over each page of each report and make sure you recognize everything listed there. If you see a loan or credit card application that you don't recognize, you may be the victim of identity theft.
2. Review Your Credit Card and Bank Account Transactions
It's always a good idea to review your bank and credit card statements on a monthly basis. You can quickly see unusual activity (like large purchases you don't recognize or transactions made in another country) and report/dispute the transaction immediately.
3. Check Your Medical Insurance Activity
Check your medical insurance activity to make sure no one has been using your insurance for unauthorized medical services. Your insurance carrier should have an online portal that shows services billed for the year. If you don't recognize one or more of these services, someone may have stolen your insurance information.
How to Report Identity Theft
If you believe you've been the victim of identity theft, report it to the proper authorities right away. The sooner it's reported, the faster you can stop the thieves from ruining your finances and credit score.
Step 1: Call All Companies Where Fraud Occured
If you see errant charges on your bank or credit card, call any company where the fraud occurred. Speak to the fraud department and let them know that someone has stolen your identity.
If there are any false charges through your online accounts, ask them to immediately close or freeze your account. Reset all account usernames, passwords, and PINs to prevent further charges
Step 2: Freeze Your Credit
Next, email or call each of the three credit bureaus to place a freeze on your credit. This will prevent thieves from opening new accounts (e.g. credit cards, loans) in your name.
Here is the contact info for each bureau:
Step 3: Get a Copy of Your Credit Report
Once you've placed a freeze on your credit, grab a copy of your credit report from each of the three credit bureaus using the Annual Credit Report. 
Review them and make note of any unusual activity on them. Check for unauthorized accounts opened in your name, including credit cards, store cards, or personal loans.
Put these notes together and report your findings to the FTC as well as the police.
Step 4: Report Your Identity Theft to the (Federal Trade Commission) FTC
Once you've reviewed the fraud through your financial accounts and credit reports, report everything to the FTC. They will help create a comprehensive report and recovery plan for your identity theft.
You can do this through their online identity theft form or by calling them directly at 1-877-438-4338.
This report will help prove to businesses that your identity was stolen and support your claim that there were false charges on your account. The FTC can also help walk you through the steps needed to recover your identity.
Step 5: Report Identity Theft to the Police
You may also choose to report your identity theft to the local police. This will help substantiate your claims and place an official report on file for any future fraud that may occur.
Call the police and tell them someone stole your identity. You may file a report online and ask for a copy of the police report for your records. 
How to Prevent Identity Theft
Identity theft can take months – or even years – to recover from. The best way to avoid this headache is to protect yourself from it ever happening. 
Here are a few steps you can take to prevent identity theft.
1. Review Credit Card and Bank Statements Regularly
The easiest way to spot identity theft is to keep an eye on your credit card and bank transactions. Check them each month for signs of unusual activity.
You can also set alerts on your accounts to text or email you in case of large transactions. Some banks even have fraud alerts available. Set up account alerts to be notified about any unusual activity.
2. Get a Locked Mailbox
Thieves can access your personal information from items in your physical mailbox. Credit card offers, checks, and other personal mail can be used to steal your identity, so consider getting a locked mailbox to help prevent mail theft.
3. Consider an Identity Theft Protection Service
To secure your identity and ensure it's never compromised, Lifelock, Identity Guard, and Identity Force all offer monitoring, alerts, and  up to $1 million in insurance to help protect you from the financial costs of identity theft and recovery services.
If you don't like the idea of monitoring every piece of information about yourself 24/7, let the pros take care of it. Consider signing up for an identity theft protection service to help keep your personal information safe.
Do I Really Need Identity Theft Protection?
If you're at high risk of identity theft – or have been a victim in the past – you may consider signing up for identity theft protection. This may also be true if you need help monitoring all of your digital information and want to receive alerts when someone tries to use your identity.
To simplify 24/7 monitoring, alerts, and the recovery of your identity, an identity theft protection service can take care of everything for you.
Ask An Expert About Identity Theft
What Is Social Security Identity Theft?
Social security identity theft is when someone steals and uses your social security number to apply for credit cards, loans, and even a tax refund in your name.
Since most financial institutions require a social security number to be approved for financial products, having a compromised social security number can be one of the most damaging forms of identity theft.
How Long Does It Take to Resolve Identity Theft?
The longer identity theft goes undetected and unreported, the more extensive the damage may be. 
Depending on what theft occurred and how quickly it was addressed, Identity theft can take anywhere from a few days to several years to resolve. Finding an errant charge on your credit card can be resolved by simply cancelling and ordering a new credit card. 
Someone using your social security number to apply for a loan can take months to resolve. You may need to report it to creditors and financial institutions, verify it wasn't you that applied, and work with authorities to get fraudulent activity removed from your records.
Can Identify Theft Affect Your Credit?
Yes, identity theft can affect your credit. In fact, most types of identity theft – and the ensuing fraud – can cause a significant drop in your credit score.
Here are four ways that identity theft can hurt your credit score:
Fraudulent credit inquiries
High account balances affecting credit utilization
Late payments hurting payment history
New accounts affecting credit history and credit mix
You can recover your credit score by working with creditors and your financial institutions to correct the fraudulent charges due to identity theft. To stay proactive, many identity theft protection services offer active credit monitoring to alert you of any unusual activity so you can stop the damage right away. Note that the free annual credit report does NOT include access to your credit score, which can be purchased at an additional cost.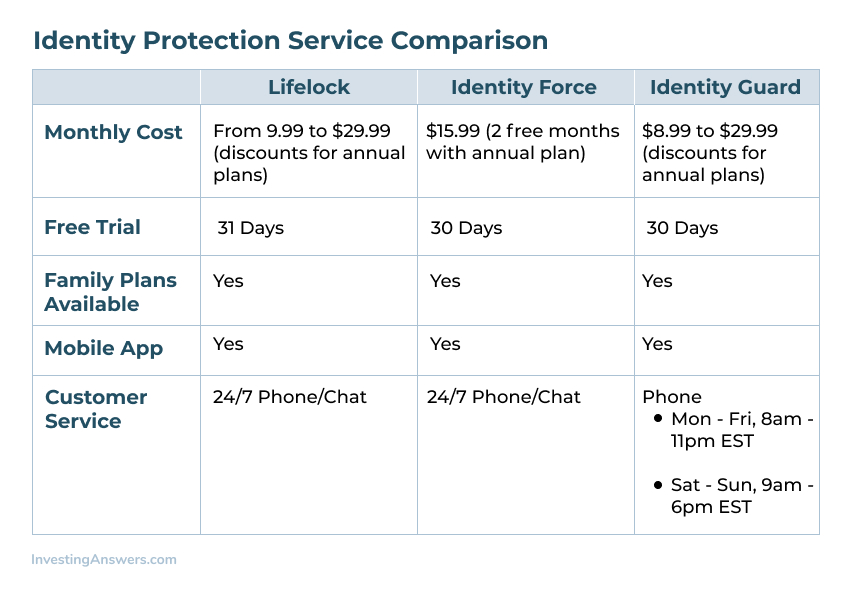 <