The head-and-shoulders pattern is usually a highly reliable technical formation indicating a reversal in a stock's trend. 
The pattern consists of four distinct parts: the left shoulder, the head, the right shoulder and the neckline. Each of these four sections must be present for the formation to exist.
While the vast majority of head-and-shoulders formations I have encountered look exactly like that, it is important for the trader to recognize that variations exist.
These are called multiple, or complex, head and shoulder formations. In Edwards and Magee's Technical Analysis of Stock Trends -- a book many consider the bible of technical analysis -- the authors document several variations of the garden-variety head and shoulders patterns. These mutations include patterns with two left shoulders and one right, two right shoulders and two left and even multiple heads. 
Despite being complex formations, the basic characteristics of the pattern are the same. When the head and shoulders is spotted, and a neckline is broken, it usually signifies the stock will drop. 
Toyota Motors provides a good example of a complex head and shoulders pattern.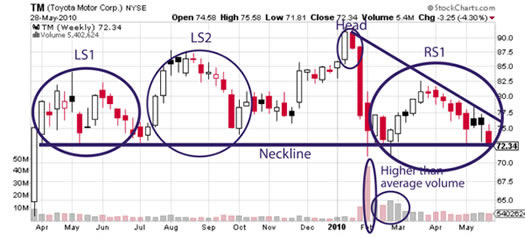 As you can see, there are two left shoulders (labeled LS 1 and 2) and a head. Currently, one right shoulder (RS1) has formed and neckline support near $72 is being probed.
The Two Left Shoulders: The first left shoulder (LS1) formed between April and June 2009, as TM bounced from support near $72 to resistance around $84. The stock then fell back to support near $72. 
The second left shoulder (LS2) formed between July and October 2009 as TM again bounced from $72, to around $87, then fell back to support near $72. 
note how the two shoulders peak reasonably close to the same price. They are also fairly close to the same width or duration in time. These are two important characteristics of a complex head-and-shoulders pattern.
The Head: After consolidating for much of November and December, TM broke out above $90 in late January 2010, forming the head of the pattern.
Note how the head clearly sticks out and is noticeably above the two left shoulders.
The Right Shoulders: Immediately after the head formed, there was a large sell-off on high volume. The stock quickly pulled back to support around $72. 
In February 2010, the first right shoulder (RS1) began forming as shares rallied back to $84 on tepid volume. From late March until now, shares have been falling. Currently, the stock is once again trading near support around $72.
Once the neckline has been broken, the pattern should be complete. 
The Neckline: The neckline -- or support -- is drawn across the lows of the left and right shoulders. Most frequently, it is drawn horizontally, but as a trader you should be aware it can also be drawn diagonally, sloping either up or down. 
When the neckline is definitively broken, then the stock completes a confirmed head-and-shoulders pattern. 
However, sometimes a "filter" of either 3% or two trading days is necessary to ensure that the pattern is not a "false breakout" to the downside. 
Often a stock will retest the neckline. But, if the formation is a genuine head-and-shoulders pattern, it will typically fail at the neckline, offering a second shorting opportunity.
To calculate how much TM could fall if its breaks the neckline, we can apply the head and shoulder's measuring principle. 
To do so, we first calculate the breakout by measuring from the top of the head down to the neckline ($92 - $72 = $20). Next, we subtract the neckline from the breakout to obtain our target ($72 - $20 = $52). Our target price is therefore $52.
We have set our target somewhat above that level, in a zone of previous support, but can adjust it later if warranted.
This article was originally sent to subcribers of Dr. Pasternak's "Double-Digit Trading" service on May 28, 2010. The charts and stocks that are mentioned are used to illustrate how an investor can learn to use technical analysis to identify head-and-shoulder patterns, and they should be used for educational purposes only.
If You Have at Least $3,000 to Invest, then Follow These 3 Steps
Create a retirement savings goal
Design an investment plan to reach it.
Get a professional money manager to continually monitor and rebalance your portfolio
Sound complicated? Don't stress. Vanguard's new robo advisor service can help you put all of this (and more!) on autopilot, all for an annual gross advisory fee of just 0.20%.
Click here to learn more about Vanguard's new Digital Advisor service.