With the major averages dropping like stones and investors seeing a sea of red on their computer screens, you might think there aren't any winning stocks out there right now. But that's where you'd be wrong. There are always winners hiding somewhere -- it's just a little harder to find them in a market like this.
Correction: a lot harder.
Out of all 21,000 actively-traded equities on U.S. exchanges, just over 1,500 are up since the market began to fall through Wednesday's close. That's only 7%, in case you were wondering.
But as Jim Cramer says, there's always a bull market somewhere.If there's anything we've learned in the two years since the onset of the financial crisis, it's that the market can turn south in a big way at any time. So, in order to be prepared for another gap down, we set out to find the stocks that held strong in this most recent sell-off. Perhaps we can see some patterns that could give us clues to surviving the next time around.
Our methods: We screened for stocks trading on U.S. exchanges with a market capitalization of over $250 million that have closed higher since April 23rd. Our result: 233 stocks. Slim pickings, but it just might do.
Here is a breakdown of the top five sectors in our results:
Health Care: 36
Information Technology: 36
Consumer Discretionary:  36
Materials: 25
Telecommunications: 9
And here are the Top 20 specific firms, along with their total returns: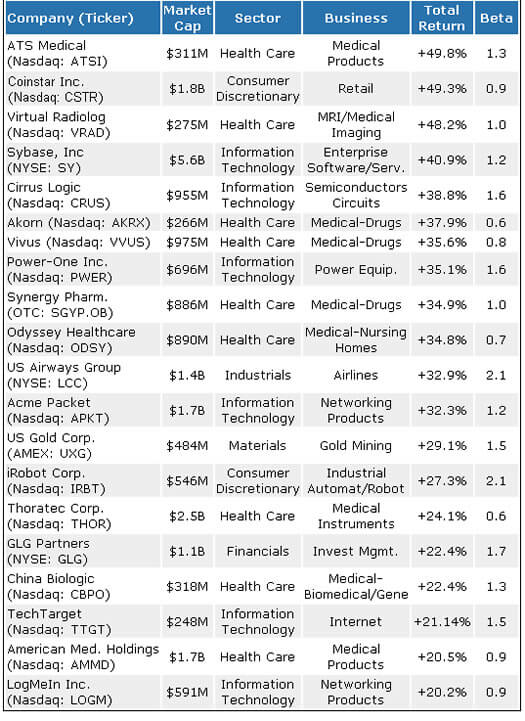 Notice any similarities? We did too.
Now it might be one thing to see a random name here an there, but when I see four sectors with a vast majority of the winners, I think I may be spotting a pattern. A few observations:
Now, we'll take a look at nine specific stocks that are up and see if they can continue their winning ways.
Coinstar (Nasdaq: CSTR) is one name that has delivered impressive results in the short-term, but it may not be the right choise for someone looking for a long-term, buy-and-hold investment. Coinstar's kiosk DVD rental business has been disruptive to video rental chains, but the ultimate disruptive force, the Internet, could eventually make physical video rental a thing of the past.
Chip-maker Cirrus Logic (Nasdaq: CRUS) has gained nearly +39% through Wednesday's close after recently posting impressive results. The chip sector as a whole looks promising, although our colleagues at SteetAuthority think that Applied Materials (Nasdaq: AMAT) may hold more promise.
You may know iRobot (Nasdaq: IRBT) for the company's Roomba robotic vacuum, but there's more to the company than that. This company makes robots of all shapes and sizes. The price-to-earnings ratio (P/E) of 60 may make it seem a little pricey, but its projected growth rate may warrant such a valuation. The stock still has bright days ahead as government sales account for about 46% of total revenue.
Rental-car firm Dollar Thrifty (NYSE: DTG) has surged +18% on buyout rumors from both Hertz (NYSE: HTZ) andAvis (NYSE: CAR). Hertz put in the original bid, valued at $940 million, and Avis is mulling a counteroffer. The shares have surged past the $41 per share buyout offer, but an actual deal could be difficult to swing in this market, especially if the debt markets start to cool down once again.
Investors have their pick among gold miners that are up, including U.S. Gold Corp. (NYSE: UXG) -- up +29%,Eldorado Gold (NYSE: EGO) -- up +18%, Seabridge Gold (NYSE: SA) -- up +17% and Allied Nevada (NYSE: ANV) -- up +13%. But we think the best play of all is Goldcorp (NYSE: GG). The miner is up +7%, but may be the best long-term gold play on the market because it has the lowest production costs in the industry and can still be profitable even if prices drop.